November 4, 2013, Volume xix, #42
"Experience is not what happens to you.
It is what you do with what happens to you."
—Aldous Huxley (British writer, 1894-1963)
______________________________________________________________________
______________________________________________________________________
BREAKING NEWS: Groupe BMR and La Coop confirm alliance
  MONTREAL — Two giants of Quebec home improvement retailing have confirmed a deal that had first been revealed months earlier. Groupe BMR and La Coop fédérée have entered into a commercial agreement whereby La Coop, through its Unimat hardware and home improvement banner, is acquiring a minority interest in Groupe BMR.

"Our company is pleased with this new partnership with La Coop fédérée, a leader in Quebec's economy for 92 years," said Yves Gagnon, President and CEO of Groupe BMR.

Through this association, the two companies will offer some 360 retail locations to consumers and contractors in Quebec, Ontario and the Maritime Provinces under the BMR and Unimat banners. Based on figures in the Hardlines Who's Who Directory, the deal will create a retail entity that represents close to $2 billion in retail sales annually.

"Groupe BMR's expertise in the renovation industry is well established. The strength of its brand and the trust of its customers represent major advantages from which we are sure our 100,000 members will greatly benefit," said Claude Lafleur, CEO of La Coop fédérée.

According to the release, the alliance is a response to "the arrival of foreign competitors, in particular from the United States, and the highly competitive level required to survive in the home renovation centre and hardware store industry."
______________________________________________________________________
Home Depot Canada commits $10 million to homeless youth
  OTTAWA — Following a study done of homelessness in Canada, The Home Depot Canada Foundation is committing $10 million to relieve homelessness among Canada's youth. The study notes that breaking the cycle of youth homelessness goes beyond providing shelter.

A supporter of affordable housing since its inception in 2009, The Home Depot Canada Foundation has narrowed its focus to youth after completing a study of the affordable housing landscape in Canada. The $10 million pledge, which is spread over three years, aims "to harness the capabilities of The Home Depot Canada Foundation and its network, focusing on renovation and repair projects, life skill development programs, and research and collaboration programs," according to a release.

The foundation's direction is supported by a white paper on youth homelessness developed by Impakt Corporation, a corporate social responsibility consultancy. Its research revealed that homelessness affects tens of thousands of Canadian youth and comes with high personal and socio-economic costs.

"Research shows that reaching homeless youth early with housing and life skills support solutions will decrease the likelihood they will become chronically homeless adults," said Peg Hunter, chair of the board of The Home Depot Canada Foundation. "By focusing our efforts on youth and housing, we can maximize our resources, help youth realize their potential, and build brighter futures."

Over the next three years the organization will collaborate with non-profit, government, and other corporations to share knowledge and best practices addressing youth homelessness. Actions will include: helping to ensure more homeless youth have access to housing that is safe and supportive; establishing a thought leadership advisory council with some of Canada's leading authorities on the issue; and creating a youth advisory council to ensure their commitments align with the needs of homeless youth.
______________________________________________________________________
Holland Imports show lets dealers do late-fall buying
BURNABY, B.C. — Currently celebrating its 40th anniversary, Holland Imports is hosting its sixth annual fall BuySmart show today. The company, an importer and wholesale distributor, runs two shows per year out of its Burnaby warehouse.

The fall show is the smaller of the two, running just one day, while the spring-summer event, held annually in June and now in its ninth year, runs for two days.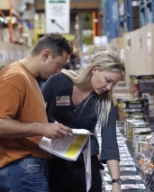 Nevertheless, this show is expecting to draw up to 200 dealers, who will come from as far away as Quebec and the Maritimes to see the wares of 12 key vendors, says Keith Brown, general manager of Holland Imports. This show is also an important showcase for Holland's own brands, reflecting its three main product categories: My Patio for outdoor furniture, Shopro for tools, and Holland Greenhouse for garden and landscaping products.

The 40th anniversary promotion, which kicked off at the June 2013 show, continues at this event. "Dealers get red-hot specials and travel allowances to help them pay for the show—and we feed them well while they're there—so they get a good bang for their buck," Brown adds. "The show is a great opportunity for last-minute Christmas and fill-in orders. Our trucks will start shipping the orders within a week of the show."

Brown says his company is a supplier for most of the major banners, including RONA, Peavey, TSC, and Independent Lumber Dealers Co-operative (ILDC). The business generated by the show exceeds the business Holland Imports gets from other shows, though Brown notes that the Prairie Showcase in Saskatoon in January is strong. "It's a good writing show, but at our own show we've got their undivided attention."
______________________________________________________________________
Spotlight on the ORA Winners: POPS Home Hardware
HARDLINES is proud to present the Outstanding Retailer Awards, honouring some of the finest dealers in this country. The awards were given at a Gala Dinner on October 23 during the 18th Annual Hardlines Conference in Toronto. We'll focus on a different winner each week—and our congratulations to all the winners!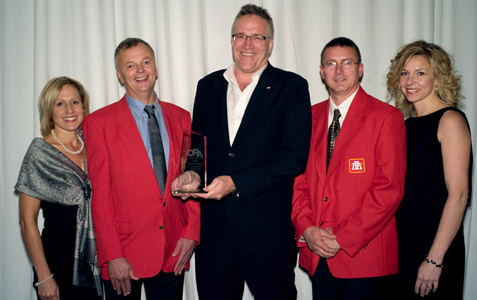 l-r: The winners of Outstanding Retailer Award in the category of Best Building Supply/Home Centre under 25,000 square feet: Mary Ann and Jim Peyre of POPS Home Hardware; Peter Thompson of Taymor Industries, sponsor of the award; and Ron and Trina Shunter of POPS Home Hardware.
TORONTO— POPS Home Hardware in High Prairie, Alberta, has been recognized as one of the country's best home improvement retailers as the recipient of the 2013 Outstanding Retailer Award. POPS Home Hardware won in the category of Best Building Supply/Home Centre under 25,000 square feet.

POPS was recognized at the Outstanding Retailer Awards Gala Dinner, held during the 18 th Annual Hardlines Conference in Toronto on October 23. Ron  Shunter and Jim Peyre from POPS Home Hardware were present to accept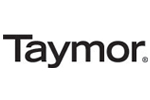 the award before an audience of retailers and suppliers from across Canada. The Outstanding Retailer Awards have been recognizing and honouring the best in home improvement retailing across Canada for more than two decades. The award was sponsored by Taymor Industries.

A positive mindset and the pursuit of something greater for the community have driven the success of POPS Home Hardware. The POPS Home Hardware team's perseverance through difficult economic conditions and their creativity in revitalizing their store are the characteristics that stuck out to the judges.

"POPS Home Hardware is a great Canadian turnaround story," said Michael McLarney, Editor of HARDLINES, the news and information company which presents the Awards. "The owners of POPS Home Hardware, Lorne and Jim Peyre and Harold Taylor, understand that successful retailing is about more than just selling products. They were able to partner effectively with both their retail customers and the local builders to succeed. This store stood out for its ability to be part of the community and integral to keeping the community alive."
Click here to view the full award video!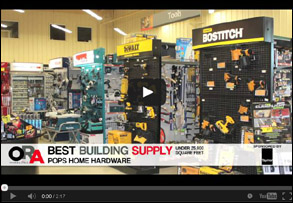 ______________________________________________________________________
RONA buys out franchise dealer
   BOUCHERVILLE, Que. — RONA is acquiring the RONA Le Regional store in Chateauguay, Que., from one of its franchise dealers. The 35,000-square-foot proximity store carries about 24,000 SKUs and has a 32,000-square-foot lumberyard. Despite the acquisition, it will continue to employ 65 people, says the company.

"We are pleased to have concluded this transaction with one of our long-time franchise dealers. Louise Faubert has spent 15 years building a flourishing business in Châteauguay," said Robert Sawyer, president and CEO of RONA. Faubert had been owner and general manager of the store since 1998. "She has earned the trust of customers in the region and we will continue with the same solid approach. We salute the work of this accomplished business woman and her contribution to the RONA network," Sawyer continued.

Under new GM Dave Collangelo, the store will be integrated into RONA's corporate-store network in Quebec. RONA says the location has been profitable for a number of years and will continue to contribute to the development of the RONA store network in Quebec.
______________________________________________________________________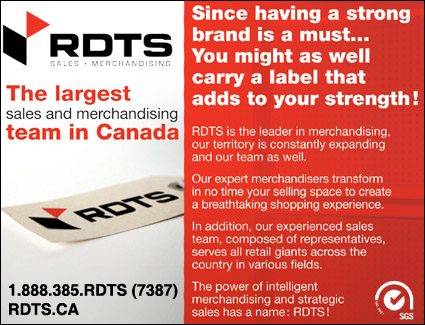 ______________________________________________________________________
Classified Ads

A Message from Eric Aronoff:

To all my friends, business acquaintances, suppliers and category managers;

Beginning November 1, I will no longer be associated with Fonora Textile Inc.

As the exiting President of Fonora responsible for sales, marketing and
product development; I wish to take this opportunity to thank everyone who
I have had the pleasure of working with, serving and otherwise had a chance
to meet over the many years that I have been at the helm.

The time has come for me to step away and seek out new challenges with
excitement and a renewed eye for the years to come.

I will now be reachable at my new email address: Eric@ejaholdings.com

My mobile number remains unchanged (514) 502 3197

...and I look forward to the future as we all follow and explore life's
meandering and crossing paths.

Best of luck and again a sincere thank you for your support and friendship
over the years.

Best regards
Eric Aronoff
Eja holdings inc.

______________________________________________________________________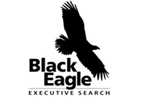 KEY ACCOUNT MANAGER
LOXCREEN CANADA LTD.
Subsidiary of M-D Building Products, Inc.
MISSISSAUGA, ONTARIO 
Loxcreen Canada Ltd., Subsidiary of M-D Building Products Inc. www.loxcreen.com / www.mdteam.com is a leading supplier of floor trims, ceramic accessories and weatherstrip products in North America with head office in Mississauga, Ontario. Loxcreen Products are widely known under the Shur-Trim, ProVa, Dura-Trim and M-D brand names in the Canadian marketplace. The company is seeking a Key Account Manager with national and regional account experience across Canada in the retail building materials/hardware industry.

The company requires a Key Account Manager who will be the day-to-day sales contact with selected major national accounts, primary contact with major regional accounts across Canada, and manage agency sales representatives. Reports directly to the VP, Sales & Marketing, Retail Distribution Channel. Competitive salary + bonus, benefit package.

Black Eagle Executive Search is conducting this search on behalf of Loxcreen Canada Ltd.
KEY COMPETENCIES
Excellent communication skills both written and verbal
Disciplined self-starter
Proven negotiation skills – "sales closer" mentality
Team player able to communicate effectively within the company particularly with customer service, marketing, other sales representatives; and externally with the retail distribution channel and sales agencies.
Excellent analytical, forecasting abilities. Able to develop and analyze spreadsheet data (e.g. P.O.S.) and develop go-forward sales and merchandising solutions from this data.
Organizational and planning ability
Motivated to learn and succeed in a fast-paced work environment.
KEY QUALIFICATIONS
Post-secondary business degree/diploma
5-7 years of national/regional account sales experience in the retail building materials/hardware industry across Canada required.
Experience in working with and managing sales agencies
Knowledge and understanding of doing business with Big Box Home Improvement retailers and previous participation in line reviews, negotiations, merchandising development with these retailers. Will be first point of contact.
Proven sales track record with demonstrable accomplishments
Experience with:

Multi-SKU product lines involving 1,000+ individual products
Program/assortment/plan-o-gram selling
In-store and trade show set-ups/tear downs and planning/organizing

Experienced with Microsoft Office Applications including: Excel, Word, and PowerPoint. Ability to develop and effectively deliver PowerPoint sales presentations.
Ability to travel regularly across Canada – travel approximately 25% of work time
Bilingual (English/French) not required, but would be an asset.  
Please submit résumé via email to Black Eagle Executive Search
c/o Richard Simms at rsimms@blackeagle.ca
Only candidates of interest with be contacted
______________________________________________________________________
 
Resumés
Click here to view the resumés online