In This Issue
"Armaments, universal debt and planned obsolescence — those are the three pillars of Western prosperity." —Aldous Huxley (English writer, 1894-1963)
Home Depot launches "rural" store in Canada
PARRY SOUND, Ont. — Home Depot Canada opened first "rural market" store concept last Thursday in this resort town about two hours north of Toronto. While the orange sign out front still reads "Home Depot", this new location is considerably smaller than its predecessors. It's only 45,000-sq.ft. in size, with an additional 45,000-square-foot drive-through lumberyard and 12,000-sq.ft. seasonal centre.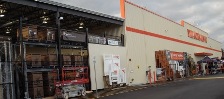 The store features standard departments, including kitchen, bath, flooring and décor showrooms; paint and design centres; inspirational vignettes; tool rental; installation services and a contractor service desk. Using a "spoke-and-hub" layout, the store was designed with all aisles leading to a central service desk in the middle of the store, in an effort to ease customers' search for products and service. The smaller layout fits about 36,000 SKUs, down from the 40,000-plus SKUs found in a full-sized Home Depot, but the retailer's special-order service is front and centre, offering thousands of additional products. Home Depot already has four such rural stores in tests in the U.S. The concept appears to have roots in the Home Depot "Crossroads" concept that was tested in the U.S. in three Midwestern towns in 1995 and 1996. That concept sputtered, however, in part because the stores, weighing in at 117,000 sq.ft. with another 100,000-sq.ft.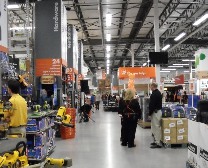 drive-through lumberyard and 28,000-sq.ft. garden centre, were way too big for the markets being served. The new Canadian store will be tested for several months before any firm plans are made for more such outlets. However, the company is optimistic about the store's prospects. "It's the future," says Tiziana Baccega, manager, public relations and external affairs for Home Depot Canada. "The possibilities for this format are limitless."

Top.
Exclusive report: buying groups face competitive challenges
WORLD HEADQUARTERS, Toronto — Canada's LBM buying groups continue to grow, even though they face competitive pressure from the big boxes, and pressure on membership from RONA. According to a new report in our sister publication, Hardlines Quarterly Report, in 2007, sales at retail by dealers within the groups went down slightly, despite overall growth in the industry. Buying groups still represent one-third of retail sales in the industry, however, and sales for the first half of 2008 have been stable or up slightly overall.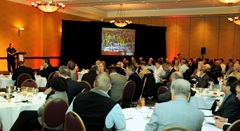 The report, which details the size and growth of the groups, as well as their myriad inter-relationships with other groups and wholesalers, outlines a number of trends affecting the groups as they move into 2009. These include:
consolidation, as the groups continue to realign themselves and seek larger and more substantive relationships;
dealer recruitment, as more and more groups add dealer development teams to ensure growth of their member ranks;
cluster expansion — encouraging and supporting existing members as they grow their own businesses with new locations or acquisitions;
education and training, as independents face the competitive threat of RONA and the arrival of Lowe's into Canada, both of which have strong mandates for training.
Independents continue to represent a vibrant sector of the industry, one well positioned to survive during the current economic downturn, notes the HQR report. For the full report in the latest issue of HQR, click here.
TIM-BR MART hosts virtual trade show
CALGARY — TIM-BR MART, the giant national LBM buying group, held a "virtual" buying show last week for its members in Atlantic Canada. The online show will give TIM-BR MART members the opportunity to view product pitches online from a total of eight key vendors serving the Atlantic market.For one hour each, throughout the day, a video three to five minutes in length was available to view online by the dealer members — from the comfort of their own stores. That video included product info, introductions by key staff, and even a tour of the vendor's facility. Dealers could then download an order sheet, and had until midnight the following day to take advantage of any "show specials". After that hour, the video was taken down and another vendor's was put up. At the end of the day, all the videos and ordering information were then re-posted for viewing by dealers who missed them earlier. Not only does the virtual format make "attendance" easier for dealers, especially those in Newfoundland and far-flung locations, but it also helps TIM-BR MART conform to its green mandate. "It keeps the dealers at their stores and doesn't take them away from their business," says Aimee Feaver, director of communications for TIM-BR MART. "It's also green, because there's no travel involved." The event garnered strong support from the buying group's members in the region, with most of the 54 locations there signing on at some point during the day. However, says Feaver, TIM-BR MART does not plan to do another one in another region right away. "We will concentrate on this area and see the response before doing another one," she says.
Broadleaf will hold first-ever product showcase
BRAMPTON, Ont. — Broadleaf Logistics will host a product showcase and open house at its Brampton customer service centre on Nov. 4.  The event, a first for the national building materials distributor, will provide a forum for promoting Broadleaf's green initiative. Given the industry's heavy emphasis on eco-friendly and environmentally responsible products, Broadleaf wants to communicate clearly to its customers that its products reflect those values.That message will be backed by a full program of product demos, seminars, and tours of the company's facility. According to Gary Coleman, national accounts manager for Broadleaf Logistics, "Dozens of products will be featured, and an invitation has gone out all the buying group and industrial customers that we have." Coleman says the day will also help reinforce the Broadleaf brand, which reflects the takeover of the former Weyerhaeuser by Platinum Equity in June 2007. "One of the challenges we had was to demonstrate that we are a different company with fresh values." Broadleaf has locations in Langley and Kelowna, B.C.; Calgary and Edmonton; Saskatoon and Regina, Sask.; Winnipeg; Timmins, Sudbury, Brampton and Ottawa, Ont.; Montreal and Quebec City; St. John's; and Sussex and Dartmouth, N.S.
Two job openings: Territory Manager ( Northern Alberta) and Territory Manager (GTA)
 RCR International is a prime manufacturer of complete lines of products for professionals and do-it-yourselves.  The company is recognized as a pioneer in the door and window insulation market, and is proud of expanding its innovative expertise to encompass various other quality product lines. RCR International currently manufactures over 3000 products including weather-stripping, insulation components, floor protection products, screen and squeegees.  Being the supplier of the most prestigious retailers in America, RCR International wants to offer the best to its customers.  We have in place an effective and efficient distribution network with facilities in key regions: Montreal, Toronto and Chicago. This allows RCR International to distribute its vast array of products all over the world.
We currently have two job openings:
Territory Manager for the area of Northern Alberta 
Territory Manager for the area of Toronto ( Ontario, Mississauga, Brampton etc)... 
If you're a dynamic person we invite you to join our team!
JOB DESCRIPTION – TERRITORY MANAGER
Under the immediate responsibility of the Western Canada Sales Manager, the sales representative plans and organizes all activities related to the business development of his assigned territory. More specifically, he is responsible for the increase in sales and profits of his current customers and the development of additional accounts. His past history proves without a doubt that he is result oriented and capable of working with a minimum of supervision.
Main Tasks:
Drive sales in territory by:
Analyse sales reports to understand his market;
Visit his customers: this may require out-of-town overnight reservations; take physical inventory of Company displays in stores; refilling of empty shelves;
Install racking and shelves in new stores and fill the shelves with Company products;
Set up numerous trade shows (this may require installing the booths using different power tools, putting in racking and shelves and carrying heavy cases of products);
Offer and demonstrate Company products during trade shows;
Contact his customers by telephone to offer special promotions;
Prepare product catalogues;
Transmit all orders to the order desk;
Write and forward weekly sales and expense reports to the office;
Maintain his customer files up to date and file customer invoices.
This position requires:
Minimum of a Junior College degree in administration;
A minimum of 3 to 5 years experience in a similar position;
Experience in the hardware industry and computer literacy are a sure asset;
Ability to analyze and make a diagnosis of current problems;
Occasional week-end availability during trade shows.
 Please submit your resume to Cynthia Pouliot through email (c.pouliot@rcrint.com ) or fax your resume to (450) 670-1669 and indicate for which position you are interested.
National Sales Leader

Based in the Lower Mainland, our client is a successful, $10 million manufacturer. The company has developed strong relationships with retail and OEM partners and has plans to double the size of the company within the next 3-5 years, including expansion into the US.

There is an exciting opportunity for a high potential, motivated sales leader to drive the sales revenue through existing customers and the development of new markets while leading a team of agents and sales representatives. The ideal candidate has a track record of success calling on all retailers, knows what it takes to grow a business and is willing to spend 30% of his/her time traveling. Determination, commitment, entrepreneurial, business savvy, and drive are key personal qualities. Explore by contacting Tyler Cheyne or Kataneh Sherkat at 604-685-0261 or email us at tyler.cheyne@rayberndtson.ca.
Energyshop is a provincial leader in the energy services sector with a strong reputation in program design and management of energy conservation programs.We are seeking a marketing/merchandising coordinator to join our team in the delivery of specific energy efficiency programs through the retailer/manufacturer network. The Marketing/Merchandising Coordinator provides merchandising support for retailer activities, in-store programs, packaging initiatives, and web site links in conjunction with energy conservation programs in Ontario. You'll manage retailer and manufacturer communications, direct to store communications and day to day management of promotional support initiatives and will work closely with the account manager to develop, produce and maintain program-specific executions. Previous Marketing experience with a retailer, building products company or marketing agency is ideal, in addition to your marketing education. Excellent written and oral communication skills are a must to effectively describe programs to the retailers and manufacturers and motivate them to participate. Analytical skills and proficiency with Word and Excel are also required. Send your resume to: chris@energyshop.com

National Account Manager

Stanley Canada is an operating division of The Stanley Works Company, a $4 billion dollar, publicly traded, worldwide manufacturer and marketer of tools, hardware and security solutions. We currently have an opening for a dynamic individual to join our team as a National Account Manager in our Oakville office. Major Responsibilities:
Achieve Sales and Margin plan targets
New Business Development
Utilizing Retail Link; advise the Buyer on the state of the business on a minimum weekly basis, and as necessary for the total categories.
Assist the Buyer with the development of the modular, including collaborating with the designated category manager as required.
Work with Finance and the Directors of Sales on annual sales budgets
Provide feedback on competitive activity to marketing.
Customer Relationship building/fostering
Initiate and provide forecasts for promotions and sales events
Work cross-functionally ( Canada and USA) to ensure customer satisfaction (Sales, Fulfillment, Customer Service, Channel Management and Product Management).
Requirements:
University or College graduate
3+ years National Account Manager experience with exposure to Home Improvement Warehouses, Mass Merchants, 2-step co-ops and Wal-Mart.
Must be highly motivated and able to work with minimal supervision.
Accomplished Excel and Powerpoint capabilities.
Proven track record of success
At Stanley, we offer a competitive salary, incentive plan, company vehicle, as well as a comprehensive benefit plan that includes a Company-matching RRSP, stock purchase plan, and employee discounts. We thank all applicants, however only those selected for an interview will be contacted. Please send resume to: gwallen@stanleyworks.com

Prime Source Building Products, Inc., one of the North American's largest wholesale distributors of building supply products, is seeking experienced sales professionals to support their Canadian expansion.

Product Specialist for Tools and Accessories -Responsibilities include providing sales assistance of GRIP-RITE branded products within the Ontario region. Inside Sales- Mississauga - Responsibilities include developing a pipeline of prospective opportunities; via interaction with an existing customer base and a network of prospects, providing outstanding customer service and the ability to build relationships and close business over the telephone. Qualified candidates must be self-motivated, quota driven, and results oriented with a proven and documented history of success. We are looking for at least two years of outside sales experience and preferably experience in the building materials industry. If you are a proven leader who welcomes the opportunity to work in a challenging and financially rewarding environment, we want to meet you. PrimeSource offers attractive base salaries, aggressive commission incentives, and a competitive benefits package. Please send Resumes to Phil Brown General Manager PrimeSource Canada At brownp@primesourcebp.com
Sell your company - or buy one - with HARDLINES Classifieds! Do your executive search, find new lines or get new reps in the HARDLINES Marketplace. Only $2.75 per word for three weeks in the classifieds. To place your ad, call Brady Peever at 416-489-3396 or email: brady@hardlines.ca
To ensure you receive your HARDLINES newsletter each week, please add bev@HARDLINES.ca to your address book.

Did your email system make this newsletter unreadable? You can read it online instead. call us to find out how.

Publishing Details: HARDLINES is published weekly (except monthly in December and August) by HARDLINES Inc. 360 Dupont Street Toronto, Ontario, Canada M5R 1V 9 © 2008 by HARDLINES Inc. HARDLINES™ the electronic newsletter www.HARDLINES.ca ; Phone: 416.489.3396; Fax: 416.489.6154 Michael McLarney - Editor & President - mike@HARDLINES.ca Beverly Allen, Publisher - bev@HARDLINES.ca Brady Peever - Circulation Manager - brady@HARDLINES.ca The HARDLINES "Fair Play" Policy:Reproduction in whole or in part is very uncool and strictly forbidden and really and truly against the law. So please, play fair! Call for information on multiple subscriptions or a site license for your company. We do want as many people as possible to read HARDLINES each week - but let us handle your internal routing from this end! Subscription:$285 (Canadian subscribers add $14.25 GST = $299.25 per year/ GST #13987 0398 RT).Secondary subscriptions at the same office are only $46 (Canadian subscribers add $2.30 GST = $48.30).Ask about our reduced rate for branch offices.You can pay online by VISA/MC/AMEX at our secure website or send us money. Please make cheque payable to HARDLINES.
COMPANIES IN THE NEWS
ATLANTA — A class-action suit charging that Home Depot received excessive rebates from vendors in the early part of this decade has been dismissed. The 11th U.S. Circuit Court of Appeals ruled unanimously that the lawsuit failed to meet the requirements of a class-action suit.CHICAGO — Third-quarter sales for wholesale distributor Grainger reached $1.8 billion, up 11% vs. the third quarter of 2007, while net earnings were up 28% to $140 million, from $109 million in 2007. BUFFALO , N.Y. — Saint-Gobain Technical Fabrics, which makes reinforcement fabrics for a variety of industries under brand names such as FibaTape, FibaCrete, and SureScreen, has launched a newly re-designed website: www.sgtf.com. The new site is designed to be user-friendly and easy to navigate for both new and experienced visitors. Highlights of the re-designed site include: easy search functions which include: search by keyword, brand name, industry or technology; downloadable sell sheets on products for more information; technical information on many of products; contact section for product quotes and information; plus an employment section for job opportunities within the company. CLIFTON, N.J. — Linens 'n Things began its liquidation sale last week, after filing Chapter 11 bankruptcy protection in May. Unable to find a buyer that would take it over as a going concern, the specialty retailer is now having a going-out-of business sale. The process, involving the company's 371 remaining locations, is expected to take about 11 weeks. LONDON — Homebase, the UK DIY chain, is testing a new online ordering program in seven of its stores. Called "Check and Reserve", the program allows shoppers to search for products online from their homes and check whether the product is available locally in one of the Homebase stores, then reserve the product for later purchase. The program, part of the retailer's multi-channel strategy, has already been in place at Homebase's sister company, Argos. CLEVELAND — Sherwin Williams, the largest paint maker and retailer in the U.S., saw its sales rise by 3.1%, to $2.27 billion, during the three months ended Sept. 30. But the company's net income for this quarter slipped 11.6% to $1771 million. Through the first nine months of its fiscal year, Sherwin Williams generated $6.28 billion, up 2.1% from the same period a year ago. Its profit, though, fell 17.1% to $426.7 million.
ECONOMIC INDICATORS
Investment in non-residential building construction reached $10.8 billion in the third quarter of 2008, up 1.5% from the second quarter, mainly the result of price increases in institutional and commercial building construction.
Posted July 14

Highly effective relationship management skills with a track record of developing and executing programs effectively. Strong strategic thinking and management background. Solid propensity for team building, coaching, mentoring and developing others. A competitive manager with a proven sales, marketing, merchandising and, leadership record.
Hardlines Quarterly Report (New Report out now!) Hardlines Retail Report (Coming this month, place your order now!)Hardlines WebinarsHardlines Annual Conference (This Week in Toronto)) Hardlines Hot Product Showcase Hardlines TV Free daily news updates
Did you know you can have this newsletter sent to someone else in your office for only $3.83 a month per person?
Click the link below to spread the news to your whole office!