In This Issue
"The best way to escape from a problem is to solve it." — Anonymous
Hardlines Conference: new ideas, strategic vision
TORONTO — A company that uses solar panels to power one of its stores, another which is buying up retail chains to broaden its reach to its core customer, and a U.S. co-op that can ship container loads to Canadian dealers from Shanghai were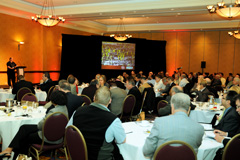 among the companies represented onstage at the 13th Annual Hardlines Conference, held here last week.The Conference attracted about 140 industry representatives, from the retail, wholesale and vendor sectors. Despite the sudden downturn in the economy, they shared a passion to learn how to maximize their ability to survive this downturn with the latest economic retail and information and insights. Overriding themes of the two-day event included: Sustainability. Going green means much more than selling products made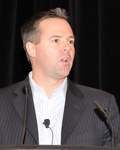 from recycled materials. Greg Hicks, COO of TSC Stores, a chain of farm and hardware stores based in London, Ont., talked about the appetite for green initiatives among his customers, and how they are being satisfied with green audits and a pilot store that is powered by solar panels, while TSC awaits approvals to hoist a wind turbine atop another store. Keynote speaker Ray Civello, trained as a hairdresser and went on to become the marketing powerhouse behind Aveda Products, a line of organic cosmetics. His philosophies about sustainability extended to the ingredients used in the Aveda line and to how retailers can operate more efficiently to reduce waste water and energy. Fine-tuning systems and procedures. Greg Dinsdale from LBMX explained how buying groups and their vendors can enhance their tech systems to reduce paper, speed rebate calculations and more. Mark Scherer, the COO of Scherer Bros. Lumber in the Minneapolis area, talked about the plan he needed, and the systems he put in place, to weather a devastating downturn in his country, one that has yet to bottom out. His analysis of his business included everything from careful examination of which staff were effective and which ones had to be cut, to tracking every delivery with GPS to determine which drivers were most effective. Boldness. Whether it's the courage to make your product or merchandising stand out with unique or unusual colours to break the pattern of sameness on store shelves, per Bruce Smith of DMD Strategy; or the wherewithal to get tough on customers — yes, customers — who have inefficient practices that end up costing you money in the long run (this from Mark Scherer of Scherer Brothers), the current downturn will require tough decisions fortified by boldness. This theme was one not lost on an audience that had the courage to invest their valuable time and tightening funds to be part of this incredible learning and networking event.

(Photos courtesy of www.tizzardmarketing.com)

Top.
Lowe's Canada receives Newsmaker Award
TORONTO — Lowe's Canada began making news almost two years before it opened its first store in Canada. The world's second-largest home improvement retailer had spent the early part of this decade driving expansion in markets such as Chicago, New York and Atlanta before setting its sights north of the border. But when it arrived, it did so with a bang.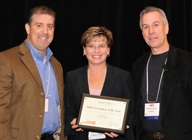 That bang earned Lowe's Canada the 2008 Newsmaker of the Year Award, which is presented by Hardlines each year at the Hardlines Conference, to recognize a company that has made a significant impact on the industry in the past year. The award, sponsored by OSRAM Sylvania, was presented by OSRAM's JoAnn McKeown, vice-president sales and marketing, to Ben Mauceri, vice-president merchandising for Lowe's Canada, at the Awards Breakfast on Oct. 24. Lowe's arrival put the industry (and especially its main competitor in the U.S., Home Depot) on alert. Its methodical, process-driven approach to operation and growth was also a new standard in an industry still dominated by independents. The company also sets high standards for training (each store's team underwent a total of 10,000 hours of training before the stores even opened), and product assortment (Lowe's is a leading retailer of large appliances in the U.S., second only to Sears).

(Photos courtesy of www.tizzardmarketing.com)
TSC tests smaller, franchise format
TORONTO — A departure from the corporately owned store model is just one of the initiatives for growth being explored by TSC Stores. This and other initiatives were unveiled by the London, Ont.-based farm and hardware chain's COO, Greg Hicks, at the latest Hardlines Conference.The acquisition of a former Country Depot store in Milton, Ont., last month will become a pilot for a franchised operation, the first for TSC, which already has 41 stores. Hicks noted that the farm supply industry in Canada is highly fragmented, leaving an opportunity for TSC to gain market share. "We need to determine the best business model — corporate-owned or dealer owned." According to Hicks, TSC has identified more than 300 markets in Canada that would be suitable for this new concept, which would have a footprint of 5,000-10,000 sq.ft. with a yard between a half-acre and one acre in size. Few changes were made to the Milton store, which was purchased in September. "Our work efforts have been focused on the deal itself, building improvements and staff and customer retention, with minimal changes to the store itself." The new smaller store has a new name, as well, and a temporary "TSC Villager" sign now hangs in front of the Milton store. "Our intent is to operate the Milton store as a lab store for both a small-store concept and to determine the feasibility of a TSC franchised business model," he told the Conference delegates.
New Dealer Conference gives independents tools for success
TORONTO — How will home improvement dealers survive the current downturn in Canada's economy? That's the topic being addressed at a new conference from the industry's leading information provider. Hardlines, Canada's news and information service for the retail home improvement industry, has joined forces with global building products manufacturer Johns Manville (JM) to create a competitive information event for Canada's home improvement dealers. The Johns Manville Hardlines Dealer Conference will provide keynotes and workshops on a range of topics vital to the prosperity of independents across the country."With Canada's red-hot home improvement market finally cooling, dealers will need tools to help them operate competitively," said Michael McLarney, Editor of Hardlines. "That's why the focus of this new conference will be to offer concrete ways dealers can weather this downturn in the economy and maximize their competitiveness." To increase the accessibility of the event to independent dealers, the JM Hardlines Dealer Conference will be presented in conjunction with the Canadian Home Improvement Show, a high-impact buying event that attracts retailers from across Ontario and beyond. There, they will get a chance to meet top vendors and get special buys for their stores for the year ahead. "It's important for our dealers to have access to the latest new product innovations. But they also need the latest information on trends," said Gino Allegro, Manager of Canadian Sales for Johns Manville Canada. "This conference will be a powerful resource for networking with a focused group of independents." Topics of the JM Hardlines Dealer Conference will include:
Recession proofing your business – what steps can you take to trim costs and boost sales?
Succession planning – how to ensure maximum return on a lifelong investment
New product trends – what your customers want to find in your store
Inventory and financial management
Sales training & selling skills – make your team lean, mean and highly trained
The first-ever Johns Manville-Hardlines Dealer Conference will be held February 4-5, 2009 at the Toronto Congress Centre, in conjunction with the Canadian Home Improvement Show. For more information, visit the conference webpage here.
Guardian buys up Ottawa Fibre
VALLEY FORGE, Pa. — Saint-Gobain, the giant global building materials company, has signed an agreement to purchase, through its subsidiary, CertainTeed Insulation Canada Inc., Canadian fibreglass insulation manufacturer Ottawa Fibre. Under the agreement, CertainTeed will acquire all of the operating assets of Ottawa Fibre for approximately $41 million and the assumption of adjusted debt.The acquisition includes manufacturing facilities in Ottawa and Tillsonburg, Ont., and Redcliff, Alta., as well as a ceiling tile plant in Ottawa. The sale is expected to be finalized in early January 2009, following unit-holder and regulatory approvals.  Saint-Gobain employs some 212,000 people worldwide and with sales in 2007 of €43.4 billion (CDN$70.0 billion).
Two job openings: Territory Manager ( Northern Alberta) and Territory Manager (GTA)
 RCR International is a prime manufacturer of complete lines of products for professionals and do-it-yourselves.  The company is recognized as a pioneer in the door and window insulation market, and is proud of expanding its innovative expertise to encompass various other quality product lines. RCR International currently manufactures over 3000 products including weather-stripping, insulation components, floor protection products, screen and squeegees.  Being the supplier of the most prestigious retailers in America, RCR International wants to offer the best to its customers.  We have in place an effective and efficient distribution network with facilities in key regions: Montreal, Toronto and Chicago. This allows RCR International to distribute its vast array of products all over the world.
We currently have two job openings:
Territory Manager for the area of Northern Alberta 
Territory Manager for the area of Toronto ( Ontario, Mississauga, Brampton etc)... 
If you're a dynamic person we invite you to join our team!
JOB DESCRIPTION – TERRITORY MANAGER
Under the immediate responsibility of the Western Canada Sales Manager, the sales representative plans and organizes all activities related to the business development of his assigned territory. More specifically, he is responsible for the increase in sales and profits of his current customers and the development of additional accounts. His past history proves without a doubt that he is result oriented and capable of working with a minimum of supervision.
Main Tasks:
Drive sales in territory by:
Analyse sales reports to understand his market;
Visit his customers: this may require out-of-town overnight reservations; take physical inventory of Company displays in stores; refilling of empty shelves;
Install racking and shelves in new stores and fill the shelves with Company products;
Set up numerous trade shows (this may require installing the booths using different power tools, putting in racking and shelves and carrying heavy cases of products);
Offer and demonstrate Company products during trade shows;
Contact his customers by telephone to offer special promotions;
Prepare product catalogues;
Transmit all orders to the order desk;
Write and forward weekly sales and expense reports to the office;
Maintain his customer files up to date and file customer invoices.
This position requires:
Minimum of a Junior College degree in administration;
A minimum of 3 to 5 years experience in a similar position;
Experience in the hardware industry and computer literacy are a sure asset;
Ability to analyze and make a diagnosis of current problems;
Occasional week-end availability during trade shows.
 Please submit your resume to Cynthia Pouliot through email (c.pouliot@rcrint.com ) or fax your resume to (450) 670-1669 and indicate for which position you are interested.
National Sales Leader

Based in the Lower Mainland, our client is a successful, $10 million manufacturer. The company has developed strong relationships with retail and OEM partners and has plans to double the size of the company within the next 3-5 years, including expansion into the US.

There is an exciting opportunity for a high potential, motivated sales leader to drive the sales revenue through existing customers and the development of new markets while leading a team of agents and sales representatives. The ideal candidate has a track record of success calling on all retailers, knows what it takes to grow a business and is willing to spend 30% of his/her time traveling. Determination, commitment, entrepreneurial, business savvy, and drive are key personal qualities. Explore by contacting Tyler Cheyne or Kataneh Sherkat at 604-685-0261 or email us at tyler.cheyne@rayberndtson.ca.
Energyshop is a provincial leader in the energy services sector with a strong reputation in program design and management of energy conservation programs.We are seeking a marketing/merchandising coordinator to join our team in the delivery of specific energy efficiency programs through the retailer/manufacturer network. The Marketing/Merchandising Coordinator provides merchandising support for retailer activities, in-store programs, packaging initiatives, and web site links in conjunction with energy conservation programs in Ontario. You'll manage retailer and manufacturer communications, direct to store communications and day to day management of promotional support initiatives and will work closely with the account manager to develop, produce and maintain program-specific executions. Previous Marketing experience with a retailer, building products company or marketing agency is ideal, in addition to your marketing education. Excellent written and oral communication skills are a must to effectively describe programs to the retailers and manufacturers and motivate them to participate. Analytical skills and proficiency with Word and Excel are also required. Send your resume to: chris@energyshop.com

National Account Manager

Stanley Canada is an operating division of The Stanley Works Company, a $4 billion dollar, publicly traded, worldwide manufacturer and marketer of tools, hardware and security solutions. We currently have an opening for a dynamic individual to join our team as a National Account Manager in our Oakville office. Major Responsibilities:
Achieve Sales and Margin plan targets
New Business Development
Utilizing Retail Link; advise the Buyer on the state of the business on a minimum weekly basis, and as necessary for the total categories.
Assist the Buyer with the development of the modular, including collaborating with the designated category manager as required.
Work with Finance and the Directors of Sales on annual sales budgets
Provide feedback on competitive activity to marketing.
Customer Relationship building/fostering
Initiate and provide forecasts for promotions and sales events
Work cross-functionally ( Canada and USA) to ensure customer satisfaction (Sales, Fulfillment, Customer Service, Channel Management and Product Management).
Requirements:
University or College graduate
3+ years National Account Manager experience with exposure to Home Improvement Warehouses, Mass Merchants, 2-step co-ops and Wal-Mart.
Must be highly motivated and able to work with minimal supervision.
Accomplished Excel and Powerpoint capabilities.
Proven track record of success
At Stanley, we offer a competitive salary, incentive plan, company vehicle, as well as a comprehensive benefit plan that includes a Company-matching RRSP, stock purchase plan, and employee discounts. We thank all applicants, however only those selected for an interview will be contacted. Please send resume to: gwallen@stanleyworks.com
Sell your company - or buy one - with HARDLINES Classifieds! Do your executive search, find new lines or get new reps in the HARDLINES Marketplace. Only $2.75 per word for three weeks in the classifieds. To place your ad, call Brady Peever at 416-489-3396 or email: brady@hardlines.ca
To ensure you receive your HARDLINES newsletter each week, please add bev@HARDLINES.ca to your address book.

Did your email system make this newsletter unreadable? You can read it online instead. call us to find out how.

Publishing Details: HARDLINES is published weekly (except monthly in December and August) by HARDLINES Inc. 360 Dupont Street Toronto, Ontario, Canada M5R 1V 9 © 2008 by HARDLINES Inc. HARDLINES™ the electronic newsletter www.HARDLINES.ca ; Phone: 416.489.3396; Fax: 416.489.6154 Michael McLarney - Editor & President - mike@HARDLINES.ca Beverly Allen, Publisher - bev@HARDLINES.ca Brady Peever - Circulation Manager - brady@HARDLINES.ca The HARDLINES "Fair Play" Policy:Reproduction in whole or in part is very uncool and strictly forbidden and really and truly against the law. So please, play fair! Call for information on multiple subscriptions or a site license for your company. We do want as many people as possible to read HARDLINES each week - but let us handle your internal routing from this end! Subscription:$285 (Canadian subscribers add $14.25 GST = $299.25 per year/ GST #13987 0398 RT).Secondary subscriptions at the same office are only $46 (Canadian subscribers add $2.30 GST = $48.30).Ask about our reduced rate for branch offices.You can pay online by VISA/MC/AMEX at our secure website or send us money. Please make cheque payable to HARDLINES.
COMPANIES IN THE NEWS
KINGSTON, Ont. — Lowe's Canada is appealing a motion by city council here denying the retailer's application for re-zoning of a property and a furor is erupting over the potential costs to the city of this appeal. According to the Kingston Whig Standard, Lowe's is taking its appeal to the Ontario Municipal Board, which rules on all development disputes in the province. Now city councillors are facing a proposal that would permit the release of costs to be borne by the city to fight the appeal. In a vote of 7-6, City council voted earlier this year to turn down Lowe's application to rezone the property from industrial to commercial.MISSISSAUGA, Ont. — Wal-Mart Canada has launched a program to recycle polystyrene as part of its goal to achieve zero waste production. Grace Canada, a producer of specialty construction materials, will collect used expandable polystyrene packaging from eight Wal-Mart Canada locations and reuse it in the production of its fire-resistant commercial insulation product. In 2007, Wal-Mart Canada diverted over 100,000,000 kilograms of waste from landfill and has seen an over 20% increase in waste diversion already over last year. RALEIGH, N.C. — Wolseley plc, the British-based building materials distributor, has announced it was restructuring the operations of its U.S. pro dealer business, Stock Building Supply, and would close 86 of its locations. That decision will result in Stock exiting 16 markets in six states and reducing its workforce by more than 25% to 8,700 associates. NEW YORK — Anthropologie, the U.S. apparel and home-decor retailer, will open a store in Toronto next year, reports the Financial Post. Although the company has been serving Canadians through a website for about a year, this will be its first store in the Canadian market. NEW BRITAIN, Conn. — For its latest quarter, Stanley Works' earnings rose nearly 80%, to $164.5 million, on revenue that inched up 1.2% to $1.12 billion. Through the first nine months of its fiscal year, Stanley reported a 3.3% gain in sales, to $3.35 billion, and 27.8% jump in net income to $312.1 million. TOWSON, Md. — Black & Decker Corp., the power tools and accessories maker, reported a decline in third-quarter net profit, on sales that decreased 4% from the same period a year earlier. Third-quarter net earnings were $85.8 million or $1.42 per share, down from $104.6 million or $1.59 per share a year ago. Sales for the third quarter were down 4% to $1.57 billion. Sales in the Power Tools and Accessories segment decreased 6% for the quarter. Sales in the Hardware and Home Improvement segment decreased 13% for the quarter. In the Fastening and Assembly Systems segment, sales decreased 2% for the quarter. Strong results in Asia could not fully offset the impact of a double-digit decline in domestic automotive production. MILTON KEYNES, UK — Homebase, the U.K. DIY chain, is finding its value plummet amidst the country's tough economic climate. Homebase's parent company, Home Retail Group, which also owns the Argos chain, says it will write off up to £600 million, reducing the company's worth to between £300 and £400 million. SOCHI, Russia — Carrefour, Europe's largest retailer, reports that it has signed an agreement to invest in its first store in Russia. The site will be in Krasnodar, a region considered to have considerable economic potential and a favourable investment climate. The first store will open in 2009 and the agreement anticipates an investment by Carrefour of up to US$100 million over a five-year period and the opening of several hypermarkets or other retail formats.
ECONOMIC INDICATORS
Sales of automotive products fell 11.7% in August to $7.0 billion, offsetting the gains over the two previous months. A 13.2% decline in motor vehicle sales was behind most of the drop, while sales of motor vehicle parts and accessories fell 5.8%. Much of the decline in motor vehicle sales can be attributed to slowing demand for larger less fuel-efficient vehicles. (Stats Canada)
OVERHEARD…
"The industry continues to be plagued by tighter mortgage availability, a growing number of foreclosures, and a historically high supply of unsold homes." —Richard Dugas, CEO of Pulte Homes, America's third-largest home builder, which suffered a 36.7% revenue during its latest quarter.
Hardlines Quarterly Report (New Report out now!) Hardlines Retail Report (Coming this month, place your order now!)
Hardlines Webinars
Hardlines Hot Product Showcase
Hardlines TV
Free daily news updates
Did you know you can have this newsletter sent to someone else in your office for only $3.83 a month per person?
Click the link below to spread the news to your whole office!