In This Issue:
PLUS: "urban" Home Hardware, new vp retail at FCL, another Chester Dawe store, curved Canadian Tire card, B&Q battles in China, RDTS celebrates — and more!
"Age is not a particularly interesting subject. Anyone can get old. All you have to do is live long enough." —Groucho Marx (American comedian, actor and author, 1890-1977)
Please play fair: We ask all our Faithful Hardlines Subscribers to abide by our "Fair Play" Policy. Help us protect our copyright (and get our kids through college). Please don't pass along your copy to someone who could be a subscriber themselves. We have very low rates for additional subscribers at your company or in the field. Call Brady for more information, or click here to see our low rates —Michael
Donaldson to retire from CanWel
VANCOUVER — Tom Donaldson will retire as president and CEO of CanWel Building Materials Income Fund and its subsidiaries effective Jan. 31, 2010. Amar Doman, CanWel's chairman of the board, will take over the president and CEO role, assuming the duties of the position during the transition period to year's end.Donaldson, who shepherded the company through its conversion from a corporate structure to an income trust, said, "I have had a wonderful career working with the CanWel team, and I am proud of our achievements in creating what CanWel is today, including our initial listing on the [Toronto Stock Exchange] and subsequent conversion to an income trust." Donaldson cites, as reasons for leaving, a desire to "spend more time with my family in Atlantic Canada and to pursue other opportunities and challenges." He will continue on as a member of the CanWel board. The last year has witnessed some incredible changes in the Canadian and international economies," says Doman, "and I am very excited about leading CanWel forward as we start to emerge from these times."

Top.
To become a Vendor Partner click here to contact Beverly Allen.
RONA releases more details of new reality home show
BOUCHERVILLE, Que. — RONA inc. has confirmed details of the new reality TV series, " My RONA Home" (first reported in our Sept. 21 issue —Editor). The first one-hour episode of the ten-part show will be broadcast by Citytv on Sunday, Oct. 4 at 9:00 pm (ET/PT), 8:00 pm (CT/MT). The show will follow two Calgary families with young children as they compete to design, construct and decorate brand new homes — all the way from the foundation to the finishing touches. The winning family, as voted by viewers, will win their dream home, with all the furnishings, valued at $400,000.Each family is teamed up with a designer, a contractor and two assistants. Each room in the house must be finished within 30 hours. During the process, the families will live in on-site trailer homes. To gain points toward LEED Canada for Homes certification ((Leadership in Energy and Environmental Design)), the houses featured in My RONA Home will incorporate eco-responsible products such as locally-sourced certified lumber, low-flow faucets and dual flush toilets, recycled paints and CSA-certified windows. Landscaping will be designed to minimize water consumption by using plants and drought-tolerant grass seed. "This will be more than just another home improvement series," says Claude Bernier, executive vice-president of marketing and customer Innovations at RONA. "MY RONA Home will show viewers how we can all reduce our impact on the environment."

Top.
Canada affected by reorg of Lowe's international businesses
TORONTO — With the takeover of Lowe's Canada by former vice-president operations Alan Huggins, he becomes the third president in as many years. Former president Don Stallings himself had come up in August 2007 to take over from Doug Robinson, who is also an American, but one with a history in Canada. Robinson had been the president of Beaver Lumber during its final days when parent Molson Cos. was trying to sell it off.Robinson tried unsuccessfully to orchestrate a management takeover of Beaver. Then, seeking to stay in Canada, he moved to Arxx Building Products in Kingston, Ont., before moving back to the U.S., where he continues to work for Lowe's at its Mooresville, N.C., head offices. Stallings came up next, after spending a decade as Lowe's regional vice-president in Texas. During that time, he was responsible for leading the team that opened Lowe's first stores in the Dallas market. Having proven himself as someone who could successfully expand into new markets, his next posting is in Australia, where he will be part of a partnership with Australia's largest retailer, Woolworths. Woolworth's operates more than 3,000 stores — including department stores, consumer electronics outlets and liquor stores. The new joint venture, called Carbonproxy, has succeeded in its bid to take over Aussie hardware chain Danks. With that acquisition, the new company plans to open a chain of home improvement stores, of which the first is slated to open sometime in Lowe's 2011 fiscal year. Lowe's opened its first Canadian stores in December 2007 and currently operates 14 stores in Ontario, with two more to open later this year. Those stores (as first revealed in Hardlines, by the way —Your ever–supportive Editor) will be in Ottawa and Sudbury, Ont. Lowe's Canadian stores are part of a stable of more than 1,675 in the United States serving approximately 14 million customers a week.
German garden fair showcases leisure living
COLOGNE, Germany — Europe's leading trade fair for the lawn and garden industry came to a close here recently, drawing more than 25,000 trade visitors from 89 countries. They came to see 1,389 exhibiting companies from 49 countries.Despite a beleaguered economy here, attendance was up from the previous year as buyers, agents and vendors came to see what's new in the category. The furniture sector was again a centre of attention, and the leisure sector included a huge range of products from the grilling and barbecue segment. But there was also lots of action for the garden market, as well: 583 companies were represented in the "ambience" area of the fair, including producers of decoration supplies, plants and plant care products. There were also 146 exhibitors presenting their basic garden products from the Far East in the "basic" segment. The products with the highest turnover in the specialist building supplies and garden trade segments during the first half of 2009 were flowers and plants. According to the Federal Association of the German DIY, Building and Garden Specialist Stores (BHB), this product group was up 7.5% in the first six months of this year. John Herbert, managing director of the BHB, was also pleased with spoga 2009. "Considering the current conditions, the trade fair went better than we might have originally thought. Expectations were fulfilled in every area."
Ace stores test phone-in product locator
ST. LOUIS — A new service that helps shoppers find products on store shelves faster and easier is being tried out in an Ace Hardware store. The store, in the St. Louis suburb of Springfield, has been the test since mid-August for Aisle411, a voice-recognition product location service.A customer wandering the aisles looking for a product can call the store through any mobile phone free (by calling 1-877-AISLE411). Next, the caller states their location and the store, asks for the item, then receive the location of the product in a voice message over the phone and by text within seconds. In addition, Aisle411 will offer coupons and other money-saving offers via text message that can be used immediately in the store where they are shopping. According to Aisle411, more than 22% of shoppers give up while looking for hard-to-find items in a store. Since the launch, more stores have been added to the pilot program — the Ace Hardware in Town & Country, another suburb of St. Louis, and at the Ace Hardware stores in Highland and Centralia, Ill.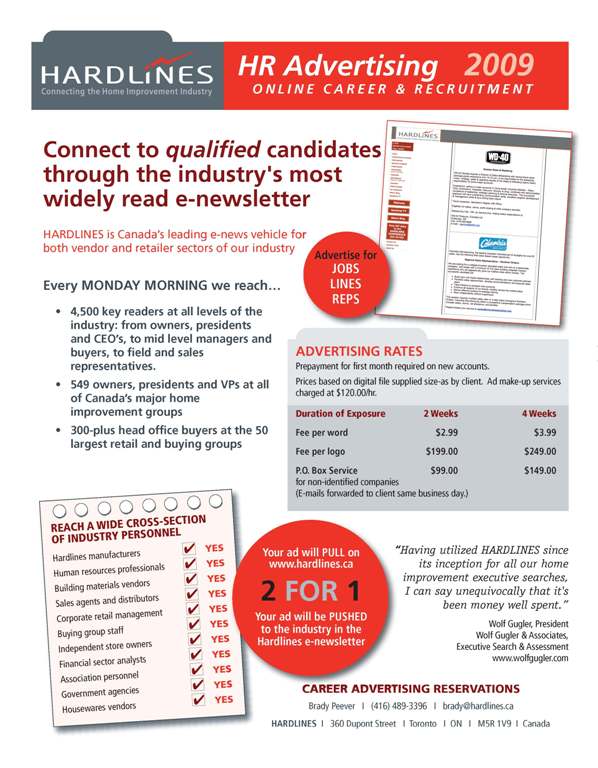 To place an ad in our classified section click here or call 416-489-3396
Results oriented sales professional with a strong record of achievement in strategic and tactical roles.
Seasoned Sales veteran. Experienced, dealing with established and new manufacturers introducing new products to key retailers in the Canadian market.
A marketing professional with a highly successful level of experience in all aspects of marketing consumer packaged goods at a national retail level.
Leadership, sales and communication skills, seeking a challenging and results-oriented environment.
A creative, strategic thinking and results oriented Sales Professional.
Know someone who is between jobs? We will send a complimentary subscription to anyone who is seeking a job. We also offer a free Online Resumé Service. Ask them to call or email us here at the World Headquarters. (And why not tell your HR department about this service!) Email Brady for more info. —Beverly
Marketplace
Sell your company - or buy one - with HARDLINES Classifieds! Do your executive search, find new lines or get new reps in the HARDLINES Marketplace. Only $2.75 per word for three weeks in the classifieds. To place your ad, call Brady Peever at 416-489-3396 or email: brady@hardlines.ca
To ensure you receive your HARDLINES newsletter each week, please add bev@HARDLINES.ca to your address book.

Did your email system make this newsletter unreadable? You can read it online instead. call us to find out how.

Publishing Details: HARDLINES is published weekly (except monthly in December and August) by HARDLINES Inc. 360 Dupont Street Toronto, Ontario, Canada M5R 1V 9 © 2009 by HARDLINES Inc. HARDLINES™ the electronic newsletter www.HARDLINES.ca Phone: 416.489.3396; Fax: 416.489.6154 Michael McLarney - Editor & President - mike@HARDLINES.ca Beverly Allen, Publisher - bev@HARDLINES.ca Brady Peever - Client Services Manager - brady@HARDLINES.ca Chiaki Nemoto - Accounting - chiaki@HARDLINES.ca The HARDLINES "Fair Play" Policy:Reproduction in whole or in part is very uncool and strictly forbidden and really and truly against the law. So please, play fair! Call for information on multiple subscriptions or a site license for your company. We do want as many people as possible to read HARDLINES each week - but let us handle your internal routing from this end! Subscription:$299 (Canadian subscribers add $14.86 GST = $315.21 per year/ GST #13987 0398 RT).Secondary subscriptions at the same office are only $48.75 (Canadian subscribers add $2.44 GST = $51.19).Ask about our reduced rate for branch offices.You can pay online by VISA/MC/AMEX at our secure website or send us money. Please make cheque payable to HARDLINES.
Home Depot, Home Hardware, RONA, Castle, IRLY, Canadian Tire, Lowe's, Orgill,  TruServ, UFA and TSC. They're all coming to the Hardlines Conference. Don't just read about these retail leaders in the news, come network with them at the Hardlines Conference Oct. 22-23, 2009  in Toronto. Click here for more info.
—Beverl

y
DID YOU KNOW…
…the big winners in the battle for market share among home enhancement consumers are the mass merchants and Costco? These retail sectors grew last year, while the industry overall shrank. (Full details of the industry's winners in home improvement retailing — plus results of our latest market share study — are in the next issue of our sister publication, Hardlines Quarterly Report. Order yours today! —Michael)
NEWS IN BRIEF
KANATA, Ont. — Bridlewood Home Hardware, which had its grand opening this past weekend, is an example of a new resolve by Home to sharpen its focus on urban markets. Despite cramming almost 30,000 SKUs into 14,000 square feet of selling space, the retailer has maintained a bright, open layout and puts the emphasis on appealing to the female shopper. It's also Home Hardware's first LEED-certified store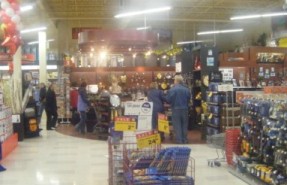 BAY ROBERTS, Nfld. — RONA, through its home improvement division, Chester Dawe, has opened Chester Dawe's eighth location in the Newfoundland and Labrador market. The store, which boasts 15,000 square feet of retail and another 15,000 of warehouse, combines the businesses of two former locations, in Conception Bay (the former Bishop's Building Centre, a recent acquisition by RONA) and in South River. This outlet marks the first RONA-Chester Dawe built according to RONA's own format.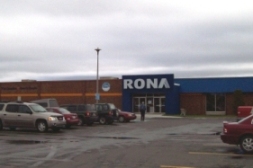 LONDON — Kingfisher, through its B&Q home improvement chain, has announced it will only buy FSC-certified product when sourcing tropical hardwood plywood. The move is part of a new procurement policy by the retail giant. All tropical hardwood plywood in the company's UK stores will be sourced from forests in Acre, in Brazil.
TORONTO — Canadian Tire Financial Services is introducing a new credit card with MasterCard tailored to young professionals that has new features — and a new shape. The curved card has contactless PayPass technology featuring cash back rewards and no annual fee. The card is issued by Canadian Tire Bank, a wholly-owned subsidiary of Canadian Tire Financial Services Limited. NANJING, China — B&Q China will close more stores, as it continues to lose money in the Asian market. Closures will occur here and in Hefei, resulting in fewer than 48 stores here, down from a high of 63 just a couple of years ago. The company has experienced an 18% drop in sales in China over the first six months of this year. MONTREAL — RDTS, the in-store merchandising company, is celebrating its 15th anniversary this year and has unveiled new initiatives to increase the company's overall business performance by officially being certified ISO9001/2008. RDTS anticipates that this initiative will provide many benefits such as better quality management standards, consistent operational quality values, increased customer satisfaction and harmonized business. RDTS claims it is the first company in North America to be certified under these standards.

PEOPLE ON THE MOVE
Tracy Sianta has joined Hart & Cooley, Inc., a manufacturer of air distribution and vent products for heating, plumbing and air-conditioning systems, as director of marketing. Located in Grand Rapids, Mich., she will report to Curt Monhart, evp of sales and marketing. Most recently she was the director of marketing, sales & business operations for Klise Manufacturing.Deane Collinson has been named CEO of Calgary Co-operative Association Limited, effective Oct. 20. He joins the co-op from Cadillac Fairview Corporation in Toronto where he held the position of executive vice president of operations. Prior to that, he was employed at Loblaw Companies Limited for more than 23 years. Collinson will replace Ken McCullough, who is now vice-president, retail division, at Federated Co-operatives in Saskatoon. McCullough served as CEO of Calgary Co-op from 2004.
ECONOMIC INDICATORS
Real gross domestic product was unchanged in July, following a 0.1% increase in June. The strength of the manufacturing and wholesale trade sectors was attributable to a rebound in motor vehicle and parts production. There was also an increase in the accommodation and food service sector. However, construction and retail trade were both down. (Stats Canada)
NOTED…
A new survey by the Conseil québécois du commerce de détail/Retail Council of Quebec on the spending habits of Quebecers reveals that 67% of households perceive their financial situation as being unchanged over the last six months. Another 12% have seen an improvement and 21% noted a deterioration, due mainly to an increase in the cost of living. However, Quebec households are optimistic about their finances for the near future: 63% of households expect their financial situation to remain unchanged and 26% expect an improvement.
Hardlines Products
Hardlines Quarterly Report
Hardlines Retail Report
Hardlines Hot Product Showcase
Hardlines TV
Free daily news updates
Did you know you can have this newsletter sent to someone else in your office for less than a dollar an issue!