In This Issue
"May you live all the days of your life." —Jonathan Swift (Irish satirist and novelist, 1667-1745)
Castle tries "speed dating", wins points with vendors
MISSISSAUGA, Ont. — This fall, for the second year, Castle Building Centres Group held one-on-one Buying Expos, dealer meetings with vendors in three regions of the country. This "speed-dating" scenario was conducted in Halifax, Saskatoon, SK, and Huntsville, Ont. during consecutive weeks in September. The business sessions were held on one day, and followed by a day of golf.Castle tried the event last year in Halifax, the brainstorm of Sandy Welsh, the buying group's business development manager for Atlantic Canada. In each region that the event was held, a group of vendors were met, on a timed, rotating basis, by Castle dealers from that region. For example, in Halifax, 54 dealers were on hand to see new products and get to understand better the companies behind those products. Vendors interviewed by Hardlines expressed satisfaction with the program. They welcomed the personal interface and the attention given by the dealers. Castle, which currently has more than 220 stores in its membership, has been undertaking a number of new initiatives in recent months. The addition of two new banners within its membership, Commercial Building Supplies and Castle Specialty Dealer, now give it more opportunity to recruit gypsum dealers and specialty dealers, such as kitchen suppliers and window and door dealers. 

Top.
Home Hardware, BMR build recruitment teams
ST. JACOBS, Ont. — Home Hardware Stores has put together a team to recruit dealers actively for the Home Hardware banner. The team is headed up by Dunc Wilson, who was recently recruited away from Groupe BMR to assume a newly created position at Home as director, national dealer development.Wilson has a long background with the industry, dating back to a stint as a buyer for Woolworths. He has worked at Beaver Lumber, and for Ace Hardware Canada, when it was located at the former Beaver Lumber offices in Markham, Ont. For five years he held a similar role at BMR, based in Longueil, QC. There, he was instrumental in pushing BMR beyond its home province of Quebec, to secure dealer members in both Ontario and the Maritimes. Wilson has been replaced at BMR by Bill Miculescu, who has assumed a more senior title as vice-president business development. Miculescu, a well-known and respected figure from the vendor side, spent 30 years with CGC, most recently as director of sales, before retiring from that company earlier this year. Although the group is well served in its home province of Quebec, with three dealer development people, it lost Brian Hermiston, the Ontario rep, earlier this year. Miculescu is covering that territory until a replacement is found. At Home Hardware, Wilson has been given a mandate for new dealers for the country's largest co-op. He says the company will explore every opportunity. "I don't think there's a restriction on anything we're looking for. Our strength is in the rural areas, but we're looking in all areas," Wilson says. That includes opportunities in urban markets, as well. "We can do it in an urban market," he asserts. Wilson points out that he's put senior managers in all four key regions of the country. "We're not favouring one over the other — this is a national initiative." (See "People on the move" for the complete list of Wilson's team, and — this just in — a new team recruiting dealers for TIM-BR MART in Quebec! —Michael)
Economic conditions addressed at upcoming Hardlines Conference
WORLD HEADQUARTERS, Toronto — Worries about the softening economy in Canada, compounded by the collapse of the credit markets in the U.S., have vendors and retailers alike searching for some clues to Canada's economic future over the coming months. That's why HARDLINES has recruited a senior analyst from Canada Mortgage and Housing Corp. to speak at the upcoming Hardlines Conference, Oct. 23-24.Ted Tsiakopoulos, CMHC`s Ontario regional economist, heads a team that is responsible for the forecasting and analysis of economic and housing conditions. He will give a national outlook on the state of Canada's housing market, and provide insights into the changing demographics that drive retail spending habits. Tsiakopoulos is just one part of a powerful line-up of speakers who will give recession-busting insights into how to succeed in the changing retail home improvement industry. Speakers include:
Ray Griffith, President & CEO of Ace Hardware, who will outline the growth opportunities for vendors as Ace re-enters the Canadian market;
Chuck Côté, VP of UFA, one of Canada's most successful co-operatives, who will map out the incredible success this Alberta company is having with its expanding retail business;
Greg Hicks, COO of TSC Stores – talk about a success story! Expansion, into new regions and new categories; and
Yves Gagnon, President & CEO of BMR – his company is making big changes that could affect you!
For more information and to register today, <click here>.
RONA supports eco lines with in-store signage
BOUCHERVILLE, QC — RONA inc. has unveiled eco-responsible signage across all RONA-bannered stores. The signage is designed to help shoppers identify eco-responsible products. The designated products were selected based on a "life cycle" approach adopted by RONA and include more than 300 name-brand items. RONA's own line of ECO products are also designated as eco-responsible choices. The signage provides complete, unbiased information on the environmental characteristics of the different categories of eco-responsible products, outlining why items were selected."Our research shows that consumers are looking to adopt environmentally-friendly practices but often lack the necessary information to do so," said Robert Dutton, RONA's president and CEO, in a prepared release. "The new signage allows us to provide information on products' environmental characteristics and guide consumers looking for eco-responsible hardware, renovation and gardening products." Eco-responsible products can be found across departments, from building materials to gardening products. They have been selected in partnership with the École Polytechnique's International Chair in Life Cycle Assessment, a research unit with CIRAIG, the Interuniversity Research Centre for the Life Cycle of Products, Processes and Services. Eco-responsible products meet minimum impact requirements in one or several life cycle phases; acquisition, manufacturing, packaging and transport, use, or end of life.
TIM-BR MART increases Quebec presence with new office
CALGARY, Alta. — TIM-BR MART has established a Montreal regional office and hired a team to provide support to the buying group's membership in that province — and to recruit new dealers. Those dealers belong to the Mat Plus buying group, which joined with TIM-BR MART at the end of last year.

Daniel Rioux will join TIM-BR MART as their general manager, Quebec. Located in the newly established Montreal office, his key function will be to build relationships with key vendors and ensure the dealers' interests are well-represented during TIM-BR MART's yearly negotiations and beyond. Rioux will also have responsibilities on a national level, managing a key category and participating on national and regional negotiation committees. Rioux was most recently at BPB/CertainTeed, and prior to that as served as a category manager at RONA and in distribution at MacMillan Bloedel. (See "People on the move" for Rioux's full team in Quebec.) 

Prime Source Building Products, Inc., one of the North American's largest wholesale distributors of building supply products, is seeking experienced sales professionals to support their Canadian expansion.

Product Specialist for Tools and Accessories -Responsibilities include providing sales assistance of GRIP-RITE branded products within the Ontario region. Inside Sales- Mississauga - Responsibilities include developing a pipeline of prospective opportunities; via interaction with an existing customer base and a network of prospects, providing outstanding customer service and the ability to build relationships and close business over the telephone. Qualified candidates must be self-motivated, quota driven, and results oriented with a proven and documented history of success. We are looking for at least two years of outside sales experience and preferably experience in the building materials industry. If you are a proven leader who welcomes the opportunity to work in a challenging and financially rewarding environment, we want to meet you. PrimeSource offers attractive base salaries, aggressive commission incentives, and a competitive benefits package. Please send Resumes to Phil Brown General Manager PrimeSource Canada At brownp@primesourcebp.com
Sell your company - or buy one - with HARDLINES Classifieds! Do your executive search, find new lines or get new reps in the HARDLINES Marketplace. Only $2.75 per word for three weeks in the classifieds. To place your ad, call Brady Peever at 416-489-3396 or email: brady@hardlines.ca
To ensure you receive your HARDLINES newsletter each week, please add bev@HARDLINES.ca to your address book.

Did your email system make this newsletter unreadable? You can read it online instead. call us to find out how.

Publishing Details: HARDLINES is published weekly (except monthly in December and August) by HARDLINES Inc. 360 Dupont Street Toronto, Ontario, Canada M5R 1V 9 © 2008 by HARDLINES Inc. HARDLINES™ the electronic newsletter www.HARDLINES.ca ; Phone: 416.489.3396; Fax: 416.489.6154 Michael McLarney - Editor & President - mike@HARDLINES.ca Beverly Allen, Publisher - bev@HARDLINES.ca Brady Peever - Circulation Manager - brady@HARDLINES.ca The HARDLINES "Fair Play" Policy:Reproduction in whole or in part is very uncool and strictly forbidden and really and truly against the law. So please, play fair! Call for information on multiple subscriptions or a site license for your company. We do want as many people as possible to read HARDLINES each week - but let us handle your internal routing from this end! Subscription:$285 (Canadian subscribers add $14.25 GST = $299.25 per year/ GST #13987 0398 RT).Secondary subscriptions at the same office are only $46 (Canadian subscribers add $2.30 GST = $48.30).Ask about our reduced rate for branch offices.You can pay online by VISA/MC/AMEX at our secure website or send us money. Please make cheque payable to HARDLINES.
COMPANIES IN THE NEWS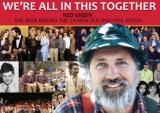 TORONTO, Ont. — Red Green creator and star, Steve Smith, has a new biography, entitled We're All In This Together, and 3M Canada will be the sole Canadian distributor for the book. Smith collaborated on this book TV personality Mag Ruffman, the host of DIY television classics like A Repair to Remember (and a long-time friend of HARDLINES!). Smith and Ruffman will embark on a Canada-wide radio, television and print media tour to promote the book. Industry appearances include the recent Home Hardware fall market and the upcoming markets by TruServ Canada and Federated Co-op. (Dealers reportedly lined up for two hours to meet Smith and place orders for the book in the 3M booth at the Home Hardware market.)SURREY, B.C. — Shel Busey, in association with the Building Supply Industry Association of British Columbia (BSIA) will hold a "Training Boot Camp" for retail sales staff, Oct. 21-23, at Zajac Camp at Stave Lake, B.C. The course will cover four key topics: customer service, workplace safety, plumbing, and heating. Cost is only $350 per person for all three days, and includes meals and accommodations. For more info, contact BSIA at: 604-513-2206.
ST. JACOBS, Ont. — Home Hardware Stores Ltd. presented appreciation plaques to the vendors who participated in the first issue of HomeWorks software at its latest dealer market. The home décor and renovation planning software has now reached 100,000 registered users. In addition, Home announced that computer manufacturer MDG will install the HomeWorks software program on all its new computers. OAK BROOK, Ill. — Ace Hardware updated its consumer website earlier this year with some high-tech innovations to help the company track customers. According to the Wall Street Journal, Ace has used geolocation software, supplied by a division of Norcross, VA-Digital Envoy. Visitors to the site simply enter their address and the software shows them stores within a 30-mile radius, complete with Google maps and driving directions. TORONTO — Sears Canada reduced prices on hundreds of products over the weekend, in an effort to get worried consumers to open their wallets. Sears is responding to falling consumer confidence with "Budget Relief Price Drops", a program that has lowered prices on a wide selection of merchandise to give Canadians confidence that they are getting value for apparel and home products. LONDON — B&Q has become the first retailer in the UK to offer a nationally recognized Home Improvement Qualification.  The new qualification has been accredited by UK awarding body, City and Guilds. The Home Improvement Qualification ties in with the British education system to put businesses' in-house training schemes on a par with other academic qualifications. This means employees gaining the new award can use it toward further academic qualifications such as vocational diplomas or even degrees. B&Q is piloting the new qualification and by the end of 2009 aims to train 5,000 employees. MISSISSAUGA, Ont. — Wal-Mart Canada has joined all Wal-Mart operations worldwide in a global commitment to reduce plastic shopping bag waste by an average of 33% per store by 2013. Wal-Mart Canada has set its own goal of a 50% reduction. TEMISCAMING, Que. — Tembec has received Forest Stewardship Council (FSC) certification for its forestry practices over a 711,020-hectare public forest in Senneterre, in Abitibi-East, Que. Tembec has invested more than $4.5 million since 2003 for the development and improvement of the Senneterre operations. The FSC provides third-party certification worldwide to well-managed forests.
PEOPLE ON THE MOVE
The Home Hardware dealer development team, under Dunc Wilson, director, national dealer development, reflects a range of experienced personnel from across the country: Andrew Parkhill, senior development manager, Western Canada (formerly with Aluminart); Georgette Carriere, senior development manager, Ontario (a former area manager and most recently dealer development manager for Home Furniture); Luc Martin, senior development manager, Quebec (a former area manager for Home); and Kevin MacDonald, senior development manager, Eastern Canada (formerly an area manager for Home). Under them are: Jason Noel, dealer development manager, Western Canada (formerly with King Canada); Peter Miller, dealer development manager, Ontario (formerly with Kaycan and CanWel); Bill Dixon, dealer development manager, Ontario (formerly with TruServ Canada and Pro Retail Services); and Laurie Blackwood-Pike, dealer development manager, Eastern Canada (formerly with CanWel Hardware, Sodisco-Howden, and Cochrane-Dunlop).Daniel Rioux, who has joined TIM-BR MART as their general manager, Quebec, has the following people on his team there: Josée Desrosiers, sales manager, who will provide retail support for the Quebec-based CanWel Hardware customers within Groupe Mat Plus. She will also present and implement the PRO and ACE store branding program in conjunction with TIM-BR MART's retail programs … Marcel Savoie and Mark Blouin, both dealer development managers reporting to Desrosiers. They all come over from the Pro Retail Services team. Under Desrosiers' leadership, Savoie and Blouin will be tasked with recruiting new dealers and growing retail sales in Quebec. Selkirk, a manufacturer of chimney, venting and air distribution products for the commercial and residential HVAC and hearth industries, has appointed Fred Pierce as the national sales manager for its Hearth Products Division in the USA. Based in Dallas, Pierce has enjoyed previous sales management positions at Selkirk since August 2000 in both the Hearth and Commercial/Industrial markets. Chris Clement has joined Graham & Brown Wallcoverings as a national account manager. He has held various sales positions at Richelieu Hardware, Henkel, Bakor and Fiesta Barbecues. He has also worked on the buying side at Elte Carpets and Beaver Lumber. ( 905-844-7800 ) Mercier Wood Flooring, the Montmagny, Que.-based hardwood floor designer and manufacturer, has appointed M. Fred Hack sales representative for the Mid-Atlantic territory. Hack has 30-years experience in the hardwood flooring business, most recently with Mohawk. At Dorel Industries Inc., Norman Braunstein has been promoted to president of Dorel's Home Furnishings Segment. Braunstein, who joined the company in 2003, has served as COO of Dorel Asia, corporate vice-president of Home Furnishings, and most recently as COO of the segment.
ECONOMIC INDICATORS
Real gross domestic product increased 0.7% in July after advancing 0.1% in June and retreating 0.1% in May. The energy sector, which has been trending down during the last four quarters, accounted for almost half of the July increase. Value added in the retail trade sector was unchanged for July, following three consecutive monthly advances. There was higher activity at gasoline stations, computer stores and alcoholic beverage vendors, and significant declines in the volume of sales of building materials and convenience stores. The volume of activities of new and used car dealers was down. (Stats Canada)
OVERHEARD …
Mark Holifield, hired by Home Depot from Office Depot last year to transform and update its distribution network, recently told Supply Chain Digest that the company's stores, on average, simply carry too much stock, and that improving inventory management by just one full turn per year would generate $1.5 billion in extra annual cash flow.
Posted July 14

Highly effective relationship management skills with a track record of developing and executing programs effectively. Strong strategic thinking and management background. Solid propensity for team building, coaching, mentoring and developing others. A competitive manager with a proven sales, marketing, merchandising and, leadership record.
Hardlines Quarterly Report Hardlines Retail Report (Coming this month, place your order now!)Hardlines WebinarsHardlines Annual Conference (Agend updated!) Hardlines Hot Product Showcase Hardlines TV Free daily news updates
Did you know you can have this newsletter sent to someone else in your office for only $3.83 a month per person?
Click the link below to spread the news to your whole office!