October 24, 2011, Volume xvii, #40
"Flip, flop and fly, don't care if I die; Flip, flop and fly, don't care if I die; Don't ever leave me, don't you ever say goodbye." — Big Joe Turner (American blues singer, 1911-1985)
______________________________________________________________________

______________________________________________________________________
Lowe's closes 20 stores in the U.S.
MOORESVILLE , NC — Lowe's Cos. is closing 20 "underperforming" stores in 15 states. Ten locations closed at the end of business on Sunday, Oct. 16. The remaining 10 locations will close within about a month, following an inventory sell-through. The company will lay off almost 1,950 workers and take a second-quarter charge of $345-$415 million.

The stores affected are located in: Los Banos and Westminster, CA; Biddeford and Ellsworth, ME; Old Bridge, NJ; Batavia, NY; Denver, CO; Ionia, MI; North Kingstown, RI; Aurora and Oswego, IL; Rogers, MN; Emporia, VA; Manchester and Claremont, NH; South Tacoma, WA; Chalmette, LA; Hooksett, NH; Brown Deer, WI; and Haverhill, MA.

In addition, after completing a comprehensive review of its "pipeline" of proposed new stores, the company further announced it has discontinued a number of planned new store projects. Planned openings for the coming years are being ratcheted down from 30 to about 10 or 15 annually.

Planned locations that have been dropped include Baltimore, MD; and Petaluma, CA.
back to top

______________________________________________________________________
Delegates report positive sales FCL show
SASKATOON — Federated Co-operatives Ltd. held its Fall Buymart last week. The group, which had overall sales exceeding $7 billion last year and is ranked number two in the list of Saskatchewan's top 100 companies by Saskatchewan Business Magazine, represents more than $470 million in hardware and home improvement sales (source: Hardlines Who's Who Directory of Retailers, Wholesalers, Buying Groups and Co-ops).

Vendors reported generally positive sales to the dealers in attendance, while the dealers at the show were overall upbeat about their business, despite a challenging year in the West. Because of the farm and rural focus of the Co-op stores, a lot rests on the farm economy. While Alberta is turning in a good harvest, some areas of Saskatchewan were not so lucky, due to excess moisture in the spring.

A number of FCL's grocery members were also walking the show, on the lookout for general merchandise items they could add to their stores, such as impulse products and clip-strips.

The strength of dealer attendance at the show was reflected in the gala dinner, which had to make room for 1,900 people in a room that was designed for only 1,700. Entertainment was provided by one of Canada's hottest new bands, the Sheepdogs – who also won a recent contest to appear on the cover of Rolling Stone magazine. (How cool is that? —your trusty Can-con Editor)
_______________________________________________________________________
Ace dealer offers zombie preparedness kits

LENEXA , KAN — U.S. consumers have plenty of issues on their mind—the economy, the housing market, the job market, etc. But one retailer is helping ease their minds about one pressing issue—the imminent zombie invasion.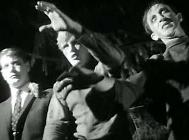 Westlake Ace Hardware launched an interesting advertising campaign designed to catch customers' attention, according to the Omaha World-Herald. The hardware store chain's Zombie Preparedness Center debuted in many of its stores earlier this month. Workers hung up posters (A Human's Guide to Zombie Preparedness) to offer tips to humans on which power tools, cleaners, and door locks will work best for warding off the undead.

Employees also handed out "Zombie Prepared" buttons, according to the newspaper.

Also, on the company's website, "Zombies" was added to the list of store specialties. "I love the tone," Liz Benditt, Westlake's director of customer relationship development, told the newspaper. "If we can help you with your lawn and your home, we can help you with the zombie apocalypse." She said web traffic has increased, and store managers said they've seen more potential customers coming into stores.

The chain, which is Ace's largest member, has 88 stores in Iowa, Missouri, Kansas, Nebraska, Oklahoma, Texas, and New Mexico.
_______________________________________________________________________
Internet use rising, lowest in New Brunswick

OTTAWA — In 2010, 80% of individuals aged 16 years and older used the internet for personal use. The highest use was among residents of British Columbia (86%) and Alberta (84%). The lowest rates were in Newfoundland and Labrador (73%) and New Brunswick (70%). Internet use is also higher in urban areas, at 82%, vs. secondary and rural markets, at 72%.

Individuals under the age of 45 had the highest rate of use, at 94%, while 80% of those aged 45-64 used the internet. Among seniors, about one-half (51%) of those aged 65-74 used the internet, compared with 27% of those aged 75 years and older.

In 2010, 51% of Internet users ordered goods or services for personal or household use. In total, Canadians placed nearly 114 million orders, valued at about $15.3 billion. Among those who placed an order, individuals averaged about 10 orders over a 12-month period, with an average total value of $1,362 per person. Of those who placed an order, 55% purchased travel arrangements (e.g., hotel, travel, and car rentals) and 48% ordered tickets for entertainment events.

Most shoppers (83%) placed orders from companies in Canada, while 60% ordered from vendors in the United States, and 18% from vendors in other countries.

Overall, Canadians are considered experienced internet users, with almost one-half of users (47%) having been online for 10 years or more. About three-quarters (76%) used the internet at least once a day in a typical month.
back to top

Classifieds

PrimeSource Building Products Canada LTD., a wholesale distributor of building supply products, has an immediate opportunity for an Inside Sales Representative in our Vancouver, BC distribution center.

Responsibilities include developing a pipeline of prospective opportunities; via interaction with an existing customer base and a network of prospects, providing outstanding customer service and the ability to build relationships.

Qualified candidates must be self-motivated and willing to work as part of a sales team. Requires professional and confident telephone skills, computer skills and at least one year of sales or customer service experience and/or college degree. Any experience in the building materials industry is a big plus!
Please send resumes to advinculal@primesourcebp.com

Hardlines Specialist Representative

BRITISH COLUMBIA
Castle Building Centres Group is an industry leader among Buying Groups in the Lumber and Building Materials segment in Canada. Due to the rapid growth of our hardlines solution, we are seeking a candidate in the B.C. region.

You are a highly motivated individual with strong relationship and communication skills that can manage and develop our future hardlines growth. This position requires an individual who is knowledgeable of standard concepts, practices and procedures within the hardlines industry, willing to travel extensively and accustomed to working remote from head office. Qualifications include a minimum two years experience in the wholesale or retail hardware / lumber and building materials industry.

Reporting to the Regional Business Development Manager, you welcome the opportunity to work with a dynamic group of independent LBM dealers while planning and executing our hardlines solution. Providing continual and proactive communication to our members while understanding their needs is fundamental to your success. Sound computer and presentation skills; combined with good administrative qualities are imperative.

Castle Building Centres Group offers a comprehensive compensation package including full benefits.

All submissions will be treated with complete confidentiality. Please forward your resume in confidence to:

Yvonne Patton
Castle Building Centres Group Ltd .
100 Milverton Drive, Suite 400
Mississauga, Ontario
L5R 4H1
E-mail: ypatton@castle.ca
Resumés
Experienced District Manager with a proven track record with several national chains.

view this

resumé

A conscientious, highly motivated manager with a results-oriented track record in developing new business.

view this

resumé

A goal oriented sales director that has superior management skills, customer oriented, with in depth knowledge of the industry and the ability to achieve results.

view this

resumé

An experienced merchandising executive possessing passion, vision, and a strategic approach to delivering bottom-line.

view this

resumé

Senior sales/marketing leader with experience in all classes of trade wishing new HARDLINES career. view this

resumé

Very Experienced Business Unit Manager, great passion for generating sales and building relastionships.view this

resumé

Worked through my career within the manfucaturer, wholesale and consumer goods industries. view this

resumé

Senior Sales Manager with vast experience in retail and wholesale sales growth in Canada. view this

resumé
Connect with us!