October 29, 2012, Volume xviii, #41
"People should know what you stand for. They should also know what you won't stand for." —Anonymous
______________________________________________________________________



______________________________________________________________________
TruServ garners Newsmaker Award for new banner
 TORONTO — It's not often that a new banner gets created for hardware and home improvement dealers. It's not often that a full program of support services is developed to further help those dealers.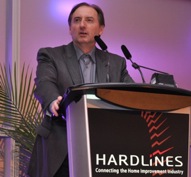 Yet, this is exactly what TruServ Canada did when it launched the TRU banner for Canada, earning it this year's Newsmaker of the Year Award. The award was presented last week at the 17th annual Hardlines Conference in Toronto.

Under new ownership by RONA, Winnipeg-based TruServ Canada decided a year ago to refocus as a truly Canadian company serving the independent dealer. It started by ending its license agreement with the True Value Company in the U.S., and began a process of developing a banner – and a store program – that would be distinctly home grown in every way.

A series of focus groups and discussions with those very dealers helped TruServ pinpoint the values and priorities that today's dealer stands for. Then, with the combined resources of RONA and TruServ's marketing teams behind it, the company re-emerged with the TRU banner, suitable for hardware, building centre, and farm and garden retailers.

But it didn't stop there. TRU has been supported by new websites for each retail format, plus a range of support services for all independent dealers, ranging from affordable flyer programs to enhanced, customized online services.

On top of all this, TruServ has maintained – and reinforced – its role as a general hardware wholesaler for independents of all stripes, regardless of their affiliation.

On accepting the award, TruServ Canada president Bill Morrison spoke proudly of TruServ Canada's achievements, and its distinctly Canadian heritage. "We value community, partnerships. At TRU, we treat our partners the way we want to be treated."

For putting its finger firmly on the pulse of today's independent retailer, and for creating a fresh new banner program and range of services to satisfy that independent, TruServ Canada has earned this year's Hardlines Newsmaker of the Year Award.

The Hardlines Newsmaker of the Year Award is sponsored by the National Hardware Show.
back to top



______________________________________________________________________
Castle dealer wins first-ever Retail Innovation Award
TORONTO — Innovate or retire. That was the choice facing owner Vince Cavallo and his cousin, store manager Max Careri, just three years after they moved the family's 40-year old business to a new location in Brampton, Ontario. With a RONA big box right across the street, a Canadian Tire two kilometers to the west, and both Lowe's and Home Depot even closer in the other direction, Lumberland North simply had differentiate — or disappear.

Their efforts to transform their business earned them the first-ever Marc Robichaud Award for Retail Innovation. The award was presented last week at the 17th annual Hardlines Conference in Toronto. It was named in honour of Marc Robichaud, a dealer from Meteghan Centre, NS, who was considered a pioneer of innovative retailing. He died earlier this year at the age of 36.

Realizing that it could not compete head-to-head with these big box giants, Lumberland North chose instead to focus on selling the complete project. The centre of the store was turned over to kitchen and bath — more than 100 vignettes offering everything from high-end modern sinks to sleek faucets and the tiles and countertops to complete the job.

All of this backed by an intense commitment to customer service. In fact, Vince and Max make the same-day deliveries themselves.

The other half of the store maintained its traditional focus, but with a narrower breadth of lines. And at the back of the store, lumber, especially moulding and rails, take up about 5,000 of the 45,000 square feet of the store. Out back, a warehouse provides further storage.

Owner Vince Cavallo and manager Max Careri have displayed the innovative attitude to make changes to their business that set it apart from their competition. Without a doubt, Lumberland North has displayed the imagination, originality, and courage to make it a worthy recipient of the first-ever Marc Robichaud Award for Retail Innovation.
______________________________________________________________________
Chalifour show features new and expanded categories
MONTREAL — Chalifour Canada, the hardware wholesaler owned by TIM-BR MARTS Ltd., held its second Retailer Buying Expo here this past weekend. The show, which covered 120,000 square feet in Place Bonaventure, featured 260 vendors and attracted an estimated 700-plus delegates representing 320 retail operations.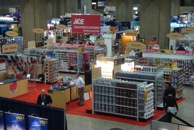 A big part of the show again this year was a "store on the floor" featuring the latest merchandising programs available to independent dealers. According to Randy Martin, vice president of merchandise, new categories introduced at the show included Farm hardware and personal care products, and an expanded assortment of housewares and small kitchen electronics, including the addition of the Cuisinart brand.

The show featured expanded lines of plumbing. The department features new and revamped products being launched at the show, reflecting the addition of new vendors to Chalifour's supplier base. "It's been a big effort for us over the past three or four months to expand the plumbing assortments," said Martin.

The Ace brand was also front and centre here, with 2,500 new Ace products featured at this year's show. Ace's high-end paint brand, Clark & Kensington, which was introduced to Ace dealers in the U.S. last year, was featured for the first time for Canadian dealers.
______________________________________________________________________
Sexton gm shares insights at Hardlines Conference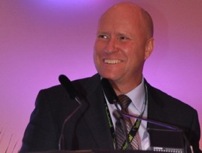 Steve Buckle, vp and gm of the Sexton Group, spoke at the Hardlines Conference last week about the state of independent retailers, and how his company, one of Canada's largest buying groups, is adapting to meet their needs.

"The independent building material retailer isn't simply surviving; they're thriving," said Buckle. "The markets that they serve represent billions of dollars in sales opportunities for suppliers."

According to Buckle, today's independents are focused, ambitious, aggressive, and flexible. Those that weren't wiped out by the rise of the big-box store in the 1990s adapted by becoming more contractor-oriented, building on the already strong relationships they had with professionals in their communities.

Today, the typical small town Sexton member has a retail presence and generates some consumer traffic. But, said Buckle, "the real action is happening in the back. Seventy or 80% of our volumes go to professional contractors, the agricultural community — in some sort of a business-to-business sale."

Speaking to the vendors in the room, Buckle added this bit of advice, referring to the self-sufficiency of independents. "They don't need a whole lot from the supply community. What they need is a great product, a great price."
______________________________________________________________________
Home Hardware program supports young dealers

 ST. JACOBS, ON — A group of Home Hardware dealers, all under the age of 40, returned recently from a leadership and management retreat in Las Vegas. The retreat, hosted on behalf of Home's "Young Leaders" group, ran Oct. 15-19.

The 32 participants in the Young Leaders group, who came from Home Hardware stores across the country, spent two days in the classroom with Kevin Graff of Oakville, ON-based Graffretail, a retail-training agency. Graff customized a leadership and management program for the delegates' own stores. Outside of the classroom, the group spent time in social and team building events.

The Young Leaders program was an initiative conceived within Home's training and education department. This is the second year that the group has gone on a retreat.
_____________________________________________________________________
Classifieds
_____________________________________________________________________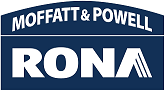 Moffat & Powell - Manager
Moffatt & Powell RONA is in search of a Manager
for our new store in Tillsonburg, Ontario.
Interested candidates can send their resumes to hr@moffattandpowell.com.

______________________________________________________________________
Resumés
Professional with over 25 years of experience in Sales, Marketing, Merchandising and Administration

view this

resumé

Marketing professional with over 10 years experience looking to secure a new full-time position.

view this

resumé

A Sales Professional with over twenty years of experience.view this

resumé

Experienced District Manager with a proven track record with several national chains. view this

resumé

A conscientious, highly motivated manager with a results-oriented track record in developing new business.

view this

resumé

An experienced merchandising executive possessing passion, vision, and a strategic approach to delivering bottom-line.

view this

resumé

Senior sales/marketing leader with experience in all classes of trade wishing new HARDLINES career. view this

resumé

Very Experienced Business Unit Manager, great passion for generating sales and building relastionships.view this

resumé

Worked through my career within the manfucaturer, wholesale and consumer goods industries. view this

resumé

Senior Sales Manager with vast experience in retail and wholesale sales growth in Canada. view this

resumé