October 31, 2011, Volume xvii, #41
"I'd like to be rich enough so that I could throw soap away after the letters are worn off." —Andy Rooney (American author and TV commentator, 1919- )
______________________________________________________________________

______________________________________________________________________
TIM-BR MARTS Awarded as 2011 Newsmaker of the Year
WORLD HEADQUARTERS, TORONTO — The role of the building supply buying group is changing dramatically as independent dealers face increasingly tough competitive challenges. One buying group stood out over the past year for its commitment to change. That's why TIM-BR MARTS Ltd. was selected as HARDLINES' 2011 Newsmaker of the Year.

Each year, HARDLINES, the information service for the retail home improvement industry, presents its Newsmaker Award, sponsored by the National Hardware Show, to a company based on its performance that has made a significant impact on the industry. This year, TIM-BR MARTS Ltd. was recognized as consistently making a newsworthy impact.

The company has been expanding rapidly, with growth among both traditional retail yards and commercial dealers, and now boasts more than 700 members nationwide. However, the single biggest move TIM-BR MARTS Ltd. made over the past year was to acquire CanWel Hardware Division from CanWel Building Materials. TIM-BR MARTS Ltd. quickly renamed the business Chalifour Canada, creating its own hardware distribution business. To complete Chalifour's reach across the country, TIM-BR MARTS Ltd. later acquired the distribution business of its group member, IRLY Distributors Ltd., making that Surrey, BC-based facility the Western arm of Chalifour Canada.

"HARDLINES is proud to recognize TIM-BR MARTS Ltd. for its efforts to make a difference in home improvement retailing," said Michael McLarney, Editor of HARDLINES and Managing Director of the North American Retail Hardware Association Canada. "The acquisition of CanWel Hardware marked the tipping point in a series of bold initiatives that made TIM-BR MARTS Ltd. a worthy recipient of the 2011 HARDLINES Newsmaker of the Year Award."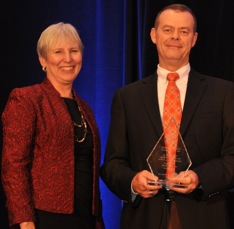 Tim Urquhart (r), president and CEO of TIM-BR MARTS Ltd., accepts the Newsmaker of the Year Award from HARDLINES' publisher, Beverly Allen, at the 16th Annual Hardlines Conference. The Award is sponsored by the National Hardware Show.
Tim Urquhart, president and CEO of TIM-BR MARTS Ltd., was on hand at the conference to accept on behalf of his company. "This award is a testament to what can happen when a group truly listens to what its members need," he said. "Our activities throughout the past year are a reflection of our commitment to the entrepreneurial spirit, the success of the independent, and to the partnerships we have with our vendors."

Other efforts to enhance TIM-BR MARTS Ltd.'s range of services have included the launch of its own dealer show in spring 2011.

TIM-BR MARTS Ltd. has been actively building its brand, as well. Leveraging its Hockey Canada sponsorship, the World Junior Hockey Video Challenge returns this year and lets teams video their team spirit showing why they love hockey the most. The grand prize is a trip for the entire winning team to the World Junior tournament in Edmonton.

The Newsmaker of the Year Award was presented at the 16th Annual Hardlines Conference, Oct. 27, 2011. The Award is sponsored by the National Hardware Show.
back to top

______________________________________________________________________
Amidst slowdown, industry faces "new retail reality"
TORONTO —The retail home improvement industry grew only slightly in 2010. But that slight rise did mark a turnaround after two consecutive years of negative sales growth, says Michael McLarney, editor of HARDLINES. In his introductory remarks at the 16th Annual Hardlines Conference, he told delegates that the industry is facing a "new retail reality," one that is forcing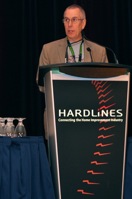 retailers and vendors alike to re-think conventional assumptions about how the business has operated for the past generation.

"The rate of growth that drove the industry during the early years of this millennium all but ground to halt when the recession of 2008 hit," he noted.

And the industry is still trying to recover. Big boxes are still struggling for market share that hit the wall five years ago and stuck at just over one-fifth of the industry overall. And while independents are gaining ground, the turnaround has been a slow one, hampered this year by a tough first half.

McLarney added that the HARDLINES forecast for growth in the retail home improvement industry in 2011 will be only slightly stronger than in 2010.

(Find out how big the industry is, what formats, retailers, and provinces are making gains, and learn the strategies of Canada's top retailers. It's all in our 2011-2012 Retail Home Improvement Report. Click here for more info!)
_______________________________________________________________________
Chalifour developing model stores for independents

MONTREAL — The Retail Buying Expo of Chalifour Canada was held here this past weekend, featuring more than just products. The organizers were featuring an array of services, as well, as the national hardlines distributor, which is owned by TIM-BR MARTS Ltd., positions itself as a true "retail sales organization."

That description came from Randy Martin, vice-president hardware for Chalifour Canada, as he took HARDLINES on a tour of the show at the Place Bonaventure. He pointed out that the show featured both LBM and hardware vendors under one roof – a first for the wholesaler. "The show offers 'the whole solution' for both hardware and building materials dealers," he said.

One of the feature areas of the show was a newly re-merchandised electrical department, with new signage and colours. Martin called it a turnkey program that will be available to all Chalifour customers. Other departments will be re-merchandised, as well, and rolled out over the next eight to 10 months. The programs are part of a larger initiative to develop model stores for the wholesaler's hardware and home centre customers. "It's going to be focused on three or four different models that are designed to address the needs of a wide range of dealers," he said.

Created by the company's own store planning department and the input of dealers themselves, the model stores can be tailored to each independent's own banner.

(More on the Chalifour expo in our next issue! —Michael)
_______________________________________________________________________
Selection a factor when competing against the big box

TORONTO — While the big-box format has consolidated since it first emerged in this country almost two decades ago, independents and smaller retailers in general have learned to develop clear and solid strategies to compete.

Examination of the efficacy of those strategies was the topic of a presentation last week by Joshua Hammerschlag, a student from the University of Alberta. He spoke at the 16th Annual Hardlines Conference, as part of Studies in Retail Excellence Program created in partnership with HARDLINES.

One area Hammerschlag studied was the range of products available at big boxes. For example, Home Depot was shown to have a wider range of hand tools overall vs. independents that carve out an area of specialization. "All the retailers [in the study] had at least one line of products that home Depot didn't have, and in some cases they had more than five specialized lines of products," Hammerschlag said. "With this, they try to compensate for the fact that they have reduced selection in general products."

Once specialized customers are drawn to the store, they end up buying other products, as well, he observed.

SIRE is dedicated to promoting careers in hardlines retailing among a new generation of students. The program cultivates mentoring, scholarships, and specialized research. Funding for the program comes through the generous sponsorship of Home Hardware Stores Ltd., Home Depot Canada, and Lowe's Canada.
back to top

_______________________________________________________________________
Ikea to open biggest Canadian store yet

BURLINGTON, ON — An expanded Ikea store in Ottawa will be this country's largest yet. It is slated to open Dec. 7. The new site, a relocation of the existing store to the opposite end of Pinecrest Mall, will be 398,264 square feet in size, which is more than triple the size of the old store.

The previous Ottawa Ikea, says Madeleine Löwenborg-Frick, public relations manager for the company, "only offered our customers 50% of the range, so we are thrilled that our customers will now have access to our complete range of products, as well as way more inspirational room settings, parking, and, of course, seats in the restaurant."

Currently, the largest Ikea stores in Canada are the Vaughan and Coquitlam locations, which are both 333,681 square feet.

Ikea will open a new location in Richmond, BC in April 2012. Another store that will open in Winnipeg in late 2012 will be 395,000 square feet in size.
back to top

Classifieds

PrimeSource Building Products Canada LTD., a wholesale distributor of building supply products, has an immediate opportunity for an Inside Sales Representative in our Vancouver, BC distribution center.

Responsibilities include developing a pipeline of prospective opportunities; via interaction with an existing customer base and a network of prospects, providing outstanding customer service and the ability to build relationships.

Qualified candidates must be self-motivated and willing to work as part of a sales team. Requires professional and confident telephone skills, computer skills and at least one year of sales or customer service experience and/or college degree. Any experience in the building materials industry is a big plus!
Please send resumes to advinculal@primesourcebp.com

Hardlines Specialist Representative

BRITISH COLUMBIA
Castle Building Centres Group is an industry leader among Buying Groups in the Lumber and Building Materials segment in Canada. Due to the rapid growth of our hardlines solution, we are seeking a candidate in the B.C. region.

You are a highly motivated individual with strong relationship and communication skills that can manage and develop our future hardlines growth. This position requires an individual who is knowledgeable of standard concepts, practices and procedures within the hardlines industry, willing to travel extensively and accustomed to working remote from head office. Qualifications include a minimum two years experience in the wholesale or retail hardware / lumber and building materials industry.

Reporting to the Regional Business Development Manager, you welcome the opportunity to work with a dynamic group of independent LBM dealers while planning and executing our hardlines solution. Providing continual and proactive communication to our members while understanding their needs is fundamental to your success. Sound computer and presentation skills; combined with good administrative qualities are imperative.

Castle Building Centres Group offers a comprehensive compensation package including full benefits.

All submissions will be treated with complete confidentiality. Please forward your resume in confidence to:

Yvonne Patton
Castle Building Centres Group Ltd .
100 Milverton Drive, Suite 400
Mississauga, Ontario
L5R 4H1
E-mail: ypatton@castle.ca
Resumés
Experienced District Manager with a proven track record with several national chains.

view this

resumé

A conscientious, highly motivated manager with a results-oriented track record in developing new business.

view this

resumé

A goal oriented sales director that has superior management skills, customer oriented, with in depth knowledge of the industry and the ability to achieve results.

view this

resumé

An experienced merchandising executive possessing passion, vision, and a strategic approach to delivering bottom-line.

view this

resumé

Senior sales/marketing leader with experience in all classes of trade wishing new HARDLINES career. view this

resumé

Very Experienced Business Unit Manager, great passion for generating sales and building relastionships.view this

resumé

Worked through my career within the manfucaturer, wholesale and consumer goods industries. view this

resumé

Senior Sales Manager with vast experience in retail and wholesale sales growth in Canada. view this

resumé
Connect with us!