October 7, 2013, Volume xix, #38
"I went to a fight the other evening and a hockey game broke out."
— Rodney Dangerfield (American comedian and actor, 1921-1984)
_____________________________________________________________________
____________________________________________________________________________________
TruServ Canada announces key personnel retirements
WINNIPEG — TruServ Canada announced the retirements of four key managers at its National Buying Market this past weekend.

"We have several managers, with a long history in our company, who will transition into retirement at the end of October," said Bill Morrison, president of TruServ Canada, during the market presentations. "It has been an honour to work with them."

Wilf Gerhardt , national manager, business development, will retire after 43 years. His career started at Macleods in 1973, where he eventually rose to the position of store manager. He moved to the Winnipeg office in 1983 where he has held several positions, working closely with independent dealers across Canada. He was recognized as a source of knowledge and expertise for his co-workers and for many store owners over the years. Gerhardt's responsibilities will be transitioned to Guy Lichter, director of dealer development & support.

After 40 years with the company, Donna Glasman will retire. Through the years she held various positions: sales promotions, assistant buyer, buyer for homegoods, and then merchandising manager. In 1992, she was named manager, marketing and advertising. Over the last 20 years, leading the marketing and advertising team, Glasman has been instrumental in building a marketing program for TruServ Canada dealers. Her responsibilities will be transitioned to Lora Deighton, marketing and communications manager.

Terry Derraugh, vice president of merchandising, has played an integral role with the company for the last 31 years. He was a store manager, moving to head office to become director of store operations, then director of merchandising and advertising. In 2002, he became vice president of merchandising. Derrraugh's responsibilities will be assumed by Greg Hollander, merchandising manager; and Luc Roy, merchandise program manager.

Although not retiring, Serge Vezina, director of sales and business development – east, will leave TruServ Canada at the end of October. He joined TruServ Canada in 2011, bringing over 30 years of experience in recruiting and supporting independent retailers from his former role as senior director, for dealers in Canada for RONA.

In a release, TruServ Canada stated it "is proud to serve independent retailers across Canada and has benefited from the expertise and knowledge of these long-term employees." (We can echo that sentiment. Each of these individuals has been a staunch supporter of this industry and of HARDLINES. —Editor)

"They will be missed," said Morrison, "but we have a solid group of people moving up the ranks to take over for those who will retire at the end of October."
______________________________________________________________________
Randy Martin promoted at TIM-BR MART
 CALGARY — TIM-BR MART Group has announced Randy Martin's appointment as vice president, operations. Formerly vice president of
merchandise and general manager for Western Canada, Martin joined TIM-BR MART in 2000, overseeing Chalifour and TIM-BR MART's Spancan contracts and negotiations, as well as procurement. All the senior managers now report to Martin.

Martin brings to the role more than 35 years of experience in the building materials and hardware industry, and has worked for public and private companies prior to joining the TIM-BR MART team. Based in Calgary and supported by the senior leadership team, Martin will report directly to the interim CEO, Michael Westrum.

______________________________________________________________________

Home Depot expands its Redbeacon service

   ATLANTA — Home Depot is accelerating the national rollout of its online referral service Redbeacon to tap demand from homeowners who don't want to do fix-it projects themselves.

Redbeacon, which connects consumers with painters, plumbers, carpenters and maids, expanded last week through Home Depot to Oregon, Washington, Idaho, Utah, Montana, and Alaska. The service is now in 11 states and it expects to be nationwide over the next two years.

Founded five years ago, Redbeacon is Home Depot's third acquisition since 2012 aimed at selling more home-installation projects. While those services account for only 4% of the retailer's revenue, it supports Home Depot CEO Frank Blake's push to drive more sales as rising home prices spur renovation.

Home Depot bought two other companies in 2012: MeasureComp LLC, a flooring measurement company, and U.S. Home Systems Inc., which refurbishes kitchens and bathrooms.

______________________________________________________________________

Survey reveals importance of price and assortment

   CINCINNATI — A new survey is getting a lot of attention for identifying the best retailers based on something called "Customer Centricity." However, the research fails to take into account the value that customers place on factors such as customer service, focusing instead on the importance of price and product availability.

As a result, the "Customer Centricity Index," by U.S. consulting firm Dunnhumby, puts companies like Menards and Ikea at the top of the list. According to a release by Dunnhumby, the survey measures "how well retailers are responding to the needs and wants of their customers—through the eyes of their customers." The Customer Centricity Index provides quantifiable data across seven areas: loyalty, assortment, communications, assortment, promotions, price, and feedback.

The survey, which focused on home improvement and housewares retailers, ranked Menards as the top home improvement retailer, with Home Depot a close second. In housewares, Ikea scored highest among a total of seven retailers.
Top Scoring Home Improvement Retailers:

1. Menards

4. Ace Hardware

2. The Home Depot

5. True Value

3. Lowe's

 

Top Scoring Housewares Retailers:

1. IKEA

5. Crate & Barrel

2. Bed, Bath & Beyond

6. Pottery Barn

3. Williams Sonoma

7. Pier 1 Imports

4. Home Goods
 

______________________________________________________________________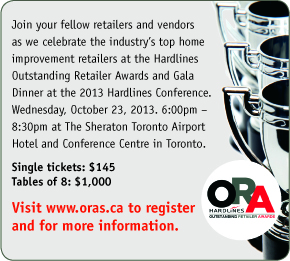 ______________________________________________________________________
Classified Ads
 
Unlock your competitive advantage
Creative Transition Resources (ctr) helps companies and individual leaders unlock your key competitive advantage. CTR helps you build a powerful business or communication strategy that engages your key people in its development.

The right strategy unlocks your key advantage and that's where ctr comes in. We bring two decades of proven success facilitating, developing, executing and communicating strategies and solutions that work. See the full range of services at ctr.ca or contact Yasmin Glanville, Chief Strategist, yasmin@ctr.ca, for further information.
______________________________________________________________________

Resumés
Click here to view the resumés online