In This Issue:
PLUS: new BMR store, Ikea year end, Hudson's Bay may go public, Walmart goes high efficiency, retail sales drop — and more!
"A powerful idea communicates some of its strength to him who challenges it." —Marcel Proust (French novelist and critic, 1871-1922)  
RONA and Leafs seal sports sponsorship deal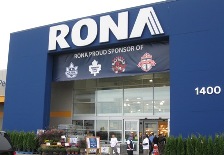 WHITBY, Ont. — RONA execs, including CEO Robert Dutton, were on hand at the RONA store here recently to formally recognize their new partnership with Maple Leaf Sports & Entertainment. RONA will become official home improvement retailer of the Toronto Maple Leafs, Toronto Raptors, Toronto FC and Toronto Marlies.The five-year sponsorship makes RONA the "Official Home Improvement Retailer" of the Toronto teams. To mark the occasion, players from each of the four teams were at the event to greet the public and sign autographs.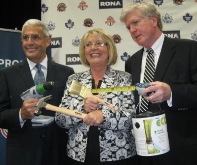 RONA president and CEO Robert Dutton and Toronto Maple Leafs president and general manager Brian Burke announced that their organizations would team up to refurbish a city-owned arena in Whitby. The announcement marks the beginning of RONA's community-building initiative with MLSE, adding another dimension to the new partnership. RONA will play an active role in the Maple Leafs Hard Hats for Hockey program, which was launched three years ago by MLSE. As part of the program, RONA will contribute labour and materials while MLSE will contribute cash. The Maple Leafs Hard Hats for Hockey program has already invested $400,000 in eight rink refurbishment projects in Toronto.

Top.
Lowe's lays out Canadian growth, barely
CHARLOTTE, N.C. — Lowe's Cos. made only a passing reference to its Canadian operations during a three-hour-long conference with analysts and investors on Sept. 22.During their formal presentations, none of Lowe's four top executives uttered the word " Canada" once. It was only during the question-and-answer period that Greg Bridgeford, Lowe's executive vp business development, revealed that the retailer intended to open between nine and 12 stores annually in Canada, an expansion that would "continue for some time," he said. Bridgeford added that Lowe's gross margins in Canada were roughly equivalent to those for its stores in the U.S. Lowe's will open a total of 10 stores outside of the U.S. in 2010, but its officials spent far more time talking about their company's recent joint-venture agreement with Woolworths in Australia, in which Lowe's is a one-third partner and will invest $100 million per year over the next four to five years to help Woolworths open up to 150 big-box stores in Australia and New Zealand. The company's officers also spoke about Lowe's opening its first two stores in Monterrey, Mexico, by next January. The first store will include 75,000 square feet of indoor selling space, a 25,000-square-foot drive through lumberyard and a 10,000-square-foot garden center. Lowe's received 4,000 job applicants at that store.

Top.
Message to Harper government: extend the HRTC
MISSISSAUGA, Ont. — The umbrella organization representing building materials dealers in Canada has sent a letter to the federal government defending the Home Renovation Tax Credit. The Canadian Retail Building Supply Council, which consists of Canada's five regional building supply associations (ABSDA, AQMAT, LBMAO, WRLA and BSIA), submitted the letter to the pre-budget committee of the standing committee on finance.The first point of the letter was to urge the Harper government — and the opposition leaders, who also received the letter — not to make the HRTC, as part of the Ways and Means Motion, the cause of a vote of non-confidence that would have brought the government down. While that crisis has passed, the CRBSC letter went further, asking that the HRTC be extended for another year, to Feb. 1, 2011. Renovation activity has proved a real antidote to falling housing starts, with residential renovations and repairs up 1.7% in the second quarter, according to Stats Canada. David Campbell, president of the CRBSC and president of the Ontario Lumber and Building Materials Association, whose signature appears at the bottom of the letter, says the tax credit has been effective "simply because it's a low-cost incentive package and it's done a good job." He also thinks there's lots of life left in the program. "The average consumer took a while to understand it, so let's get the full impact of the tax credit by extending it."
Lowe's reveals store productivity strategies
CHARLOTTE, N.C. — In a recent conference for investors and analysts, Lowe's Cos. officers of the company explained their company's strategy for increasing store productivity and profitability, now that the company is scaling back its new-store expansion plans to between 35 and 40 units per year for the next several years. Lowe's is also facing a consumer that remains hesitant to make big-ticket purchases, so its stores must induce shoppers to make more frequent visits and purchases.Larry Stone, Lowe's COO, laid out the company's five "cross functional initiatives" to drive more sales: • The retailer is adding 125 commercial specialists who will work outside of its stores and will focus on signing new accounts with builders and contractors. Lowe's wants to increase its commercial sales to 30% of its revenue by 2014, from 25% today. •A flexible fulfillment program that will streamline how Lowe's fills orders at its stores and online is expected to drive up to $200 million in incremental sales. •Lowe's is currently testing a model that would centralize project management with its customers, as part of an effort to improve efficiencies of installed sales, which has been one of its weakest sectors for comp-store growth. •Later this year, Lowe's will relaunch a revamped version of its Web site, with the goal of generating $250 million in online transactions annually. •Next year, Lowe's intends to roll out a repair service that will manage repairs of appliances and power equipment for its customers. By taking the manufacturer out of the repair process, Lowe's hopes to establish a closer link to its customers.
RONA gets serious about certified wood
BOUCHERVILLE, Que. — RONA has unveiled new initiatives to support its introduction of certified wood products in its stores. So far, five of its stores have been singled out to offer softwood lumber that has received certification from the Forest Stewardship Council.Already, 90% of the softwood lumber RONA sells is from forests certified under one of three certification programs: the Forest Products Marking Program, the Sustainable Forestry Initiative and the Forest Stewardship Council. However, RONA's new policy places preference on FSC because it's considered the one that best addresses relations with local communities and biodiversity conservation. So far, less than 5% of the softwood lumber currently stocked is from FSC certified forests. Hence, the new campaign to sell FSC-certified product through following five stores: in Rosemere (a Réno-Dépôt) and Mascouche, Que.; the two stores in London, Ont., and one in Barrie, Ont. But the goal is to reach 25% FSC certified product in all its stores before the end of 2012, depending on availability and competitive pricing. By the end of 2010, the company hopes that 100% of the SPF softwood — spruce, pine and fir — for sale in its corporate and franchise stores will be from certified forests. RONA has also established a program to increase the proportion of softwood lumber from certified forests for sale in its affiliate dealers to reach 90% before the end of 2011. RONA is supporting the push to certified wood with new signage in its stores across Canada.

MASCO CANADA LIMITED, is one of Canada's largest distributors, manufacturers, and marketers of residential and commercial plumbing products. Our brands include Delta, Waltec, Brasscraft, and Master Plumber. Masco Canada Limited is the Canadian plumbing division of Masco Corporation, one of the world's largest manufacturers of brand name consumer products for the home and family. We have the following immediate opening:

MASCO CANADA – RETAIL SALES DIV., MISSISSAUGA, ONTARIO RETAIL ACCOUNT MANAGER

General Description:

Reporting to the Director of Sales, Home Centre Channel, Canada

Primary Responsibilities:
Main MCPG Contact with retail customers
Sales plan development for all product lines (Budget).
Achieve account sales targets.
Promotional planning and new product listings.
Daily management of product lines and SKU maintenance.
Implementation and execution of strategic plans.
Agency co-ordination on service criteria with assigned customer base.
Product forecasting.
Monitor and analysis of POS results by account.
Plan-o-gram development and implementation.
Support Director of Sales, Home Centre Channel, on special projects as required.
Secondary Account Responsibilities:
Competitive and market analysis.
Monthly reporting on account activity.
Planning and attending customer trade shows
Cross departmental business development.
Project Teams or Special projects:
New store setup captain on assigned customer base.
Market study on new opportunities.
Develop and implement new sales opportunities within the assigned customer base.
The successful candidate will have extensive product knowledge and customer relation skills gathered over 3 to 5 years of National or Regional account experience within the Home Improvement sector, along with a post secondary education are required. Excellent communication skills are required.Advanced level Microsoft Office skills (Word, Excel, PowerPoint)Bilingual would be a major asset. If interested, please forward your resume to: recruiting@mascocanada.com  or FAX 519-659-1531  
Retail Business Unit Manager, ITW Construction Products

 Our client is a $10bb FORTUNE 200 diversified dominant headquartered in Chicago with Canadian headquarters in Markham, ON. The Retail business markets and sells the ITW Construction product line to wholesale accounts and to retail big box stores and mass merchants nationally.

Reporting to the Canadian General Manager, you'll manage four direct reports in national accounts sales, channel marketing, key accounts sales and a warehouse supervisor. Indirect staff of 10 also reports in. You'll be accountable for the achievement of sales growth and profitability for the retail channel in the Canadian marketplace and for the continued development and implementation of strategic plans for the retail business. This position will have bottom-line responsibility for P&L, ROA & ROS for the retail business. You'll also be responsible to develop your key personnel to achieve the unit's success. An important role of this position will be to maintain close, positive relationships with head buyers and key senior managers of big box & mass merchant accounts. Development and implementation of new product programs to existing accounts and to potential opportunities will be a major component of this position. Due to the complexity of multi channel selling and crossover of customers the incumbent must be able to look at the big picture of ITW's business and have a good understanding of the objectives of each business unit's channel and product mix. You'll also work with and foster relationships with US staff (product managers, general managers) to act as a conduit re: new products, strategies and opportunities. Education would preferably consist of a business/finance combination, combined with ~ten years' successful consumer products expertise managing at a senior level. You've developed and lead a team of sales and marketing professionals to achieve growth & profitability for consumer product lines. Equally important is your role as an effective communicator to provide motivation, leadership by example and vision to your team of professionals, along with exceptional financial understanding. To explore this opportunity in complete confidence, please contact Wolf Gugler via phone @ 888-848-3006. You can apply online at www.wolfgugler.com/opportunities or click this link: http://www.maxhire.net/cp/?E55F69361D43515B76561A653A5C526E04 Wolf Gugler & Associates, Limited, executive search and selection for retailers and their suppliers throughout North America.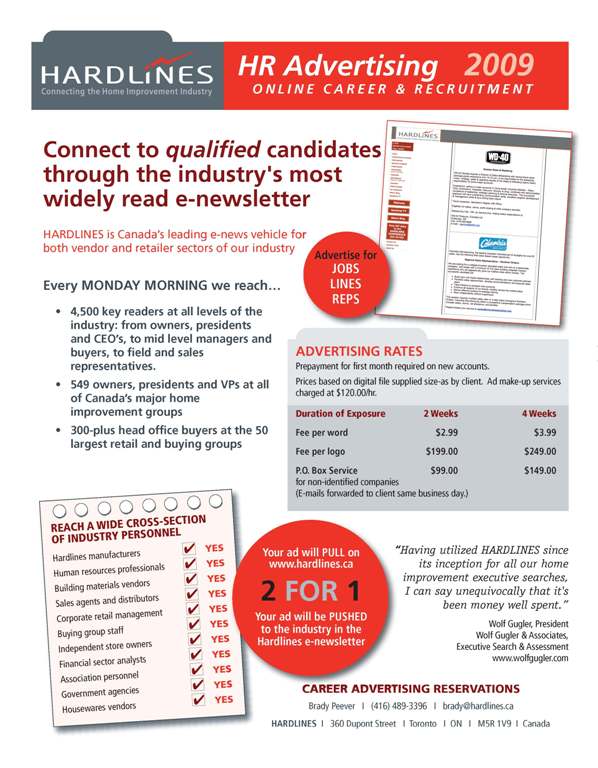 To place an ad in our classified section click here or call 416-489-3396
Results oriented sales professional with a strong record of achievement in strategic and tactical roles.
Seasoned Sales veteran. Experienced, dealing with established and new manufacturers introducing new products to key retailers in the Canadian market.
A marketing professional with a highly successful level of experience in all aspects of marketing consumer packaged goods at a national retail level.
Leadership, sales and communication skills, seeking a challenging and results-oriented environment.
A creative, strategic thinking and results oriented Sales Professional.
Know someone who is between jobs? We will send a complimentary subscription to anyone who is seeking a job. We also offer a free Online Resumé Service. Ask them to call or email us here at the World Headquarters. (And why not tell your HR department about this service!) Email Brady for more info. —Beverly
Marketplace
Sell your company - or buy one - with HARDLINES Classifieds! Do your executive search, find new lines or get new reps in the HARDLINES Marketplace. Only $2.75 per word for three weeks in the classifieds. To place your ad, call Brady Peever at 416-489-3396 or email: brady@hardlines.ca
To ensure you receive your HARDLINES newsletter each week, please add bev@HARDLINES.ca to your address book.

Did your email system make this newsletter unreadable? You can read it online instead. call us to find out how.

Publishing Details: HARDLINES is published weekly (except monthly in December and August) by HARDLINES Inc. 360 Dupont Street Toronto, Ontario, Canada M5R 1V 9 © 2009 by HARDLINES Inc. HARDLINES™ the electronic newsletter www.HARDLINES.ca Phone: 416.489.3396; Fax: 416.489.6154 Michael McLarney - Editor & President - mike@HARDLINES.ca Beverly Allen, Publisher - bev@HARDLINES.ca Brady Peever - Client Services Manager - brady@HARDLINES.ca Chiaki Nemoto - Accounting - chiaki@HARDLINES.ca The HARDLINES "Fair Play" Policy:Reproduction in whole or in part is very uncool and strictly forbidden and really and truly against the law. So please, play fair! Call for information on multiple subscriptions or a site license for your company. We do want as many people as possible to read HARDLINES each week - but let us handle your internal routing from this end! Subscription:$299 (Canadian subscribers add $14.86 GST = $315.21 per year/ GST #13987 0398 RT).Secondary subscriptions at the same office are only $48.75 (Canadian subscribers add $2.44 GST = $51.19).Ask about our reduced rate for branch offices.You can pay online by VISA/MC/AMEX at our secure website or send us money. Please make cheque payable to HARDLINES.
DID YOU KNOW…
Building supply dealers saw their collective sales — and market share — dip in 2008. The trend continues in the first half of this year, with some regional exceptions. (Find out how the buying groups are making out, how they are growing and differentiating, and how their customer base is changing. It's in our Annual Buying Group Report, available soon in the next issue of Hardlines Quarterly Report! —Michael)
NEWS IN BRIEF
  SHERBROOKE, Que. — The Létourneau family recently opened their second renovation centre. Representing an investment of more than $3 million, the retail floor sales area is 10,000 square feet, supported by 130,000-square-foot lumberyard and warehouses that total 15,000 square feet. Twenty-five new positions have been created. The grand opening coincides with the 35th anniversary of the Létourneau family's first renovation centre in nearby Waterville. The retailer has been flying the BMR banner since 1996, as part of a buying group that represents more than 180 members in Québec, Ontario and the Maritimes.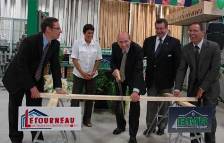 TORONTO — Hudson's Bay Company may go public again. Speaking recently at a conference of the International Council of Shopping Centres, Richard Baker, governor of NRDC Equity Partners, which bought Canada's oldest company last year, admitted he may list the company on the Toronto Stock Exchange as early as 2011. He also said that increased sales have come thanks to more emphasis on women's fashions and accessories, at the expense of home products and men's wear.

TORONTO — Eighteen Canadian retailers and sponsors in the Air Miles Reward Program have joined forces to participate in My Planet. This initiative rewards consumers for choosing eco-friendly products and services. Air Miles Collectors will earn bonus reward miles when they purchase My Planet-designated products and services available at 2,400 Air Miles sponsor stores across Canada. The Air Miles participants in our sector are TIM-BR MART and RONA. TORONTO — A team of 20 Canadian Tire employees, dealers, family and friends will climb Mount Kilimanjaro next month in an effort to raise funds for Canadian Tire Jumpstart, a community-based program devoted to helping kids in financial need participate in organized sports and recreation. Each participant will pay for their own trip and raise additional funds for the program. The team sets out Oct. 12. Many of the participants have organized events at local Canadian Tire stores to help raise money and Mark's Work Wearhouse is supporting the climb by outfitting the entire Kilimanjaro team. The target is $200,000, with $173,209 already raised. MISSISSAUGA, Ont. — Walmart Canada opens its first high-efficiency (HE) prototype in Waterdown, Ont. The Supercentre is expected to use 30% less energy using heating, cooling and refrigeration systems that will conserve energy and reduce greenhouse gas emissions. The high-efficiency prototype will become the norm for all future Walmart stores nationwide. The Waterdown store will also be Walmart Canada's first high waste-diversion store. WATERLOO, Ont. — Expansion of its new product design and marketing teams, expansion into South and Central America and Germany, and the addition of product lines have necessitated a move to larger facilities by Maxtech Consumer Products Limited. The new address is: 602 Colby Drive, Waterloo, Ont. N2V 1A2. Phone remains the same: 519-885-5336. In addition, Maxtech Manufacturing, formerly Maxtech Consumer Products' parent company before it was spun off three years ago, is restructuring its operations. A victim of the declining auto industry, Maxtech Manufacturing has been granted protection under the Companies' Creditors Arrangement Act and is winding down its Waterloo, Ont., operations while growing its Quebec facility. (Maxtech Consumer Products Ltd is unaffected by the restructuring.) BURLINGTON, Ont. — Ikea managed to increase its sales worldwide by 1.4% to €21.5 billion ($33.9 billion) in its 2009 fiscal year, which ended Aug. 31. Despite the challenging international economic situation, the company opened 15 new stores, relocated three more, built a distribution centre and invested in several large shopping centre projects. Ikea also entered its 25th market in fiscal 2009 with a new store in Dublin, Ireland.

PEOPLE ON THE MOVE
Rick Kenny has joined MAAX Bath Inc. as key account manager retail. Kenny was previously at McDonald Sales, where he spent 26 years. He is based in Barrie, Ont. (705-739-0607)

Mike Piggot has been promoted to the position of national account manager at Can-Save. He was formerly in charge of sales for Central Ontario for the Barrie, Ont.-based distributor. (705-722-7283)
CORRECTION: In last week's review of the Home Hardware Market, we spelled kitchen diva Anna Olson's name wrong. To avoid any further mixups, here is a Hardlines Olsen/Olson Primer:

Anna Olson (Celebrity Chef)

Jimmy Olsen (Celebrity Cub Reporter for a quaint metropolitan newspaper)

Johnny Olson (Celebrity Announcer, "The Price is Right")

Olsen Twins (Twins)

Niels Olsen, (Original name of Cornelius Cruys, 17th Century Norwegian-Dutch admiral in the Russian service)
ECONOMIC INDICATORS
Retail sales in current dollars fell 0.6% to $34.2 billion in July. Most of the decline reflected a 3.4% fall in sales at gasoline stations as prices at the pump dropped. In volume terms, retail sales edged down 0.1%. Retail sales have risen in five of the first seven months of 2009, following large drops at the end of 2008. Sales by building and outdoor home supplies stores were up 1.0% following a decrease in June. Sales at furniture, home furnishings and electronics stores decreased 0.6% in July, due entirely to a 2.5% fall in sales at home electronics and appliance stores. (Stats Canada)Wholesale sales increased 2.8% to $41.7 billion for the second consecutive month in July, mainly as a result of higher sales in the automotive products sector which were up 14.2% to $6.8 billion. The building materials sector also contributed to July's growth, with a 3.4% increase. (Stats Canada)
NOTED…
"One of the things I do to train is climb the stairs in my house — from the basement to the second floor and back down — 100 times per session. I've calculated that this is equivalent to climbing the CN Tower." —Michael Strachan, senior vice-president, merchandising, Mark's Work Wearhouse, and a member of the Canadian Tire team that is planning to scale Mount Kilimanjaro next month to raise money for kids to participate in sports.
Hardlines Products
Hardlines Quarterly Report
Hardlines Retail Report
Hardlines Hot Product Showcase
Hardlines TV
Free daily news updates
Did you know you can have this newsletter sent to someone else in your office for less than a dollar an issue!