In This Issue
"The secret to staying young is to live honestly, eat slowly, and lie about your age." —Lucille Ball (American actress, 1911-89)
Home Hardware shows tough(er) side at latest market
ST. JACOBS, ON — The mood was positive, and dare we say, almost feisty, at the latest dealer market held here last week for Home Hardware Stores' 1,000-plus dealer members. Dealers were remarkably upbeat, regardless of which part of the country they hailed from, and in spite of concerns, especially among vendors, about a growing economic slowdown.The positive mood was enhanced by a number of new initiatives, the most striking being a new brand position — and new slogan to support it. "Home owners helping homeowners" takes the independence of the Home Hardware dealers and puts it front and centre as a competitive advantage. That independence signifies greater knowledge and better service among consumers surveyed recently, something that Home wants to highlight as its stores compete alongside Wal-Mart and the home improvement big boxes. "Our dealers own the store. They care more," says Jack Baillie, director of marketing for Home Hardware. "We are realizing that people believe independents offer more knowledge and better service. So how do we relay the message that Home Hardware is not a big organization, but a network of true independents?" The answer, he points out, is reflected in this new strategy and new slogan. Home's former slogan, "Help is close to home", ran for 15 years. Before that, the "Home of the handyman" tag line endured for a quarter of century. As for the new slogan, "the dealers absolutely love it," Baillie says. Another program that underscores a scrappier attitude at Home Hardware is its price match promise, whereby a dealer will match a local competitor's advertised price on an identical in-stock item. "We want our customers to know that we value their business," Baillie says. The company has also re-launched its website and revamped its "Home at Home" consumer magazine with a more upscale look. Besides dealers and their families, the market played host to more than two dozen "prospects", independents who are considering joining Home. Their ranks included a number of high-profile dealers from other leading banners and buying groups in Canada, reflecting new aggressiveness of Home's recruitment efforts, under Dunc Wilson, who came over recently from BMR to form a new dealer development team.

Top.
Lowe's faces local resistance to expansion
KINGSTON, ON — The decision to turn down Lowe's Canada's bid for an industrial site on the west side of this city has become a hot topic for debate. The point of contention is the land that Lowe's wants to develop. Even though it's zoned industrial, some believe the opportunities to attract a manufacturing plant are slight.However, the property is surrounded by other retailers, including Wal-Mart and Canadian Tire. The application by Lowe's took a year to be decided. A similar application in nearby Belleville reportedly took only four months. With seven stores already in Canada, Lowe's plans to open stores here before year's end in Windsor, Belleville, and Whitby, ON. Barrie is also slated to open either this year or next.
Lowe's strategies include fewer store openings for next year
CHARLOTTE, NC — At its annual conference for analysts held here last week, Lowe's outlined its strategies as it attempts to gain market share amidst the severe downturn in the U.S. economy. These strategies include focusing focus on initiatives such as marketing, logistics, distribution, and store operations. The world's second-largest home improvement retailer expects to end this year with about a 1% increase in sales, and with approximately 120 new stores. But an uncertain economic future over the next 18 months has led Lowe's to scale back those store openings for next year by 5%.Greg Bridgeford, Lowe's executive vp, said that 26% of its store openings in 2009 will use a 103,000 sq.ft format, compared to 7% of the store openings this year. Lowe's standard big box is 117,000 sq.ft. By going smaller, Bridgeford said Lowe's will save $1.9 million per store. In fiscal 2009, the company will now open between 75 and 85 stores, compared to its previously announced plan to open as many as 120 units that year. The retailer said that by opening fewer and smaller stores, it would reduce the amount of retail square footage it will add in 2009 by 8%. "It is prudent to remain cautious in our 2009 outlook," said Lowe's CFO Robert Hull. Still, the company continues to assert that it can more than double its projected earnings per share for 2008 over the next five years.
Quebec consumer confidence shows signs of flagging
MONTREAL — Quebec consumers plan to spend less. That's the key result of a survey by the Conseil quebecois du commerce de detail/Retail Council of Quebec (CQCD). The survey, on Quebec consumer spending trends and the buying habits of Quebecers, was conducted by Altus Geocom on behalf of the CQCD.While more than half (59%) of households perceived their financial situation to be unchanged over the last six months, 17% have seen an improvement and 24% have noted a deterioration. The rise in the cost of living was the main reason mentioned by households reporting deterioration in their financial situation over the last six months; it was mentioned by 63% of respondents in that group, compared 38% last year, while 25% mentioned a reduction in employment income as the principal reason for the deterioration. Three-quarters of households report that their financial situation has remained the same (59%) or even improved (17%), the proportion of Quebec households whose financial situation has deteriorated has almost doubled (24%) compared with the same time last year (10%). Quebec households are optimistic about their finances for the near, with 83% expecting their financial situation to remain unchanged (59%) or even improve (24%) over the next six months. However, among the 13% of households who anticipate a downturn, more than three-quarters expect a rise in the cost of to become the main cause of the expected decline in their financial situation. Hardware and renovation products should augur better than other consumer expenditures in the next six months, however. Quebec consumers plan to spend 6% more on hardware/renovation items, and 20% less on furniture and household items.
Shanghai show grows despite China's economic challenges
SHANGHAI — Asia's largest hardware and DIY trade show, China International Hardware Show (CIHS 2008), powered by PRACTICAL WORLD, ended its run here on Sept. 17-19. Held over three days, this year's event exceeded a record-breaking one million square feet.2,000 local and foreign exhibitors from a total of 19 countries, including Germany, Italy, Japan, the U.S., UK, Australia, Spain, and Singapore, Korea, participated this year, a 10% increase from last year's 1,821. A total of 3,000 international and 31,000 domestic visitors attended the show, a 4% increase from 2007. The show enjoyed healthy attendance despite tough economic challenges facing the Asian market over the past year. Demand for hardware products slowed as costs of raw materials and manpower increased, the value of China's currency appreciated, and tax rebates for exports dropped. As a result, many export companies, especially those providing lower-cost commodity products, had to struggle to survive, while independent brands of high value-added products had to contend with reduced profitability. Attendance by domestic buyers, who make up 90% of visitors, increased by 7% this year. Overseas buyers included Home Depot, Lowe's Global Sourcing, Kingfisher Group, and B&Q. China International Hardware Show will be held in Shanghai next year Sept.16-18, 2009. For more info, click here.
Masco Canada Limited is one of Canada's largest manufacturers of residential and commercial plumbing products. Our Mississauga location is currently seeking a...

Sales Rep

You will be responsible for sales and promotions to luxury boutiques, wholesale showrooms, designers, architects, and small builders and renovators throughout central Ontario and the GTA. You will also assist with package designs and the coordination and distribution of promotional materials and attend trade shows within the region. You have established a successful reputation in sales, ideally of packaged goods, and have effective cold calling skills along with an exemplary commitment to relationship building. Your strong communication, research, and networking abilities are coupled with computer proficiency, a valid driver's licence, and a willingness to travel within the region as required.

We are the Canadian plumbing division of Masco Corporation, one of the world's largest manufacturers of brand name consumer products for the residential and commercial sectors. If you are looking for a great opportunity with excellent growth potential and many benefits, please contact us at: HR Department, MASCO CANADA LIMITED 420 Burbrook Place, London, ON N6A 4L6 e-mail: recruiting@mascocanada.com fax: 519-659-5904 Thank you for your interest; however, only candidates selected for an interview will be contacted. No telephone inquiries or agencies, please. www.mascocanada.com
Sell your company - or buy one - with HARDLINES Classifieds! Do your executive search, find new lines or get new reps in the HARDLINES Marketplace. Only $2.75 per word for three weeks in the classifieds. To place your ad, call Barb Hills at 416-489-3396 or email: barb@hardlines.ca
To ensure you receive your HARDLINES newsletter each week, please add bev@HARDLINES.ca to your address book.

Did your email system make this newsletter unreadable? You can read it online instead. call us to find out how.

Publishing Details: HARDLINES is published weekly (except monthly in December and August) by HARDLINES Inc. 360 Dupont Street Toronto, Ontario, Canada M5R 1V 9 © 2008 by HARDLINES Inc. HARDLINES™ the electronic newsletter www.HARDLINES.ca ; Phone: 416.489.3396; Fax: 416.489.6154 Michael McLarney - Editor & President - mike@HARDLINES.ca Beverly Allen, Publisher - bev@HARDLINES.ca Brady Peever - Circulation Manager - brady@HARDLINES.ca Barb Hills - Sales Manager - barb@HARDLINES.ca The HARDLINES "Fair Play" Policy:Reproduction in whole or in part is very uncool and strictly forbidden and really and truly against the law. So please, play fair! Call for information on multiple subscriptions or a site license for your company. We do want as many people as possible to read HARDLINES each week - but let us handle your internal routing from this end! Subscription:$285 (Canadian subscribers add $14.25 GST = $299.25 per year/ GST #13987 0398 RT).Secondary subscriptions at the same office are only $46 (Canadian subscribers add $2.30 GST = $48.30).Ask about our reduced rate for branch offices.You can pay online by VISA/MC/AMEX at our secure website or send us money. Please make cheque payable to HARDLINES.
COMPANIES IN THE NEWS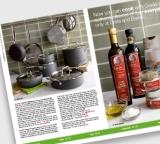 TORONTO — Crate and Barrel, the upscale homewares and giftwares retailers, opened its first international location last Thursday at Yorkdale Shopping Centre in Toronto. The two-level, 35,000 sq.ft. store features a range of home furnishings and accessories, most of them exclusive to Crate and Barrel. The store is merchandised around vignettes on two floors, connected by elevator and escalator.ST. JACOBS, ON — This Fall, Home Hardware Stores Ltd. is giving away $50,000 in a Dream Kitchen Makeover Contest. The contest runs across Sept. 27-Dec. 8, 2008. Customers can enter by mail, in-store or online at www.homehardware.ca. One winner will be randomly selected on Jan. 6, 2009. Ten additional contest participants will also be drawn and awarded second place prizes of Cuisinart Stand Mixers, another 10 contest participants will win Paderno Cookware Sets, and an additional 20 entrants will be awarded Royal Doulton Tableware Sets. MONTREAL — With the conversion of six Dominion grocery stores in Toronto last week, the Metro banner has been launched in Ontario. it's part of a strategy to make Metro the largest grocery banner in Ontario, and follows the acquisition of A&P in 2005. Its five grocery banners in Ontario — Dominion, A&P, Loeb, The Barn, and Ultra — will be re-branded Metro and renovated in a $200 million investment over the next 15 months. The 158 Ontario locations will join 218 Metro stores in Quebec. Metro's Food Basics stores will be unaffected by the changes because they fall into the discount-store category. TORONTO — Birch Hill Equity Partners Management and Westerkirk Capital have joined together to purchase of approximately 70.2% of Sleep Country Canada Income Fund. Birch Hill's first foray into retail investment was the purchase of 75% of TSC Stores xx years ago. LONDON — Kingfisher plc, the UK's largest home improvement retailers, is reviewing the advantages to moving its tax domicile offshore. The company is seeking relief from the high taxes meted out by the British system. NEW YORK — Bloomingdales, the upscale retailer, will open two stores in the Dubai Mall by 2010. The mall, which opens later this year, will be one of the world's largest. One of the Bloomingdales stores will be a luxury apparel store, the other a 54,000-sq.ft. home store.
PEOPLE ON THE MOVE
Walter Hachborn was honoured for 70 years of service to retail home improvement retailing at Home Hardware's Dealer Market last week, where he was awarded a platinum hammer. In addition, Home Hardware founded a scholarship in Hachborn's name at Wilfred Laurier Waterloo University. Hachborn — who began working for Hollinger Hardware in St. Jacobs, ON in 1938 — co-founded Home Hardware In 1964 as a way for independents to stay competitive in the face of mounting competition from mass merchants. His awards through the years include the Order of Canada, the Queen's Jubilee, and Outstanding Retailer of the Century.Paul Berto has been appointed senior manager of corporate communications and external affairs for Home Depot Canada. He replaces Pat Chapman, who departed earlier in the summer. Berto was formerly marketing manager for Home Depot's Eco Options program, and before that he was at Hallmark Canada. Home Depot Canada has also recently appointed Environics as its new media relations agency.
ECONOMIC INDICATORS
Retail sales were up 0.1% in July from June, despite a 0.6% drop in the automotive sector, with healthy increases in home centres and hardware stores, up 1.1% from June to July and up 6.4% from July 2007. Building centres and outdoor home supply stores were up 4.8% year-over-year. (Stats Canada)Consumer prices rose 3.5% from August 2007 to August 2008, largely driven by higher prices for gasoline. From July to August, the Consumer Price Index was up 0.2%. (Stats Canada)
NOTED…
The 9th annual Garden & Florist Expo will be held Oct. 21-22, at the Toronto Congress Centre, Toronto, Canada to get the tools to the trade. With over 300 companies showcasing hundreds of new products for the 2009 buying season, created in partnership by Landscape Ontario and Flowers Canada – Toronto Chapter. The Expo will be preceded by education and networking events, Oct. 20. Register here.
Posted July 14

Highly effective relationship management skills with a track record of developing and executing programs effectively. Strong strategic thinking and management background. Solid propensity for team building, coaching, mentoring and developing others. A competitive manager with a proven sales, marketing, merchandising and, leadership record.
Hardlines Quarterly Report Hardlines Retail Report (Coming this month, place your order now!)
Hardlines Webinars
Hardlines Annual Conference
Hardlines Hot Product Showcase
Hardlines TV
Free daily news updates
Did you know you can have this newsletter sent to someone else in your office for only $3.83 a month per person?
Click the link below to spread the news to your whole office!