In This Issue
"No man ever wrote, but a blockhead, except for money." —Samuel Johnson (poet, essayist, novelist, and lexicographer, 1709-1784)
Home Depot opens another LEED-certified store
TORONTO — Home Depot Canada opened its third LEED-registered store on Sept. 4, this one in Pickering, ON, just east of Toronto. The design of the new, 115,000-sq.ft. store addresses three areas that account for a high level of energy or resource consumption: electricity, water, and gas, while also reducing waste and pollution.LEED, which stands for Leadership in Energy and Environmental Design, is the point score used by the Canadian Green Building Council to help new and existing buildings become more environmentally friendly. Home Depot has already built two LEED-certified stores, one in Calgary in 2006 and another in Bowmanville, ON earlier this year. On average, a LEED-certified store saves 157,680 kilowatts of energy annually, based on a 12-hour workday. Features of the new store include a solar reflector roof to cool the building, special light fixtures that work on occupancy and timing, photocell sensors that regulate lights according to the time of day, and sensor-operated faucets and toilets to conserve water. The building was constructed with mostly local materials and the company ensured that contractors disposed of materials properly. Additional enviro-touches include bicycle racks and showers for the employees. All staff have been trained to recycle plastic, cardboard, glass, and metal materials. "Since 1994, Home Depot has been educating customers by offering Eco Options products and programs to exchange and recycle old, inefficient products. We are committed to continuing to enhance the way we operate to ensure that we are making environmentally conscious decisions every step of the way," said Annette Verschuren, president, Home Depot Canada and Asia, in a prepared release.

Top.
Canadian Tire's newest campaign goes for the heart
TORONTO — Canadian Tire Corp. rolled out a new ad campaign for its retail business this past weekend that is less about product and more about the emotional ties of family.

Led by an initial ad that will appear on TV and in movie theatres, it features a series of quick, soft-focus, family-oriented vignettes showing people interacting with each other — and with products from Canadian Tire. Each scene is superimposed with a tag-line: for example, child taking her first bike ride ("For days like today"), a man working lovingly on a vintage car in his garage ("or days with old friends"), youngsters playing road hockey on a dark winter evening ("For days that turn into nights"), and a toddler tossing toy soldiers into an overflowing toilet ("For days of discovery"). The soundtrack, a whistling tune that sounds like an upbeat reworking of the theme from the old "Leave it to Beaver television series " underscores a new direction for Canadian Tire. For the past couple of years, a series of light-hearted ads have focused on product – and where to find it in the store. For eight years before that, two actors (Ted and Gloria) were the unbearably efficient, resourceful—and gadget laden—couple in an unnamed suburban home continually offering advice and tools to neighbours. Though they became maddeningly familiar after so many years, insiders say the campaign was wildly successful for the company. The ad reflects a new internal strategy developed by Canadian Tire, which is intended to drive it for the next five years. "The new campaign is emotionally driven and focuses on the special role CTR plays in improving family life," says Joanne Elson, a spokesperson for Canadian Tire. The new campaign has been devised by the Toronto agency TAXI.
Buoyant Newfoundland economy puts pressure on trucking
MONCTON — The economy in Atlantic Canada remains strong, even following poor weather during the first five months of the year. Warm weather is keeping business strong into September, and that's expected to last into October, says Don Sherwood, president of the Atlantic Building Supply Dealers Association. "Atlantic Canada is moving along quite nicely – we're staying the course – and I expect the last part of the year to remain very strong," he adds.The hot spot down east is undoubtedly Newfoundland. Fueled by the energy sector, this province is enjoying an unprecedented boom, and for some suppliers, that puts pressure on their ability to get product to market. Drivers are reluctant — and even refusing — to take loads to Newfoundland without the assurance that the truck will be full on the trip back, as well. "Newfoundland is definitely a hot market. We might have between 12 and 20 truckloads a day heading to Newfoundland," says John Morrissey, general manager – Atlantic Canada for Lighthouse Lumber, a Division of AFA. But because the resource-rich economy there is not generating a lot of goods that are shipped by truck, the trucks have no load, or backhaul, for the return trip, putting pressure on the cost and availability of trucks. And the closing of companies there like Lafarge, which, in its heyday, would run up to 100 trucks a week, has only exacerbated the situation. "It's a white-hot economy," Morrissey points out. "It's not like anything I've seen. But there aren't any more wood, gypsum, or pulp exports coming out of Newfoundland that drivers can backhaul."
ILDC cancels vendor meeting
AJAX, ON — Independent Lumber Dealers Co-operative has cancelled a vendor meeting scheduled for Sept. 10. The meeting, which was to be held at Toronto Renaissance Airport Hotel, was cancelled based on "vendor input", according to a letter issued by ILDC general manager Andrew Battagliotti. He further says that input will be reviewed by the buying group's Transition Committee "to determine the best way to communicate our planned direction and strategies for 2009".ILDC comprises two dozen of the industry's largest home improvement retailers, representing more than 150 points of sale and $2 billion in retail sales annually. However, recent defections have made a dent in the group's purchasing power. The latest to leave was Potvin & Bouchard, acquired last month by a group of dealers within Le Groupe BMR.
German garden show showcases latest L&G trends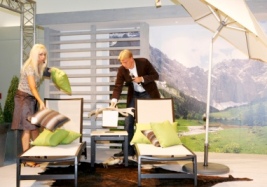 COLOGNE, Germany — spoga+gafa, the International Trade Fair for Sport, Camping and Garden Lifestyle and International Garden Trade Fair, hosted the worldwide garden and leisure market as 2,155 suppliers from 57 countries presented their new products and services to an estimated 41,500 trade visitors – including a growing number from Eastern Europe — in almost three million sq.ft. of exhibition space. The appeal of the show continues to grow, as more than one-third (38%) of attendees were first-timers.Going green was a big trend that is expected to keep the sector growing, even though that market is benefiting from one of the most disastrous effects of environmental degradation, global warming. As summers get longer, people are simply staying outdoors longer. Other trends at the show:
Garden furniture is continuing to adopt more high-tech materials and put continued emphasis on good design – with examples of shapes and styles inspired by nature itself.
The lines between indoors and outdoors are blurring and merging, with the sofa now becoming a more common sight in the garden or on the patio.
Grills and barbecues remain hot, big-ticket items. The trend to go upscale, fueled by innovations in technology, showed no signs of letting up.
Innovations to lawnmowers included one with a built-in fertilizer function and another with a "whispering mode", plus a lawn robot with a grass recognition system.
Rechargeable garden appliances and tools are taking advantage of lithium-ion-technology.
The kitchen is increasingly following the living room trend and moving outdoors. Besides furniture, table settings are getting more luxurious. Glass, porcelain, crockery and cutlery are now also available as separate outdoor collections.
Sophisticated toys for children, including paddling pools for youngsters, toy vehicles that kids can assemble themselves, solar energy-powered MP3 players, and even outdoor refrigerators.
Classifieds
Two Great GTA Marketing Opportunities…

Category Manager

This long-established, successful Scarborough-based Canadian company is doing well and looking to grow their retail share, thus creating this new role. Reporting to the National Marketing Manager, you'll lead the efforts into defining new products and adding to their product depth, securing designs, sourcing (including offshore) and launching products to market. Pricing and competitive analysis are also important parts to this role. You can demonstrate three years' plus experience in both your creative and analytic abilities in bringing new products to market, whether working on the retail or vendor side. Marketing education preferred. Please reply to Wolf Gugler in confidence, quoting http://www.maxhire.net/cp/?E55E65361D43515B76561A653A56526E04

Marketing/Merchandising Coordinator

Our Client, IPEX HomeRite is a leading developer and marketer of thermoplastic pipe and fittings sold through home improvement retailers across North America.  They offer an extensive range of products in the plumbing, electrical and lawn and garden market segments. A new position has been created in the Canadian Mississauga head office; reporting to the Product Marketing Manager, the Marketing/Merchandising Coordinator provides merchandising support for Sales activities, in-store programs, packaging initiatives, and company web site. You'll manage merchandising materials, signage and packaging, working closely with sales staff to develop, produce and maintain store-specific planograms. Trade shore coordination is a function of this role. Previous Marketing experience with a retailer, building products company or marketing agency is ideal, in addition to your marketing education. In return, you'll find IPEX a very congenial, enjoyable environment where the team is truly that…a team. Please contact Wolf Gugler in complete confidence, quoting http://www.maxhire.net/cp/?E55E64361D43515B76561A653A55526E04 You can also apply online and view other opportunities at www.wolfgugler.com Wolf Gugler & Associates Limited. (888) 848-3006. Offices in Canada and the U.S

Top .

National distributor of wood, metal and automotive machinery and accessories seeks an experienced

Sales Representative

for central and northern Alberta Ideal career opportunity for an aggressive, self-starter with excellent communication skills and extensive knowledge of the market. Please forward cover letter and resume to: Ted Fuller fax 519-896-6497 email tfuller@kingcanada.com

Residential Sales Representative
Position is located in Alberta
Ingersoll Rand is a diversified industrial firm providing integrated solutions to industries ranging from transportation and manufacturing to food retailing, construction and agriculture. Driven by a 100-year-old heritage of technological innovation, we help companies be more productive, efficient, and innovative. We have opportunities for career growth through our diverse businesses, which manufacture many well-recognized brands including Schlage, Club Car, Thermo King, Hussmann, and Ingersoll Rand. In every line of business-from climate control to security-Ingersoll Rand enables companies and their customers to inspire progress. For more information about Ingersoll Rand visit www.ingersollrand.com.
From its market-leading electronic and biometric access control systems to personal scheduling systems and architectural hardware such as steel doors and frames, our Security Technologies sector helps make the places we live, work and play safe, secure and productive. Drive new business and market penetration strategies with new & exisitng customers, end users and market influencers in the new home counstruction industry, the renovation market and the traditional lumberyard channel. Grow sales with assigned accounts, by leveraging existing programs and introducing new products and programs. Establish and build relationships and brand presence within the channels described above. Increase sales and presence using category management principles. Develop channels by working with existing distribution or by creating ?xa0;new accounts Identify new opportunities for product programs and listings. Conduct regular business reviews and other analyses to be able to make recommendations that will improve our business performance. Establish and nurture business relationships with key decision makers within our customers organization Implement and execute on all programs related to the Schlage Residential channel Provide accurate and reliable information pertaining to the Alberta residential marketplace EXPERIENCE: College or University Degree 3-5 years experience in a sales and marketing role. Experience with both electrical and mechanical door hardware Good attitude and good work ethic and willing to learn Exceptional computer skills Strong communication skills Must possess a valid driver's license Must be willing to travel up to 25% of the time The ability to multi task and handle various priorities.Hardware an asset.
If you are interested please apply to  narinder_nijjar@irco.com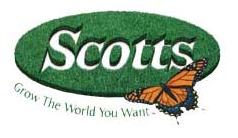 Need a change of scenery? Grow the world you want with Scotts.
The global leader and the world's largest marketer of consumer lawn and garden products, Scotts Canada Ltd. is committed to respecting the environment while helping consumers enjoy healthy lawns and beautiful gardens. If you are driven to grow and excel with the marketplace leader, join us now as a
Sales Merchandising Manager
Full time positions: Vancouver , Edmonton, Calgary, Ottawa, Barrie, Oshawa, London, Montreal, Greater Toronto Area, Hamilton/Burlington
Part time positions: Winnipeg , Montreal, Halifax

Traveling throughout your territory, you will maximize sales of our trusted brands (Miracle-Gro®, Scotts® EcoSense™, Ortho®, Roundup®, Scotts® Turf Builder®, and Morning Song®) and develop strong relationships with key retail partners. You will also be responsible for effectively hiring, training, and managing seasonal merchandisers.

We are looking for an energetic, customer-oriented, natural communicator who can manage relationships, resolve issues, and present our products with passion and skilled selling/marketing techniques. This position requires post secondary education, excellent PC skills, and a valid driver's license. Field sales experience is preferred, and supervisory experience is considered an asset. We offer an exceptional total rewards package that is superior to many companies. We also offer outstanding recognition along with the support and coaching that allow you to advance within the Scotts Family. Want to learn more about why Scotts Canada is a great place to work? Visit www.scotts.com .

Our Culture : GroExcellence

Scotts lives by six core attributes. If these are your values, we could have a match.
Passion
Innovation
Accountability
Flexibility
Collaboration
Ethics
Apply now! Please send your cover letter and resume to :careers.canada@scotts.com
We thank all applicants for their interest in us; however, only those considered for an interview will be contacted. No Agencies, please.

Sales Professionals Prime Source Building Products, Inc

Prime Source Building Products, Inc., one of North American's largest wholesale distributors of building supply products, is seeking experienced sales professionals to support their Canadian expansion

Territory Managers -Responsibilities include territory management, canvassing new opportunities, territory growth, customer service, and the ability to build relationships and develop new business through face-to-face interaction with our existing customer base as well as new customer prospects within a specific geographic region. Product Specialists - Responsibilities include providing sales assistance of GRIP-RITE branded products within a specific geographical region. Inside Sales- Mississauga - Responsibilities include developing a pipeline of prospective opportunities; via interaction with an existing customer base and a network of prospects, providing outstanding customer service and the ability to build relationships and close business over the telephone. Qualified candidates must be self-motivated, quota driven, and results oriented with a proven and documented history of success. We are looking for at least two years of outside sales experience and preferably experience in the building materials industry. If you are a proven leader who welcomes the opportunity to work in a challenging and financially rewarding environment, we want to meet you. PrimeSource offers attractive base salaries, aggressive commission incentives, and a competitive benefits package. Please send Resumes to Phil Brown General Manager PrimeSource Canada at brownp@primesourcebp.com
Sales Professional

We are a young and growing organization looking to expand our sales team.

Located in Mississauga, Ont. we are an importer of various goods mainly to the retail trade in Canada. Our plan to distribute domestic products has opened up an immediate position for: A motivated and results oriented, detailed Sales professional to call on national and regional accounts, as well as managing sales agents calling on dealers in the hardware and lumber industry This position will require sales/marketing experience along with excellent communication and proficient computer skills. The position will be based out of our head office. Please email your resume and salary expectations to barb@hardlines.ca with P.O. Box 222 in the subject line.
Sell your company - or buy one - with HARDLINES Classifieds! Do your executive search, find new lines or get new reps in the HARDLINES Marketplace. Only $2.75 per word for three weeks in the classifieds. To place your ad, call Barb Hills at 416-489-3396 or email: barb@hardlines.ca
To ensure you receive your HARDLINES newsletter each week, please add bev@HARDLINES.ca to your address book.

Did your email system make this newsletter unreadable? You can read it online instead. call us to find out how.

Publishing Details: HARDLINES is published weekly (except monthly in December and August) by HARDLINES Inc. 360 Dupont Street Toronto, Ontario, Canada M5R 1V 9 © 2008 by HARDLINES Inc. HARDLINES™ the electronic newsletter www.HARDLINES.ca ; Phone: 416.489.3396; Fax: 416.489.6154 Michael McLarney - President - mike@HARDLINES.ca Beverly Allen, Publisher - bev@HARDLINES.ca Brady Peever - Circulation Manager - brady@HARDLINES.ca Barb Hills - Sales Manager - barb@HARDLINES.ca The HARDLINES "Fair Play" Policy:Reproduction in whole or in part is very uncool and strictly forbidden and really and truly against the law. So please, play fair! Call for information on multiple subscriptions or a site license for your company. We do want as many people as possible to read HARDLINES each week - but let us handle your internal routing from this end! Subscription:$285 (Canadian subscribers add $14.25 GST = $299.25 per year/ GST #13987 0398 RT).Secondary subscriptions at the same office are only $46 (Canadian subscribers add $2.30 GST = $48.30).Ask about our reduced rate for branch offices.You can pay online by VISA/MC/AMEX at our secure website or send us money. Please make cheque payable to HARDLINES.
COMPANIES IN THE NEWS
MILTON, ON — Landscape Ontario is working to create the first nationwide post-consumer horticultural plastics recycling program in the world. A movement is underway to restrict plastic containers. To date, water bottles and plastic bags are the most visible targets in the discussion. Items that are targeted include plastic garden pots, trays, tags, irrigation pipes and greenhouse poly. The partnership will include recycling companies, pot manufacturers, garden centres, nurseries and growers. Pots, trays and tags would be collected directly from consumers at centres right across Canada. Landscape Ontario is investigating funding for the recycling program.MOORESVILLE, NC — Lowe's Cos. is talking with property owners about putting its first store within San Francisco's city limits. The San Francisco Chronicle quotes Supervisor Sophie Maxwell, who says that Lowe's — which already operates 11 stores around the San Francisco Bay Area — is discussing opening a store within her district, in the space that the retailer's rival Home Depot recently decided not to build on as part of its decision, earlier this year, to take 50 planned stores out of its expansion plans. OAK BROOK , IL — Ace Hardware again lived up to its reputation as the "The Helpful Place" in 2008, receiving top honors for its excellent customer service from Corporate Research International (CRI).  For the past 13 consecutive quarters, CRI has ranked Ace Hardware number-one in the home improvement retail category, based on the results of its "Real People Ratings" consumer opinion survey. LONDON — Still beleaguered by the slow economy in the U.K., home improvement retailer B&Q is reportedly demanding pay cuts for kitchen designers on staff in its stores. The move is considered a way of capping salaries for these workers, who currently can earn commissions in addition to their base salary. TORONTO — Through the September back-to-school period, Sears Canada is installing "pop-up" stores at four universities in Ontario — Brock, Western, McMaster and Queens. The temporary locations will be about 900 sq.ft and feature a "store-within-a-mobile-tent" concept, with an array of products for university living, ranging from housewares and home decor, to bed and bath, electronics, and cosmetics. TEMISCAMING, QC — Tembec, the forestry products supplier, announced limited production curtailments at two of its pulp mills in an effort to balance inventory levels. The company's Temcell hardwood high-yield pulp mill in Temiscaming stopped production on Aug. 31 for one week, while its softwood kraft pulp mill located in Tarascon, France, will be remain idle for two weeks commencing September 10. TORONTO — Canadian Tire has formed a five-year partnership with Intertek to enhance Canadian Tire's quality management strategy. Intertek will provide Canadian Tire with consulting services in the area of product development and safety solutions. CORRECTION: Last week we incorrectly identified a recent acquisition by UFA Co-operative Ltd. The company is Wholesale Sports.
PEOPLE ON THE MOVE
Bill Lee has taken over as managing director of the North American Retail Hardware Association (NRHA). Lee's contact with NRHA began when the

association became a client of his marketing and graphic design company, Applegate Designs. After 12 years, he was brought in-house to spearhead marketing efforts for the association and its magazine as director of marketing in August 1996. Less than a year later, he was given the added title of director of catalogue operations. He was promoted to vice-president – catalogues and creative services in December 2003. In his new role as managing director, his goal is to continue serving the education and training needs of retailers to help them become better, more profitable retailers. Lee succeeds John Hammond, who retired after 38 years of service to the industry.(317-290-0338)Peter Land is the new regional sales representative for Buchner Manufacturing, a Pefferlaw, ON-based building products supplier. He was formerly with Kaycan Industries. (800-461-6455)
OVERHEARD
"Merchandising is the middle ground between the retailer and the vendor." —Bruce Smith, VP, DMD Ltd., a Toronto retail design firm.
A
proven sales record with key national accounts and their independent dealers in the hardware, building materials, and paint industries and superior business development skills.
Highly effective relationship management skills with a track record of developing and executing programs effectively. Strong strategic thinking and management background. Solid propensity for team building, coaching, mentoring and developing others. A competitive manager with a proven sales, marketing, merchandising and, leadership record.
Hardlines Quarterly Report Hardlines Retail Report (Coming this month, place your order now!)
Hardlines Webinars
Hardlines Annual Conference
Hardlines Hot Product Showcase
Hardlines TV
Free daily news updates
Did you know you can have this newsletter sent to someone else in your office for only $3.83 a month per person?
Click the link below to spread the news to your whole office!