In This Issue:
"What a man knows he has by experience; But what a man is precedes experience." — Christopher Fry (English playwright, 1907-2005)
RONA named sponsor of Toronto Maple Leafs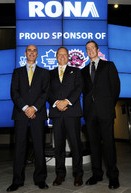 BOUCHERVILLE, Que. — RONA Inc. and Maple Leaf Sports & Entertainment Ltd. have announced a sponsorship deal that makes RONA the "Official Home Improvement Retailer" of the Toronto Maple Leafs and Toronto Marlies hockey teams, and the Toronto Raptors basketball team.The exclusive partnership rights include permanent, camera-visible RONA branding at each of the teams' home games at the Air Canada Centre and Ricoh Coliseum. Signage will include on-ice RONA logos during Maple Leafs and Marlies pre-season, regular and post-season home games. RONA will also have opportunities to provide its customers the chance to win tickets to Leafs, Raptors and Marlies games. "We are thrilled to associate our winning RONA team with these important Canadian sports teams … Our sports sponsorships and community initiatives allow us to promote Canadian values of fair play, social responsibility and perseverance," says Robert Dutton, president and CEO of RONA. From a marketing perspective, RONA's new partnership with MLSE will boost the retailer's brand exposure in the highly-competitive Ontario market, where RONA has 180 stores and 6,600 employees. RONA has been a sponsor of Toronto FC since 2007 as official and exclusive home improvement partner. In Spring 2009, RONA extended the arrangement for another two years to continue its exclusive game and permanent signage at BMO Field. RONA is already a national partner of the Vancouver 2010 Olympic and Paralympic Games, as well as a national partner of the Canadian Olympic and Paralympic Teams through the London 2012 Summer Games.

Top.
New TIM-BR MART program will target hardware stores
CALGARY — The new category management team formed by TIM-BR MART to beef up its hardware offerings intends to work closely with the giant buying group's main hardware supplier, CanWel Hardware, as well as the umbrella buying group Spancan, of which both CanWel and TIM-BR MART are members.According to Randy Martin, vice-president, merchandise for TIM-BR MART, his new hardware buying team will work with the CanWel buyers to create programs to deliver hardware to TIM-BR MART members. Those efforts will continue to develop preferred assortments out of CanWel Hardware's own distribution centre, but Martin would like to see more drop-ship orders for his larger members, as well. "We're going to try and grow our direct-to-store business from vendors." The result, he says, will be to drive more hardware sales through existing TIM-BR MART building supply dealers, but he also envisions targeting hardware dealers. "We're looking forward to taking advantage of recruiting hardware stores, as well." "We expect to beef up the troops," he notes, on the dealer recruitment side, as well, especially outside of Quebec. Already, in that province, where TIM-BR MART is managing the Ace banner, it has converted about 100 dealers to Ace. Like a large number of independents in Canada, both Ace and TIM-BR MART rely on CanWel Hardware for the bulk of their hardlines needs. Will TIM-BR MART Hardware conflict with the Ace initiative? "Ace is a branding opportunity that we will still leverage in Canada," says Martin. "It's a brand we feel strongly about." The choice to offer a dealer either Ace or TIM-BR MART Hardware as a hardware solution will be determined on a case-by-case basis, he adds.
As time runs out on HRTC, dealers get innovative
SPECIAL REPORT — One initiative of the Harper government that has proved beneficial for this industry has undoubtedly been the Home Renovation Tax Credit. The time-limited, non-refundable tax credit of up to $1,350 can be claimed for eligible expenditures made for renovations and alterations made to a principal residence. However, any homeowners thinking about renovating their kitchen, replacing their furnace or installing new windows or a new fence have only until Jan. 31, 2010 to submit their expenses.Dealers across the country are making the most of the tax credit to drive their own sales. TIM-BR MART has info posted right on the main page of its website. Viewers can download government documents and tax forms needed to apply for the credit. Other companies, including member dealers of Independent Lumber Dealers Co-operative (which includes Kent, Turkstra, McMunn & Yates and Central) and TruServ Canada, whose member dealers operate under the True Value banner, have created online and in-store promotions of their own.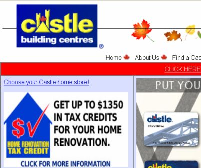 Castle Building Centres has taken a number of steps to maximize the benefits of the HRTC, including in-store signage and a direct link from the Castle website to Canada Revenue Agency's HRTC information page. "We're trying to get people to spend as much as possible," says James Jones, vice-president national marketing for Castle. "We think it's having some impact," he adds, even though he believes people are still being cautious about spending.
WRLA offers NASCAR outing to members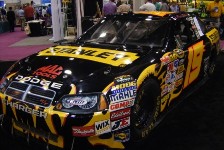 WINNIPEG — Dealers in Western Canada are in for a day at the races — several days, in fact — thanks to a newly announced initiative by the Western Retail Lumber Association. Gary Hamilton, executive director of the WRLA, has confirmed dates for a trip to watch NASCAR racing in Las Vegas from Feb. 25-March 1, 2010. The outing will consist of three solid days of NASCAR, from Feb. 26-28.Hamilton is encouraging dealers to make the event an outing for family and/or staff, and promises something for everyone. "Not everybody is a golfer," he says, "and NASCAR has a huge following. It's a combination of time of year and the destination — and it's the last chance for people to get together before the [selling] season takes off." For more information,click here.
Canadians check out Orgill's fall market
BOSTON — Orgill, Inc. completed a successful Fall Dealer Market here from Aug. 20-22. The market, filled with new products, programs and initiatives, was the first ever held in the Northeastern U.S. by the Memphis-based national hardlines distributor."We were very pleased with the turnout," says Ron Beal, Orgill's president and CEO. "This was a new Orgill Fall Market record for dealer attendance, and an all-time record for new prospects. The general mood of everyone at the Market was optimistic and upbeat." Among those prospects were a number of Canadians, including several members of Castle Building Centres Group. Also on hand were some of Orgill's existing customers (it has a number of test stores it has been supplying for more than two years up here), including Preston Hardware, the single-store dealer from Ottawa. We've seen more Canadians at this show than ever before," says Jerry Cardwell, vice-president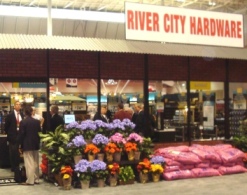 of Orgill. In fact, the company's International division was tied this year for highest turnout ever. "Despite the conditions in rest of world such as the swine flu scare, the political unrest in Honduras and general turmoil in world, they continue to turn up at the Market." Central to this year's market was a full-blown, 18,000-square-foot model store on the show floor. Dubbed "River City Hardware," it showcased the distributor's complete array of products, programs and merchandising.
National Sales Manager

WD-40 Canada requires a National Sales Manager with strong brand name package goods experience (min.10-15 yrs), to be responsible for the leadership, vision, strategy, goals & operating results of the Sales Team. Direct responsibility for some major accounts. Experience: selling to major accounts in Consumer & Industrial Markets – Mass, Club, Automotive, Hardware, Discount, Grocery & Drug; combined with demonstrated excellence of leadership, strategic planning & tactical execution. The successful applicant will have outstanding communication skills, excellent program development & management skills & be a strong team player. Travel necessary. Bachelor's Degree, MS Office Eligibility for salary, bonus, profit sharing & other company benefits. Respond by Sept. 21st, by resume only, stating salary expectations to: WD-40 Company ( Canada) Ltd. Etobicoke , ON Fax: (416) 622-8096 E-mail: gencan@wd40.com  
Retail Business Unit Manager, ITW Construction Products

 Our client is a $10bb FORTUNE 200 diversified dominant headquartered in Chicago with Canadian headquarters in Markham, ON. The Retail business markets and sells the ITW Construction product line to wholesale accounts and to retail big box stores and mass merchants nationally.

Reporting to the Canadian General Manager, you'll manage four direct reports in national accounts sales, channel marketing, key accounts sales and a warehouse supervisor. Indirect staff of 10 also reports in. You'll be accountable for the achievement of sales growth and profitability for the retail channel in the Canadian marketplace and for the continued development and implementation of strategic plans for the retail business. This position will have bottom-line responsibility for P&L, ROA & ROS for the retail business. You'll also be responsible to develop your key personnel to achieve the unit's success. An important role of this position will be to maintain close, positive relationships with head buyers and key senior managers of big box & mass merchant accounts. Development and implementation of new product programs to existing accounts and to potential opportunities will be a major component of this position. Due to the complexity of multi channel selling and crossover of customers the incumbent must be able to look at the big picture of ITW's business and have a good understanding of the objectives of each business unit's channel and product mix. You'll also work with and foster relationships with US staff (product managers, general managers) to act as a conduit re: new products, strategies and opportunities. Education would preferably consist of a business/finance combination, combined with ~ten years' successful consumer products expertise managing at a senior level. You've developed and lead a team of sales and marketing professionals to achieve growth & profitability for consumer product lines. Equally important is your role as an effective communicator to provide motivation, leadership by example and vision to your team of professionals, along with exceptional financial understanding. To explore this opportunity in complete confidence, please contact Wolf Gugler via phone @ 888-848-3006. You can apply online at www.wolfgugler.com/opportunities or click this link: http://www.maxhire.net/cp/?E55F69361D43515B76561A653A5C526E04 Wolf Gugler & Associates, Limited, executive search and selection for retailers and their suppliers throughout North America.
Can-Save

Position: Sales Representative (Central Ontario – Highway 7- (North), Aurora, Barrie, Owen Sound, ) Location: Central Ontario, Start Date: Immediately Company Information: www.can-save.ca Can-Save, a progressive building materials distributor – specializing in specialty building products, doors, and kitchen and bath cabinets, has an immediate opening for an Outside Sales Representative for its Central Ontario territory The successful candidate will:
Have a proven successful sales call background in the building materials industry; Lumber yards, Big Box. etc.) (minimum 3 years experience)
A keen interest to analyze, develop and carry out sale's strategies so as to aid customers in growing their business.
Must have consultative, front-line experience working with customers in a sales capacity.
Ability to navigate and utilize Customer Relationship Management software
Excellent communication and business relationship skills.
Must be a team player able to work with a variety of disciplines and organizational functions.
Travel within the region and participation in trade show events will be required.
We offer a competitive remuneration and benefit package. If interested please forward, via e-mail, your resume and salary requirements to the attention the Human Resources manager at hr@can-save.ca

We thank all applicants, however only those chosen for an interview will be contacted.

Can-Save is an equal opportunity employer.

 

Prime Source Building Products, Inc., one of the North American's largest wholesale distributors of building supply products, is seeking experienced sales professionals to support their Canadian expansion. Inside Sales - Mississauga - Responsibilities include developing a pipeline of prospective opportunities; via interaction with an existing customer base and a network of prospects, providing outstanding customer service and the ability to build relationships and close business over the telephone. Qualified candidates must be self-motivated, quota driven, and results oriented with a proven and documented history of success. We are looking for at least two years of sales experience and preferably experience in the building materials industry. Preference given to Bilingual candidates. If you are a proven leader who welcomes the opportunity to work in a challenging and financially rewarding environment, we want to meet you. PrimeSource offers attractive base salaries, aggressive commission incentives, and a competitive benefits package. Please send Resumes to Phil Brown General Manager PrimeSource Canada at brownp@primesourcebp.com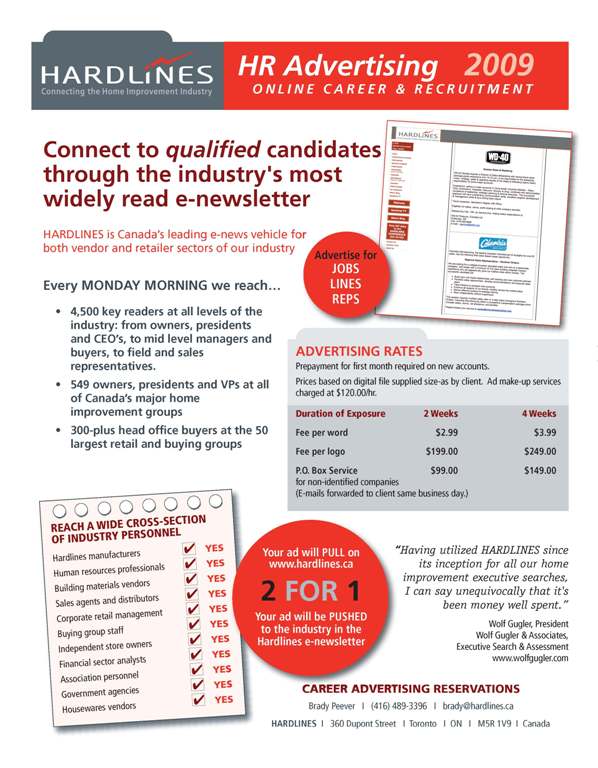 To place an ad in our classified section click here or call 416-489-3396
Results oriented sales professional with a strong record of achievement in strategic and tactical roles.
Seasoned Sales veteran. Experienced, dealing with established and new manufacturers introducing new products to key retailers in the Canadian market.
A marketing professional with a highly successful level of experience in all aspects of marketing consumer packaged goods at a national retail level.
Leadership, sales and communication skills, seeking a challenging and results-oriented environment.
A creative, strategic thinking and results oriented Sales Professional.
Know someone who is between jobs? We will send a complimentary subscription to anyone who is seeking a job. We also offer a free Online Resumé Service. Ask them to call or email us here at the World Headquarters. (And why not tell your HR department about this service!) Email Brady for more info. —Beverly
Marketplace
Sell your company - or buy one - with HARDLINES Classifieds! Do your executive search, find new lines or get new reps in the HARDLINES Marketplace. Only $2.75 per word for three weeks in the classifieds. To place your ad, call Brady Peever at 416-489-3396 or email: brady@hardlines.ca
To ensure you receive your HARDLINES newsletter each week, please add bev@HARDLINES.ca to your address book.

Did your email system make this newsletter unreadable? You can read it online instead. call us to find out how.

Publishing Details: HARDLINES is published weekly (except monthly in December and August) by HARDLINES Inc. 360 Dupont Street Toronto, Ontario, Canada M5R 1V 9 © 2009 by HARDLINES Inc. HARDLINES™ the electronic newsletter www.HARDLINES.ca Phone: 416.489.3396; Fax: 416.489.6154 Michael McLarney - Editor & President - mike@HARDLINES.ca Beverly Allen, Publisher - bev@HARDLINES.ca Brady Peever - Client Services Manager - brady@HARDLINES.ca Chiaki Nemoto - Accounting - chiaki@HARDLINES.ca The HARDLINES "Fair Play" Policy:Reproduction in whole or in part is very uncool and strictly forbidden and really and truly against the law. So please, play fair! Call for information on multiple subscriptions or a site license for your company. We do want as many people as possible to read HARDLINES each week - but let us handle your internal routing from this end! Subscription:$299 (Canadian subscribers add $14.86 GST = $315.21 per year/ GST #13987 0398 RT).Secondary subscriptions at the same office are only $48.75 (Canadian subscribers add $2.44 GST = $51.19).Ask about our reduced rate for branch offices.You can pay online by VISA/MC/AMEX at our secure website or send us money. Please make cheque payable to HARDLINES.
DID YOU KNOW...
… that Canadian Tire reorganized its entire merchandising team this past summer, putting a number of new faces alongside some industry veterans? Vendors are busy getting to know their own business planners and category managers. (The complete list of new Canadian Tire buyers, along with Lowe's Canada, Home Depot Canada and 70 more top companies, is in the 2009 Who's Who Directory, available now! click here to order —Michael)
NEWS IN BRIEF
MISSISSAUGA, Ont. — Castle Building Centres held its 20th Annual Vendor Appreciation Golf Tourney recently at The Club at North Halton, in Georgetown, Ont. Participants, who included Castle members and their suppliers, managed to raise funds for the Hospital for Sick Children, with matching donations by Castle Building Centres. This year's tournament also included a special donation to the Sierra Duplantis Foundation. Sierra is the granddaughter of Steve Duplantis Sr., president of Canadian Pro Marketing, whose son Steve Jr., well-loved in international golfing circles as a renowned caddie, passed away in January 2008.VANCOUVER — CanWel Building Materials Income Fund, through its subsidiary CanWel Building Materials Ltd., has entered into a distribution agreement with Engineered Coated Products, a division of Intertape Polymer Group, to provide national warehouse and distribution services for ECP's Flexgard Aspire house wrap products. Considered a complement to CanWel's siding category, this new line becomes part of CanWel's Specialty product offering and is part of CanWel's efforts to grow its Specialty products range. ECP is a North American manufacturer of woven coated fabrics. Its Flexgard Aspire brand is produced in Canada and has CCMC approvals for the Canadian market. TORONTO — RONA turns 70 this year and one way the giant home improvement retailer is celebrating is with an urban clean up. Last week, hundreds of RONA employees invaded Dundas Square in the early hours brandishing big rakes, brooms, shovels and recycling bins, birthday gifts for early-bird Torontonians. More than 1,600 people were given free rakes, brooms and recycling bins. Click here to watch the clip. TORONTO — Masco Canada has introduced a new range of commercial products under its Delta Commercial brand. They include electronic faucets featuring Delta's newest hands-free technology and a flush valve that will help homeowners qualify for LEED points. Delta Commercial recently launched a new website to assist commercial users: www.deltacommercialfaucets.com features up-to-date information about Delta's Commercial offerings along with full product listings. BIRMINGHAM, Ala. —The Toledo-based wholesale hardware distributor and industrial supplier Bostwick-Braun Company has agreed to purchase hardware and building materials distributor Moore-Handley, which filed for bankruptcy in July of this year. The acquisition will become part of a new company to be formed by Bostwick-Braun that would continue to operate from Moore-Handley's Pelham, Ala., warehouse. Under its new owners, Moore-Handley would continue to operate under its current name, while keeping it sales force and operations intact. ISSAQUAH, Wash. — Costco Wholesale Corp. reported net sales of $5.4 billion for August, flat with the same month a year ago. Net sales for the fourth quarter were down 3% to $21.9 billion, while net sales for the fiscal year were $69.9 billion, a decrease of 2%. Same-store sales for the year were down 4%. BENTONVILLE, Ark. — Walmart has partnered with MasterCard Worldwide and First Data to create a payroll program that is paperless. The giant retailer's electronic pay program uses a "Money NetworkMasterCard Paycard" and electronic pay stubs, which are expected to cut down on paper consumption.
ECONOMIC INDICATORS
Housing starts are expected to rebound in the second half of 2009 and will reach 141,900 for the year and increase to 150,300 for 2010. Improving activity on the resale market and lower inventory levels in both the new and existing home markets are expected to spur residential construction. Existing home sales, as measured by the Multiple Listing Service, have rebounded since January and are forecast to reach 420,700 units in 2009 and 419,400 units in 2010. The average MLS price is expected to moderate to $301,400 in 2009 and increase to $306,300 in 2010. (CMHC Third Quarter Housing Market Outlook)
NOTED…
The economic recession is affecting more than people's pocketbooks. It's also influencing their choice and use of colour, according to a new study of colour trends by CIL Paints. "Our research found that in good economic times, people tend to favour brighter colours, while in difficult economies, more somber hues like white, beige and grey are the preferred choice," says Jennifer Jones, CIL's marketing communications manager. Reflecting the recent economic climate, CIL's top-selling colours this year have been neutral tones, from off-whites to sandy shades and muted grays.
Hardlines Products
Hardlines Quarterly Report
Hardlines Retail Report
Hardlines Hot Product Showcase
Hardlines TV
Free daily news updates
Did you know you can have this newsletter sent to someone else in your office for less than a dollar an issue!