Sept 10, 2012, Volume xviii, #34
"Since we cannot know all that is to be known of anything, we ought to know a little about everything." —Blaise Pascal (French philosopher, mathematician, and physicist, 1623-1962)
______________________________________________________________________



______________________________________________________________________
Marc Robichaud Award commemorates retail pioneer
TORONTO — The demands of retail require constant change and innovation on the part of dealers. To recognize this innovation among Canada's hardware and home improvement dealers, HARDLINES has developed a new Award to honour excellence in retail innovation: the Mark Robichaud Award for Retail Innovation.

The Award has been named in honour of one of the home improvement industry's pioneers. Marc Robichaud was the owner of UJ Robichaud TIM-BR Mart, a fifth-generation family business in Meteghan Centre, Nova Scotia. He died on January 10, 2012, after a brief battle with lymphoma at the age of 36.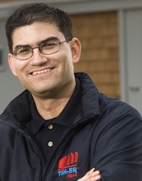 In his too-short career, Marc established himself as a true innovator, mastering online sales, using social media, and pioneering "green" retail practices. His life was active beyond his business, as well. Besides serving as treasurer of the Clare Chamber of Commerce for two years, he was fiercely proud of his Acadian heritage, and was an avid fan of Cape Breton music and step dancing.

"Marc Robichaud was one the most innovative dealers I've ever met," says Tim Urquhart, President and CEO of TIM-BR MARTS Ltd., the buying group of which Marc was a member. His death was felt by dealers and vendors across the country.

 A dealer in Canada who has demonstrated imagination, originality, and innovative practices in the operation of their store and the growth of their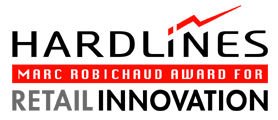 business will be selected to receive the first-ever Mark Robichaud Award for Retail Innovation. The Award will be presented at the 17th Annual Hardlines Conference, Oct. 25, 2012 at the Sheraton Toronto Airport Hotel.

(For more information and details of the Award process, contact me at 416-489-3396 or mike@hardlines.ca .)
back to top



______________________________________________________________________
TSC makes changes to executive team
LONDON, ON — The departure of Greg Hicks from London, ON-based TSC Stores Ltd. is part of a larger reorganization at that retailer. Hicks, who had served as COO and head of TSC's wholesale farm and hardware division, Country Pro Services, has joined Lowe's Canada.

"Greg was instrumental in helping us build some solid bench strength in our organization," says Dave Roussy, president of TSC, adding that Hicks' role will not be replaced directly. "We've instead decided to increase the responsibilities of several existing team members and also added some depth to the company at the management ranks."

Sally Royka was recruited from Office Depot and now heads TSC's inventory management and merchandising operations. She reports to Darryl Jenkins, who is now chief merchandising officer (he was formerly vp merchandising and marketing).

In addition, Dan Cassidy now heads up supply chain and Ralph Bouch runs the farm and agro chain's business planning and development. Both have been with TSC for more than five years. Andrew McClure, who was recruited from Sharpe Feed Supplies, will lead business development efforts in animal feed, reporting to Bouch.
______________________________________________________________________
Housing starts expected to get up over 200,000 in 2012

  OTTAWA — Canada's new and existing home markets are going to slow somewhat through the end of 2012 and into 2013, according to Canada Mortgage and Housing Corp.'s third quarter Housing Market Outlook.

"Canada's housing markets are expected to moderate over the rest of 2012 and into 2013 after showing sustained activity levels, specifically in the multiples segment, over the first half of 2012," said Mathieu Laberge, deputy chief economist for CMHC. "Balanced market conditions in most local housing markets will result in a slowing in house price growth as well," he added.

On an annual basis, housing starts will be in the range of 196,800 to 217,000 units in 2012, with a point forecast of 207,200 units. In 2011, housing starts reached 193,950. If CMHC's point forecast proves accurate, this will be the first time since 2008 that housing starts have exceeded the 200,000 mark, considered a healthy benchmark by many.

Meanwhile, the declining trend this year was reinforced in July, when the seasonally adjusted annual rate of total urban starts decreased 6.4% to 187,300 units. That's a big drop from 218,500 units seasonally adjusted in June. Urban multiple starts led the decline, falling by 7.6% to 123,000 units in July. Single starts posted a relatively smaller decline of 4.0%.

Looking ahead, housing starts in 2013 will be in the range of 173,000 to 207,400 units, with a point forecast of 193,100 units, says CMHC. Existing home sales will be in the range of 442,300 to 485,200 units in 2012, with a point forecast of 466,600 units.
______________________________________________________________________
Kent secures another site

    ST. JOHN, NB — Kent Building Supplies has signed on to be a tenant in the Veterans Memorial Business Park, a new power centre being built in Spaniard's Bay, NL. The centre, in the Conception Bay North area, is about 100 km west of St. John's, and will serve a market area of about 60,000 people in the West Avalon Peninsula.

Phase one of the site will be developed on 55 acres of land. The Kent store will share 24 acres with a major grocery tenant that has also just signed on. This would be just the latest in Kent's efforts to expand aggressively in Newfoundland, where it already has seven stores. Its latest opening was a new-concept contractor outlet in St. John's in mid-July called Kent Contractor Supply.


______________________________________________________________________
Castle dealers look for specials at Orgill market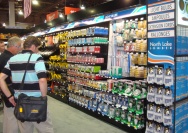 LAS VEGAS ― The latest Orgill dealer market drew some 2,500 dealers from across the Americas, including a turnout of 106 Castle dealers, who spent a lot of time exploring the Canadian-compliant model store on the show floor, called North Lake Hardware.

Castle Building Centres established a partnership with U.S. hardware wholesaler Orgill more than five years ago, giving the LBM buying group's member dealers direct access to hardlines products and programs. At the same time, Orgill was able to establish a foothold in Canada, and quickly gain enough critical mass to make its activities worthwhile. Hence the strong contingent of Castle dealers at this market.

Besides products and pricing, the show featured a number of new programs to help dealers create their own flyer programs and in-store promotions, as well as educate them about sales tools such as social media.

"The dealers are here looking for ways to grow their profitability in the last half of the year," said James Jones, vice president of marketing for Castle. "The deals that are available here, the direct ships from vendors, and products that are available out of Orgill's warehouse and through Orgill's Worldwide Sourcing will give us a great finish to our year." (Click here to see our exclusive interview in Las Vegas with James Jones. ―Editor)  
_____________________________________________________________________ 
RONA unveils new website and app

BOUCHERVILLE, QC — RONA inc. has unveiled its new website, plus a mobile app. The new www.rona.ca site claims to offer consumers a fresh look and user-friendly interface, while offering information that will help them in their renovation or decoration projects – all based on their personal interests. It also allows shoppers to evaluate and comment on some 30,000 products online and share their experiences with other users.

Customers can now get information about the latest trends and products in renovation and decoration – as well as current promotions in their area. Delivery can be made to the nearest RONA store or to the customer's home.

RONA's new mobile app, available for the Apple iPhone, gives access to rona.ca in addition to a variety of other information.
_____________________________________________________________________
Classifieds
_____________________________________________________________________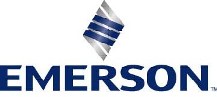 Retail Account Manager
A Retail  business unit of Emerson Electric Co. has an immediate opening for a Retail Account Manager – Toronto based.
RESPONSIBILITIES:
Manage existing account operations including: pricing, programs, promotions, and inventory management. Identify and capitalize on new business opportunities. Build strong and lasting relationships with each key account.
QUALIFICATIONS:
College or University
3-5 years of experience in positions of progressive responsibility in sales account management
Experience within the retail Hardware industry is a strong asset
Submit Cover Letter, Resume and Salary Expectations to:
Email: HR@emersonelectric.ca

______________________________________________________________________
A 100% Canadian-owned hardware, lumber and building material distribution company, Chalifour Canada Ltd. serves independent home improvement entrepreneurs in every province and territory.
NOW HIRING
Inside Building Materials Sales and Purchasing Agent
Surrey, BC
The Inside Building Materials Sales and Purchasing position is responsible for initiating sales in building materials and hardware. This position is also responsible for replenishment of purchase orders, inventory management of assigned vendors, flyer coordination and product costing & maintenance.

Qualifications
Minimum 3 years of work related experience in a lumber yard, with knowledge of lumber, plywood and building materials
Proficient in Excel and math calculations
Experience with buying groups and rebates, an asset
Contact
Please apply by sending your current resume and, if you desire so, your particularized motivation letter to:
HR.RH@chalifourcanada.com

Please note the job title in the subject line
This posting will close on September 3, 2012, no application received after that time will be considered. Please take note that only the applicants selected to be offered an interview will be contacted.

______________________________________________________________________
______________________________________________________________________

Resumés
Professional with over 25 years of experience in Sales, Marketing, Merchandising and Administration

view this

resumé

Marketing professional with over 10 years experience looking to secure a new full-time position.

view this

resumé

A Sales Professional with over twenty years of experience.view this

resumé

Experienced District Manager with a proven track record with several national chains. view this

resumé

A conscientious, highly motivated manager with a results-oriented track record in developing new business.

view this

resumé

An experienced merchandising executive possessing passion, vision, and a strategic approach to delivering bottom-line.

view this

resumé

Senior sales/marketing leader with experience in all classes of trade wishing new HARDLINES career. view this

resumé

Very Experienced Business Unit Manager, great passion for generating sales and building relastionships.view this

resumé

Worked through my career within the manfucaturer, wholesale and consumer goods industries. view this

resumé

Senior Sales Manager with vast experience in retail and wholesale sales growth in Canada. view this

resumé