September 2, 2013, Volume xix, #33
"The difference between literature and journalism is that journalism is unreadable and literature is unread."— Oscar Wilde (British playwright and novelist, 1854-1900)
______________________________________________________________________
TIM-BR MART: update on review of operations and leadership
CALGARY — Just over a month after TIM-BR MART Group's board asked its two top executives to take a paid leave of absence, the company has provided further information on the status of CEO Tim Urquhart and executive vice president and COO Barb Hopper, indicating that Urquhart has left the company.

TIM-BR MART retained outside advisors to conduct an independent review of its operations following the departure of the pair on July 24. Now, according to TIM-BR MART in a release issued today, "That review has identified isolated instances of failure to adhere to corporate reporting structure and corporate governance. As a consequence, President and CEO Tim Urquhart has accepted the Company's request for his resignation, which is effective immediately.

"… Barb Hopper remains on paid leave of absence," the release continues. "Michael Westrum, Chair of TIM-BR MART Group's Board of Directors, will continue to act as CEO on an interim basis with the support of the senior leadership team in managing the Company's day-to-day operations."

Urquhart shared this comment with HARDLINES: "it has been my pleasure to have worked with the TIM-BR MART team, the dealers, and the suppliers for these past 10 years. So much was accomplished during that time and I wish everyone continued success in the future."

The TIM-BR MART release adds that the group will continue to enhance internal controls and efficiencies, while maintaining a commitment to growth and profitability for its members.
______________________________________________________________________
Kent opens largest store in a decade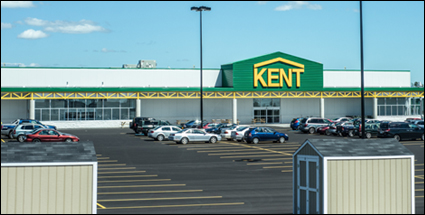 CHARLOTTETOWN — Kent Building Supplies' new P.E.I. hub opened on Saturday, with a special focus on serving contractors and professional customers. The new outlet is more than three times larger than the current Charlottetown location, which the Irving family bought in 2005 as part of the takeover of Schurman Lumber.

That 100,000-square-foot outlet reportedly cost the retailer's parent, J.D. Irving Ltd., $10 million. It brings to eight the number of big boxes (ranging from 85,000 and 100,000 square feet) that Kent operates, along with 34 smaller stores, in Atlantic Canada.

______________________________________________________________________

Big-box chains boost earnings in second quarter

MOORESVILLE, NC & ATLANTA — The housing recovery is driving a comeback for home improvement retailers, who saw movement slow with the downturn in the housing market. Most recently, Home Depot's positive quarterly reports were followed by the news that Lowe's results were enjoying a similar upward trend.

But while Lowe's may share in reaping the benefits of recovery, analysts believe it has a way to go before it can think of eclipsing its rival.

The housing recovery is good news for home improvement retailers across North America. But while Home Depot makes 35% of its sales to contractors and other professionals, only a quarter of Lowe's sales are made to those buyers. Location also accounts for part of the gap, with Home Depot in more urban markets compared to Lowe's. Now, however, Lowe's is poised to enter more high-density markets following the acquisition of California's Orchard Supply Hardware, which has smaller stores throughout that state. Until now, Lowe's has considered its presence in the Golden State to be under-represented.

The world's second-largest home improvement retailer turned strong results for its second quarter, reporting net earnings of $941 million, up 26% over the same period a year ago. Sales reached $15.7 billion, up 10.3% from $14.2 billion in 2012. Same-store sales were up a healthy 9.6% for the quarter as a late start to the summer picked up the lag from the first quarter—a trend matched by Home Depot. Outdoor categories were particularly strong for Lowe's, but all product categories had comp sales of 5% or more. For the six-month period, sales were up 5.1% to $28.8 billion, while same-store sales year-to-date increased 4.6%.

Total customer transactions for Lowe's picked up 5.3% and the average basket size increased 4.7% to $65.60. For the six-month year-to-date, net earnings increased 16.2% from the same period a year ago to $1.48 billion, and diluted earnings per share increased 27.1% to $1.36.

Home Depot's $22.5 billion in sales represented an increase of 9.5% from last year's Q2. Same-store sales rose 10.7% and diluted earnings were $1.24 per share. Once again, the effect of summer's timing on Q1 paid off in Q2. Growth was positive in 98% of all markets and all merchandising categories exceeded expectations. The quarterly transaction count was a record high for the company's history.

Though the company does not break out its Canadian results, Home Depot Canada enjoyed its seventh consecutive quarter of positive same-store sales.

______________________________________________________________________

RONA to prune house brands

BOUCHERVILLE, QC — As RONA seeks to be more competitive, pricing is getting squeezed, putting pressure on margins. One of the best sources of a wider margin is typically private-label and proprietary, or house, brands. But these are getting reviewed as the retailer trims unprofitable units under its restructuring plans.

Since launching its first private-label offering in 1993, RONA has expanded the lines to 12, including RONA Eco, RONA Collection (paint), Vitalium (lawn fertilizers), along with the Asian-sourced Uberhaus and Haussmann brands.

The company reduced inventory by $47 million in the second quarter, and hopes to reduce it by a total of at least $100 million over time. According to RONA president and CEO Robert Sawyer during the company's Q2 earnings call, "Most of our excess inventory is coming from Shanghai, which is a lot of a private label. So we are revisiting completely our approach and the way we buy, and the projection in terms of sell-through."

Private brands account for about 28-30% of RONA's penetration rate, which is RONA's calculation of the percentage of sales by these products within their respective categories.

"In the past, the private label strategy was more about getting volumes," Sawyer explained. "So now, we're really looking at dollar contribution to the bottom line and this is what our private label should be doing—bringing incremental dollar margin—and that's our focus."

______________________________________________________________________

Orgill Market sees increase in Canadian attendance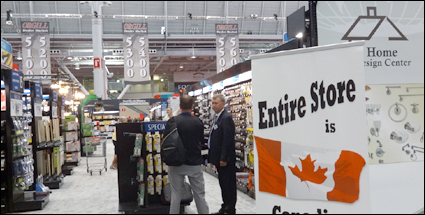 BOSTON — This year's Orgill Fall Dealer Market saw a visible increase in the number of Canadian vendors and dealers in attendance. Even more striking was the number of Canadian flags in the vendors' booths to represent Canadian-compliant goods; around 90% of the vendors carried Canadian-compliant merchandise.

Orgill started shipping to the Canadian market on a widespread basis three years ago and has seen exponential growth in an extremely short amount of time. This year alone, Orgill is expecting over $185 million in growth. Orgill claims it is fast reaching a point where it can offer a range of SKUs that rivals the inventories of domestic wholesalers. This type of growth has made the Orgill Market a compelling destination for more Canadians than ever.

Within the show, there were a number of "model" stores, fully merchandised with complete hardware assortments. These included two model hardware stores and a lumber and building materials model store. One of the model stores was the "Windsor Falls" store, a 12,000-square-foot showcase stocked with entirely Canadian-compliant products.

"The Windsor Falls store is the most impressive independent hardware store in Canada," said James Jones, vice president of national marketing for Castle Building Centres Group Ltd. Castle was instrumental in facilitating Orgill's entry into Canada, forging a hardware supply deal with the U.S. company when it first began its expansion here.

Jones, who insisted that dealers could increase their margins by buying through Orgill, added that Castle has had record purchases through Orgill, surpassing their purchases with any other hardware distributor.

______________________________________________________________________

Classified Ads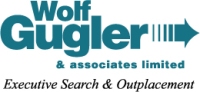 Wolf Gugler & Associates Sales & Marketing Career Opportunities:
Key Accounts Manager, Quebec
Open due to a promotion! Excellent opportunity for an experienced bilingual key accounts sales professional ready for a new challenge. Our client is well positioned in the hardware and building materials market selling to retailers and distributors. This position will develop, maintain and expand relationships with key accounts including head offices and affiliated branches in the LBM and dealer/distribution channel from Quebec to the east including Chalifour, Kent, Canac Marquis and Castle. Ensure sales plans are executed and revenue and profitability targets aligned with corporate goals are both achieved and surpassed. Manage and direct the sales process for these customers, working in conjunction with the Marketing team. Salary, bonus, company vehicle, RSP and excellent career development programs offered. Please quote KAM-Quebec when applying.
Market Segment Manager—GTA
One of a growing team, you'll be responsible for functional areas such as:
Driving growth & profitability by managing marketing strategies, product portfolio and product development. Understand industry trends and competitive market strategies.
Product Planning
Supporting the department in short and long term strategy planning
Working with cross functional groups to channel new ideas into new directions
Segment Research – provide detailed market information e.g. market size, drivers in the buying decision process, market trends and competitor review. Determine market requirements for current and future product development by conducting market research supported by customer visits, trade focus and product blueprinting data.
Comprehensive compensation package and career opportunities offered for the successful candidate. Please quote MSM—GTA when applying.
Sales Representative, SW Ontario
Canadian-owned Ontario based building products manufacturer selling worldwide but focused on their local market. Due to territory reorganization they're seek a building materials sales professional to join a cohesive team in a very competitive market. Territory includes Windsor à Hamilton à St Catherines area. An ideal fit for a customer-focused professional possessing good knowledge of the local building material industry. Self driven and has a passion for sales to join a winning team. You're based in Southwestern Ontario with an impressive sales record selling to building materials dealers and contractors.  Utilize the resources and support of a well-established Canadian owned organization; salary, bonus, car allowance and success tools including home office support and an in-house CRM will help you meet or surpass your goals. Please quote SW Sales Rep when responding.
Please call or email Wolf Gugler for a confidential exchange of information. You may also apply online at www.wolfgugler.com .
Wolf Gugler & Associates Limited, #DIY Talent Recruitment Experts for home improvement retailers and suppliers throughout North America. 888-848-3006.
______________________________________________________________________ 
REGIONAL ACCOUNT MANAGER, WESTERN CANADA
M.L. CAMPBELL WOOD FINISHES BRAND
Division of The Sherwin-Williams Company
Position Location: CALGARY , AB or VANCOUVER, BC
A leading North American manufacturer for the wood finishing industry, M.L. Campbell www.mlcampbell.com has built a reputation of dependability and product excellence for over 90 years. As an exclusive manufacturer of wood coatings, the company is dedicated to supplying its customers with high performance finishes.

The successful Western Canada based candidate will provide Regional Account Management for the M.L. Campbell Wood Finishes Brand. This position is responsible for managing the M.L. Campbell sales, profit, and marketing efforts in Western Canada (BC, Alberta, Saskatchewan, and Manitoba). This position involves sales through a distribution network - these M.L. Campbell clients sell and service Cabinet Shops; Furniture Manufacturers; Architectural Millwork, Aerospace, and Marine applications; and other manufacturers of wood furnishings.
Position reports directly to the Canadian Business Director, Brantford, Ontario. Competitive salary + bonus, benefit package.
Black Eagle Executive Search is conducting this search on behalf of M.L. Campbell.
KEY COMPETENCIES
Strong written and verbal English communication skills. Effective communication skills will be required for presentations to both small and large groups.
Strong interpersonal skills with the proven ability to maintain and build relationships with customers, including new business acquisition and providing customer service.
Proven track record of meeting and exceeding sales targets.
Entrepreneurial, business development skills.
Self-starter, able to work independently with minimal supervision.
KEY RESPONSIBILITIES:
Developing distributor sales and technical skills.
Developing and implementing training programs.
Managing, organizing, and working trade shows.
Implementing market growth programs to maintain and improve market share
Developing, implementing, and working within a developed business plan
Meeting P&L goals
KEY QUALIFICATIONS
University Degree or equivalent work experience required.
Minimum 3-5 years' experience in sales management.
Extensive travel is required with the ability to travel by all means of transportation
Distribution experience preferred.
Industrial paint and/or wood finishing, spray application experience required
Ability to apply and demonstrate all wood coatings which includes the ability to work with applicable solvents.
Understanding and demonstrated knowledge of product application including troubleshooting, application equipment set up, and application technique.
Ability to use PC to communicate and to present and develop distribution programs and business plans utilizing programs such as Excel, Word, PowerPoint, Lotus Notes, etc.
Please submit résumé to Black Eagle Executive Search via email to Richard Simms at rsimms@blackeagle.ca 
Only candidates of interest will be contacted
Resumés
Click here to view the resumés online