September 23, 2013, Volume xix, #32
"Mother of mercy, is this the end of Rico?"
— Edward G. Robinson
(Romanian-born American actor, in the 1931 movie, "Little Caesar" )
______________________________________________________________________
TruServ's Bill Morrison joins Conference as keynote
TORONTO — The head of one of Western Canada's most important hardware wholesalers is the latest retail executive to join the speaker lineup at the Hardlines Conference.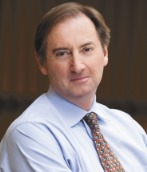 Bill Morrison, president of TruServ Canada, will share his insights into the strength of the independent, during the 18th Annual Hardlines Conference, and how independents can best be served in today's rapidly changing marketplace. In fact, so fast are the changes occurring, says Morrison, that it's happening at "e-speed," posing challenges for any business, but its own set of challenges for the independent.

As the head of TruServ Canada, Morrison sees first-hand the challenges that independent retailers face in this industry. TruServ Canada is in a unique position to have information and research from big boxes, understanding from the dealer perspective, and a sales relationship with over 700 customers—independent hardware and building materials dealers across Canada.

Morrison will bring his experience and understanding of dealers to bear at the conference, as he offers insight that supports independent retailer success well into the future. He joins a first-rate lineup of fellow keynotes, including James Ryan, vice-president, home and hardlines at Sears Canada; Rafe Petkovic, Google Canada; Richard Lord, president and CEO of Richelieu Hardware; Pat Bolland, economist and host on Sun News Network; and retail guru Anthony Stokan.

(Please join us at the 18th Annual Hardlines Conference, October 23 & 24, at the Sheraton Toronto Airport Hotel. —Michael)
______________________________________________________________________
Canadian Tire expands its home services
TORONTO — One has to give Canadian Tire credit for trying. In recent years it's tried adding food to its shelves, taken on large appliances, tried out a smaller rural store, and developed an installed sales service.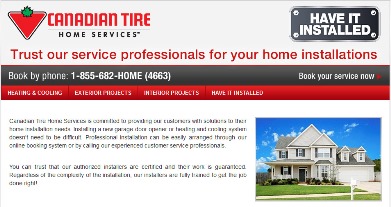 Of those, only the last one—installed sales—is still around. Called "Home Services," the business model is focused on two key lines of business. The first is in-home services, which includes painting, roofing, lawn care, and landscaping. In some ways, it's reminiscent of the services provided by Sears Canada's own "Home Services" division.

The other is coined "install what we sell." It began in August 2011 with just two services, garage door openers and central vac installations. It has since expanded to include a wider range of offerings representing its various product themes: in "Living," the company will install toilets and faucets, and window air conditioners, along with central vacs. In "Seasonal," Canadian Tire can supply installation services for sheds, play structures, gazebos, and barbecue gas lines.

A spokesperson for Canadian Tire told HARDLINES that the services are available through "our trusted group of authorized service providers."

______________________________________________________________________

Consolidation continues as the big get bigger

SPECIAL REPORT — In 2012, the Top Four increased their collective sales by 2.3% in 2012, increasing their overall share of the market and concentrating retail power even more than ever among a select few large groups.

According to a new report from HARDLINES, four retail groups—RONA, Home Depot Canada, Home Hardware, and Canadian Tire Retail—collectively grew their share of the overall market from 52.8% to 53.3%, representing a 1% increase in the overall market share of the industry.

The rest of the industry grew by only 1.6%, by comparison.

Of those four groups, the greatest year-over-year growth came from Home Hardware, while the smallest amount of growth came from RONA. Nevertheless, all four had positive sales in 2012, and are forecast to make net gains again in 2013.

Despite slower sales, RONA remains in the number-one spot among retail groups in Canada, with a market share of 15.1%.

(The 2013 Hardlines Retail Report is now out! It is a comprehensive overview and analysis of the retail home improvement industry in Canada. With more than 150 PowerPoint slides filled with charts and graphs, it's the only tool for measuring the growth and market shares of the key sectors and retail companies in this industry. Click here to order your copy now and view sample slides!)

______________________________________________________________________

Home Hardware streamlines inventory

   ST. JACOBS, Ont. — A partnership with an inventory management company has resulted in reduced inventory and increased service levels at Home Hardware Stores' distribution centre.

Home hired Blue Ridge, which came up with a proprietary cloud-based supply chain planning and analytics system called Clarity to help the co-op wholesaler achieve greater precision in demand forecasting, planning and replenishment. According to Blue Ridge, Steve Allgeier, inventory control manager at Home Hardware, and his replenishment team were able to reduce excess inventory and safety stock by 10%, while increasing service levels by 2.5%.

"The Clarity solution is very focused on buying as late as possible to reduce inventory [just-in-time], while still maintaining service-level objectives," said Allgeier. "For each of the individual store owners, this means reduced inventory costs and maximum return on promotions, while maintaining adequate stock levels and minimal out-of-stocks."

______________________________________________________________________

Classified Ads

Vice President, Marketing
Lee Valley Tools - Ottawa
Lee Valley Tools is an iconic retailer with a world-wide customer base of wood working, gardening, seasonal and specialty enthusiasts. Their catalogue and e-commerce success, customer service focus, and retail acumen is legendary.

A talented, collaborative, strategic omnichannel Marketing genius is sought to become the first-ever Vice President, Marketing. Collaboration is key in this flat-management organization, and developing a marketing plan to be utilized by several departments is key.

To further explore this outstanding opportunity, please email your CV to Brenda Burch Dumont, Bjork Enterprises Ltd. Retail Talent Sourcing at me@brendadumont.com with ' Lee Valley' in the subject line.
______________________________________________________________________
Unlock your competitive advantage
Creative Transition Resources (ctr) helps companies and individual leaders unlock your key competitive advantage. CTR helps you build a powerful business or communication strategy that engages your key people in its development.

The right strategy unlocks your key advantage and that's where ctr comes in. We bring two decades of proven success facilitating, developing, executing and communicating strategies and solutions that work. See the full range of services at ctr.ca or contact Yasmin Glanville, Chief Strategist, yasmin@ctr.ca , for further information.
______________________________________________________________________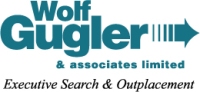 Wolf Gugler & Associates Sales & Marketing Career Opportunities:
Key Accounts Manager, Quebec
Open due to a promotion! Excellent opportunity for an experienced bilingual key accounts sales professional ready for a new challenge. Our client is well positioned in the hardware and building materials market selling to retailers and distributors. This position will develop, maintain and expand relationships with key accounts including head offices and affiliated branches in the LBM and dealer/distribution channel from Quebec to the east including Chalifour, Kent, Canac Marquis and Castle. Ensure sales plans are executed and revenue and profitability targets aligned with corporate goals are both achieved and surpassed. Manage and direct the sales process for these customers, working in conjunction with the Marketing team. Salary, bonus, company vehicle, RSP and excellent career development programs offered. Please quote KAM-Quebec when applying.
Market Segment Manager—GTA
One of a growing team, you'll be responsible for functional areas such as:
Driving growth & profitability by managing marketing strategies, product portfolio and product development. Understand industry trends and competitive market strategies.
Product Planning
Supporting the department in short and long term strategy planning
Working with cross functional groups to channel new ideas into new directions
Segment Research – provide detailed market information e.g. market size, drivers in the buying decision process, market trends and competitor review. Determine market requirements for current and future product development by conducting market research supported by customer visits, trade focus and product blueprinting data.
Comprehensive compensation package and career opportunities offered for the successful candidate. Please quote MSM—GTA when applying.
Sales Representative, SW Ontario
Canadian-owned Ontario based building products manufacturer selling worldwide but focused on their local market. Due to territory reorganization they seek a building materials sales professional to join a cohesive team in a very competitive market. Territory includes Windsor to Hamilton to St Catherines area. An ideal fit for a customer-focused professional possessing good knowledge of the local building material industry. Self driven and has a passion for sales to join a winning team. You're based in Southwestern Ontario with an impressive sales record selling to building materials dealers and contractors.  Utilize the resources and support of a well-established Canadian owned organization; salary, bonus, car allowance and success tools including home office support and an in-house CRM will help you meet or surpass your goals. Please quote SW Sales Rep when responding.
Please call or email Wolf Gugler for a confidential exchange of information. You may also apply online at www.wolfgugler.com .
Wolf Gugler & Associates Limited, #DIY Talent Recruitment Experts for home improvement retailers and suppliers throughout North America. 888-848-3006.
______________________________________________________________________
 
Resumés
Click here to view the resumés online