September 9, 2013, Volume xix, #34
"Remember that time is money."
— Benjamin Franklin (inventor, author and statesman, 1706-1790)

______________________________________________________________________

RONA dealers unite to seek transparency, accountability

SPECIAL REPORT — A group of RONA dealers has banded together with the purpose of challenging RONA's transparency and overall handling of its affiliate and franchise dealer relationships.

Some members of the RONA Merchants' Association have been formalizing their concerns to RONA's executive team. The RMA's president and spokesperson is Martin Lacasse, a chartered accountant whose family owns RONA L'entrepôt stores in and around Gatineau, Que.

Some 50 Quebec members met on August 15 in Drummondville, Que., to hammer out their concerns around issues of transparency, accountability, pricing, and advertising funds. The group represented almost $1 billion in combined sales volume. Based on the concerns expressed in that meeting, the group sent a seven-page letter, signed by Lacasse, to RONA's president and CEO, Robert Sawyer.

The concerns of the group centre around three areas. The first is accountability. On this point, the group is urging Sawyer and his team to set up joint merchant-management committees. "Our members want to become more involved and participate in making decisions regarding management, marketing, and establishing the strategic issues for the RONA stores," says the letter.

Second, the group is asking for more transparency, especially as it relates to supply costs. The letter urges RONA to lower its costs to all its dealers, "to restore both their competitive edge against merchants from other buying groups and an acceptable margin of profit." (Indeed, one of RONA's initiatives in recent months has been working with vendors to establish better pricing, even though it means tighter margins, in order to keep its dealers competitive, as reported in these pages. —Editor)

That includes the dealer's concern about advertising funds. Again, the RMA is seeking more information about how those funds are being used.

Finally, the group wants management to allow dealers to be more pro-active, by setting up a management committee for big-box dealers; a marketing committee to be involved in purchasing negotiations with existing suppliers; and a strategic issues committee that would get involved in negotiations with preferred suppliers, as well as marketing strategy including advertising funds.

A reading of the letter suggests that the goal of the RMA is not to challenge the RONA head office, but to encourage more partnership with the independent dealer base. Under the new executive direction of the company, some dealers are getting the impression that RONA's focus is mainly on shareholders. While not necessarily the case (RONA has said repeatedly that it recognizes the importance of its independent dealers in weathering the tough economic climate since 2008), that perception has nevertheless become a leverage point for other banners as they try and recruit RONA dealers away. The dealers are aware of this threat, and are attempting to work together with management to head it off.

The conclusion of the letter to Robert Sawyer iterates that point: "This letter is therefore intended as a call to collaboration. We all have a common goal, reinvigorating the RONA group, and to do so as quickly as possible."

BREAKING NEWS: Just before press time, HARDLINES learned of the formal response to the RMA's letter, signed by RONA president and CEO Robert Sawyer. In that letter, Sawyer acknowledges the concerns of the dealers, especially in light of the transition the company is currently going through. He affirms that RONA is reviewing its mechanisms for communicating regularly with its dealers. He also expresses an openness to setting up committees, as requested by the RMA, "to help us fine-tune our strategy, measure how we are doing, and adjust our focus…."

______________________________________________________________________

Castle Atlantic Buying Expo marks seven years

MISSISSAUGA, Ont. —  Castle Building Centres Group held its 7th Atlantic Buying Expo in St. John's August 27-29. The event brought together Castle members from across Newfoundland and the Maritimes for three days of buying opportunities and vendor specials.

Expo specials during the full-day buying session were offered in Castle's unique 10-minute rotational format, which has been likened to "speed dating." Pallet buys were strong as Castle welcomed new and veteran vendor partners to the expo.

The event included social events and interaction with Castle staff, fellow Castle members, and vendor partners. Over 250 members and suppliers participated. Castle also used the event as a platform for re-introducing former Castle member Bob Delaney as new business development manager in Newfoundland.

Castle honoured two Newfoundland members celebrating 25 years with Castle. Castle president Ken Jenkins and Newfoundland board member Cluny Sheppard, who operates nine locations in Newfoundland, paid tribute to B&M Building Supplies of Seldom, Fogo Island; and James Randall and Sons of Bide Arm.

"The Castle Atlantic Buying Expo has evolved over the years into one of the most unique and anticipated regional events in our industry," said Sandy Welsh, business development manager – Atlantic Region. "Year seven was no exception. This year was another overwhelming success."

______________________________________________________________________

CTR goes high-tech with in-store kiosk, location-based app

TORONTO — Canadian Tire has rolled out an interactive product locator with touch screens, being tested in its Meadowvale, Ont., store.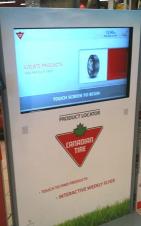 These fast-find devices are the result of efforts led by dealers, Canadian Tire's IT, and store operations. Both customers and store employees can use them to find products.

The kiosk, from Jibestream Interactive Media, features a 42-inch touchscreen that can display video ads in real time based on product search parameters. Accompanying software provides full tracking and reporting for activity and trends.

Canadian Tire is also is testing a personalized location-based mobile shopping application capable of reading QR codes and sending instant promotions to shoppers' smartphones. The personal mobile shopping app delivers location-specific offers and information to members that opt in to the service from Bee Media, the app provider.

(Excerpted from the Hardlines Executive Report, featuring a full analysis of the quarterly results and corporate initiatives of four major public companies: Home Depot, Lowe's, RONA, and Canadian Tire. To get the full report, click here ! —Michael)

______________________________________________________________________

Retailers say organized crime is on the rise

SPECIAL — A new report indicates that 93.5% of retailers in the U.S. say they have been victims of organized retail crime in the past year, down slightly from 96.0% in 2012. For the past three years, more than 90% of the retailers surveyed said they were victims of this type of crime, and eight in 10 say organized retail crime in the U.S. has increased over the past three years. The findings were part of the National Retail Federation's ninth annual Organized Retail Crime Survey.

"We are extremely concerned by the organized patterns that are taking place in the retail industry right now as these crime gangs continue to find ways to manoeuvre the system," said Rich Mellor, vice president of loss prevention for the NRF.

The likelihood of thieves resorting to violence to avoid being apprehended is also a concern among survey respondents: retailers say an average of two in 10 apprehensions led to some level of violence, up from 15.2% last year and 13.0% in 2011.

However, thanks to organized methods of communication between retailers and law enforcement, awareness among law enforcement officials is at an all-time high. According to the survey, nearly half of retailers say they believe law enforcement understands the complexity and severity of organized retail crime, up from 40.0% last year.

______________________________________________________________________

Classified Ads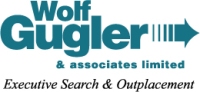 Wolf Gugler & Associates Sales & Marketing Career Opportunities:
Key Accounts Manager, Quebec
Open due to a promotion! Excellent opportunity for an experienced bilingual key accounts sales professional ready for a new challenge. Our client is well positioned in the hardware and building materials market selling to retailers and distributors. This position will develop, maintain and expand relationships with key accounts including head offices and affiliated branches in the LBM and dealer/distribution channel from Quebec to the east including Chalifour, Kent, Canac Marquis and Castle. Ensure sales plans are executed and revenue and profitability targets aligned with corporate goals are both achieved and surpassed. Manage and direct the sales process for these customers, working in conjunction with the Marketing team. Salary, bonus, company vehicle, RSP and excellent career development programs offered. Please quote KAM-Quebec when applying.
Market Segment Manager—GTA
One of a growing team, you'll be responsible for functional areas such as:
Driving growth & profitability by managing marketing strategies, product portfolio and product development. Understand industry trends and competitive market strategies.
Product Planning
Supporting the department in short and long term strategy planning
Working with cross functional groups to channel new ideas into new directions
Segment Research – provide detailed market information e.g. market size, drivers in the buying decision process, market trends and competitor review. Determine market requirements for current and future product development by conducting market research supported by customer visits, trade focus and product blueprinting data.
Comprehensive compensation package and career opportunities offered for the successful candidate. Please quote MSM—GTA when applying.
Sales Representative, SW Ontario
Canadian-owned Ontario based building products manufacturer selling worldwide but focused on their local market. Due to territory reorganization they're seek a building materials sales professional to join a cohesive team in a very competitive market. Territory includes Windsor à Hamilton à St Catherines area. An ideal fit for a customer-focused professional possessing good knowledge of the local building material industry. Self driven and has a passion for sales to join a winning team. You're based in Southwestern Ontario with an impressive sales record selling to building materials dealers and contractors.  Utilize the resources and support of a well-established Canadian owned organization; salary, bonus, car allowance and success tools including home office support and an in-house CRM will help you meet or surpass your goals. Please quote SW Sales Rep when responding.
Please call or email Wolf Gugler for a confidential exchange of information. You may also apply online at www.wolfgugler.com .
Wolf Gugler & Associates Limited, #DIY Talent Recruitment Experts for home improvement retailers and suppliers throughout North America. 888-848-3006.
______________________________________________________________________ 
REGIONAL ACCOUNT MANAGER, WESTERN CANADA
M.L. CAMPBELL WOOD FINISHES BRAND
Division of The Sherwin-Williams Company
Position Location: CALGARY , AB or VANCOUVER, BC
A leading North American manufacturer for the wood finishing industry, M.L. Campbell www.mlcampbell.com has built a reputation of dependability and product excellence for over 90 years. As an exclusive manufacturer of wood coatings, the company is dedicated to supplying its customers with high performance finishes.

The successful Western Canada based candidate will provide Regional Account Management for the M.L. Campbell Wood Finishes Brand. This position is responsible for managing the M.L. Campbell sales, profit, and marketing efforts in Western Canada (BC, Alberta, Saskatchewan, and Manitoba). This position involves sales through a distribution network - these M.L. Campbell clients sell and service Cabinet Shops; Furniture Manufacturers; Architectural Millwork, Aerospace, and Marine applications; and other manufacturers of wood furnishings.
Position reports directly to the Canadian Business Director, Brantford, Ontario. Competitive salary + bonus, benefit package.
Black Eagle Executive Search is conducting this search on behalf of M.L. Campbell.
KEY COMPETENCIES
Strong written and verbal English communication skills. Effective communication skills will be required for presentations to both small and large groups.
Strong interpersonal skills with the proven ability to maintain and build relationships with customers, including new business acquisition and providing customer service.
Proven track record of meeting and exceeding sales targets.
Entrepreneurial, business development skills.
Self-starter, able to work independently with minimal supervision.
KEY RESPONSIBILITIES:
Developing distributor sales and technical skills.
Developing and implementing training programs.
Managing, organizing, and working trade shows.
Implementing market growth programs to maintain and improve market share
Developing, implementing, and working within a developed business plan
Meeting P&L goals
KEY QUALIFICATIONS
University Degree or equivalent work experience required.
Minimum 3-5 years' experience in sales management.
Extensive travel is required with the ability to travel by all means of transportation
Distribution experience preferred.
Industrial paint and/or wood finishing, spray application experience required
Ability to apply and demonstrate all wood coatings which includes the ability to work with applicable solvents.
Understanding and demonstrated knowledge of product application including troubleshooting, application equipment set up, and application technique.
Ability to use PC to communicate and to present and develop distribution programs and business plans utilizing programs such as Excel, Word, PowerPoint, Lotus Notes, etc.
Please submit résumé to Black Eagle Executive Search via email to Richard Simms at rsimms@blackeagle.ca 
Only candidates of interest will be contacted
Resumés
Click here to view the resumés online