April 4, 2011, Volume xvii, #14
"A clever man commits no minor blunders."
—Johann W. Von Goethe (German author and philosopher, 1749-1832)
Buzz at TIM-BR MART show attracts dealers 
TORONTO — Dealers from all over Canada gathered at the Toronto Congress Centre for a new buying show this past weekend. TIM-BR MARTS Ltd., the Calgary-based buying group, held its first show ever, drawing 600 members to meet 250 exhibiting companies spread out over more than 100,000 square feet.


The show is another example of how the LBM buying group is increasing the range of services and supports for its 700-plus dealers. Those services include a full hardware distribution network through TIM-BR MARTS' Chalifour Canada hardware division.

Vendors were generally pleased with the turnout, which appeared strong last Friday, the first day the show floor was open. "This show is shaping up well. They did a good job of organizing it," says Ed Parkes, regional sales manager for Exchange-A-Blade. "When I walked into the show this morning, there was a buzz in the air," says Tony Anderson, vice-president, sales and marketing for CGC Inc.

The show featured hardlines dealers down the left side of the floor and LBM dealers down the right. The show was divided by TIM-BR MARTS' own services and programs area. "We can't just help the dealers to buy better; we have to give them the tools to sell better, too," says Steve Stremecki, vice-president corporate development at TIM-BR MARTS.
Lumber Liquidators: more Canadian stores this year
TORONTO — U.S. flooring retailer Lumber Liquidators is expanding into Canada, with a total of eight stores planned for this year alone. The specialty retailer already has three stores in the Toronto area: one in East York, another in Vaughan, and a third, which opened March 18, in Brampton.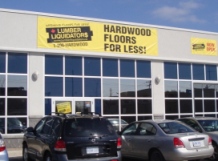 Insiders say that stores are planned for Barrie, Kitchener, Stoney Creek, and as far east of Toronto as Kingston, while longer-term plans include westward expansion in cities such as Winnipeg and Calgary.

In what was once considered a down-and-dirty category, Lumber Liquidators has certainly raised the bar on what a flooring store should look like, with a clean presentation of a range of hardwood and engineered wood flooring products in a small, 1,000-square-foot area supported by a 5,000-square-foot warehouse. And the results have been dramatic. Since it was founded in 1994, the company has grown to more than 200 outlets in the U.S. with 2010 sales of $620.3 million.

Lumber Liquidators is not alone in looking north of the border to expand. But unlike so many other U.S. retailers beleaguered by the economy there, it has been looking at Canada for a number of years, says Jeff Griffiths, president and CEO of Lumber Liquidators. His research, based on years of study and focus groups, tells him it's a good market.

"Hardwood flooring is a much greater percentage of the flooring business in Canada than in the States," he says. "It's about 22-23% in Canada, vs. only 14% here." That, combined with a high level of home ownership compared with the U.S., made Canada a compelling market. But when it comes to individual customers, "we found that the Canadian consumer for hardwood flooring is in many ways the same as in the U.S. They like hardwood, they like laminate, they like stained finishes, and they do a lot of research before they make their purchase — which is very similar to the customer we attract in the U.S."

The company is focusing on the Greater Toronto area this year, with as many as six more locations planned for this year. "We have a target long-term of about 40 stores in Canada, and that will keep us busy for the next four to five years," says Griffiths. "We'd like to be an international retailer and this just made sense to be our first international expansion."

(Click here to take a photo tour of the Lumber Liquidators store in East York, Ont.)
"Buying desk" will let dealers place orders at Vegas show
SPECIAL REPORT — Adam Busscher, owner of Picton Home Hardware Building Centre in Picton, Ont., is just one of the many independent dealers who intend to make the trip to Las Vegas this spring. He hopes to send six company representatives this time, up from four in 2010. Busscher and his staff will be looking for new products in all the hardlines categories.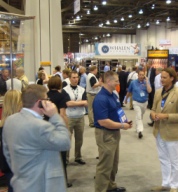 "It is very important to me and my company that when we are attending the National Hardware Show, we are able to see all the biggest vendors with the most exciting new products," Busscher says.

One of the new features that's drawing Busscher, and other independents like him, is a new "Buying Desk Program." Suppliers attending the 2011 event — to be held May 10-12 in Las Vegas — will be able to sell products to independent retailers through their existing co-operative and distributor programs.

"This new program will give independent retailers the chance to show new products to co-op and distributor buyers on the spot and get these products into their stores more quickly," said Rich Russo, event director, National Hardware Show. "We are very excited to have this program in place for this year's show."
back to top

RONA's Dutton to speak at European Conference
COLOGNE, Germany — The European DIY Retail Association, an international organization representing 30 major home improvement retailers worldwide, is joining with the Global Home Improvement Network and fediyma — the European Federation of DIY Manufacturers — to hold a significant global conference for the home improvement industry this summer.

The event, "One world – what will shape the future of home improvement worldwide," will take place June 8-9 at the new congress centre in Brussels. It is expected to host 500 retail and supplier executives from all over the globe.

A range of senior European retailers will make presentations: Régis Degelcke, president of EDRA and vice CEO of Groupe ADEO (France); Ian Cheshire, CEO of Kingfisher (U.K.); George Adams, CEO of Maxeda (Netherlands); and Rinat Mukhametvaleev, CEO of Trest SCM-Stroyarsenal (Russia).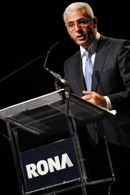 Speakers from retailers outside Europe include Canada's own Robert Dutton, CEO of RONA inc.; along with Greg Bridgeford, executive vice-president of Lowes (USA); Sandro Solari, CEO of Sodimac (Chile); Michael Wedgwood, CFO of Bunnings (Australia); and Raj Kumar, president of Homecentre (India).

The highlight of the congress will be the first Global DIY Lifetime Award, which will be presented to the charismatic co-founder of Home Depot, Pat Farrah, who is credited with being the inventor of the DIY "big box."

HARDLINES is pleased to represent EDRA in Canada for this congress. To get more information or to plan your trip, email Beverly Allen or call her at 416-489-3396. More details at www.edra-online.org.
back to top

 Canadian wins NRHA's Young Retailer Award
CAP-PELE , NB — Five young home improvement retailers are being honoured by the North American Retail Hardware Association at its next convention for outstanding achievement as owners and managers of independently owned hardware and building supply stores. They are honourees in the 2011 Young Retailer of the Year program.

Conrad LeBlanc, owner of Tediche Home Hardware Building Centre, is one of this year's winners.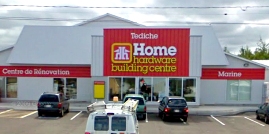 LeBlanc went to work in his uncle's store in 2000. Shortly thereafter his uncle retired and LeBlanc and his family purchased the business; by 2006 he was in charge. His store serves a trading area of 40,000 that depends largely on the fishing industry. LeBlanc doubled the size of the store to about 9,000 square feet and added many new product categories. Further growth encouraged him within a few short years to add yet another 3,000 square feet. The result of all this expansion and increased customer service is a business that has grown from just over $2 million to $7 million in annual sales.

LeBlanc and his fellow Young Retailer Award winners will be honoured at the NRHA's All-Industry Convention, May 10-12 in Las Vegas. Click here for more information on how you can attend this year's convention.
back to top

 Home Depot issues debt to repurchase more stock
ATLANTA — The Home Depot has announced a new debt offering to pay for an acceleration of its stock buyback programs. The retailer is issuing $2 billion in senior notes, with the proceeds being used to repurchase $1 billion worth of its outstanding shares. That's in addition to the $2.5 billion in stock it already announced it would repurchase this year.

Frank Blake, Home Depot's chairman and CEO, said the company decided to take advantage of "the attractive interest rate environment" by issuing the notes for its stock repurchase. Blake also noted that the timing coincides with Home Depot's recent reporting that 2010 was the first year the retailer has generated positive sales growth since 2006.
Classifieds
NATIONAL SALES MANAGER, TORONTO, ONTARIO
A leading distributor of hardware to more than 21,000 retail locations worldwide . The company has 11 facilities across North America and services over 58 countries with a significant presence in Mexico, South and Central America, and the Caribbean.

The company is seeking a National Sales Manager for its Canadian division overseeing the Canadian Business Unit sales. As an integral part of the Canadian management team, the successful candidate's responsibilities will include all activities related to driving division sales. Competitive salary and incentive program.

KEY COMPETENCIES:
Customer Focus
Excellent negotiation skills
New business development abilities
Superior supervisory skills in managing and developing sales personnel – provide leadership and mentoring
Strategic planning ability
Team Player
Excellent analytical ability
KEY QUALIFICATIONS:
Post secondary undergraduate diploma/degree in business or equivalent
Minimum 10-15 years field sales management experience  ideally in a consumer goods, high SKU, distribution environment
Experience in the Canadian hardware and/or building materials industry would be an asset
Senior level contacts with national/regional hardware retailers/ wholesalers would be an asset
Ability to develop and execute sales and management programs and policies
Excellent planning, organization, time management skills
Strong written and verbal skills
Advanced User of Microsoft Office - Word, Excel & PowerPoint
Strong interpersonal, communication and presentation skills
Ability to travel extensively
Please submit résumé via email to:
Black Eagle Executive Search
c/o Richard Simms at rsimms@blackeagle.ca
A well established North American  based consumer products  company is looking to acquire a small to medium size  importer, distributor, dot com provider or manufacturer currently doing business in the DIY or Mass Merchant category, relevant product profile could include seasonal, furniture, décor, building materials or  millwork products to leading retailers or distributors in Canada and/ or USA.

Interested parties please fax or email their contacts and brief company overview to Mr. Alan Silverman CA Kraft Berger LLP Chartered Accountants
3160 Steeles Avenue East, Suite 300, Markham, Ontario, Canada L3R 3Y2 Fax: 905 475 9360 Email: asilverman@kbllp.ca.  
All responses will be treated in complete confidentiality.
REGIONAL ACCOUNTS MANAGER
Loxcreen Flooring Group, Canada's leading manufacturer of floor transition mouldings, is seeking a Regional Accounts Manager based in Southern Ontario to be responsible for sales to regionally based customers across Canada including distributors, co-ops and retail accounts.

Reporting to the Director of Sales & Marketing, responsibilities will include direct account management, working with commissioned agents, achieving sales targets, trade shows, travelling across Canada to meet with customers, contributing to the development of sales programs and providing a supporting role with mass merchant key account initiatives.

Key competencies include proven ability to generate new business and effectively maintain customer relationships, strong communication and presentation skills, good analytical skills, self discipline and detail oriented.

Qualifications must include minimum 5 years sales and account management experience in the home improvement industry and having worked with sales agents; previous experience in hardware/building materials/flooring categories; ability to travel; work independently; proficiency in Excel, Word and Powerpoint.

Respond by email to: hr.search@loxcreenflooring.com
Resumés
A conscientious, highly motivated manager with a results-oriented track record in developing new business.

view this

resumé

A goal oriented sales director that has superior management skills, customer oriented, with in depth knowledge of the industry and the ability to achieve results.

view this

resumé

National Field Sales Manager with twelve plus years in power tools and hardware sales/merchandising.

view this

resumé

Business Manager with U.S. & Canadian experience with retail & industrial customers seeks a new opportunity.

view this

resumé

An experienced merchandising executive possessing passion, vision, and a strategic approach to delivering bottom-line.

view this

resumé

Senior sales/marketing leader with experience in all classes of trade wishing new HARDLINES career. view this

resumé

Very Experienced Business Unit Manager, great passion for generating sales and building relastionships.view this

resumé

Worked through my career within the manfucaturer, wholesale and consumer goods industries. view this

resumé

Senior Sales Manager with vast experience in retail and wholesale sales growth in Canada. view this

resumé
Connect with us!