Dec 13, 2010, Volume xvi, #48
"Heap on more wood! – the wind is chill; But let it
whistle as it will; We'll keep our Christmas merry still."
—Sir Walter Scott (Scottish author and poet, 1771-1832)
 
Holiday publishing schedule:

This is the last issue of HARDLINES in 2010. Please note: the HARDLINES World Headquarters will remain open until Dec. 22. We'll resume our regular publishing schedule on Jan. 4. Thanks to everyone for being part of our 15th anniversary celebration throughout this past year. We would like to wish everyone in our HARDLINES Family a safe and happy holiday at Christmas time, and a happy and prosperous New Year. —Michael, Beverly, Brady and Chiaki
BREAKING NEWS: Castle forges alliance with Orgill
MEMPHIS & MISSISSAUGA, Ont. — A long-distance courtship between Castle Building Centres Group in Canada and Memphis-based hardware wholesaler Orgill has finally been consummated.

"After a lengthy process working with Orgill, we are excited to form a partnership that will see Orgill enter the Canadian marketplace in a significant and serious way," says Ken Jenkins, president of Castle. "We're proud to partner with them."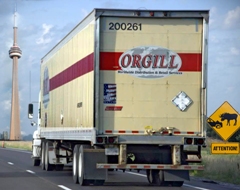 Orgill, a full-line distributor that has, in recent years, become a national presence in the U.S., has in fact been eyeing the Canadian market for the last 15 years, says Orgill president Ron Beal. In fact, the company has been active here, on a limited basis, for the past three years, shipping to independents in various parts of the country.

Orgill distinguishes itself from other wholesalers, such as Ace and Home Hardware, by not tying its customers into any banner or brand programs. However, it does offer a full range of assortments and merchandising programs.

"This is not an experiment," says Beal. "We are integrating Canada into our operations and making Canada part of a complete North American focus." He points out that the logistics are in place for this. A distribution centre in Utah is ramping up to serve Western Canada, while Central and Eastern Canada will be shipped out of a DC in West Virginia.

Already, some 30,000 of the 75,000 SKUs in that latter facility are Canadian compliant (packaging, language, CSA, etc.) and include builders' hardware and hand and power tools. By March 2011, that will be up to 60,000 and include paint, sundries, farm, plumbing and electrical. "Our goal is to be 100% compliant by the end of 2011," says Beal.

Part of Castle's job now is to introduce Orgill's programs to its members. To that end, Castle is in the midst of hiring four "hardlines specialist representatives" to manage Central Prairies, Ontario, Quebec and Atlantic Canada (see classified ads below). "They will be Orgill experts," says Beal.

Besides selling Orgill to its own members, Castle is now in the position to make a more complete offering to potential new members. "Now we have a front-end solution," says Jenkins. This is a strong step and a strong commitment to the Orgill model."

"This is a total, total commitment from our standpoint," says Beal. "From our standpoint, Canada is now part of our core business."
back to top

 Castle partners with TSC to supply hardlines
MISSISSAUGA, Ont. — Castle Building Centres Group Ltd. has partnered with TSC Stores through its new wholesale operating division, TSC Country Pro Services, to provide hardlines to Castle members in Ontario and Manitoba. This marks Castle's first move to establish a new source for hardware for its dealers since the sale of CanWel Hardware to competitor TIM-BR MARTS Ltd. last month. (The most recent move is reported in our lead story. —Your Helpful Editor).

TSC Stores is a retail chain of more than 40 stores based in London, Ont. It supplies hardware and agro products to the rural farm and home improvement market in Ontario and Manitoba.

"Castle members will be provided access to our online web ordering tool offering over 18,000 SKUs including hardlines and TSC rural lifestyle assortments. The program will include competitive freight rates, field support, strong service levels and special offerings catered specifically to Castle," says Greg Hicks, newly promoted to the role of president of TSC Country Pro Services.

Although just serving Ontario and Manitoba for now, that reach is expected to grow over time, as TSC beefs up its logistics and infrastructure to support the new business. So far, the service offers about 18,000 SKUs, 14,000 from TSC's DC, and 4,000 on a vendor-direct basis.

"We are extremely happy to have come to a commercial agreement with London, Ontario based TSC. They are very well positioned to offer our members in Central Canada an excellent level of service and help to fulfill the hardlines needs of our members," says Castle vice-president James Jones.
back to top

Home Depot wants vendors to localize assortments
      TORONTO — One of Home Depot Canada's stated objectives for 2011 is to reconnect with the home improvement customer, something for which the retailer is turning to its vendor partners for help.

Faced with a stalled economy at the back end of 2010, Home Depot is not alone in looking for ways to maximize its relationship with that elusive Canadian homeowner. "It's all about understanding the consumer's mindset," says Gino DiGioacchino, vice-president merchandising for Home Depot Canada.

To that end, DiGioacchino says, the company wants to assert its dominance as the project and product authority, "driving on value, price and quality, not trading our customers down, but ensuring that the customer has the best product for the project at hand."

Getting that mix of products right is where the vendor comes in, he adds. Even though in-store detailing is now being taken over by Home Depot's own Merchandising Excellence Team (MET), vendors will still be relied on for strategy and good-better-best assortments, plus localizing selection in all 179 stores. "We need you in our stores," says DiGioacchino.
RONA decentralizes vice-president roles

BOUCHERVILLE, Que. — Pierre Dandoy, formerly evp retail operations for RONA, is no longer with the company. Just last year, he had been put in charge of all RONA corporate stores, including proximity and big box operations. His departure reflects a major re-organization of RONA's management of its stores nationwide, which will now become more regionally focused.

RONA has instead put in place a network of regional vice-presidents who will oversee all of RONA's stores – whether they are corporately owned or independents, big boxes or small hardware stores.

"We believe we can optimize our ways of doing things and make major gains in efficiency as a result," says Daniel Richard, spokesperson for RONA. "So from now until spring 2011, we're going to introduce a new organizational and staffing structure, which will group affiliate store operations with those of corporate stores, based on an overall regionalization of our activities."

Richard says the decentralized structure will allow the regional vps to develop their own territories with more autonomy to meet their growth and development objectives. They will report to an executive vice-president for retail activities – a newly created role – a position that is currently being recruited.
back to top

Classifieds

REGIONAL SALES MANAGER - ONTARIO
Task Tools, a leading Canadian hardware and building materials manufacturer is seeking a Regional Sales Manager - Ontario responsible for managing territory managers and key regional accounts in Ontario. Attractive compensation package including salary, performance bonus, and benefits.
MAJOR RESPONSIBILITIES:
Territory Management:

Develop and grow existing sales territories
Develop, coach, and motivate territory managers
Establish and maintain sales budgets
Evaluate and monitor actual sales performance

Regional Key Account Management:

Manage and develop assigned regional key accounts
Achieve key account goals
Develop promotional sales

Corporate

Optimize customer interactions and maximize sales.
Co-ordinate the introduction of new products and merchandising displays
Assist in developing company pricing strategies
 KEY COMPETENCIES:
Negotiating ability and proven ability to acquire new accounts

Strong communication, presentation, and business relationship skills

Good analytical skills, e.g., budgeting, sales forecasting, etc.

Detail oriented, organized and disciplined, attention to accuracy

Self-motivated and ability to work independently as well as in a team environment

Regular travel to current and potential customers
 KEY QUALIFICATIONS:
5 - 7 years sales management experience in the Ontario hardware and building materials markets
Post secondary diploma or equivalent ideally in business or related field
Proficient in key Microsoft platforms including Excel, Word, PowerPoint, Outlook
Please submit résumé via email to:
Black Eagle Executive Search
c/o Richard Simms at rsimms@blackeagle.ca

Hardlines Specialist Representative
Central Prairies, Ontario, Quebec & Atlantic Canada
Castle Building Centres Group is an industry leader among Buying Groups in the Lumber and Building Materials segment in Canada. We are seeking candidates in four regions of the country; Central Prairies, Ontario, Quebec and Atlantic Canada.

You are a highly motivated individual with strong relationship and communication skills that can manage and develop our future hardlines growth. This position requires an individual who is knowledgeable of standard concepts, practices and procedures within the hardlines industry, willing to travel extensively and accustomed to working remote from head office. Qualifications include a minimum two years experience in the wholesale or retail hardware / lumber and building materials industry.

Reporting to the Regional Business Development Manager, you welcome the opportunity to work with a dynamic group of independent LBM dealers while planning and executing our future hardlines growth initiatives. Providing continual and proactive communication to our members while understanding their needs is fundamental to your success. Sound computer and presentation skills; combined with good administrative qualities are imperative.

Castle Building Centres Group offers a comprehensive compensation package including full benefits.

All submissions will be treated with complete confidentiality. Please forward your resume in confidence to:
Yvonne Patton
Castle Building Centres Group Ltd .
100 Milverton Drive, Suite 400
Mississauga, Ontario
L5R 4H1
E-mail: ypatton@castle.ca

Représentant spécialisé en quincaillerie
Région des Prairies, Ontario, Québec et les Provinces Atlantiques
Le groupe Centres de rénovation Castle est l'un des plus importants groupements d'achat de bois et de matériaux de construction au Canada et est à la recherche de candidats à l'emploi dans quatre régions du pays : la région des Prairies, l'Ontario, le Québec et les Provinces Atlantiques.

Pour obtenir un de ces postes, vous devez être extrêmement motivé, posséder une grande aptitude à communiquer avec les autres et pouvoir stimuler et gérer notre croissance dans le secteur de la quincaillerie. Vous devrez également connaître les concepts, les pratiques et les procédures standard au sein de l'industrie des produits de quincaillerie, être disposé à voyager souvent et être autonome. Parmi les qualifications requises figure un minimum de deux ans d'expérience dans l'industrie de la vente en gros ou au détail de produits de quincaillerie ou de bois et de matériaux de construction.

Sous la direction du directeur du développement des affaires régional, vous aurez le plaisir de travailler auprès d'un groupe dynamique de détaillants indépendants de bois et de matériaux de construction tout en planifiant et en mettant en œuvre les projets de croissance de nos gammes de produits de quincaillerie. Pour réussir, il sera essentiel de communiquer de manière proactive et continue avec nos membres tout en comprenant leurs besoins. Il est impératif que vous possédiez de solides compétences en informatique et en présentation ainsi que de bonnes capacités en matière d'administration.

Le groupe Centres de rénovation Castle offre un système de rémunération complet incluant un programme exhaustif d'avantages sociaux.

Tous les dossiers de candidats seront traités dans la confidentialité la plus complète. Veuillez faire parvenir votre curriculum vitae à :

Yvonne Patton
Groupe Centres de rénovation Castle ltée
100, rue Milverton, bureau 400
Mississauga (Ontario)
L5R 4H1
Courriel : ypatton@castle.ca

BOSCH is recognized worldwide for high-quality products, technical innovation and outstanding service. Due to continued growth and expansion, we require an enthusiastic professional for the following position:
Brand Manager – Skil Tools
Taking on the role of partner, you will assume overall business responsibility for the assigned products. This entails proactively developing and implementing a brand strategy to achieve sales, market share and margin targets. You will accomplish this by creating and implementing a marketing plan, which includes the definition of targets, budgets and strategies, and managing all aspects of entire marketing mix. As a result, you must be a strong communicator and creative entrepreneur with initiative, a commitment to teamwork, and 3 to 5 years of experience in marketing and sales. A Business Administration degree or diploma, with specialisation in marketing, preferably industrial consumer products, is also required.

We offer a competitive salary and an excellent group benefit and vacation plan. If you are a team player looking to demonstrate your drive and initiative, please send your resume, in confidence, to: Robert Bosch Inc., Human Resources, 6955 Creditview Road, Mississauga, Ontario, L5N 1R1. E-mail: Chrissy.Stanesic@ca.bosch.com No agencies, please.

We appreciate your response, however, only candidates under consideration will be contacted.

DIRECTOR OF SALES, TORONTO, ON
Leading Toronto–based housewares manufacturer/distributor with multi brands is seeking a Director of Sales to lead, develop, and direct sales activities to achieve profitable revenue growth. Attractive compensation package including salary, performance bonus, and benefits. Reporting directly to President.
MAJOR RESPONSIBILITIES
Develop and maintain strong partner relationships at national account level with major retail accounts
Capitalize on these relationships to ensure retail execution of company strategies and category management processes
Provide leadership, training and guidance to the Sales and Customer Service teams
Identify market trend/commercial opportunities in collaboration with marketing to ensure successful new product launches and best-in-class retail execution of marketing promotions and programs.
KEY COMPETENCIES
Leadership skills - motivator
Team builder
Results orientation - instilling a sense of urgency in the team.
Strategic thinker
Proven negotiation skills
Relationship building - strong communication and listening skills
Organizational and planning ability
KEY QUALIFICATIONS
University business degree
8 - 10 years of both sales/marketing management experience in housewares or related industries and/or fast moving consumer goods (FMCG) industries.
Bilingual (French/English) a definite asset
Experienced in Category Management.
Proven track record with demonstrable accomplishments.
Excellent analytical abilities
Proficient in Microsoft Office Applications including: Excel, Word and Power Point program
Please submit résumé via email to:
Black Eagle Executive Search
c/o Richard Simms at rsimms@blackeagle.ca
Resumés
A conscientious, highly motivated manager with a results-oriented track record in developing new business.

view this

resumé

A goal oriented sales director that has superior management skills, customer oriented, with in depth knowledge of the industry and the ability to achieve results.

view this

resumé

National Field Sales Manager with twelve plus years in power tools and hardware sales/merchandising.

view this

resumé

Business Manager with U.S. & Canadian experience with retail & industrial customers seeks a new opportunity.

view this

resumé

An experienced merchandising executive possessing passion, vision, and a strategic approach to delivering bottom-line.

view this

resumé

Senior sales/marketing leader with experience in all classes of trade wishing new HARDLINES career. view this

resumé

Very Experienced Business Unit Manager, great passion for generating sales and building relastionships.view this

resumé

Worked through my career within the manfucaturer, wholesale and consumer goods industries. view this

resumé

Senior Sales Manager with vast experience in retail and wholesale sales growth in Canada. view this

resumé
Connect with us!