December 15, 2014 Volume
xx, #46 "Yes, Virginia, there is a Santa Claus. He exists as certainly as love and generosity and devotion exist." —Francis P. Church (Editor of The New York Sun, in the editorial page in response to a letter written to that newspaper by Virginia O'Hanlon, September 21, 1897)

______________________________________________________________________

FROM ALL OF US:

This year has been one of tremendous upheaval in our industry, which has resulted in professional challenge and personal loss for many of you. Without question, this holiday time will mean a lot of things, glad and sad, to everyone. We hope you can find joy in your families, friends and loved ones, and draw no small measure of satisfaction from your own personal accomplishments over the past year to embrace all that is good about this season. To everyone in our Hardlines Family, here's wishing you a very merry Christmas and a safe, happy holiday. —Michael, Beverly, Brady, Katherine, Margaret and Shama

______________________________________________________________________

HOLIDAY PUBLISHING SCHEDULE:

This is our last issue of the year. The New World Headquarters stays open until December 19, however. And then, we'll be back in full swing January 5, with the first issue of HARDLINES to kick off our 20th Anniversary Year. That's right: next year we turn 20!

______________________________________________________________________

Guardian Building Products to pull out of Canada

ERIN, Ont. — Guardian Building Products Distribution Canada is pulling out of Canada. In the process, Guardian will "sell and/or liquidate our Canadian Distribution operations," according to a letter sent to its customers and signed by district manager Michael Wilson. The company aims to complete the wind-down by December 31. "Therefore Guardian will not be participating in any future contract negotiations. We are sorry for any disruption this may cause in your business," the letter continues. The announcement came as a surprise to many in the industry, including other wholesale distributors that compete with Guardian. The rapid wind-down of the business by year's end was especially alarming to many. However, others, especially among Guardian's customers, did not feel so blindsided. "I wasn't surprised at all," says Mike Doyle Jr., of The Home Improvement Warehouse, a Castle dealer in Calgary. He says the company had been winding down its presence in Canada—and its service levels had been winding down, as well. Ken Jenkins, president of Castle Building Centres Group agrees, saying Guardian Building Products was already in the process of rationalizing, closing facilities over the last 12 to 18 months. The distributor's exit was "inevitable," he believes, following the sale of Guardian's insulation manufacturing business to U.S. mineral wool manufacturer Knauf Insulation in August 2014. Knauf then became the insulation supplier for Guardian Distribution. "It's unfortunate, because they did such a good job for customers here," he adds. According to the Hardlines Who's Who Directory, Guardian's sales in 2013 reached about $175 million. While Jenkins believes the insulation category is especially crowded, he sees a challenge for the entire distribution sector in this country, as there are just too many players. "We see this [exit] as a natural progression as the market evolves, and the question we have to ask is, 'Is this the end of it?' "

______________________________________________________________________

______________________________________________________________________

IN MEMORIAM: ABSDA's former president Don Sherwood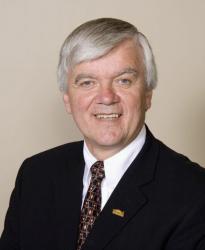 MONCTON, N.B. — Don Sherwood, former president of the Atlantic Building Supply Dealers Association, died suddenly on December 9 at the age of 70. Don was an integral part of the industry for decades, remembered with respect in his role as general manager at Maritime wholesale distributor Coates Distributors, where he worked for a quarter of a century, before taking the helm of the ABSDA 17 years ago. During that time, he proved himself a sound leader and a tireless ambassador for the Atlantic building supply industry. He retired from his role as ABSDA president in August, and was working with the new president, Denis Melanson, to help him transition him into the role. Sadly, the upcoming Atlantic Building Materials Show, February 4-5, in Moncton, N.B., was to have been Don's swan song. He is survived by his wife of 48 years, Wesla, daughter Dina and son Adam. In lieu of flowers, the Sherwood family requests that you make donations to a memorial of the donor's choice. For more information, click here.

______________________________________________________________________

______________________________________________________________________

OSB makers Norbord and Ainsworth to merge

TORONTO & VANCOUVER — Norbord Inc. and Ainsworth Lumber Co. Ltd. have announced a merger that will create one giant OSB maker with presence in North America, Europe, and Asia. Under the terms of the agreement, Norbord will acquire all of the outstanding common shares of Ainsworth in an all-share transaction valued at $762.6 million. This transaction combines Norbord's large mill network with Ainsworth's innovation in value-added strand-based engineered wood products. The two companies operate now in different markets, with reportedly little overlap. Norbord operates seven North American mills, principally in the U.S. Southeast, with one mill in Quebec and four mills in Europe. Ainsworth operates four Canadian mills, three in Western Canada and one in Ontario. With total OSB capacity of approximately 7.7 billion square feet, the combined company says it will be the largest in the global OSB industry. The combined operation hopes to take advantage of the ongoing recovery in the U.S. housing market and growing OSB demand in Europe and Asia, with the restarting of Norbord's two idled mills in North America and the completion of Ainsworth's second line in Grand Prairie, Alta.

______________________________________________________________________

Superior Plus restructures Construction Products business

CALGARY & DALLAS, Tex. — Energy and chemicals giant Superior Plus has had its Construction Products Distribution division under close scrutiny over the past couple of years. That business includes outlets operating under the Winroc banner in Canada, with Allroc as its buying group, and a commercial and industrial insulation distribution business in the U.S. called Specialty Products & Insulation (SPI). Michael Farrell is the new president of CPD, replacing Paul Vanderberg, who left the company to pursue other interests. Most significantly, Farrell will be located in Dallas, Tex., whereas Vanderberg had previously run the CPD business from Calgary. (Most recently, Farrell served as president and CEO of Roofing Supply Group, which claims to be the fourth largest wholesale distributor of roofing supplies in the U.S.) Plagued first by a weak housing market in the U.S. and then a slow recovery and pressure on margins in Canada, Superior did an evaluation of the CPD business over the last year. During that time, Allroc left the umbrella buying group Byco only six months after the group was formed in late 2012. Superior next tried to sell the division, but a deal that got to the eleventh hour fell through, and Superior has re-committed to build the business. Going forward, the entire division, in both the U.S. and Canada, is getting an investment in systems and infrastructure, including the formation of a new team and the move to the Dallas office. According to Luc Desjardins, president and CEO of Superior Plus, Canada, growth in Canada is getting better, but not quickly enough. On the positive side, he cites the closing of a "major competitor in the B.C. region … that's giving us a positive lift on the West part of Canada." Overall, however, he says Canada "has been flat and not extremely good for us for the last few years," but is "showing a positive trend for 2015."

______________________________________________________________________

Canadians prefer to shop Canadian on Black Friday

SPECIAL REPORT — If Canadian retailers can get into the Black Friday game, they will find a receptive population: 44% would prefer to buy Canadian, all things being equal. The research, conducted by Leger Marketing, shows that Canadians are embracing Black Friday and Cyber Monday deals around the American Thanksgiving holiday. "The growth in e-commerce innovations and product offerings south of the border is still enticing a lot of Canadian shoppers, but Canadian retailers are starting to pick up the pace," says UPS Canada's VP marketing, Jim Bena. Regional trends come into play as well: Albertans are the most likely to shop online, a whopping 95%. In Quebec, the preference for buying Canadian was weaker, expressed by only 29%. Excluding Quebec, the figure rises to 48%. Shoppers in the coveted 18-34 demographic are more likely to turn to U.S. retailers, either online or in-store.

______________________________________________________________________

Classified Ads
National Industrial Sales Agency

Fiskars, a global manufacturer of branded consumer products with over 365 years of heritage, has an exciting opportunity for an energetic and results-oriented National Industrial Sales Agency. For consideration, qualified agencies should submit a company overview to kevin.murphy@fiskars.com

______________________________________________________________________
SUMMARY OF POSITION: Entry level positon that will manage and grow sales of all RSC brands within the defined sales territory, working directly with dealers and distributors. JOB RESPONSIBILITIES:
Collaborate with customers in the presentation of our products in their environment
Conduct individual sales calls and also "ride along" calls where productive with distributors in the territory
Conduct store level trainings where needed across all company customers
Support other Sales managers in the company as needed
Establish & maintain close relationships with key independent retail stores within the region.
Communication: Timely & Accurate for both Internal and External customers (Customer Issues, Program Changes, Market information, etc…)
New Store Activity; coordinate efforts internally and with any outside representation to insure new stores ship complete, on-time, and are set to expectations
SPECIFICATIONS:
Minimum 2 yrs experience in sales management, product marketing, or consumer marketing
Minimum 1 yr experience servicing and calling on retail outlets with territory management experience.
Ability to work on projects and meet deadlines.
Post-Secondary degree in business or marketing preferred.
Experience in working remotely and as a team member.
Extensive experience with Excel, PowerPoint, Word, and web based applications.
To apply, send your resumé to kmurrell@petsafe.net

______________________________________________________________________
Better Living Products International is a world-leading designer, manufacturer and marketer of unique, high-quality bath and shower organization products. Established in 1991, it continues to be best recognized for its Award-Winning product, The Dispenser™. Better Living has flourished to new heights and is on a major growth curve with the upcoming introduction of several new and innovative products. The search is on to fill the following positions with energetic, highly motivated, organized and results driven candidates:

Sales Assistant

The successful candidate will be accountable for the support, coordination and execution of our sales and marketing initiatives. Responsibilities include assisting the sales team in maintaining positive client relationships and to act as the liaison on all day-to-day activity. Experience in a similar or related administrative role combined with excellent communication, organization and interpersonal skills are required.

Product Manager

The ideal candidate has a solid understanding of product marketing concepts and has industry product management experience. This person will manage products through their lifecycle and be accountable for the management, coordination and execution of various product initiatives. We are looking for a flexible and enthusiastic team player that is highly detailed and proficient in multi-tasking.

National Account Manager

A sales professional with industry knowledge is required to assist in achieving our aggressive growth plans by managing specific key accounts and channels within the USA. The successful candidate will possess account management experience and demonstrate exceptional interpersonal, communication and selling skills. All positions will be based at our world-wide corporate headquarters in Vaughan, Ontario. We offer competitive wages, benefits and a fun working entrepreneurial environment. Please submit your resumé to Camillo Caperchione, Executive Vice President, Better Living Products, Email: camillo@dispenser.com

______________________________________________________________________