February 21, 2011, Volume xvii, #8
"I feel good, like I knew I that would." —James Brown
(American singer and song writer, and the Godfather of Soul, 1933-2006)
 Big-box re-invention opens opportunities for independents
TORONTO — A new format for the Johns Manville HARDLINES Dealer Conference drew a room full of dealers and suppliers during the recent Canadian Home Improvement Show. The conference offered a program of education and insights to complement the show specials and new products.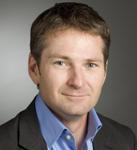 This year, the conference was held in the Doubletree Hotel, against a backdrop of a hot breakfast for attendees. Keynote Doug Stephens, president of Retail Prophet Consulting and a leading retail futurist, outlined the rise and current re-invention of the big-box phenomenon.

With aging baby boomers no longer driving consumerism like they did over the past three decades, the role of retail has shifted. "We're going to see move over from goods to services," Stephens said. "Once you reach 50, you don't need as much stuff. But you are thinking about services. They're thinking about downsizing. They're thinking about health care, insurance, travel."

As Canada ages, it also becomes more urban. Stephens pointed out that the 33 urban regions of Canada are growing faster than the rest of the country. "We're becoming a nation of cities." And even in suburban and smaller town areas, people are looking for a more urban environment in which to live, from more shops within walking distance in new residential developments to revived downtown areas in smaller towns.

According to Stephens, as big boxes try and adapt to these changes, independents can adapt faster. They can identify service opportunities for their markets and respond quicker than a big box chain can.
back to top

CanSave's Koza brothers honoured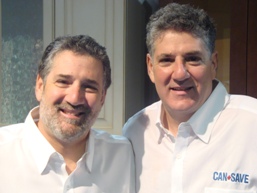 TORONTO — During the Gala Dinner at the recent Canadian Home Improvement Show, the Lumber and Building Materials Association of Ontario gave its Industry Achievement Award to Cully and Larry Koza, the brothers who founded CanSave, the Barrie, Ont.-based distribution business.
The brothers' outspoken and unconventional approach, both personally and professionally, has created a loyal following of customers in Ontario and beyond. The roomful of dealers and vendors saluted the winners by sharing the Kozas' characteristic "high-five" salute with each other.
back to top

Former Lowe's Canada head makes mark at head office
MOORESVILLE, N.C. — Doug Robinson's latest promotion to senior vice-president of customer support services (including responsibility for www.lowes.com) at Lowe's Cos., follows his most recent assignment as vice-president of store operations/special projects.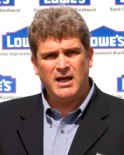 But Robinson is best known in Canada as the overseer of Lowe's Canadian expansion strategy. He first came to Canada from 84 Lumber in the U.S. to run Beaver Lumber, but moved on following an unsuccessful management takeover of Beaver. Although Beaver's owner, Molson Cos., was holding out for more money than Robinson's syndicate was offering, Beaver was later sold to Home Hardware Stores for a lot less.

Robinson admitted at the time that he loved working in Canada, and actively sought out another position north of the border. He moved to Kingston, Ont., where he served as president and CEO of ARXX Building Products, before moving to Lowe's in the U.S. in store operations and as a district manager.

With his experience in Canada, Robinson was picked to be the first president of Lowe's Canada. In 2005, he spent the first year in a small office complex in Markham, Ont., (the very same complex used by Stephen Bebis a decade earlier when he started up the Aikenhead's big-box chain).

In 2007, Robinson returned to the U.S., working in special projects and reporting directly to Larry Stone.
back to top

 Service agency strengthens ties with RONA
BOUCHERVILLE, Que. — The reorganization of the big box service business in this country has resulted in drastic cuts among countless service agencies nationwide. But one agency has flourished thanks to its strategic partnership with RONA.

While Home Depot Canada has brought its store detailing function in-house, under the Merchandising Excellence Team (MET), and Lowe's relies on a U.S-based organization, RONA has outsourced its in-store needs to RDTS. That company, headed by Robert Di Tomasso, employs 150 people coast-to-coast, many of them working directly for the RONA stores under a program called "Imagine." That program services the RONA big boxes nationwide and the traditional stores in Western Canada.

RDTS held its national sales meeting here last week, bringing together both physically and electronically its entire team. In a room at the Hotel Martagne, more than 100 people gathered, while teams in Mississauga, Ont., Calgary and Vancouver were plugged in via RDTS's own video teleconference technology.

Because of its close ties with RONA, that retailer figured prominently in the day's program, starting with Manon Desrosiers, merchandising director for RONA, who introduce her team of category co-ordinators, and outlined her expectations of the Imagine team.

Normand Dumont, executive vice-president of RONA, talked about the culture at his company. Citing the remarks of his CEO, Robert Dutton, from a speech he'd made to RONA employees just days before. He stressed the principles of people, caring and integrity. RDTS reps must be an extension of that culture, he stressed.
Classifieds

Responsibilities
Develop relationships with current and prospective customers to expand the business

Promote products through telephone contact and occasional customer visits and presentations
Qualifications
College or University degree

3-5 years inside sales or similar experience is required

Self-motivated, assertive, driven, and reliable

Ability to work independently and in a team environment

Excellent verbal and written English communication skills (bilingualism considered a valuable quality)

Prior experience in the wholesale lumber industry considered a great asset. In addition, any education and/or experience in additional areas considered an asset (such as managerial, accounting, or human resources)
This is a great opportunity for an eager, reliable, and customer service oriented candidate!

Full-training will be provided to a dynamic person looking to develop and expand their sales career.

Please forward your resume to info@pastwayplaning.com

We thank all candidates for their interest however only those selected for an interview will be contacted.



A new magazine for home improvement retailers

Hardlines has built its 16 years of success on effective partnerships.



I am pleased to offer a new, innovative – and direct – way for industry suppliers to partner with us to communicate your message to the home improvement decision makers. At the local hardware store or building centre as well as in corporate buying offices, this is the print magazine that will be consulted today and in the coming months.

With circulation that includes Canada's most progressive and innovative retail leaders, Hardlines Home Improvement Quarterly offers you a sophisticated, intelligent vehicle for delivering your message.

Hardlines has demonstrated its commitment to this industry for 16 years with a weekly news service, ground-breaking research, industry leading reports, important awards programs, networking events and the Hardlines Executive Conference. Now we have the leading publication for industry knowledge.

I invite you to partner with us in this exciting new venture to deliver your message in the most credible and affordable manner possible.

Beverly Allen
Publisher, Hardlines Home Improvement Quarterly
bev@hardlines.ca
Resumés
A conscientious, highly motivated manager with a results-oriented track record in developing new business.

view this

resumé

A goal oriented sales director that has superior management skills, customer oriented, with in depth knowledge of the industry and the ability to achieve results.

view this

resumé

National Field Sales Manager with twelve plus years in power tools and hardware sales/merchandising.

view this

resumé

Business Manager with U.S. & Canadian experience with retail & industrial customers seeks a new opportunity.

view this

resumé

An experienced merchandising executive possessing passion, vision, and a strategic approach to delivering bottom-line.

view this

resumé

Senior sales/marketing leader with experience in all classes of trade wishing new HARDLINES career. view this

resumé

Very Experienced Business Unit Manager, great passion for generating sales and building relastionships.view this

resumé

Worked through my career within the manfucaturer, wholesale and consumer goods industries. view this

resumé

Senior Sales Manager with vast experience in retail and wholesale sales growth in Canada. view this

resumé
Connect with us!