February 7, 2011, Volume xvii, #6
"Too bad all the people who know how to
run the country are busy driving cabs and cutting hair."
—George Burns (American comedian and actor, 1896-1996)
CMHC will give housing update at LBMAO show
TORONTO — Dealers and suppliers alike have a chance to learn more about the housing market in Canada – and Ontario at the upcoming Canadian Home Improvement Show. The event, hosted by the Lumber and Building Materials Association of Ontario, is Central Canada's key buying event.

It's also the scene of the Johns Manville HARDLINES Dealer Conference. A keynote breakfast session on Friday, Feb. 11, will feature two important seminars. The first, "Can housing drive your business in 2011?" features Ted Tsiakopoulos, Ontario Regional Economist with Canada Mortgage and Housing Corporation.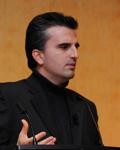 "Renovation spending has been growing faster than the provincial economy on average over the past decade," says Tsiakopoulos, offering a hint of what's to come in his presentation. "This has been the result of strong momentum in housing markets, low interest rates, new policy initiatives and financing options. The stimulus to the renovation market from these drivers is starting to ease, suggesting a more moderate pace in renovation spending ahead."

The second speaker of the morning is Doug Stephens, retail industry futurist and president of Retail Prophet Consulting. His presentation, "Boom, Box, Echo: The End of Big Box Retail," is guaranteed to be insightful – and controversial.

To register for the JM HARDLINES Dealer Conference and buffet breakfast, click here and fill out the CHIS registration form in full.
 Spancan clarifies member lineup
AJAX, Ont. — Following a wave of acquisitions within the home improvement distribution channel late last year, Canada's largest hardware buying group has realigned its membership.

According to Mike Daniels, general manager of Spancan, one member got dropped from the roster while another got a new name (under a new owner). TruServ Canada is no longer part of the club, after being bought by RONA inc., and CanWel Hardware Division was sold to fellow Spancan member TIM-BR MARTS Ltd. and renamed Chalifour Canada.

The four remaining members are each 25% equal partners in Spancan as of Jan. 1, 2011. They are: Independent Lumber Dealers Co-Operative (ILDC); TIM-BR MARTS Ltd., including Chalifour Canada; Federated Co-Operatives Ltd.; and La Coop fédérée. Both Federated Co-op and La Coop are also members of ILDC. ILDC also counts within its members the buying groups Delroc Industries and Sexton Group, in addition to 20 other independent home improvement retailers across the country.

"We have had a very good 2010 and we are looking forward to a successful 2011," Daniels notes.

In many cases, these ILDC members compete at retail with fellow Spancan member TIM-BR MARTS. But even though TIM-BR MARTS now owns the CanWel Hardware business, members that are customers of that business are maintaining the status quo as they continue to evaluate the current marketplace.
back to top

Sexton general manager expects stronger year ahead
WINNIPEG — Even though many of his dealers are snow-bound at this time of year, Steve Buckle is optimistic about the year ahead for the independents in the Sexton Group. The vice-president and general manager of the 285-member buying group notes that last year, despite a slowdown in the second half, was almost as strong as 2008 – "which was a very good year." Purchase volumes, he adds, were up about 20%.

"I have high expectations that the market overall is going to be as good as 2010. I expect the first few months are going to tough, but overall, it's going to be better."

He expects the improvements to come from at least two sources: partly from the improving market conditions and partly from more affiliation by dealers to Sexton's buying programs.

His optimism extends even to his dealers in the West. Serving a farm community that was plagued last year by excess precipitation, and an oil patch that has yet to make its recovery felt in all areas, those dealers, like their counterparts throughout the country, have the advantage of serving a small, local market.

"In many of these communities, where, for example, consumers and contractors in that community are coming into the store all day long, dealers are able to assess the opportunity for growth at the local level."
back to top

 CanWel's Doman ranks as one of Canada's richest
VANCOUVER — Amar Doman is once again ranked as one of the country's 100 richest people.


The chairman of Futura Corp., and chairman and CEO of its major asset, CanWel Building Materials Group Ltd., is firmly ensconced in Business Week's number-91 position, with a reported net worth of $630 million. That puts him ahead of some better-known corporate celebs, such as Isadore Sharp, owner of the Four Seasons Hotels, and Videotron's André Chagnon.

The nephew of Herb Doman, who founded forestry company Doman Industries, Amar began his career working in his father Ted's lumber yard in Victoria. Last year, he almost doubled the size of CanWel with the takeover of its biggest competitor, Broadleaf Logistics, for $110 million.
 Wal-Mart puts pressure on prices
BENTONVILLE, Ark — The world's largest retailer is redoubling its efforts to offer the lowest "everday low price". Feeling pressure from –
of all places – dollar stores, Walmart is abandoning its efforts, or at least its inclination, to go more upscale vs. Target, and get back to pricing basics.

According to the New York Post, Walmart began the push last summer. But as recently as last month the retailer called its suppliers to advise them that it wants to be able to offer the cheapest entry price point in the products it sells. In some cases, this could mean smaller packages. Walmart is also building smaller, more convenient locations.

Meanwhile, one of the fastest-growing retail formats in North America is the dollar store, with its ranges of cheap, off-price and remaindered products.
Classifieds
Responsibilities
Develop relationships with current and prospective customers to expand the business

Promote products through telephone contact and occasional customer visits and presentations
Qualifications
College or University degree

3-5 years inside sales or similar experience is required

Self-motivated, assertive, driven, and reliable

Ability to work independently and in a team environment

Excellent verbal and written English communication skills (bilingualism considered a valuable quality)

Prior experience in the wholesale lumber industry considered a great asset. In addition, any education and/or experience in additional areas considered an asset (such as managerial, accounting, or human resources)
This is a great opportunity for an eager, reliable, and customer service oriented candidate!

Full-training will be provided to a dynamic person looking to develop and expand their sales career.

Please forward your resume to info@pastwayplaning.com

We thank all candidates for their interest however only those selected for an interview will be contacted.
EAB has been a growing Canadian supplier, re-manufacturer, and recycler of environmentally friendly power tool accessories for the past 35 years. We are currently seeking an experienced National Accounts Manager based in Toronto. We are looking for a high-energy achiever with a proven record as a successful sales professional who can take our 'Green – Eco' message to the marketplace and articulated its advantages to the key players in the Home Improvement Industry.
If you are a talented senior sales professional who can promote the value-added benefits of EAB and our Eco-Center ™ as a method of driving our loyalty based programs to major accounts, EAB wants to hear from you.
KEY COMPETENCIES
embraces 'Green – ECO' brands and sees the 'value-add' of exchangeable, re-manufactured and recycled products

solid knowledge of Power Tool accessories and their major brands

well known and respected by the key players in the Canadian Home Improvement Industry

superb presentation and computer skills

high energy and interested in representing a growth oriented company
If qualified and interested please forward your cover letter and resume to:
R.P. (Bob) Johnston
Vice President & GM
Exchange-a-Blade Ltd
bjohnston@exchangeablade.com
www.exchangeablade.com

Territory Manager
Exchange A Blade, a well established Canadian distributor of power tool accessories, is currently seeking an experienced sales professional to handle its Winnipeg territory. We are looking for a high-energy achiever, with a proven record of increasing sales and delivering exceptional customer service.
Responsibilities:
Prospecting industrial customers
Growing current account base.
Maintaining relationships with existing distribution network
Building strong rapport with all customers within your territory.
Managing the sales process from opening to product delivery
Pricing and merchandising strategy and implementation
Communicating superior value proposition to customers
Requirements:
3 year's experience in an outside sales role in retail
Knowledge and experience of the lumber, and construction industry
Computer literate
Exceptional communication and negotiation skills
Meet targets and grow sales aggressively.
Identify and pursue opportunities within the market.
Work independently and as a part of a team.
Apply by email to: neil@peopleinsights.com
We thank you for your interest; however only candidates who are considered for an interview will be contacted.

PRODUCT DEVELOPMENT, MARKETING MANAGER
LOXCREEN FLOORING GROUP, CANADA
Loxcreen Flooring Group is the leading supplier of residential and commercial floor mouldings and related products in North America see http://www.loxcreen.com with head office in Mississauga, Ontario. The company is seeking a Product Development/Marketing Manager responsible for managing the Product Development/Marketing department of Loxcreen's Canadian division with major brands "Bengard", "Dura-Trim" and "Shur-Trim". Competitive salary plus bonus, benefit package.

A major orientation of this position is new product development including product sourcing and costing. However, marketing skills and proficiency in product/brand/channel management, pricing, packaging, merchandising, and website development are also required.
KEY COMPETENCIES
Customer service oriented
Team player
Detail oriented, organized and disciplined, attention to accuracy
Excellent analytical ability
Willing to take ownership of position
Able to work to deadlines and schedules
Self starter - able to work with little supervision
KEY QUALIFICATIONS
Post secondary degree or equivalent ideally in business or related field
Minimum of 5-7 years of experience in product development/marketing roles in a management capacity
Technical background in new product development would be an asset
Knowledge and experience in the building materials and/or flooring industries with retail and commercial channels would be an asset
Advanced user of Microsoft Office Suite including Word, Excel, PowerPoint and Access
Background in graphic artwork/MAC experience would be beneficial
 Please submit résumé via email to:
Black Eagle Executive Search
c/o Richard Simms at rsimms@blackeagle.ca
LBM Sales Coordinator & Estimator

Duties and Responsibilities
Regular contact with LBM customer base

Blue print Estimating services

Job site estimating & consulting

Supervise on site projects

Sales of trusses and engineered wood products

Networking with Local Building and Planning departments

Networking with building contractors

Execution of computer generated estimate
Requirements
Minimum of 10 years experience in lumber & building materials

Flexibility to work evenings in consultations

Train & motivate other staff

Understanding computers, drafting programs & estimates Work in a team environment


18,000 sq ft retail store in Dunnville, ON
Email resume to ken@granderie.net





A new magazine for home improvement retailers

Hardlines has built its 16 years of success on effective partnerships.



I am pleased to offer a new, innovative – and direct – way for industry suppliers to partner with us to communicate your message to the home improvement decision makers. At the local hardware store or building centre as well as in corporate buying offices, this is the print magazine that will be consulted today and in the coming months.

With circulation that includes Canada's most progressive and innovative retail leaders, Hardlines Home Improvement Quarterly offers you a sophisticated, intelligent vehicle for delivering your message.

Hardlines has demonstrated its commitment to this industry for 16 years with a weekly news service, ground-breaking research, industry leading reports, important awards programs, networking events and the Hardlines Executive Conference. Now we have the leading publication for industry knowledge.

I invite you to partner with us in this exciting new venture to deliver your message in the most credible and affordable manner possible.

Beverly Allen
Publisher, Hardlines Home Improvement Quarterly
Resumés
A conscientious, highly motivated manager with a results-oriented track record in developing new business.

view this

resumé

A goal oriented sales director that has superior management skills, customer oriented, with in depth knowledge of the industry and the ability to achieve results.

view this

resumé

National Field Sales Manager with twelve plus years in power tools and hardware sales/merchandising.

view this

resumé

Business Manager with U.S. & Canadian experience with retail & industrial customers seeks a new opportunity.

view this

resumé

An experienced merchandising executive possessing passion, vision, and a strategic approach to delivering bottom-line.

view this

resumé

Senior sales/marketing leader with experience in all classes of trade wishing new HARDLINES career. view this

resumé

Very Experienced Business Unit Manager, great passion for generating sales and building relastionships.view this

resumé

Worked through my career within the manfucaturer, wholesale and consumer goods industries. view this

resumé

Senior Sales Manager with vast experience in retail and wholesale sales growth in Canada. view this

resumé
Connect with us!