January 31, 2011, Volume xvii, #5
"We have two ears and one tongue in order that we may hear more and speak less." —Diogenes (Greek philosopher, 412-323 BCE)
Western dealers gather for buying show
 SASKATOON — Dealers from as far away as Vancouver Island and the Lakehead, and as far north as the Northwest Territories and Nunavut, converged on the Prairieland Park here last week to seek out deals, to network and have some fun.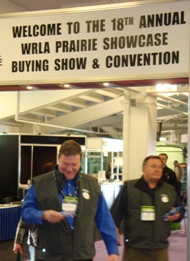 The first show of the year, many in the industry look to it for signs of dealer sentiment for the year ahead. A positive mood prevailed, as dealers indicated that prospects for the spring generally look strong.

The Prairie Showcase Buying Show & Convention remains one of the largest buying shows for dealers in the country, with 600 booths and more than 250 exhibiting companies. As in years past, this show had a waiting list of suppliers trying to get in to exhibit. It is owned and managed by the Winnipeg-based Western Retail Lumber Association.

Highlights of the show included giveaways (Taiga gave away a 1962 Cadillac Eldorado) and closing night entertainment by the Newfoundland band, Great Big Sea.
 Castle causes stir at Western show
SASKATOON — People arriving here last week for the WRLA's Prairieland Showcase were met with lawn signs dotting the side of the highway and the road leading up to the Prairieland Park where the show was being held. The signs were put up by Castle Building Centres to promote their new alliance with U.S. hardware wholesaler Orgill. They bore the slogan, "The revolution has started," in white letters on a dramatic red background but they quickly had Saskatoon city fathers in a tizzy – and local talk radio abuzz.

Turns out there's a civic election in the offing, and people thought one of the candidates had posted the signs. Because no one's name was on the signs, they were considered illegal.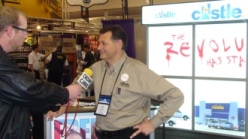 Finally, an anonymous tip to the local talk radio station alerted the media, and the city, to the truth. A reporter from the station caught up with Les Gillespie of Castle at the buying group's booth in the show to get to the bottom of the mystery. Gillespie admitted he and his company did not expect such a response from the city, but he welcomed the publicity.
back to top

Walmart Canada to open 40 supercentres
MISSISSAUGA , Ont. — Walmart Canada plans to open 40 supercentres in the company's coming fiscal year, which ends Jan. 31, 2012. The projects, which will include building eight new stores and expanding, remodelling or relocating 32 existing stores, will represent an investment of more than half a billion dollars and generate more than 9,200 store and construction jobs.

Walmart Canada's supercentre format, which was first launched in Ontario in 2006 and is currently in Alberta, British Columbia and Saskatchewan, provides a full range of groceries and general merchandise under one roof.

While specific store locations will be announced in coming weeks and months, the expansion does include, however, supercenters in Manitoba and Quebec for the first time.

By the end of its current fiscal year (Jan, 31, 2011), Walmart Canada will have 325 stores, including 124 supercentres.
back to top

 TIM-BR MART offers in-store customer TV
CALGARY — A new initiative from TIM-BR MARTS Ltd. will give independents a high-tech in-store customer education tool. "Timbrcast" is a programmable flat-screen monitor that provides product information and promotes daily or even hourly specials in-store that will give customers "a sense of urgency" to buy.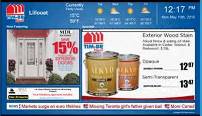 The information feed can also include local weather, news and community messages.

The program has the option of including ad space for local contractors or local businesses that might tie in with TIM-BR MART's customers. The service is managed and provided by Surrey, B.C.-based SmartCast Software.
Classifieds
Exchange A Blade, a well established Canadian distributor of power tool accessories, is currently seeking an experienced sales professional to handle its Winnipeg territory. We are looking for a high-energy achiever, with a proven record of increasing sales and delivering exceptional customer service.
Responsibilities:
Prospecting industrial customers
Growing current account base.
Maintaining relationships with existing distribution network
Building strong rapport with all customers within your territory.
Managing the sales process from opening to product delivery
Pricing and merchandising strategy and implementation
Communicating superior value proposition to customers
Requirements:
3 year's experience in an outside sales role in retail
Knowledge and experience of the lumber, and construction industry
Computer literate
Exceptional communication and negotiation skills
Meet targets and grow sales aggressively.
Identify and pursue opportunities within the market.
Work independently and as a part of a team.
Apply by email to: neil@peopleinsights.com
We thank you for your interest; however only candidates who are considered for an interview will be contacted.

PRODUCT DEVELOPMENT, MARKETING MANAGER
LOXCREEN FLOORING GROUP, CANADA
Loxcreen Flooring Group is the leading supplier of residential and commercial floor mouldings and related products in North America see http://www.loxcreen.com with head office in Mississauga, Ontario. The company is seeking a Product Development/Marketing Manager responsible for managing the Product Development/Marketing department of Loxcreen's Canadian division with major brands "Bengard", "Dura-Trim" and "Shur-Trim". Competitive salary plus bonus, benefit package.

A major orientation of this position is new product development including product sourcing and costing. However, marketing skills and proficiency in product/brand/channel management, pricing, packaging, merchandising, and website development are also required.
KEY COMPETENCIES
Customer service oriented
Team player
Detail oriented, organized and disciplined, attention to accuracy
Excellent analytical ability
Willing to take ownership of position
Able to work to deadlines and schedules
Self starter - able to work with little supervision
KEY QUALIFICATIONS
Post secondary degree or equivalent ideally in business or related field
Minimum of 5-7 years of experience in product development/marketing roles in a management capacity
Technical background in new product development would be an asset
Knowledge and experience in the building materials and/or flooring industries with retail and commercial channels would be an asset
Advanced user of Microsoft Office Suite including Word, Excel, PowerPoint and Access
Background in graphic artwork/MAC experience would be beneficial
 Please submit résumé via email to:
Black Eagle Executive Search
c/o Richard Simms at rsimms@blackeagle.ca
LBM Sales Coordinator & Estimator

Duties and Responsibilities
Regular contact with LBM customer base

Blue print Estimating services

Job site estimating & consulting

Supervise on site projects

Sales of trusses and engineered wood products

Networking with Local Building and Planning departments

Networking with building contractors

Execution of computer generated estimate
Requirements
Minimum of 10 years experience in lumber & building materials

Flexibility to work evenings in consultations

Train & motivate other staff

Understanding computers, drafting programs & estimates Work in a team environment


18,000 sq ft retail store in Dunnville, ON
Email resume to ken@granderie.net





A new magazine for home improvement retailers

Hardlines has built its 16 years of success on effective partnerships.



I am pleased to offer a new, innovative – and direct – way for industry suppliers to partner with us to communicate your message to the home improvement decision makers. At the local hardware store or building centre as well as in corporate buying offices, this is the print magazine that will be consulted today and in the coming months.

With circulation that includes Canada's most progressive and innovative retail leaders, Hardlines Home Improvement Quarterly offers you a sophisticated, intelligent vehicle for delivering your message.

Hardlines has demonstrated its commitment to this industry for 16 years with a weekly news service, ground-breaking research, industry leading reports, important awards programs, networking events and the Hardlines Executive Conference. Now we have the leading publication for industry knowledge.

I invite you to partner with us in this exciting new venture to deliver your message in the most credible and affordable manner possible.

Beverly Allen
Publisher, Hardlines Home Improvement Quarterly
Resumés
A conscientious, highly motivated manager with a results-oriented track record in developing new business.

view this

resumé

A goal oriented sales director that has superior management skills, customer oriented, with in depth knowledge of the industry and the ability to achieve results.

view this

resumé

National Field Sales Manager with twelve plus years in power tools and hardware sales/merchandising.

view this

resumé

Business Manager with U.S. & Canadian experience with retail & industrial customers seeks a new opportunity.

view this

resumé

An experienced merchandising executive possessing passion, vision, and a strategic approach to delivering bottom-line.

view this

resumé

Senior sales/marketing leader with experience in all classes of trade wishing new HARDLINES career. view this

resumé

Very Experienced Business Unit Manager, great passion for generating sales and building relastionships.view this

resumé

Worked through my career within the manfucaturer, wholesale and consumer goods industries. view this

resumé

Senior Sales Manager with vast experience in retail and wholesale sales growth in Canada. view this

resumé
Connect with us!