July 25, 2011, Volume xvii, #30
"Only the wisest and the stupidest of men never change."
— Confucius (Chinese teacher and philosopher, 551-479 B.C.E.)
Lowe's Canada prez, Mississauga mayor confirmed for Hardlines Conference
TORONTO — A new speaker program at this year's Hardlines Conference has already attracted two important speakers.

We are proud to announce the confirmation of Alan Huggins, president of Lowe's Canada, and Her Worship Hazel McCallion, mayor of Mississuaga, ON, as the keynotes in the Conference's "Profiles in Leadership" series. The series turns to business, political, and other leaders to share the insights and wisdom that have enabled them to rise to the top of their fields.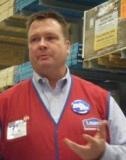 Huggins came to Canada with the launch of Lowe's in this country more than four years ago. During that time, he was put in charge of the entire Canadian operation, which now has 26 stores. His devotion to the Lowe's operating process, while showing the flexibility and innovation to adapt to new markets and new business conditions, has firmly established Huggins as one of the industry's true retail leaders.



At age 90, McCallion is legendary for being the longest-serving mayor in Canada, and possibly in the world. Over more than three decades, she has built Mississauga into one of the country's largest cities, all the while surviving toxic spills, police standoffs and scandals. Her message of how business and government should work together is a compelling one that no business leader will want to miss.

The Profiles in Leadership Series is part of the lineup for the 16th Annual Hardlines Conference, being held in Toronto Oct. 27 and 28. Huggins and McCallion join an already-stellar lineup of speakers, including Terry Davis, vp and COO of Home Hardware Stores Ltd.; Ken Jenkins, president and CEO of Castle Building Centres Group; Ira Kalish, Director of Global Economics at Deloitte Research; and retail guru Anthony Stokan of Anthony Russell and Associates.

For more information and to register for the conference, click here.
Feds re-introduce EcoEnergy Retrofit program 
OTTAWA — After being withdrawn in March 2010, the federal government's EcoEnergy Refit - Homes program has been extended for one more year.

The program provides grants of up to $5,000 for homeowners, who can claim the tax credit by investing in renovation projects that will make their dwellings more energy efficient. The extension of this program is expected to help up to 250,000 Canadian homeowners. The feds further expect it to generate as much as $4 billion in economic activity across Canada.

Natural Resources Canada has allocated $400 million to the EcoEnergy Retrofit - Homes program. Once the financial limit has been reached, the program will close.

The revival of the program offers tremendous opportunities for home improvement retailers and suppliers. For example, insulation maker Owens Corning is ramping up awareness of its products: insulating an attic with OC's Pink Fiberglass batts or its blown-in insulation system will make homes eligible for the EcoEnergy grants while enabling homeowners to cut energy costs.
"With over seven million under-insulated attics in Canada, Owens Corning is delighted that the EcoEnergy Retrofit - Homes program has been extended," says Ric McFadden, vice-president of building materials at Owens Corning Canada.
Canadian Tire offers sneak preview of Christmas
TORONTO — Canadian Tire held a "Christmas in July" event at the Soho Metropolitan Hotel last week. Hosted by home-grown design guru Debbie Travis, this year's focus was on the expansion of her housewares line, as well as DIY decorating.

Buyers from various departments such as toys, power tools, and kitchenwares were on hand leading media through the tour. Tool kits, fitness products like treadmills, and the latest Christmas trees were on display, as well as innovations in kitchen appliances by Mastercraft, Cuisinart, and Noma.

With competitors like Home Depot carrying Martha Stewart's expansive range of home décor and furnishings, and Walmart's recent introduction of its own Hometrends lines, it's a logical move for Canadian Tire to target the Christmas buying season to attract more women shoppers.
Kitchen tops list of reno projects: Dremel study
NEW YORK — A new study reveals that the kitchen is the single most preferred room for renovation. Almost one-third of respondents in a new U.S. study by power tool accessories company Dremel chose the kitchen as the room that they most wanted to update. The bathroom came in second, identified by 17%.

However, the slower U.S. economy may be taking its toll: fully 35% of respondents said that they had no home improvement projects planned for 2011. For those who did have projects planned, organizing and cleaning were the most popular DIY projects for 2011.
Amount people expect to spend on renovations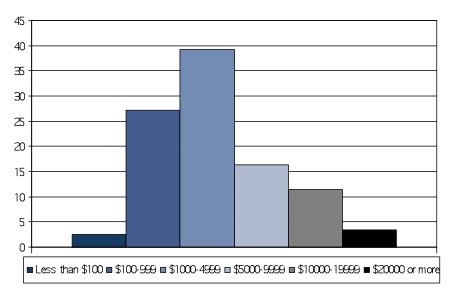 Almost 40% of people surveyed expect to spend between $1,000 and $5,000 on their 2011 projects. (Source: Dremel study)
Demographics play a role in responses, as well. For example, women were significantly more likely than men to have four or more projects planned (10% vs. 4%), while people aged 35-44 were most likely to have projects planned. Those under 35 were significantly more likely than older homeowners to have a project planned for the bedroom (31%).

About a quarter of respondents said that they did not use power tools. That percentage was higher among women; 38% of women said that they did not use power tools, while only 11% of men said the same.
back to top

Canadian Tire rolls out sustainable store initiative
TORONTO — Canadian Tire is attempting to deliver its strategy of corporate environmental policy down to the store level. It has opened what it touts as the most energy-efficient Canadian Tire store to date, the result of a commitment made in 2010 to develop a prototype store design that was 75% more efficient than current models by the end of 2011. The target was achieved in May, with the opening of its store in Kemptville, ON. It consumes 50% less gas and hydro than existing stores.

In addition, rooftop solar systems are being installed on 16 Canadian Tire stores and will be operational by the end of this year, with 24 more scheduled for completion by the end of 2013. The renewable energy generated by these systems will be fed back into the electrical grid and, when all 40 sites are complete, produce enough renewable electricity to power 1,000 average-sized Canadian homes annually for 20 years.

Stores in the Greater Toronto Area will be the first to see the rooftop installations. The program will then expand to stores in Waterloo, Windsor, and Kenora, ON.

Canadian Tire worked with MS Solar Solutions Canada ULC, a wholly-owned affiliate of Morgan Stanley, which has provided financing for the rooftop solar systems. This arrangement allows Canadian Tire to realize its goal of generating renewable energy for the local community without any capital expenditure.
back to top

Classifieds
Western Region Sales Representative
WD-40 Company (Canada) Ltd. is seeking a Western Region Sales Representative ideally based in the Calgary area.   Will be responsible for development, planning and successful implementation of sales & marketing programs for Industrial, Automotive and other Retail direct accounts. Other duties will include servicing branch and satellite offices along with merchandising responsibilities of select box stores. The successful candidate will possess a minimum of 5 years sales experience in the Consumer Packaged Goods or the Hard Goods industries.  Extensive travel in the Western provinces, with a main focus in Alberta and BC, is required. Strong organizational, communication and presentation skills along with the ability to work both independently and as part of a team, be a self-starter. Must be proficient with Microsoft Office applications.

This is a contract position.

Respond by fax or e-mail only by August 12, 2011.

WD-40 Company (Canada) Ltd.
Fax: 416 622-8096
Email: gencan@wd40.com

We thank all applicants, however, only those selected for an interview will be contacted.
Position: Territory Manager
Reports to: Dealer Development Manager – Western Canada
Location: Western Canada

Position Summary
The Territory Manager is responsible for developing sales within an assigned territory to achieve sales budgets, expand sales activity and achieve market growth to ensure maximum profitability. The Territory Manager is also responsible for monitoring sales in dealer's stores, developing advertisements, coordinating promotional products and programs and prospecting for new customers.

Qualifications

College/University degree in sales and marketing
3-5 years' sales experience in hardware products preferred or in a related industry
Strong interpersonal and negotiation skills
Strong territory planning and management skills
Solid sales experience demonstrated ability to effectively maintain updated product knowledge
Basic knowledge of computer applications (e.g. E-Cat or equivalent)
Contact
Please apply by sending your current resume and, if you desire so, your particularized motivation letter to:
HR.RH@chalifourcanada.com
C/o: Director, Human Resources and Labour Relations
Please note the job title in the subject line
This posting will be closed on July 22, 2011, no application received after that time will be considered.

NATIONAL SALES MANAGER, TORONTO, ONTARIO
The Hillman Group (www.hillmangroup.com) is a leading manufacturer/distributor of fasteners, keys, numbers, letters, and signs to more than 21,000 retail locations worldwide . The Hillman Group has enjoyed over four decades serving the home improvement industry and is widely known for outstanding service and quality products. The company has 11 facilities across North America and service s over 58 countries with a significant presence in Mexico, South and Central America, and the Caribbean.

The company is seeking a National Sales Manager for its Canadian Division overseeing the Canadian Business Unit sales. As an integral part of the Canadian management team, the successful candidate's responsibilities will include all activities related to driving Division sales. Competitive salary, incentive, and benefit program.
KEY COMPETENCIES:
Customer Focus

Excellent negotiation skills

New business development abilities

Superior supervisory skills in managing and developing sales personnel – provide leadership and mentoring

Strategic planning ability

Team Player

Excellent analytical ability
KEY QUALIFICATIONS:
Post secondary undergraduate diploma/degree in business or equivalent

Minimum 10-15 years field sales management experience  ideally in a consumer goods, high SKU, distribution environment

Experience in the Canadian hardware and/or building materials industry required

Senior level contacts with national/regional hardware retailers/ wholesalers required

Ability to develop and execute sales and management programs and policies

Excellent planning, organization, time management skills

Strong written and verbal skills

Advanced User of Microsoft Office - Word, Excel & PowerPoint

Strong interpersonal, communication and presentation skills

Ability to travel extensively
Please submit résumé via email to:
Black Eagle Executive Search
c/o Richard Simms at rsimms@blackeagle.ca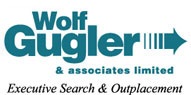 This is a great career opportunity with one of Canada's dominant national retailers. Toronto-based, you'll be responsible for:
Reviewing sales/financial analyses for various product categories, post mortem on what sold and did not sell, and determine which categories have potential to move upward

Scan business and industry-wide trends for their class, scan competitive landscape, analyze consumer data

Identify trends in consumer lifestyle, style and technology for their class

Provide significant input for breaking top-line financial targets into class level targets by buying period

Review current vendor lines and attend relevant trade shows

Provide significant input into assortment guidelines based on merchandise strategy at class level around critical item type, breadth and depth comparisons and space allocation

Establish expected turn and in-and-out dates at class level based on item type
Candidate qualifications
5 – 7 years proven merchandising experience managing a larger retail portfolio. You may have been involved in seasonal, housewares, lifestyle, decor or home fashion areas
Strong negotiation skills demonstrated through several successful vendor negotiations
Ability to build effective relationships cross functionally both internally and with vendors
Ability to multi-task and prioritize key business priorities and see them through to completion
Strong analytical ability to extrapolate pertinent information from various sources (customer reports, vendor's reports, and spreadsheets) and analyze data for decision making purposes
University degree in a related field
Strong verbal and written communication skills
Ability to adapt to a fast pace, cross-functional and dynamic environment
DIVERSITY is key to the company; we welcome applicants regardless of race, gender, age, and those with disabilities.
We're looking for talent with leading edge retail experience. In return, our Client offers a competitive salary, bonus, shares and career growth for achievers.
All inquiries will be treated in strict confidence. For an initial exchange of information, please contact Wolf Gugler at (888) 848-3006 or apply here.
Not for profit organization requires retail business leader with 5 – 7 years experience. Growth opportunity to lead four stores selling new and gently used renovation materials.  See torontohabitat.ca for details. Send resume to hr@torontohabitat.ca  
Resumés
A results driven sales professional and strategist view this

resumé

A conscientious, highly motivated manager with a results-oriented track record in developing new business.

view this

resumé

A goal oriented sales director that has superior management skills, customer oriented, with in depth knowledge.

view this

resumé

An experienced merchandising executive possessing passion, vision, and a strategic approach to delivering bottom-line.

view this

resumé

Senior sales/marketing leader with experience in all classes of trade wishing new HARDLINES career. view this

resumé

Very Experienced Business Unit Manager, great passion for generating sales and building relastionships.view this

resumé

Worked through my career within the manfucaturer, wholesale and consumer goods industries. view this

resumé

Senior Sales Manager with vast experience in retail and wholesale sales growth in Canada. view this

resumé
Connect with us!