July 4 2011, Volume xvii, #27
"There are times when parenthood seems nothing
but feeding the mouth that bites you."
—Peter De Vries (American author and satirist, 1910 - 1993)
UFA renews focus on core farm customer
CALGARY, AB — A shift in focus, driven by changes at the executive level, has marked a new direction for United Farmers of Alberta over the past year. The co-op, which serves mainly rural markets throughout the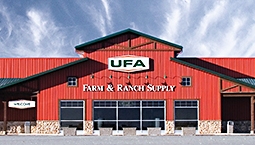 province, had begun expanding into other "lifestyle" sectors, mainly sporting goods, in 2009. That expansion effort was based on the belief of then-CEO Dallas Thorsteinson that that UFA brand was entrenched enough with Albertans to carry over successfully into other retail sectors.

The UFA board did not see it the same way, however, and parted company with Thorsteinson at the beginning of last year. Under the aegis of Bob Nelson, formerly vp of petroleum operations, who now serves as president and CEO, the company is returning to its agro roots. While much of the $1.74 billion in sales generated by UFA derives from fuel, fertilizer, and feed, the retail farm and hardware side remains a big part of the business. That retail consists of 35 UFA stores plus a single building centre operation, Spruceland, in Fort McMurray.

As vp of agricultural operations, Ron Schinnour oversees UFA's farm and hardware business. He's one of the new faces there, as well. Schinnour had spent 12 years with Monsanto, mainly in the U.S., before joining UFA. "We have a relatively new management team in all parts of the business," says Schinnour. "I handle all retail, including farming supplies, along with hard goods for making a farming operation successful. We serve all your needs in that sector."

One of the initiatives being implemented in the stores is a return to a more localized product mix. At the same time, the look of the stores themselves is being redone to make them more consistent. "We're going through an intense program that will be continued for the next two months to tailor assortments in each store more closely to the needs of those markets," says Schinnour. "A lot of existing planograms and marketing tools are still being employed, but we're giving autonomy to the local stores to manage their assortments."

Meanwhile, UFA has not turned its back on the sporting goods side of its business. On the contrary, the recent hiring of Glenn Bingley, formerly a vp at Home Depot Canada, reflects the co-op's commitment to this sector, as well.
Overseas merchandising has a distinct flavour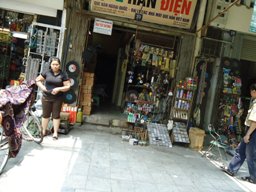 HANOI — Hardware retailing can take on many different faces, especially in developing countries.
Mike Springer, vp sales and marketing for Horizon Plastics International Inc., spent time in Vietnam earlier this year and sent us some pictures.
"The streets in the old quarter in Hanoi all sell the same type of goods," he points out. "There's the shoe street, the shirt street, the Buddhist home shrine street, the stainless steel street, and the hard goods street."
(Click here to view more pictures from the trip.)
New collection ramps up Walmart's home décor offerings
MISSISSAUGA, ON — Walmart has launched "Hometrends," a collection of furniture, decorative accessories, and functional items. According to the company, the new collection is inspired by "nature and new world influences, and delivers on style, quality and price."
Products range from comforter sets, sheets, and duvet covers for the bedroom to shower curtains, rugs, and towels for the bathroom. For the living room, the collection includes throws, decorative pillows, and mirrors. Walmart is also introducing furniture in faux leather and ultra-suede within the Hometrends line. For the kitchen, products include dinnerware sets, decorative place mats, and runners.
"The Hometrends collection rounds out the 360-degree, one-stop shopping approach that families on the go have come to expect from Walmart," says Shelly Kiroff, Walmart Canada's vp of homelines.
Wealthy shoppers choose discount stores
STEVENS, PA — Rich people love a deal in this economy just as much as normal folks. According to a study by Pam Danziger of Unity Marketing, America's wealthiest shoppers, whom she refers to as "ultra-affluents," earning $250,000 or more, are just as eager as shoppers with less disposable income to find good quality at reasonable prices. That's why, she says, they shop at discounters like Target, Kohls, Costco, and Walmart.

Trends in where luxury consumers shop reveal how a new values orientation has taken hold of the affluent shopper," explains Danziger, who has authored a new book, "Putting the Luxe Back in Luxury:  How new consumer values are redefining the way we market luxury."

According to Danziger, the wealthiest shoppers look at their luxury spending as a long-term investment in their lifestyle – "something that must deliver a meaningful return as measured in greater pleasure, comfort, superior performance, and longevity of wear and use."

But, in the final analysis, if wealthy shoppers don't see the value in the price tag, they will trade down to a cheaper yet acceptable alternative. That's why more ultra-affluents shopped at Target (39.5%) in the first three months of 2011 than shopped at Neiman Marcus (20.1%), while Macy's drew more high-end spending (34%) than did Bloomingdales (19.4%).   
back to top

Classifieds
Moffatt & Powell | RONA is hiring!! 
Our Tillsonburg store is hiring for the following positions:  Store Manager, Yard Supervisor and a DZ Driver.
Interested candidates should email their resume to hr@moffattandpowell.com.



Position: Outside Sales Territory Manager (Eastern Ontario)

Location: Eastern Ontario (Ottawa, Kingston, Napanee, Cornwall areas)

Company Information: www.cansave.ca
Can-Save, a progressive building materials distributor – specializing building materials, doors, and kitchen and bath cabinets, has an immediate opening for an Outside Sales Territory Manager for its Eastern Ontario territory. The successful candidate will focus primarily on our Doors and Building Materials Product Lines.
The successful candidate will possess:
A proven successful sales call background in the building materials industry; Lumber yards, Big Box and specialized shops (Trim and/or Kitchen) - minimum 5 years experience

A keen interest to analyze, develop and carry out sale's strategies so as to aid customers in growing their business.
Proven history in growing existing customer sales while also being able to cultivate and follow through with new business initiatives

Must have consultative, front-line experience working with customers in a sales capacity.

Excellent communication and business relationship skills.

Strong ability to work on own and within the entire Sales Team.

Travel within the region and participation in trade show events.
We offer a competitive remuneration and benefit package.
If interested, please forward resume to the Attention of
the Human Resources Manager at hr@cansave.ca.
We thank all applicants, however only those
chosen for an interview will be contacted.
Can-Save is an equal opportunity employer.
Flyer Coordinator
Vaughan, ON
Under the supervision of the National Advertising Manager, the Flyer Coordinator is responsible for coordinating the steps involved in the National flyer programs for the Company stores and for implementing flyer programs in conjunction with the Procurement Team and the Advertising Agency.

Qualifications:
University degree in Business Marketing or Advertising Program and minimum 3 years relevant work experience

Experience in retail print production

Strong communication and inter-personal skills

Ability to work both independently and as part of a team

Proficient in all MS Office applications, specifically MS Excel, Word and Adobe Acrobat

The ability to travel, 30% daily and up to 5% nationally of the time is required


Please apply by sending your resume to
HR.RH@chalifourcanada.com by June 10th, 2011.
Resumés
A results driven sales professional and strategist view this

resumé

A conscientious, highly motivated manager with a results-oriented track record in developing new business.

view this

resumé

A goal oriented sales director that has superior management skills, customer oriented, with in depth knowledge.

view this

resumé

An experienced merchandising executive possessing passion, vision, and a strategic approach to delivering bottom-line.

view this

resumé

Senior sales/marketing leader with experience in all classes of trade wishing new HARDLINES career. view this

resumé

Very Experienced Business Unit Manager, great passion for generating sales and building relastionships.view this

resumé

Worked through my career within the manfucaturer, wholesale and consumer goods industries. view this

resumé

Senior Sales Manager with vast experience in retail and wholesale sales growth in Canada. view this

resumé
Connect with us!