June 13, 2011, Volume xvii, #24
"Remember that as a teenager you are in the last stage of your
life when you will be happy to hear that the phone is for you."
—Fran Lebowitz (American author and humourist, 1950 –)
Paint stores re-branded under Dulux banner 
TORONTO — Dulux Paints is rebranding 230 stores across Canada. The stores, previously bannered as ICI Paints, Glidden, and Color Your World outlets, will now share one common banner under the Dulux Paints name . The company's Bétonel stores will become Bétonel Dulux outlets.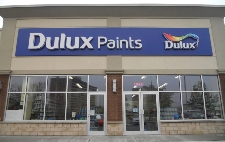 "All that is changing is the name of our retail outlets and the labels on our paint cans — the store staff and operations, and high quality of our products, will remain the same," said Vince Rea, senior vice-president of Dulux Paints Stores.

"While the ICI Paints, Glidden, and Color Your World store banners will cease to exist, Glidden remains an important paint brand for the new Dulux Paints stores and will be sold along with the Dulux brand," Rea continued.

The rebranding is being tied in with a $1 million promotion to rejuvenate neighbourhoods around the globe. Each new Dulux banner store will provide the paint for a public structure or local organization and participate in neighbourhood painting events.
TruServ adopts RONA brands for new TRU banner 
WINNIPEG — The purchase of TruServ's distribution business by RONA inc. has given the Winnipeg wholesaler an arsenal of weapons that range from marketing to branding to products. So it was no surprise to find a number of RONA's proprietary brands of tools being introduced at the TruServ Spring Market last month.

These included the Facto and Pro-Pulse names, "for dealer margin and competitive price points," says TruServ president Bill Morrison.

But the most significant introduction at the show was a completely new name. The launch of TRU effectively ends the True Value name in Canada, one that has cost TruServ $750,000 every five years for decades. With the latest five-year licensing agreement coming due this fall, not to mention the takeover by RONA ("the ultimate change," says Morrison), the time was right for a new approach, one that the marketing minds at RONA helped concoct.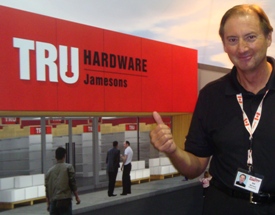 Morrison says the name, and what it stands for – independents, family, and community – was borne of a series of focus groups with consumers in the small towns where the True Value banner is strongest.

"We also talked to our dealers, which gave us an opportunity to re-think our offerings in light of the importance of the dealer in the community, and the importance of being Canadian." What the TruServ team identified was that dealers are becoming younger, they are connected to the internet, and they are concerned about the vitality of their communities.

For now, TruServ will focus on converting dealers to the TRU Hardware and TRU Building Centre banners. The pre-launch will take place in August with the launch in September. The TRU Farm & Garden rollout will happen in the new year. All hard costs attached to converting dealers from the True Value name will be assumed by TruServ Canada. Dealers also have the choice of remaining strictly independent.

Ultimately, says Morrison, the new program will marry the strength of RONA's many programs with the small-town approach that has built TruServ through the years. "We can leverage the strength of RONA's programs, and still remember people by their first names."
Sears looks to expand Craftsman brand
LAS VEGAS — Sears knows it's got a good thing. When it comes to power equipment, the Craftsman brand is one of the best known in North America, and something Sears executives have announced they want to leverage more. In fact, says Scott Freidheim, evp Sears Holdings, and president of the Kenmore, Craftsman and DieHard brands, Craftsman power tools have 18% brand recognition in the U.S., and Craftsman outdoor power equipment has 23% recognition.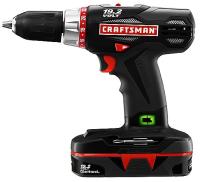 When asked if it has the same exposure in Canada, he says there's room to grow.

"Generally, we have in Craftsman the brand that speaks very powerfully to the customer in the U.S. and we feel it's being under-leveraged," Freidheim says. "There's an opportunity to increase its presence in Canada as well."

That brand leverage was increased beyond the Sears banner last year when the retailer made a landmark deal with Ace Hardware, Americas' largest hardware co-op, to carry Craftsman in its stores. Freidheim says there are no plans to replicate the move here in Canada but does hint at more to come in the Canadian market.

Sears recently licensed its DieHard battery brand to battery maker Dorcy International. The U.S.-only agreement will result in rechargeable batteries and flashlights sold at retail under the DieHard name.
Home Depot showcases vendors' sustainable products
TORONTO — New products from 13 Ontario manufacturers are being sold in select Home Depot stores, the result of a partnership with the Ontario Ministry of Economic Trade and Development – Innovation for Sustainability. The two-year project aims to open new retail channels for small and medium Ontario-based businesses and bring products to market that will drive innovation, sustainability and economic opportunity.

The products range from an indoor "living" wall and lightweight concrete deck block to fire starter made from recycled cooking oil.

Home Depot Canada's merchandising team reviewed entries from vendors and invited prospects to a series of buyer meetings late last year. As a result, 20 products were chosen, then Home Depot's team worked with the vendors to get their products to retail in select stores in London and Ottawa, as well as some availability online at www.homedepot.ca. Each will be assessed for expanded distribution in the Canadian market.

"We're committed to nurturing and assisting the 13 manufacturers as they build the capacity to do business with a large-scale retailer." said Jeff Kinnaird, newly appointed vp of merchandising at Home Depot Canada.

Submissions for the next "Meet the Buyer" event to be held in fall 2011 are now being accepted. Qualified small and medium-sized Ontario manufacturers with an innovative home improvement product can submit information for consideration here.
back to top

Recycled tire product vendors have grant opportunity
TORONTO — Ontario Tire Stewardship has unveiled a unique grant program that will award eligible Ontario communities and organizations up to $50,000 towards the purchase and installation of Ontario-manufactured recycled rubber products. Products can include rubber mulch, roof shingles, underlayment, subflooring, and sidewalk tiles. The initiative is designed to help the environment while supporting Ontario's economy.

The grant is open to municipalities, registered non-profit community groups or organizations, schools, colleges and universities, as well as First Nations communities throughout Ontario. To qualify, projects must use products made from Ontario recycled rubber and be completed within 12 months of approval.

"The Community Grant Program is a natural next step to build on this success by encouraging applicable Ontario communities and organizations to think green when planning their projects, build green by using recycled rubber products, and grow green by using products made by Ontario recyclers and manufacturers," says Andrew Horsman, executive director, Ontario Tire Stewardship.

(For information about the Community Grant Program, click here or e-mail info@OntarioTS.ca.)
Classifieds
Flyer Coordinator
Vaughan, ON
Under the supervision of the National Advertising Manager, the Flyer Coordinator is responsible for coordinating the steps involved in the National flyer programs for the Company stores and for implementing flyer programs in conjunction with the Procurement Team and the Advertising Agency.

Qualifications:
University degree in Business Marketing or Advertising Program and minimum 3 years relevant work experience

Experience in retail print production

Strong communication and inter-personal skills

Ability to work both independently and as part of a team

Proficient in all MS Office applications, specifically MS Excel, Word and Adobe Acrobat

The ability to travel, 30% daily and up to 5% nationally of the time is required


Please apply by sending your resume to
HR.RH@chalifourcanada.com by June 10th, 2011.
NATIONAL SALES MANAGER ROOFING, CANADA
MILTON, ONTARIO
Roxul Inc. (www.roxul.com) is a leading North American manufacturer and marketer of planet-friendly insulation made from natural stone and recycled material. With headquarters in Milton, ON and production facilities in Milton and Grand Forks, BC, Roxul is a subsidiary of Rockwool International. Roxul's fire-resistant, stone wool insulation products are used in residential, commercial, and industrial applications to save energy, lower emissions, and provide added safety.
The company is currently seeking a talented, energetic National Sales Manager to join its Canadian Roofing sales team based in Milton. Reporting to the North American Roofing Manager, the successful candidate will be responsible for sales growth in Canada for our high-quality roofing products - managing national accounts and distribution channels for the Canadian roofing market as well as strengthening specifications' awareness with architects, specifiers, and consultants. Roxul offers a dynamic environment with state-of-the-art equipment and an excellent remuneration and benefit package.
KEY COMPETENCIES:
Proven track record in roofing and/or building materials sales in Canada  
Strong organizational, interpersonal, and presentation skills
Excellent negotiation skills
New business development abilities 
Supervisory skills in managing and developing sales personnel
Can establish positive working relationships with your team and other departments internally
Excellent analytical ability
Ability to work within established budgets
KEY QUALIFICATIONS:
Business or technical post secondary diploma/degree
Experience in the Canadian roofing and/or building materials industry required
Executive level contacts with residential, commercial, and industrial roofing clients, architectural firms, specifiers, consultants.
Ability to develop and execute sales and management programs and policies
Strong computer skills
Ability to travel regularly across Canada
Please submit résumé via email to:
Black Eagle Executive Search
c/o Richard Simms at rsimms@blackeagle.ca
NATIONAL ACCOUNTS MANAGER, TORONTO, ONTARIO.
Canadian Technical Tape Ltd./W. Ralston (Canada) Inc. (www.cttgroup.com), a leading manufacturer of pressure sensitive tapes, plastic film and a wide assortment of trash, recycling, storage and compostable bags  is seeking a Toronto-based National Accounts Manager responsible for managing the company's Canadian national retail accounts as well as developing business with potential new national accounts.
MAJOR RESPONSIBILITIES:
Sales to existing National Retail Accounts:
 

Continually build strong business relationships
Provide product training as required
Identify customer needs and provide solutions
Development of New Accounts and Opportunities:
 

Identify opportunities for new National Retail Account business
Identify new applications and markets for existing and new products
KEY COMPETENCIES:
Negotiating ability and proven ability to acquire new accounts
Strong communication, presentation, and business relationship skills
Good analytical skills, e.g., budgeting, sales forecasting, etc.
Very detail oriented, organized and disciplined, attention to accuracy
Self-motivated and ability to work independently as well as in a team environment
Ability to multi-task in a fast paced environment
Regular travel to current and potential customers
KEY QUALIFICATIONS:
7-10 years sales experience in the Canadian hardware, building materials, paint sundries markets calling on National Retailers
Post secondary diploma or equivalent ideally in business or related field
Bilingual (English/French) preferred but not required
Proficient in key Microsoft platforms including Excel, Word, PowerPoint, Outlook
Please submit résumé via email to:
Black Eagle Executive Search
c/o Richard Simms at rsimms@blackeagle.ca
Position: Account Manager for
Saskatchewan, Manitoba & Northwestern Ontario
ProfitMaster Canada is an innovative, growing software company, marketing technology solutions for the hardware and building products industry. Our workplace values and rewards integrity, respect, open communication, initiative and continuous learning. We are currently seeking a professional self-motivated individual to join our Sales Team.

Reporting to the Sales Manager, the position would be based out of the Winnipeg office located in the University of Manitoba's Smartpark,

Special consideration will be given to those with three to five years of sales experience in the Lumber and Building Supply or Software industries.

A strong knowledge of Computers and Software would be an asset.
Resumés
A conscientious, highly motivated manager with a results-oriented track record in developing new business.

view this

resumé

A goal oriented sales director that has superior management skills, customer oriented, with in depth knowledge of the industry and the ability to achieve results.

view this

resumé

An experienced merchandising executive possessing passion, vision, and a strategic approach to delivering bottom-line.

view this

resumé

Senior sales/marketing leader with experience in all classes of trade wishing new HARDLINES career. view this

resumé

Very Experienced Business Unit Manager, great passion for generating sales and building relastionships.view this

resumé

Worked through my career within the manfucaturer, wholesale and consumer goods industries. view this

resumé

Senior Sales Manager with vast experience in retail and wholesale sales growth in Canada. view this

resumé
Connect with us!