June 20, 2011, Volume xvii, #25
"When you come to a fork in the road, take it."
—Yogi (American baseball player and manager, 1925 –)
Lowe's opens first store in Edmonton 
EDMONTON — Lowe's opened its first store in Edmonton this morning. It's in South Edmonton Common, a power centre on Hwy #2. This is the fourth Lowe's store in Alberta (there are three already in Calgary), and the 25th in total for the retailer in Canada.

Lowe's has plans to open up to 100 stores in this country, although expansion plans in the U.S. have been slowed by the economic funk there. Lowe's expects to open 25 stores in 2011. It has 1,774 stores in total.

At least six of those openings will be in Canada, according to HARDLINES estimates. In addition to the two Edmonton openings, Lowe's is expected to open at least four more stores during its 2011 fiscal year, which ends Jan. 31, 2012.  Other likely locations include the first store in Saskatchewan, in Regina; and the first for British Columbia, now being built in New Westminster. Two more stores – both in Ontario – in Niagara Falls and Chatham, are expected to open around Christmas.

Last year, Lowe's opened eight stores here during its fiscal year. By the end of that year, estimated sales in Canada exceeded $250 million, according to our Who's Who Directory of Retailers. (For more information on our latest edition of the Who's Who, click here.)
RONA's Meunier talks succession at CHHMA event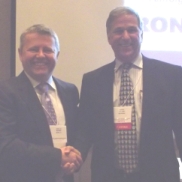 Jean-Luc Meunier of RONA (l) in Montreal with Pierre Vachon os Sico.
MONTREAL — Jean-Luc Meunier, senior vice president, affiliate dealer-owner network development at RONA inc., spoke recently to members of the Canadian Hardware and Housewares Manufacturers Association in Quebec. Meunier explained to CHHMA's vendor and agency members how ΩΩRONA has created succession opportunities for its independent dealers.

As he did at a similar presentation held last fall by HARDLINES, Meunier brought along a RONA dealer who has benefited from the program. Vincent Legault, a second-generation hardware dealer in Rivière-des-Prairies, QC, talked about his own experience working with RONA to get the financial guidance and mentoring to enable him to acquire his own store.

"Seventy percent of independents in Canada don't have a succession plan," said Meunier.
IRLY holds AGM and buying show
WHISTLER, BC — IRLY Distributors held a buying show for the IRLY members here on June 3.  The show was held in conjunction with IRLY's annual meeting and hosted IRLY dealers from all over B.C.

This was the second time the group has held a show with their AGM. In 2009, IRLY also held an AGM and vendor show in Whistler.

"We had such a positive response from both the vendors and the dealers that we knew we would do it again soon," says Catherine Brownlow, IRLY's advertising and communications manager. The event, she adds, allows vendors to meet with all of the IRLY dealers in one place. "And Whistler is always popular. There is something for everyone there."

Apart from the show and AGM, the event included dealer meetings, a gala dinner, and activities.  Following the gala dinner, two of the three founding members of IRLY joined the group to share a brief history of IRLY, which was founded in 1963, and their personal backgrounds.  "We all learned a little more about our roots," Brownlow says.
President's Camp will coach RONA's young leaders
MONTREAL — RONA is reprising a program for young retail leaders, the President's Camp, again this year. The initiative, a personal project for RONA CEO Robert Dutton to connect with up-and-coming individuals within the RONA organization, is a discussion and learning forum for RONA's young leaders from across Canada and a development platform for the network's business succession.

This year, it will be held in Montreal Aug. 23-27.

The program was created based on Dutton's own belief in the importance of understanding the ambitions and vision of these young people. The President's Club is designed to nurture them into leadership roles. This year, the participants will be coached to develop a better understanding of themselves and their environment, while building their own development plan. They will share work moments with members of the RONA management team.

The schedule of activities includes work and coaching sessions, meetings with inspirational business leaders, and personal reflection time.
back to top

Orgill ramps up Canadian compliance
MEMPHIS — U.S. wholesaler Orgill continues to develop its presence in Canada, including its efforts to expand the range of products that conform to Canadian compliance laws. These can include language requirements for the country's two official languages, as well as differing standards for a range of products, especially in electrical and plumbing. The company is busy upgrading its product lines to the point that roughly 60,000 of the 75,000 SKUs in its warehouse in Inwood, WV, are now Canadian compliant.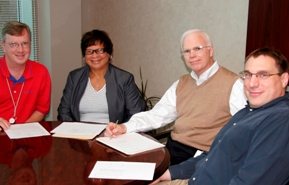 Orgill's Canadian Compliance Team at their weekly meeting. (l-r): Randy Williams, senior vp of operations and Logistics; Delores Coble, vp of merchandising; Ron Beal; and Eric Divelbiss, vp, controller.
Photo: Dennis Sills
Orgill has added 35 fully Canadian-compliant vendors to its product offering in recent weeks.

Our goal is to be 100% compliant by the end of 2011," says Orgill president and CEO Ron Beal. "We do have a plan to have more dedicated Canadian-only product in West Virginia. But what we really want to do — and have made tremendous headway in that — is to make our product North American compliant."
back to top

"Plant Park" among innovations at spoga+gafa garden fair
COLOGNE, Germany — spoga+gafa, the garden and outdoor products fair being held here Sept. 4-6, will feature an expanded communication forum this year. The show's "Plant Park" will be bigger and more interactive, according to show organizers, Koelmesse.

Five product segments will cover garden creation, garden living, garden care, garden unique, and garden basic. The Plant Park sets floral accents in combination with products from the areas of water and lighting technology, biochemistry, garden technology and decorative items, which will be presented by the spoga+gafa exhibitors. New products will be displayed in another new feature, "Green Alley."

For the first time Koelnmesse is also organizing a Garden Centre Day, which will take place on the Monday during the fair and feature special activities and information for garden centre owners. For more information, click here.
back to top

As Americans spend more, Canadians spend less
TORONTO — More Canadians are adopting the frugal shopping habits they picked up in the recession even though they feel relatively optimistic about the economy's future, according to new global research from Boston Consulting Group, The Globe and Mail reported.  Americans, on the other hand, feel more confident about spending than they did two years ago, although they're much more pessimistic than Canadian consumers about the fate of the economy.

Many Canadians are still feeling financially strained as policy makers warn against the dangers of taking on too much debt. Americans, in contrast, began saving during the economic meltdown and now feel less stressed than in 2009. These shifting trends are reverberating with retailers. While consumers on both sides of the border are watching their spending as food and gas prices soar, Canadians in many instances are scaling back even more.

Merchants in segments ranging from home improvement to apparel and office supplies saw their first-quarter sales pinched more in Canada than in the U.S. It's the reverse of what happened during the recession, when businesses in Canada often outperformed their U.S. counterparts. Today's disparities could widen later this year as retailers try to raise prices to cover their spiraling costs amid the prospect of an interest rate hike.
back to top

Classifieds
Flyer Coordinator
Vaughan, ON
Under the supervision of the National Advertising Manager, the Flyer Coordinator is responsible for coordinating the steps involved in the National flyer programs for the Company stores and for implementing flyer programs in conjunction with the Procurement Team and the Advertising Agency.

Qualifications:
University degree in Business Marketing or Advertising Program and minimum 3 years relevant work experience

Experience in retail print production

Strong communication and inter-personal skills

Ability to work both independently and as part of a team

Proficient in all MS Office applications, specifically MS Excel, Word and Adobe Acrobat

The ability to travel, 30% daily and up to 5% nationally of the time is required


Please apply by sending your resume to
HR.RH@chalifourcanada.com by June 10th, 2011.
NATIONAL SALES MANAGER ROOFING, CANADA
MILTON, ONTARIO
Roxul Inc. (www.roxul.com) is a leading North American manufacturer and marketer of planet-friendly insulation made from natural stone and recycled material. With headquarters in Milton, ON and production facilities in Milton and Grand Forks, BC, Roxul is a subsidiary of Rockwool International. Roxul's fire-resistant, stone wool insulation products are used in residential, commercial, and industrial applications to save energy, lower emissions, and provide added safety.
The company is currently seeking a talented, energetic National Sales Manager to join its Canadian Roofing sales team based in Milton. Reporting to the North American Roofing Manager, the successful candidate will be responsible for sales growth in Canada for our high-quality roofing products - managing national accounts and distribution channels for the Canadian roofing market as well as strengthening specifications' awareness with architects, specifiers, and consultants. Roxul offers a dynamic environment with state-of-the-art equipment and an excellent remuneration and benefit package.
KEY COMPETENCIES:
Proven track record in roofing and/or building materials sales in Canada  
Strong organizational, interpersonal, and presentation skills
Excellent negotiation skills
New business development abilities 
Supervisory skills in managing and developing sales personnel
Can establish positive working relationships with your team and other departments internally
Excellent analytical ability
Ability to work within established budgets
KEY QUALIFICATIONS:
Business or technical post secondary diploma/degree
Experience in the Canadian roofing and/or building materials industry required
Executive level contacts with residential, commercial, and industrial roofing clients, architectural firms, specifiers, consultants.
Ability to develop and execute sales and management programs and policies
Strong computer skills
Ability to travel regularly across Canada
Please submit résumé via email to:
Black Eagle Executive Search
c/o Richard Simms at rsimms@blackeagle.ca
NATIONAL ACCOUNTS MANAGER, TORONTO, ONTARIO.
Canadian Technical Tape Ltd./W. Ralston (Canada) Inc. (www.cttgroup.com), a leading manufacturer of pressure sensitive tapes, plastic film and a wide assortment of trash, recycling, storage and compostable bags  is seeking a Toronto-based National Accounts Manager responsible for managing the company's Canadian national retail accounts as well as developing business with potential new national accounts.
MAJOR RESPONSIBILITIES:
Sales to existing National Retail Accounts:
 

Continually build strong business relationships
Provide product training as required
Identify customer needs and provide solutions
Development of New Accounts and Opportunities:
 

Identify opportunities for new National Retail Account business
Identify new applications and markets for existing and new products
KEY COMPETENCIES:
Negotiating ability and proven ability to acquire new accounts
Strong communication, presentation, and business relationship skills
Good analytical skills, e.g., budgeting, sales forecasting, etc.
Very detail oriented, organized and disciplined, attention to accuracy
Self-motivated and ability to work independently as well as in a team environment
Ability to multi-task in a fast paced environment
Regular travel to current and potential customers
KEY QUALIFICATIONS:
7-10 years sales experience in the Canadian hardware, building materials, paint sundries markets calling on National Retailers
Post secondary diploma or equivalent ideally in business or related field
Bilingual (English/French) preferred but not required
Proficient in key Microsoft platforms including Excel, Word, PowerPoint, Outlook
Please submit résumé via email to:
Black Eagle Executive Search
c/o Richard Simms at rsimms@blackeagle.ca.
Resumés
A results driven sales professional and strategist view this

resumé

A conscientious, highly motivated manager with a results-oriented track record in developing new business.

view this

resumé

A goal oriented sales director that has superior management skills, customer oriented, with in depth knowledge.

view this

resumé

An experienced merchandising executive possessing passion, vision, and a strategic approach to delivering bottom-line.

view this

resumé

Senior sales/marketing leader with experience in all classes of trade wishing new HARDLINES career. view this

resumé

Very Experienced Business Unit Manager, great passion for generating sales and building relastionships.view this

resumé

Worked through my career within the manfucaturer, wholesale and consumer goods industries. view this

resumé

Senior Sales Manager with vast experience in retail and wholesale sales growth in Canada. view this

resumé
Connect with us!