June 6, 2011, Volume xvii, #23
"You can never plan the future by the past." —Edmund Burke
(Anglo-Irish statesman, author, and philosopher, 1729 –1797)
Sears Canada to ban incandescent and halogen lighting 

TORONTO — Sears Canada will ban the sale of inefficient incandescent and halogen lighting in its stores nationally by September 2011. Instead, it intends to grow its offering of energy efficient LED and CFL lighting in its full-line and Sears Home stores across the country. The retailer claims it's the first national Canadian retailer to take such a step.

The move is designed to help Canadians take advantage of the energy-saving benefits of LED lighting, which uses up to 75% less energy and lasts up to 10 times longer than traditional incandescent lighting.

"Replacing inefficient lighting products with LED and CFL options is a major move to save customers energy and money, while empowering them to take sustainable steps at home," says Dr. James Gray-Donald, sustainability leader and associate vice-president, Sears Canada.

Sears Canada will also replace all spotlights in its stores with LED lighting. By the end of August 2011, Sears Canada will replace more than 130,000 incandescent spotlights with LEDs. The retrofit is expected to save Sears Canada more than 16 million kilowatt hours of electricity per year and reduce its carbon footprint by 3,611 tonnes annually.
Expect LEDs to dominate, says OSRAM Sylvania CEO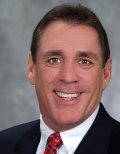 MISSISSAUGA, ON — James Johnson is the new head of OSRAM  Sylvania Canada. Although his background is in OSRAM's automotive and OED sides of the business, one thing that strikes him as different on the retail side is that the automotive industry reflects an early adopter mentality. Automakers represented customers who were quick to pick up on new technologies such as solid-state lighting (SSL).

However, he expects SSL, which includes LED and its next generation, OLED lighting, to catch on quickly at retail. "In the next five years, my feeling is that 70% of all lighting sold will be SSL."

The reason, he says, is simple. Bulbs using this technology last 10 times longer than incandescents and use 60-80% less energy. He points to the latest announcement by Sears Canada as an example: that retailer has made the decision to ban incandescent and halogen lighting in its stores by this fall. Not only will Sears Canada stop selling them, it will stop using them in its stores – and replace them with OSRAM's bulbs.

He adds that this kind of innovation is more important than ever for retailers. When tied to a reputable national brand, the combination offers retailers a tool for driving their top-line dollars, and driving more volume from the same retail footprint.
Canadian Tire buys house to showcase small projects
SCARBOROUGH, ON — Canadian Tire has positioned itself through the last recession as the starting place for small household projects. Now, the retailer has bought a house of its own to put that strategy into practice.

Tucked away in a small street in suburban Toronto, the 1960s-vintage back-split house is like a lot of its customers' homes: tired, run down, but not needing any major renovations. It is, says Rob Shields, vp marketing for Canadian Tire, a great showcase for Canadian Tire's ability to satisfy the homeowner's need to get small jobs done – "Change a light, change a room colour — that's exactly where we're positioned."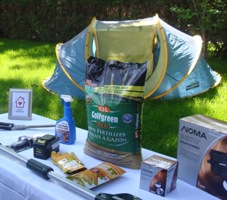 The process of fixing up the house, which has so far included reseeding and fertilizing the lawn, adding a barbecue and furniture to the backyard, painting walls and adding dimmer switches, will be supported by a website, complete with how-to videos (40 already are posted). As more projects are completed through the coming year, they will be posted, as well, and visitors will have the opportunity to make comments of their own.

"At Canadian Tire, it's about how to make life easier for people without a
lot of time or money – that's our sweet spot," says Shields.
(Click here for a tour of Canadian Tire's new project home.)
Amidst uncertainty, Lowe's focuses on customer experience
CHARLOTTE, NC — Lowe's held its annual general meeting last week, during which chairman and CEO Robert Niblock updated shareholders on the retailer's plans. With so much uncertainty still pervading the U.S. marketplace, he said Lowe's plans to transform from a home improvement retailer to a home improvement company by providing inspiration, products, and support to "transform the shopping experience for customers wherever and however they choose to interact with Lowe's."

Niblock said Lowe's continues to deliver on its promise of great value, products, and services by implementing operational programs to enhance the customer experience, including renewed emphasis on staff training. He also thanked shareholders and Lowe's 234,000-plus employees for their "continuing support, dedication, and resilience throughout the recession and start of the recovery."

Lowe's plans to open about 25 stores this year. The board also declared a 27% increase in Lowe's quarterly cash dividend to fourteen cents per share. Lowe's has declared a cash dividend each quarter since going public in 1961.
back to top

Habitat for Humanity Canada broadens mandate
TORONTO — Habitat for Humanity Canada has launched a program to address the affordable housing crisis that intends to go beyond simply funding affordable home building. The program, called the 360 Built Smart Partnership, will take a holistic approach to affordable housing in local communities.

The partnership is made possible through the support of concrete products producer Holcim (Canada) Inc. and The Home Depot Canada Foundation. It intends to assist Habitat's 72 local affiliates to access critical funding to so they can better serve families in their respective communities. Right now, those affiliates struggle to find the land, products, and financial donations.

Activities that the 360 Partnership will coordinate include green building to help reduce homeowner and environmental costs; providing financial education to help families succeed as homeowners; creating volunteer engagement programs that keep volunteers coming back to help build more affordable homes; developing strong local partnerships to help strengthen the local community; and fostering safety both on build sites and within the community.

"Habitat for Humanity Canada's 360 Built Smart Partnership will take the next step in the fight to eradicate the country's housing crisis and by doing so will build stronger, healthier, and more productive communities," said Stewart Hardacre, president and CEO of Habitat of Humanity Canada.
spoga+gafa: international forum for garden and outdoor living
COLOGNE, Germany — A full range of gardening and leisure living products will be displayed at spoga+gafa, the trade fair for the sector, being held Sept. 4-6 in Cologne. About 1,700 suppliers from 53 countries will present their outdoor innovations, offering a comprehensive, global market overview. "We are delighted that the garden market is being presented this year in such a broad scope again at spoga+gafa," says Metin Ergül, vice-president of house, garden & leisure at Koelnmesse GmbH.

The garden trade fair has a truly international character, with nearly 80% of the companies coming from abroad, including large contingents from the Netherlands, Italy, and the UK. These countries will be rounded out by participants from exotic locales such as Macao and El Salvador.

Besides garden products, the show will feature upscale and design-oriented outdoor furniture, a grilling and barbecue section, sports and games, camping and leisure activities, and decorative products. For more information on spoga+gafa, click here.
Classifieds

Flyer Coordinator
Vaughan, ON
Under the supervision of the National Advertising Manager, the Flyer Coordinator is responsible for coordinating the steps involved in the National flyer programs for the Company stores and for implementing flyer programs in conjunction with the Procurement Team and the Advertising Agency.

Qualifications:
University degree in Business Marketing or Advertising Program and minimum 3 years relevant work experience

Experience in retail print production

Strong communication and inter-personal skills

Ability to work both independently and as part of a team

Proficient in all MS Office applications, specifically MS Excel, Word and Adobe Acrobat

The ability to travel, 30% daily and up to 5% nationally of the time is required


Please apply by sending your resume to
HR.RH@chalifourcanada.com by June 10th, 2011.
NATIONAL SALES MANAGER ROOFING, CANADA MILTON, ONTARIO
Roxul Inc. (www.roxul.com) is a leading North American manufacturer and marketer of planet-friendly insulation made from natural stone and recycled material. With headquarters in Milton, ON and production facilities in Milton and Grand Forks, BC, Roxul is a subsidiary of Rockwool International. Roxul's fire-resistant, stone wool insulation products are used in residential, commercial, and industrial applications to save energy, lower emissions, and provide added safety.
The company is currently seeking a talented, energetic National Sales Manager to join its Canadian Roofing sales team based in Milton. Reporting to the North American Roofing Manager, the successful candidate will be responsible for sales growth in Canada for our high-quality roofing products - managing national accounts and distribution channels for the Canadian roofing market as well as strengthening specifications' awareness with architects, specifiers, and consultants. Roxul offers a dynamic environment with state-of-the-art equipment and an excellent remuneration and benefit package.
KEY COMPETENCIES:
Proven track record in roofing and/or building materials sales in Canada  
Strong organizational, interpersonal, and presentation skills
Excellent negotiation skills
New business development abilities 
Supervisory skills in managing and developing sales personnel
Can establish positive working relationships with your team and other departments internally
Excellent analytical ability
Ability to work within established budgets
KEY QUALIFICATIONS:
Business or technical post secondary diploma/degree
Experience in the Canadian roofing and/or building materials industry required
Executive level contacts with residential, commercial, and industrial roofing clients, architectural firms, specifiers, consultants.
Ability to develop and execute sales and management programs and policies
Strong computer skills
Ability to travel regularly across Canada
Please submit résumé via email to:
Black Eagle Executive Search
c/o Richard Simms at rsimms@blackeagle.ca
NATIONAL ACCOUNTS MANAGER, TORONTO, ONTARIO.
Canadian Technical Tape Ltd./W. Ralston (Canada) Inc. (www.cttgroup.com), a leading manufacturer of pressure sensitive tapes, plastic film and a wide assortment of trash, recycling, storage and compostable bags  is seeking a Toronto-based National Accounts Manager responsible for managing the company's Canadian national retail accounts as well as developing business with potential new national accounts.
MAJOR RESPONSIBILITIES:
Sales to existing National Retail Accounts:
 

Continually build strong business relationships
Provide product training as required
Identify customer needs and provide solutions
Development of New Accounts and Opportunities:
 

Identify opportunities for new National Retail Account business
Identify new applications and markets for existing and new products
KEY COMPETENCIES:
Negotiating ability and proven ability to acquire new accounts
Strong communication, presentation, and business relationship skills
Good analytical skills, e.g., budgeting, sales forecasting, etc.
Very detail oriented, organized and disciplined, attention to accuracy
Self-motivated and ability to work independently as well as in a team environment
Ability to multi-task in a fast paced environment
Regular travel to current and potential customers
KEY QUALIFICATIONS:
7-10 years sales experience in the Canadian hardware, building materials, paint sundries markets calling on National Retailers
Post secondary diploma or equivalent ideally in business or related field
Bilingual (English/French) preferred but not required
Proficient in key Microsoft platforms including Excel, Word, PowerPoint, Outlook
Please submit résumé via email to:
Black Eagle Executive Search
c/o Richard Simms at rsimms@blackeagle.ca
.
Position: Account Manager for
Saskatchewan, Manitoba & Northwestern Ontario
ProfitMaster Canada is an innovative, growing software company, marketing technology solutions for the hardware and building products industry. Our workplace values and rewards integrity, respect, open communication, initiative and continuous learning. We are currently seeking a professional self-motivated individual to join our Sales Team.

Reporting to the Sales Manager, the position would be based out of the Winnipeg office located in the University of Manitoba's Smartpark,

Special consideration will be given to those with three to five years of sales experience in the Lumber and Building Supply or Software industries.

A strong knowledge of Computers and Software would be an asset.
Resumés
A results driven sales professional and strategist with an extensive record of achievement

. view this

resumé

A conscientious, highly motivated manager with a results-oriented track record in developing new business.

view this

resumé

A goal oriented sales director that has superior management skills, customer oriented, with in depth knowledge.

view this

resumé

An experienced merchandising executive possessing passion, vision, and a strategic approach to delivering bottom-line.

view this

resumé

Senior sales/marketing leader with experience in all classes of trade wishing new HARDLINES career. view this

resumé

Very Experienced Business Unit Manager, great passion for generating sales and building relastionships.view this

resumé

Worked through my career within the manfucaturer, wholesale and consumer goods industries. view this

resumé

Senior Sales Manager with vast experience in retail and wholesale sales growth in Canada. view this

resumé
Connect with us!