March 21, 2011, Volume xvii, #12
"May your blessings outnumber the shamrocks that grow,


and may trouble avoid you wherever you go." —Irish Blessing
Dealers can keep IRLY name under TIM-BR MARTS merger
SURREY, B.C. — The acquisition by TIM-BR MARTS Ltd. of the distribution business of IRLY Distributors will not necessarily affect the operations of the IRLY dealers themselves.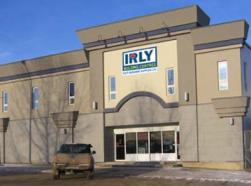 The terms of the acquisition include the merger of all 46 IRLY Building Centre locations as full members of TIM-BR MARTS (formerly, they were affiliated with TIM-BR MARTS as part of the larger buying group). However, those dealers may continue to keep the registered name of "IRLY Building Centres" only, or co-brand with TIM-BR MART. The IRLY dealers also have the option now of converting to become fully-branded TIM-BR MART locations.

"TIM-BR MARTS Ltd. offered the IRLY family the opportunity to keep their independence, yet be part of the largest buying group in Canada – and a strong brand. It was clearly win-win," says Susan Robinson, president and CEO, IRLY Distributors Ltd.

It's also a win for the management and staff: "The entire IRLY Distributors team will remain in place to ensure there is no interruption to the excellent service our members and customers have come to expect," Robinson adds.

In addition, the entire unionized warehouse team at the IRLY DC will be kept on.

Tim Urquhart, president and CEO of TIM-BR MARTS, notes that the company is eager to welcome all current IRLY dealers, as well as other independents already being supplied by IRLY in the West. "The addition of IRLY dealers brings a solid network of respected, service-driven entrepreneurs that we will be proud to represent," he says.

IRLY, founded in 1963, stands for Independent Retail Lumber Yards. TIM-BR MARTS, in business since 1967, represents more than 700 member locations across Canada and over $2 billion in annual purchases.
 TSC opens another Villager franchise store
AYLMER, Ont. — This town in Southwestern Ontario is the home of the latest TSC Villager franchise store. It opened here last Wednesday.


TSC Stores has experienced rapid growth in recent years, with new corporate stores going up throughout Southern and Central Ontario – and even into Manitoba. But another expansion strategy coalesced for the farm and hardware retailer three years ago when it decided to create a franchise program, as well. The franchise stores are branded "TSC Villager," a reworking of a name used for a test hardware "store within a store" for building centres that TSC had tried out a few years earlier. At between 7,500 and 8,000 square feet, the Villager stores are smaller than traditional TSC outlets to suit smaller communities.

The first stores were former Country Depot outlets and this latest store in Aylmer is also a conversion from Country Depot. "The owner liked what he'd seen of TSC and decided to make the switch, rather than sell outright to TSC," says Paul Chapman, director of dealer development for TSC.

Including the Aylmer store, there are now five Villagers in total, of which three are corporate stores. However, Chapman says, TSC already has prospects lined up to take those over.

Chapman expects another three or four to be opened this year, all in Ontario. However, he anticipates expansion outside of the province in coming years. "We have lots of interest from dealer prospects."
back to top

Valspar makes return to independents' stores
ORLANDO, Fla. — Canadian dealers will have access to a national brand that has not had widespread distribution in this country for many years. Valspar was one of the exhibiting vendors at the recent Orgill market here, offering a prominent promotional effort to Canadian dealers walking that show. Orgill ships the Valspar coatings lines to its U.S. dealers and now the brand will be available to its customers in Canada.


Until now, Valspar had been available only through another U.S. company – Lowe's, which has fewer than 20 locations so far in Canada.

"Now Castle and other dealers ordering through Orgill have a Canadian exclusive," says Jack Ivy of Valspar. "They're not competing against anyone with this line so we're very excited about it." Ivy adds that the Valspar cans meet Canadian packaging requirements, including bilingual labels.

The arrangement has an upside for Valspar, as well. The market in the U.S. continues to be weak, while Canada has been "pretty steady," Ivy says.

"Manufacturers have to come to Canada. It's their best opportunity for easy access to a market. It's a truck ride away."
back to top

 Johnson replaces Khan at the helm of OSRAM SYLVANIA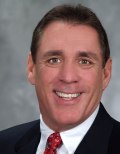 MISSISSAUGA, Ont. —  James (Jim) L. Johnson, Jr. has been appointed president of OSRAM SYLVANIA Ltd./ltée, effective immediately. He replaces Abbas Khan, who is moving over to Carrier Canada to assume the role of president beginning April 1.

In his new role, Johnson will have overall responsibility for the Canadian company's sales, operations and support functions, including the trade, retail and automotive lighting sales channels and the SYLVANIA Lighting Services division. He'll be based in Mississauga, Ont.

Johnson joined GTE Sylvania, the predecessor of OSRAM SYLVANIA, in 1985 and has held positions of increasing responsibility at multiple locations and businesses. In 1995, he was named vice-president of OEM marketing and sales in the Automotive Lighting division, and then moved on to vice-president and general manager of the Automotive Lighting assemblies division in 1997. In 1998, Johnson was named president of Valeo Sylvania, a joint venture between OSRAM SYLVANIA and Valeo. He was then appointed executive vice-president and general manager for Global Automotive Lighting in 2001.
 New products will be showcased at Las Vegas show
NORWALK, Conn. — New product introductions are expected to take centre stage at the 2011 National Hardware Show. This year's event, May 10-12 in Las Vegas, will showcase innovations from brands such as 3M, Robert Bosch, Char-broil, The Coleman Co., and Jarden Safety & Security.

The show itself will be organized within these show categories: Hardware & Tools; Homewares; Lawn & Garden-Outdoor Living; Paint & Accessories; Plumbing & Electrical; Storage & Organization; and Tailgate-Outdoor Recreation. These core product categories will be further featured in the Show's International Sourcing area.



"We are excited, not only by the depth of suppliers signed up for the 2011 National Hardware Show, but at the unveiling of new products across all categories," says Rich Russo, event director, National Hardware Show. "The industry can look forward to seeing some of the most creative solutions imaginable in all segments of the industry."

The show will devote four areas to new products, including the New Product Launch Spotlight, located right in the lobby of the Central Hall. New power tools from companies such as Skil and Ryobi, as well as new lawn and garden products, will be tested in the Handy Gardening How-To Product Test Shop.
 Richelieu acquires two Canadian firms
MONTREAL — Richelieu Hardware Ltd. has closed two more acquisitions, bringing to nine the number of businesses acquired since the beginning of 2010.

This time, both companies are Canadian. Madico Distribution Inc. is a Quebec City-based maker of floor protection products, under the Feltac and Slidex brands. This acquisition represents additional annual sales of about $5 million.

Richelieu has also closed the acquisition of 85% of the shares of Provincial Woodproducts Ltd. A Newfoundland distributor of hardware, finishing products, panels and hardwood floors based in St. John's, it has annual sales of $10 million. This acquisition reinforces Richelieu's presence in Newfoundland and gives the company coverage of the entire Canadian market.

Richelieu now has 36 distribution centres in Canada, 23 in the U.S., and two manufacturing plants in Canada.
Classifieds
REGIONAL ACCOUNTS MANAGER
Loxcreen Flooring Group, Canada's leading manufacturer of floor transition mouldings, is seeking a Regional Accounts Manager based in Southern Ontario to be responsible for sales to regionally based customers across Canada including distributors, co-ops and retail accounts.

Reporting to the Director of Sales & Marketing, responsibilities will include direct account management, working with commissioned agents, achieving sales targets, trade shows, travelling across Canada to meet with customers, contributing to the development of sales programs and providing a supporting role with mass merchant key account initiatives.

Key competencies include proven ability to generate new business and effectively maintain customer relationships, strong communication and presentation skills, good analytical skills, self discipline and detail oriented.

Qualifications must include minimum 5 years sales and account management experience in the home improvement industry and having worked with sales agents; previous experience in hardware/building materials/flooring categories; ability to travel; work independently; proficiency in Excel, Word and Powerpoint.

Respond by email to: hr.search@loxcreenflooring.com
Resumés
A conscientious, highly motivated manager with a results-oriented track record in developing new business.

view this

resumé

A goal oriented sales director that has superior management skills, customer oriented, with in depth knowledge of the industry and the ability to achieve results.

view this

resumé

National Field Sales Manager with twelve plus years in power tools and hardware sales/merchandising.

view this

resumé

Business Manager with U.S. & Canadian experience with retail & industrial customers seeks a new opportunity.

view this

resumé

An experienced merchandising executive possessing passion, vision, and a strategic approach to delivering bottom-line.

view this

resumé

Senior sales/marketing leader with experience in all classes of trade wishing new HARDLINES career. view this

resumé

Very Experienced Business Unit Manager, great passion for generating sales and building relastionships.view this

resumé

Worked through my career within the manfucaturer, wholesale and consumer goods industries. view this

resumé

Senior Sales Manager with vast experience in retail and wholesale sales growth in Canada. view this

resumé
Connect with us!