March 7, 2011, Volume xvii, #10
"I have enough money to last the rest of my life, unless I buy something." —Jackie Mason (American stand-up comic, 1936-)
Orgill show attracts record number of Canucks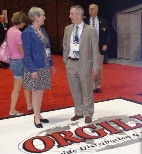 ORLANDO, Fla. — "I'll be placing orders." Kim Emmerson, a Castle dealer from Haliburton, Ont., echoed the sentiments of a lot of Canadians walking Orgill's Spring Dealer Market last week.

Unlike some Castle dealers present, such as Jack Crombie, from Hudson, Que., Emmerson hasn't ordered from Orgill before. "But I've gone online at home for a while now and I've compared baskets," he says. "And they are cheaper."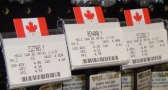 He also found the hardware wholesaler's show well-equipped to deal with the Canadians. Booths had tiny Canadian flags, provided by Orgill, attached to individual products in their displays, to identify clearly which items were available in Canada.

"Everyone we've met and talked to are on board and are well-versed in the Canadian alternative."

The company has to be. After years of testing the market here, Orgill finally made a significant commitment to Canada in December 2010 with an announced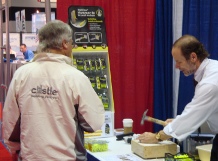 partnership with the Castle buying group. Castle, which represents about 245 stores across the country, has hired a team of "hardlines specialists" to call on its members and help them build their front-end business.

That partnership was announced just weeks after a major realignment of Canada's wholesale distribution business. Both of Castle's key hardlines suppliers were acquired by competitors — TruServ by RONA and CanWel Hardware by TIM-BR MARTS Ltd. Many dealers expect to continue buying from the likes of CanWel (now renamed Chalifour Canada under TIM-BR MARTS) — Emmerson is one of them — but others have had reactions that ranged from wariness to outrage.

About 150 of the 400 new prospects at this show were from Canada. While most of them were Castle dealers, members of other groups, including Octo, TORBSA and TIM-BR MARTS, were also there.
 Atlantic show generates sales despite weather, competing shows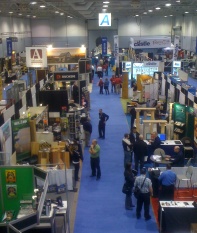 MONCTON, N.B. — The threat of a major snowstorm kept many dealers away, and then kept more stuck in town after they were snowed in. Nevertheless, this year's Atlantic Building Materials Show generated largely favourable response from vendors and dealers alike.

The show, held here February 24-25, also faced the absence of Castle dealers, many of whom were in Orlando, Fla., attending the Orgill Market there, and by ashortfall of TIM-BR MART dealers. Even though that group held its annual general meeting the day before the show and encouraged its members to attend, the combination of weather and a show of its own in Toronto planned for a month from now is believed to have affected attendance.

Dealers who were there had the benefit of a number of "extras" to make this year's show more appealing. For example, they had the added benefit of a "quiet time" the evening before day one of the show, where they could visit the booths without the presence of the vendors. This was in lieu of a meet-and-greet the night before the show, which was replaced by a combination reception and gala dinner at the end of the first day of the show. That event attracted well over 700 people.
back to top

Castle adds 10 new members
MISSISSAUGA, Ont. — Between taking his dealers down to Orlando, Fla., for the Orgill Market, and the buying group's annual general meeting in Palm Springs, Calif., last week, Ken Jenkins, president of Castle Building Centres Group Ltd., took time to announce 10 new members to Castle's expanding network of independent dealers.

New members were added to all of Castle's divisions – traditional, specialty and commercial (CBS). On the traditional side the following dealers have joined:  
Homestead Country Shop Ltd., Lipton, Sask.; Excess Building Depot Inc., Winkler, Man.; Down East Windows and Doors, Sussex, N.B.; Parrsboro Hardware Limited, Parrsboro, N.S.; Jade True Value Hardware, Tumbler Ridge, B.C.; and Happy Harry's Affordable Building Centre, Dartmouth and New Minas, N.S.

Castle's specialty division has added these dealers: Contractor's Corner, Brandon, Man.; Docks and Decks Unlimited Inc., Sudbury, Ont.; and Amherst Supply, Amherstburg, Ont.

Castle's commercial division, CBS, welcomes Prosperi Building Supplies to its ranks. PBS, specializing in gypsum, insulation and steel, serves the Greater Toronto Area.

With the addition of support on the hardware side through a partnership with U.S. wholesaler Orgill, Castle is gaining traction, not only with yards looking to expand their front end, but with dealers such as Parrsboro Hardware that are willing to enter the building supplies business.
back to top

 Major brands join National Hardware Show
NORWALK, Conn. — The 2011 National Hardware Show is attracting more big brand names to its roster of exhibitors this year, as the show – and the U.S. economy – regain strength following the recession there.

More top-of-the-line companies are exhibiting in each product category at NHS, being held again in Las Vegas, May 10-12. In addition to industry leaders such as 3M, Scotts Co., Robert Bosch Tool Corporation, Char-broil and Jarden Safety & Security, this year's event (which is nearly sold out) will feature more than 500 new suppliers in Hardware & Tools; Homewares; Lawn & Garden/Outdoor Living; Paint & Accessories; Plumbing & Electrical; Storage & Organization; and Tailgating, Camping & Picnic.

"We are excited at the depth of suppliers signed up for the 2011 National Hardware Show," says Rich Russo, event director, National Hardware Show. "We will see more of the industry's biggest brand names on the Show floor, including some that haven't been with us in a few years."

One section of the show that is really getting a boost from new companies is the Paint & Accessories segment. More than 250 companies, including Benjamin Moore, will be part of a lineup of paint and accessories companies participating in the Paint and Decorating Retailers Association's Paint Show right at NHS.

Also exhibiting in the paint area will be Shurtech Brands, Henkel, Mr. Longarm, Intertape Polymers, American Express Open, Gardner-Gibson, Red Devil, Super Glue, and Dynamic Paint.
Classifieds
Responsibilities
Develop relationships with current and prospective customers to expand the business

Promote products through telephone contact and occasional customer visits and presentations
Qualifications
College or University degree

3-5 years inside sales or similar experience is required

Self-motivated, assertive, driven, and reliable

Ability to work independently and in a team environment

Excellent verbal and written English communication skills (bilingualism considered a valuable quality)

Prior experience in the wholesale lumber industry considered a great asset. In addition, any education and/or experience in additional areas considered an asset (such as managerial, accounting, or human resources)
This is a great opportunity for an eager, reliable, and customer service oriented candidate!

Full-training will be provided to a dynamic person looking to develop and expand their sales career.

Please forward your resume to info@pastwayplaning.com

We thank all candidates for their interest however only those selected for an interview will be contacted.
Resumés
A conscientious, highly motivated manager with a results-oriented track record in developing new business.

view this

resumé

A goal oriented sales director that has superior management skills, customer oriented, with in depth knowledge of the industry and the ability to achieve results.

view this

resumé

National Field Sales Manager with twelve plus years in power tools and hardware sales/merchandising.

view this

resumé

Business Manager with U.S. & Canadian experience with retail & industrial customers seeks a new opportunity.

view this

resumé

An experienced merchandising executive possessing passion, vision, and a strategic approach to delivering bottom-line.

view this

resumé

Senior sales/marketing leader with experience in all classes of trade wishing new HARDLINES career. view this

resumé

Very Experienced Business Unit Manager, great passion for generating sales and building relastionships.view this

resumé

Worked through my career within the manfucaturer, wholesale and consumer goods industries. view this

resumé

Senior Sales Manager with vast experience in retail and wholesale sales growth in Canada. view this

resumé
 A new magazine for home improvement retailers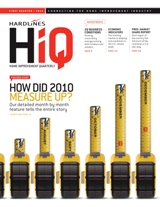 Hardlines Home Improvement Quarterly is the new print trade journal for decision makers in home improvement retail. Four times a year dealers, buyers and executives across Canada will receive the latest news, information and research to help you make the decisions that will build your sales and increase your profits. To ensure you receive your personal copy of HHIQ, click here. If you are an advertiser looking for an outstanding vehicle to deliver your message to the retail decision makers, email Beverly Allen, our illustrious Publisher: bev@hardlines.ca
Connect with us!