May 23, 2011, Volume xvii, #21
"Happiness is a way station between too little and too much."
—Channing Pollock ( American playwright, critic and writer, 1880-1946)
Lowe's and Home Depot post first-quarter returns 
MOORESVILLE, NC & ATLANTA — As housing starts continue to flag in the U.S., the nation's two leading home improvement retailers are feeling the effects. Both Home Depot and Lowe's released their first-quarter results last week. And while both companies' results exceeded expectations, bad weather took its toll as much in the U.S. as it has in Canada.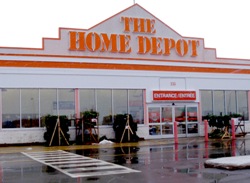 The Home Depot had first-quarter net earnings of $812 million, up from $725 million in the same period of fiscal 2010. While profits were up, sales slipped 0.2% to $16.8 billion. Same-store sales were -0.6%, with U.S. stores showing a 0.7% drop in same-store sales. Frank Blake, chairman and CEO of Home Depot, attributed the sales decline to "a slow spring selling season." However, the company expects sales to rise by approximately 2.5% for the full year.

For Lowe's Cos., both sales and profits fell in the first quarter, while same-store sales decreased 3.3%. Sales for the quarter were down 1.6% to $12.2 billion from $12.4 billion; net earnings decreased 5.7% from the same time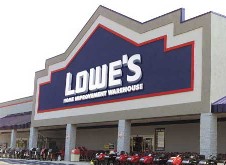 last year. During the quarter, the retailer opened four stores, including one re-location, and closed one store that was damaged by a tornado. At the end of the first quarter, Lowe's operated 1,751 stores in the U.S., Canada, and Mexico.

"We delivered earnings per share within our guidance for the quarter, despite lower than expected sales," said chairman and CEO Robert Niblock in a release. "During the quarter, we faced ongoing economic pressures, unfavourable weather conditions, and tough comparisons to last year's government stimulus programs."
Sexton Group beefs up dealer development team
WINNIPEG – The Sexton Group, the national LBM buying group based here, has made some significant changes to its management team in a clear effort t

o maintain its dealer ranks and promote its brand.

Dave Leonzio has joined the group as business development manager for the Prairies. In this role, Leonzio is responsible for working with Sexton members in Alberta, Saskatchewan, Manitoba, and Northwestern Ontario. He comes over from TruServ Canada, where he spent seven years as business development manager.

Phil Brown joins as business development manager for Eastern Canada. With senior leadership experience in the construction materials and hardlines industry, Brown was most recently responsible for the introduction of Prime Source, a U.S.-based construction fasteners supplier, to the Canadian market.

In addition to these newcomers, Norm Bougie, a veteran of the Sexton team, is relocating to Winnipeg and effective July 1 will take on the role of marketing manager. Bougie has several years' experience leading the group's expansion efforts in Eastern Canada.

The Sexton Group has added more than 50 new dealer locations in recent years, and added to its ranks of suppliers on both the hardlines and building materials side. It currently has 280 member locations coast to coast. 
New products and new contacts at combined National Hardware Show and NRHA Convention

LAS VEGAS — The 2011 National Hardware Show managed to draw a healthy attendance by retailers and buyers from North America and around the world, despite the still-faltering economy domestically.

The North American Retail Hardware Association closed the book on another successful convention today. This year's All-Industry Convention was filled with informative seminars, award ceremonies and, of course, networking.


The convention, held at Bellagio hotel in Las Vegas, marked the first year NRHA co-located its convention with NHS. This co-location gave retailers the chance to attend seminars in the morning at Bellagio and shop the National Hardware Show floor in the afternoon. "This year's convention was unlike any other convention we've held so far," said Bill Lee, president and CEO of NRHA. "By holding our convention concurrently with the National Hardware Show, this week of learning, networking and show floor shopping has given attendees the chance to maximize their time."

Other highlights of the event included the workshop series on social media and internet marketing. Retailers packed the Bellagio to listen in on how to better utilize these mediums to increase awareness of their brand and help drive traffic to their stores.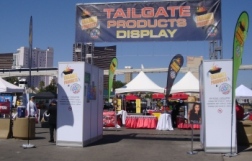 Each afternoon after the convention, attendees were shuttled to the National Hardware Show and the NRHA Village Stage. On the last day, they were able to take part in a day-long Independents' Day celebration that included awards, seminars and a cookout in the show's "Tailgate Party" area.
back to top

Home Hardware dealers win NRHA achievement awards
LAS VEGAS — Canadians garnered recognition at the All-Industry Convention of the North American Retail Hardware Association, held here last week. Two Home Hardware dealers have been named recipients of retail awards from the NRHA.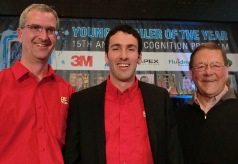 From left to right: Tim Dietrich, Home Hardware Stores Ltd; Conrad LeBlanc; and Bill Wilson, retail advisor, NRHA Canada.
Conrad LeBlanc of Tediche Home Hardware Building Centre in Cap-Pele, NB was recognized as a Young Retailer of the Year. Fresh out of school in 1998, he started working at his uncle's store. Eight years later, he bought the business outright.

Currently in its fifteenth year, the Young Retailer of the Year Program highlights the young, aspiring hardware retailers and honours them for
outstanding achievement as owners and managers of independently owned hardware and building supply stores in the United States and Canada.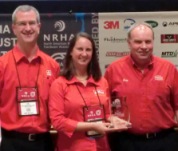 From left to right: Tim Dietrich, Home Hardware Stores Ltd; Allison Kilby; and Gary Thulin.
Gary, Glen and Dean Thulin and Allison Kilby, dealer-owners of Pioneer Home Hardware Building Centre in Campbell River, BC, were honoured with the Retail Innovator of the Year award by NRHA. Pioneer Home Hardware Building Centre has been described as a contractor's one-stop-shop. The 35,500-square-foot store has been designed and merchandised with contractors, renovators, builders, and developers in mind. It includes a contractor centre and has a 10,870-square-foot drive-in materials storage facility.
Classifieds
Position: Account Manager for
Saskatchewan, Manitoba & Northwestern Ontario
ProfitMaster Canada is an innovative, growing software company, marketing technology solutions for the hardware and building products industry. Our workplace values and rewards integrity, respect, open communication, initiative and continuous learning. We are currently seeking a professional self-motivated individual to join our Sales Team.

Reporting to the Sales Manager, the position would be based out of the Winnipeg office located in the University of Manitoba's Smartpark,

Special consideration will be given to those with three to five years of sales experience in the Lumber and Building Supply or Software industries.

A strong knowledge of Computers and Software would be an asset.
The Sherwin Williams Wood Care Group Canada has an exciting role to drive business results supporting our Western Canadian business. This position will be responsible for supporting two of the premier Home Improvement brands Minwax and Thompson's Waterseal.
Position: Account Executive
Location: Western Canada
This position will be responsible for selling and supporting store level opportunities. The primary focus will be on targeting line extensions, expanded Plan-O-Grams, Introduction of New Products,  securing incremental opportunities and overall store level support for specified geographical region. This position will both support Regional and Independent businesses, as well as supporting our National Account(s) at store level.
RESPONSIBILITIES:
Minimum 3 yrs Sales and or Sales Related experience
Experience and proven ability to conduct outside sales calls
Must have proven Sales Track record
Must have Merchandising experience
Must demonstrate strong communication skills
Must demonstrate problem solving skills
QUALIFICATIONS:
Bachelor's Degree preferred
Must be able to travel 95% of time/Overnight travel 50-60%
Must be willing to work some weekends (Trade and Consumer Shows)
Must possess Valid Drivers License
E-mail: laura.a.weaver@sherwin.com   
No agencies, please.
We appreciate your response; however, only candidates under consideration will be contacted.
Lee Valley Tools has created an envied brand built on solid merchandising of quality goods in four distinct lines of business that have made their reputation: Woodworking, Gardening, Hardware and Gift.  This private, multi-channel marketer is now seeking to add a valuable member to their management team:
DIRECTOR, PUBLICATIONS
Reporting to the V.P. Merchandising, the Director, Publications will connect the strategic and business goals of Product Development and Retail Marketing into the design, photography, editing and execution of the company's renowned catalogue in North America. Stewardship of the development and direction of designers, photographers and  merchandising make-up of each catalogue page to the graphic presentation standards of the company are the fundamental responsibility of this position.
As a candidate, you will have a compelling track record of success as a hands-on manager of creative and technical process and at least 8-10 years of relevant experience managing and mentoring talented teams. Guiding the publication activities, advancing and directing the production of over 25 catalogues a year,you bring a background in a related function, possibly in retail, packaged goods merchandising or advertising. Creative capabilities, visual competencies, good knowledge of the print industry and solid information technology savvy will go a long way in a seamless entry to this fascinating role.
Interested candidate should apply in confidence to Maureen Sinden Executive Search, Suite 200, 440 Laurier Avenue W., Ottawa, ON K1R 7X6 sinden@intranet.ca
We thank all respondents, however, only those candidates selected for an interview will be contacted.
Resumés
A conscientious, highly motivated manager with a results-oriented track record in developing new business.

view this

resumé

A goal oriented sales director that has superior management skills, customer oriented, with in depth knowledge of the industry and the ability to achieve results.

view this

resumé

An experienced merchandising executive possessing passion, vision, and a strategic approach to delivering bottom-line.

view this

resumé

Senior sales/marketing leader with experience in all classes of trade wishing new HARDLINES career. view this

resumé

Very Experienced Business Unit Manager, great passion for generating sales and building relastionships.view this

resumé

Worked through my career within the manfucaturer, wholesale and consumer goods industries. view this

resumé

Senior Sales Manager with vast experience in retail and wholesale sales growth in Canada. view this

resumé
Connect with us!