November 1, 2010, Volume xvi, #42
"Take time to deliberate; but when the time
for action arrives, stop thinking and go in."
—Andrew Jackson (7th president of the United States, 1767-1845)
Industry gathers for 15th HARDLINES Conference
 TORONTO — More than 150 industry representatives from as far away as Tennessee, Georgia, Belgium, Germany and the U.K. gathered at the Toronto Airport Sheraton Hotel last week for the one of the biggest Hardlines Conferences in its 15-year history.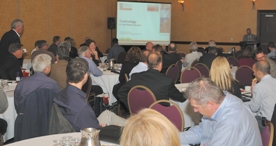 The event drew a record audience of managers, owners and executives from home improvement retailing and manufacturing, all seeking insights into how to "Make the Most of the Recovery," the theme of this year's event. Speakers included Michael Storfer, vp of Commercial and Professional Market at RONA and President of Noble, the company he sold to RONA; Derek Holt, vice-president economics at Scotia Capital; and Craig Hutchison, sr. vice-president of marketing for Loblaw Cos.

Besides a powerful presentation program, delegates also benefited from great networking opportunities, as leading executives from Canada's top retail chains exchanged thoughts – and business cards.

Delegates came from as far away as Tennessee, Belgium, Germany and the U.K. to participate in two days of industry sessions and workshops.

"I definitely made contacts that will turn into business for me," said Chad Murray of Quest Plastics, and a longtime attendee at the Hardlines Conference.

(We'll have more on what we learned at the HARDLINES Conference in upcoming issues. —Michael)
 Competition Bureau approves RONA acquisition of TruServ
BOUCHERVILLE, Que. — Ottawa's Competition Bureau has approved RONA's acquisition of all of the issued and outstanding shares of TruServ Canada, says Robert Dutton, RONA's president and CEO.

The ruling in favour of the transaction came down on Oct. 28, a month after RONA and TruServ had announced their agreement – and just two days after TruServ Canada's shareholders had voted 99.7% in favour of the deal.
Formal closing of the deal may now be able to proceed as quickly as this coming week. "There are further documents to sign and there's a small process but it will be in the coming days," Dutton says.
Consummation of the deal will mean the addition of 650 of TruServ's dealer customers to RONA's network, along with TruServ's distribution centres in Winnipeg and Kitchener, Ont. Approximately 250 TruServ dealers fly TruServ-managed banners (True Value, V&S or Pet Junction, Country Depot and FS) and the other 400 are independents, many of which belong to LBM buying groups.
Of the 144 True Value stores in the mix, only 16 are located in close proximity to competing RONA stores, Dutton says. Officials from both companies have said that the True Value banner will be maintained, with its unique product mix, helping to provide differentiated offerings and separate shopping experiences.
The Competition Bureau will now turn its attentions to the proposed purchase of CanWel Hardware by TIM-BR MARTS Ltd. That deal was announced Oct. 4, just one business day after the RONA-TruServ agreement.
Acquisition is part of Moffatt & Powell's succession strategy
     LONDON, Ont. — The handing over of control of one of Southwestern Ontario's leading retail home improvement chains marks an important step in succession planning for Moffatt & Powell – one that ties in with further expansion plans.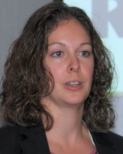 David Powell is transferring the business to his daughter Nancy Powell Quinn, who, with her husband D'Arcy Quinn, has assumed the helm. Although complications can arise when there are two families involved, Powell notes, he will buy out his partner, Keith Moffatt, by year's end. The Quinns will buy the company from him over time, Powell explains.
Part of the succession strategy has been Moffatt & Powell's recent affiliation with RONA. And that new affiliation, Moffatt & Powell last week acquired RONA's Exeter, Ont., store, which formerly operated as a RONA Cashway.
The addition of the Exeter store, which is located some 60 km north of London, Ont., brings Moffatt & Powell's store count to six. The Exeter location is the former flagship of the Hensall District Co-op building supply group, which had seven locations operating under the Do-it Center banner in the 1990s. The Hensall group was sold to Cashway just before RONA acquired it in 2000.
The Exeter transaction has the effect of transferring another RONA-run company store into the hands of local owner-operators, a strategy that RONA has been increasingly deploying since it unveiled what it dubs its "New World" expansion strategy earlier this year.
"We look to RONA to be able to leverage their resources," says Nancy Powell Quinn. "Their brand is very important for developing our business going forward. Combined with our own focus on local markets, we will continue to grow in those markets."
Timber producers get hopeful news
TORONTO — "I'm cautiously optimistic about the U.S. They are a fine neighbour, and we will be selling them wood again."
Rick Doman shared this outlook with members of the North American Wholesale Lumber Association at their regional meeting here recently. He said manufacturing jobs are expected to return south of the border. For now, prices are so depressed there that only mills in the interior of British Columbia can keep producing at those levels.
"But that may change over the next several weeks, when prices should move back up." Doman anticipates prices rising by $50 or $75 per 1,000 by year end.
But until demand picks up in the States, he expects about 15-20% of Canadian lumber production to be exported to markets like the U.K. "We will have to become less reliant on the U.S., he noted.
back to top

Home Depot offers support to small manufacturers
TORONTO — To assist new vendors – especially smaller manufacturers – to get their products to market, Home Depot Canada and the Ontario Ministry of Economic Development and Trade have partnered to launch "Innovation for Sustainability." The program is designed to give qualified small companies with innovative, environmentally-preferred products the opportunity to build the resources needed to work with a large Canadian retailer. 

Until Nov. 19, any small or medium-sized Ontario manufacturer can submit information about its innovative home improvement product or technology at www.homedepot.ca/innovationforsustainability. After reviewing entries, the merchandising team at Home Depot Canada will invite prospects with potential to the first of four "Meet the Buyer" events on Dec. 13 in London, Ont. Products that pass muster will be stocked in three London-area Home Depot stores and assessed for expanded distribution.
Home Depot is looking for the following types of products: indoor/outdoor building materials, lawn and garden, shelving, storage and organization, plumbing, paint, electrical, power equipment, hardware, outdoor furniture, lawn mowers, kitchen and bath, appliances, window treatments, flooring, sheds, décor, heating and cooling, safety and security, lighting, fans, cleaning and janitorial products.
"This project not only supports our business goal of bringing innovative home improvement products and technologies to market, but offers important insights on existing gaps, opportunities and how business and government can best support manufacturers looking to move beyond research and development to retail success," said Gino DiGioacchino, vice-president of merchandising at Home Depot Canada. 
Classifieds

Business Development Manager – Quebec

Stanley is looking to aggressively re-enter the door industry. To ensure this goal is achieved, Dusco, the licensee for Stanley Black & Decker Inc, is looking for a Business Development Manager for the Province of Quebec. The successful incumbent will possess:
At least 5 years sales experience in the window and door or related industry
A reputation and track record of success in selling quality products to window and door manufacturers and distribution clients in Quebec
An understanding of the significant potential of Stanley Doors and be attracted by the challenge of the sales potential
The ability to maintain a close connection to the sales opportunities and manage them from inception through completion
The ability to take personal responsibility and ownership over the sales process
If interested, please forward your resume to the attention of Eric Hubar Meunier at the following e-mail address: ehmeunier@stanleydoor.ca
Sales Administrator

This is a highly visible position providing administrative support to our sales operation. We are looking for a knowledgeable candidate who is able to manage and prioritize multiple tasks. Applicants require excellent communication skills, both written and verbal. Extraordinary organizational skills are mandatory. Applicants must be dependable, exhibit common sense, strong initiative and drive in order to coordinate office activities. The successful candidate will exhibit a "can do" attitude and follow through until tasks are completed. This position requires strong computer skills: Word, Excel, PowerPoint and Outlook.
Please forward resume with salary expectations to:
BLANCO Canada Inc.
Fax: 416-251-0217
E-Mail: HumanResources@BlancoCanada.com
www.BlancoCanada.com

Hitachi Power Tools is seeking a
National Accounts Coordinator based in Mississauga.

The successful candidate will possess:
Experience working directly with key customers in a dynamic and professional manner

a detail-oriented self-starter, able to manage own time effectively and meet deadlines

able to demonstrate effective planning and organizing skills and the ability to prioritize work and multiple projects

excellent communication (written & verbal), relationship building and presentation skills

extremely proficient in Microsoft Word, Excel and PowerPoint
Please visit our website at www.hitachipowertools.ca/en/CompProfile/Careers for more details. If interested please forward your resume and cover letter to melissaf@hitachi-powertools.com
We thank all applicants, however only those selected for an interview will be contacted.

Hitachi Power Tools is seeking an
Account Executive in British Columbia.

The successful candidate will possess:
at least 3 years experience in a territory sales role

strong organizational skills with ability to plan and manage a territory

strong communication and presentation skills

ability to work both independently and as part of a team, be a self-starter

knowledge of trades (ie. Construction, electrical, woodworking, etc.) an asset

ability to lift product weighing max 65lbs

a clean driving record and a valid driver's license
Please visit our website at www.hitachipowertools.ca/en/CompProfile/Careers for more details. If interested please forward your resume and cover letter to melissaf@hitachi-powertools.com
We thank all applicants, however only those selected for an interview will be contacted.
Resumés
A conscientious, highly motivated manager with a results-oriented track record in developing new business.

view this

resumé

A goal oriented sales director that has superior management skills, customer oriented, with in depth knowledge of the industry and the ability to achieve results.

view this

resumé

National Field Sales Manager with twelve plus years in power tools and hardware sales/merchandising.

view this

resumé

Business Manager with U.S. & Canadian experience with retail & industrial customers seeks a new opportunity.

view this

resumé

An experienced merchandising executive possessing passion, vision, and a strategic approach to delivering bottom-line.

view this

resumé

Senior sales/marketing leader with experience in all classes of trade wishing new HARDLINES career. view this

resumé

Very Experienced Business Unit Manager, great passion for generating sales and building relastionships.view this

resumé

Worked through my career within the manfucaturer, wholesale and consumer goods industries. view this

resumé

Senior Sales Manager with vast experience in retail and wholesale sales growth in Canada. view this

resumé
Connect with us!