November 15, 2010, Volume xvi, #44
"War will never end until babies begin to come into the world with larger cerebrums and smaller adrenal glands." —H.L. Mencken (American journalist and essayist, 1880-1956)
RONA's results slip in third quarter
BOUCHERVILLE, Que. — Canada's largest home improvement retailer saw sales and profits drop in the third quarter, reflecting a sag in the overall home improvement industry that set in by mid-year. RONA has also re-shuffled its buying team, reducing its category managers by one and re-distributing some duties. (See "People on the Move".) Consolidated sales in the third quarter were $1.314 billion, down 0.5%. The decrease was the result of a 0.2% decrease in corporate and franchised stores sales and a 1.7% decrease in distribution sales. (Consolidated sales refer to sales through its distribution network, plus retail sales by corporately owned stores.)

The decline in same-store sales reflects mainly the continued decline in consumer confidence over the quarter, lower housing activity compared to last year, unfavourable weather, particularly in Western Canada, and the bump in sales generated last year by the Home Renovation Tax Credit. This was reflected in decreased store traffic and lower weekend and installed sales. However, the average size of the basket was up slightly. Same-store sales dropped 2.25%. There was good news, however. Year to date, RONA's sales were actually up 3.6% from the nine-month period last year. Also, during the third quarter, sales growth relating to acquisitions, new stores and the Commercial and Professional Market division helped to offset this downward pressure. New dealer recruitment has added about $90 million in annual sales.

back to top

 BMR show offers new products, new logo
 QUEBEC CITY — At the BMR show held here last week, about 180 dealers, along with family and staff members, encountered new products, a new store look – and even a new logo.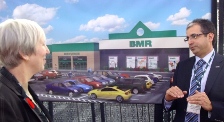 Most distinctive was the launch of a new identity – and refined brand – for the LBM buying group. Formerly known variously as BMR the Group, Le Groupe BMR and the Group BMR, the company has honed the name simply to "BMR." And while it struck a nerve for some longtime dealers, the clarity of the message, for a company that is actively marketing in both English and French, soon became evident, says Bruno Baldessari, marketing director for the group (shown here with our own Beverly Allen).

The name was accompanied by a revised logo, one that features a graduated series of indents on the left side of the "B", creating an image reminiscent of a tree, the heart and soul of a building supply dealer's sales. That focus on timber translates into a new prototype look for its stores, as well. A new store in St-Jean-sur-Richelieu will feature unfinished wood beams as the exposed skeleton of the store's interior. It is expected to open sometime in spring 2011. BMR has a new domain name to accompany the new name: www.bmr.co. The new logo was actually borne out of a redesign of BMR's own private-label paint line. "It needed a clear logo to suit the clean label design. The look has now been flowed through to all our products," says Baldessari. Those products include new proprietary brands for BMR, under the Evolution and Torkk names.

back to top

 Canadian Tire posts gains in third quarter
TORONTO — Canadian Tire has reported a 21.0% increase in its third-quarter consolidated net earnings. Adjusted net earnings were up 31.0% from the prior year. For the Canadian Tire Retail division, consolidated retail sales increased by 2.6% to $2.5 billion. Total retail sales for CTR increased 2.0% and same-store sales were up 1.4%.

Key categories such as backyard, cleaning, exercise and outdoor recreation saw year-over-year sales increases and automotive saw positive sales growth, although heavy auto maintenance parts, auto fluids and tires were slower. Canadian Tire continues to drive growth with the expansion of its new-store concept. The company has completed 43 real estate projects to date in 2010 and expects to open three new Smart stores and three new Small Market stores this year. In addition, it will complete 59 Smart store retrofits before year's end.

 

back to top

NRHA Convention to be held in Las Vegas
      INDIANAPOLIS , Ind. — The North American Retail Hardware Association has announced that the Bellagio hotel will play host to the 2011 All-Industry Convention, which will be held in conjunction with the National Hardware Show, May 10-12, 2011 in Las Vegas.

"We are excited to announce the Bellagio as our host hotel for our upcoming convention," said Bill Lee, president and CEO of the NRHA. "Retailers attending the convention will have the opportunity to come together in a beautiful and intimate setting and learn how to grow their business through top-notch business seminars and from each other." Like previous NRHA conventions, the 2011 NRHA All-Industry Convention will offer retailers both education and retailer-to-retailer networking sessions at the Bellagio, in combination with new products and show floor opportunities at the National Hardware Show. The show will be held concurrently at the Las Vegas Convention Center. NHS will provide transportation to the show, where convention attendees can walk the show floor and attend additional educational seminars at the NRHA Village and All-Industry Summit. The NRHA's 15th Annual Young Retailer of the Year Awards will become the opening-night gala event for both the NRHA All-Industry Convention and the National Hardware Show. It will take place at the Las Vegas Convention Center. Canadians have been well-represented in the Awards over the years. One of last year's winners was Patrick Guilbert, a Home Hardware dealer from Neepawa, Man. (For more information and to register for the Convention, click here.)

back to top

Canadian tool box maker celebrates 50 years
DRUMMONDVILLE, Que. — November 2010 marks the 50th anniversary for SPG International. The company was formed in 1960, when Guy Guerrette

made and sold his first toolbox here. During his first year in business, he would take his toolboxes across Canada in his truck, often showing potential customers his products in their company parking lot. (His very first sale came at the end of a long week on the road – and that first customer is still with SPG today.)

Today, SPG's product line includes more than 300 tool storage and job site products for the DIY, contractor, automotive and industrial professional. The majority of SPG's products are still made in Drummondville, in a one-million-sq.ft. facility. "We have a wealth of experience in our workers. We have also invested in new manufacturing equipment and techniques. The combination of these assets allows us to develop new products quickly and efficiently," says Eric Lemieux, president of SPG International Tool Boxes.

back to top

Classifieds
The successful candidate will possess:
at least 3 years experience in a territory sales role
strong organizational skills with ability to plan and manage a territory
strong communication and presentation skills
ability to work both independently and as part of a team, be a self-starter
knowledge of trades (ie. Construction, electrical, woodworking, etc.) an asset
ability to lift product weighing max 65lbs
a clean driving record and a valid driver's license
Please visit our website at www.hitachipowertools.ca/en/CompProfile/Careers for more details. If interested please forward your resume and cover letter to melissaf@hitachi-powertools.com
We thank all applicants, however only those selected for an interview will be contacted.
National Accounts Manager
WD-40 Company (Canada) Ltd. is seeking a National Accounts Manager based in Toronto to service National Accounts. The successful candidate will possess 5-10 years experience in the Consumer Packaged Goods or Hard Goods industry. Must have experience calling on major retailers in mass and hardware. Automotive and industrial channel experience an asset. Strong organizational, communication and presentation skills . Strategic account planning, development and implementation. Ability to work both independently and as part of a team, be a self-starter . Highly proficient with Microsoft Office applications.
Candidate will be eligible for salary, bonus, company car, profit sharing and other company benefits.
Respond by fax or e-mail only by November 12, 2010. WD-40 Company (Canada) Ltd. Fax: 416 622-8096 Email: gencan@wd40.com
We thank all applicants, however, only those selected for an interview will be contacted.
Resumés
A conscientious, highly motivated manager with a results-oriented track record in developing new business.

view this

resumé

A goal oriented sales director that has superior management skills, customer oriented, with in depth knowledge of the industry and the ability to achieve results.

view this

resumé

National Field Sales Manager with twelve plus years in power tools and hardware sales/merchandising.

view this

resumé

Business Manager with U.S. & Canadian experience with retail & industrial customers seeks a new opportunity.

view this

resumé

An experienced merchandising executive possessing passion, vision, and a strategic approach to delivering bottom-line.

view this

resumé

Senior sales/marketing leader with experience in all classes of trade wishing new HARDLINES career. view this

resumé

Very Experienced Business Unit Manager, great passion for generating sales and building relastionships.view this

resumé

Worked through my career within the manfucaturer, wholesale and consumer goods industries. view this

resumé

Senior Sales Manager with vast experience in retail and wholesale sales growth in Canada. view this

resumé
Connect with us!