November 22, 2010, Volume xvi, #45
"There is only one success – to be able to spend your life in your own way." —Christopher Morley (American writer, 1890-1957)
Third-quarter sales inch up for Home Depot
ATLANTA — Sales for The Home Depot for the third quarter totaled $16.6 billion, a 1.4% increase from the third quarter of fiscal 2009. Same-store sales were up 1.4% as well, the dealer's fourth consecutive quarter of same-store growth, with same-store sales for U.S. stores up 1.5%.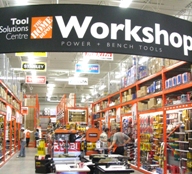 Through nine months, Home Depot's earnings jumped 18.6% to $2.75 billion, and its sales rose by 2.4% to $52.9 billion. The company raised its guidance for fourth-quarter and fiscal-year earnings per share. It expects sales to be up approximately 2.2% for the year.

At a time when Home Depot isn't expanding much in North America – it will open seven stores in fiscal 2010, and "maybe 10" in 2011, says CFO Carol Tome – its financial successes hinge on improving the productivity of its existing stores. "Productivity and efficiency are the keys to our growth in the future," Tome says.
back to top

 Lowe's profit jumps in third-quarter
MOORESVILLE, N.C. — Lowe's revenue for the third quarter ended Oct. 29 increased 1.8%, to $11.59 billion, and its same-store sales grew by only 0.2%. On the positive side, Lowe's profit for the quarter jumped more than 17%, to $404 million.

Through nine months, the company's net income increased by 9.3% to $1.73 billion on sales that rose by 0.9% to $38.34 billion. Same-store sales through nine months were up 1.4%.

However, Lowe's same-store sales in Canada in the third quarter fell by 8%, primarily due to the implementation of Harmonized Sales Tax in Ontario, which went into effect in July.
back to top

 Trends, insight and information at HARDLINES Conference
TORONTO — Where the industry and the economy are headed, and how different retail companies are coping with the changes ahead, were just some of the topics at the 15th annual HARDLINES Conference, held here recently.

Under the theme, "Making the most of the recovery," retailers and suppliers from across the country gathered to gain executive-level insights. Derek Holt, vice-president economics for Scotia Capital, started the two-day summit off with a mixed message about the economy. "It's not great. But it's not bad either."



One of the biggest fallouts from the recession was the decline in new product development and testing. The result has been a wave of product recalls in recent months. Part of the problem, said Sue Dempsey of OnSpeX, the testing and standards organization, is that, "whether you are a manufacturer or a retailer doing your own direct importing, everyone has moved themselves into a manufacturing mode that they can no longer see."

Companies must protect their brand by carefully testing all products that come out of those factories in the Far East. "The cost of a recall is huge and the cost of testing is minimal."

Jon Eakes, veteran contractor, woodworker and TV and radio personality, offered some valuable insights into the changing needs of the all-important contractor customer. "During a slow time, they'll stretch out their jobs and spend more time nit-picking on the quality and price of the sticks in your store. Everything becomes a commodity," he said. But when things pick up again, their most valuable commodity becomes their time. The ability to get them in and out of your store quickly becomes very important.



"Shopping today is all about the customer experience," said Patrick Du Paul, vice-president and general manager of OGC, a retail systems supplier for home improvement dealers. He outlined how that experience can be improved with focused technology. In many cases, dealers already have much of the technology they need in their company databases and should avoid costly upgrades. "Instead, go back to basics – use the assets and information you already have."

The 15th Annual HARDLINES Conference gathered more than 165 retail executives and managers from across Canada, the U.S. and Europe for two days of information sessions and networking. (Photos: Tizzard Marketing)

back to top

Gagnon says BMR is an option for some independents
      QUEBEC CITY — The recent closings both of CanWel's sale of its Hardware Division to TIM-BR MARTS Ltd. and RONA's takeover of TruServ Canada have left the country's remaining hardware distributors evaluating their options.

For Yves Gagnon, CEO of BMR, the shakeup came as no surprise. "It was time for a change – simple," he says.

Noting that his buying group is unique for having its own hardware distribution system already, he adds, "The wild card is us. We all knew that CanWel's days were over."

As for RONA's takeover of TruServ Canada, "That's a good move. But it doesn't leave a lot of options for independents in Canada." Then, perhaps alluding to a rumoured deal forming between Castle Building Centres and U.S. distributor Orgill, he adds, "I'm not sure a wholesaler from outside Canada can do it. I'm not saying they can't do it; it's just going to be tough."

"BMR is the last group," says Gagnon. "It's a very good fit for some people – not all – but some."

"I think we could be an alternative for some dealers – but not beyond the BMR brand," he continues. "We don't believe in that. Our whole model is based on a whole basket. If people cherry pick, that throws off the whole basket."

With hardware and LBM distribution of its own, BMR attempted five years ago to go beyond its own dealer base by supplying to TIM-BR MART Ontario. That deal was made just as the Ontario organization joined up with Calgary-based TIM-BR MARTS Ltd. The result was an eroded commitment to BMR as a primary supplier, leaving Ontario dealers to cherry pick the best deals from BMR rather than purchasing full assortments. The arrangement ended soon after that, leaving a bad taste in Gagnon's mouth.

Now Gagnon makes sure BMR's distribution focus remains firmly on his own dealers as an integrated solution for his retail organization. "My answer is always the same: we don't want to be a wholesaler."
back to top

RONA launches online eco-responsible guide
BOUCHERVILLE, Que. — RONA inc. has introduced an online eco-guide to help consumers choose products based on how sustainable or eco-friendly they are.

The Eco-Responsible Renovation Guide is divided in two sections: products (construction materials, paint, etc.) and projects (kitchen, bathroom, etc.). Each product has a fact sheet that details its features across the five stages of its life cycle: resource acquisition, manufacturing, packaging and transportation, use, and end of life. This is measured against five environmental issues recognized by the international scientific community: climate change, availability and quality of water, human health, quality of eco-systems, and depletion of resources.

The guide was developed in collaboration with the International Chair in Lifecycle Assessment at École Polytechnique de Montreal. (Click here to see a quick video on the new program.)
back to top

Classifieds
Leading Toronto–based housewares manufacturer/distributor with multi brands is seeking a Director of Sales to lead, develop, and direct sales activities to achieve profitable revenue growth. Attractive compensation package including salary, performance bonus, and benefits. Reporting directly to President.
MAJOR RESPONSIBILITIES
Develop and maintain strong partner relationships at national account level with major retail accounts
Capitalize on these relationships to ensure retail execution of company strategies and category management processes
Provide leadership, training and guidance to the Sales and Customer Service teams
Identify market trend/commercial opportunities in collaboration with marketing to ensure successful new product launches and best-in-class retail execution of marketing promotions and programs.
KEY COMPETENCIES
Leadership skills - motivator
Team builder
Results orientation - instilling a sense of urgency in the team.
Strategic thinker
Proven negotiation skills
Relationship building - strong communication and listening skills
Organizational and planning ability
KEY QUALIFICATIONS
University business degree
8 - 10 years of both sales/marketing management experience in housewares or related industries and/or fast moving consumer goods (FMCG) industries.
Bilingual (French/English) a definite asset
Experienced in Category Management.
Proven track record with demonstrable accomplishments.
Excellent analytical abilities
Proficient in Microsoft Office Applications including: Excel, Word and Power Point program
Please submit résumé via email to:
Black Eagle Executive Search
c/o Richard Simms at rsimms@blackeagle.ca

Hitachi Power Tools is seeking an
Account Executive for Western Ontario
The successful candidate will possess:
at least 3 years experience in a territory sales role
strong organizational skills with ability to plan and manage a territory
strong communication and presentation skills
ability to work both independently and as part of a team, be a self-starter
knowledge of trades (ie. Construction, electrical, woodworking, etc.) an asset
ability to lift product weighing max 65lbs
a clean driving record and a valid driver's license
Please visit our website at www.hitachipowertools.ca/en/CompProfile/Careers for more details. If interested please forward your resume and cover letter to melissaf@hitachi-powertools.com
We thank all applicants, however only those selected for an interview will be contacted.
Resumés
A conscientious, highly motivated manager with a results-oriented track record in developing new business.

view this

resumé

A goal oriented sales director that has superior management skills, customer oriented, with in depth knowledge of the industry and the ability to achieve results.

view this

resumé

National Field Sales Manager with twelve plus years in power tools and hardware sales/merchandising.

view this

resumé

Business Manager with U.S. & Canadian experience with retail & industrial customers seeks a new opportunity.

view this

resumé

An experienced merchandising executive possessing passion, vision, and a strategic approach to delivering bottom-line.

view this

resumé

Senior sales/marketing leader with experience in all classes of trade wishing new HARDLINES career. view this

resumé

Very Experienced Business Unit Manager, great passion for generating sales and building relastionships.view this

resumé

Worked through my career within the manfucaturer, wholesale and consumer goods industries. view this

resumé

Senior Sales Manager with vast experience in retail and wholesale sales growth in Canada. view this

resumé
Connect with us!