November 29, 2010, Volume xvi, #46
"Energy and patience in business
are two indispensable elements of success."
—P.T. Barnum (American showman and circus impresario, 1810-1891)
 
Atlantic dealers weathering downturn best
MONCTON, N.B. & HALIFAX — Dealers and suppliers from across Atlantic Canada gathered last week for two information seminars hosted by the
Atlantic Building Supply Dealers Association. They heard from HARDLINES' own editor, Michael McLarney, who also toured a number of stores in the region). He offered some sober insights into the current state of building supply dealers in Canada – and specifically in Atlantic Canada.

The bad news – that dealers here have not been alone in the face of a slowdown that hit the industry country-wide back in July – was tempered by the fact that Atlantic dealers collectively fared better than in other parts of the country during last year's recession. While the industry shrank by almost 3% in 2009, Atlantic dealers saw their sales drop by only 1.6%. That compares to the Western provinces, whose sales fell collectively by 7.3% last year.

Participants, who included members of Castle, TIM-BR MART and Home Hardware, as well as suppliers such as Eddy Group and Marwood, also got a snapshot of how the banners are represented province-by-province. For example, Castle represents almost 10% of the market in New Brunswick, while TIM-BR MARTS holds a similar share of the market in Newfoundland and Labrador. In Nova Scotia, Kent holds about 10% of the market, while Home Hardware has 27% and Central Home Improvement has 8%.

The presentation ended with the dealers being urged to focus on increasingly tough competition, to stay on top of retail technology, and to maintain their internal operations at maximum efficiency. "You can strengthen your position with your customers, your community and your future, by focusing on consolidation, succession and training," said McLarney.
back to top

 BMR launches proprietary, upscale brands
QUEBEC CITY — The recent BMR dealer show held here was the launching point for two new proprietary brands for the LBM buying group. Both lines are designed as more upscale alternatives to BMR's existing BMR brand, and positions price-wise below BMR's national brand products.

The first is "Evolution," which is being branded on a line of faucets made by Taymor. "It's an extension of BMR," says Bruno Baldessari, marketing director for the group. "It's a plus for the stores that want to expand a section."


The other brand is "Torkk," a premium power tool line. It will be positioned between BMR's own "Easytool" brand and national brands. "Both brands will be available in March 2011," says Baldessari. He adds that these brands will be expanded to other lines over time.

BMR's packaging also got a makeover, one that reflects the company's expanding lines of eco-friendly products. "We already have all kinds of eco products from all kinds of suppliers. But we didn't want to 'greenwash' in any way. So we decided to establish a brand with packaging that is 100% recyclable, unbleached cardboard, printed with vegetable inks.

"So you've got the eco-friendly product – and the package."

All of this new product goes against a backdrop of a new store look that features natural timber beams as structural elements, and a redesigned BMR Inspirations department for décor accessories, with greater use of steel and brick to modernize the look.

The first store to feature the look will open in St-Jean-sur-Richelieu by spring 2011. It features pre-cast insulated panels for quick erection of the structure, around the wooden frame. In-store signage will feature simple generic product shots against plain white background.
back to top

 RONA gets behind controlled brands at latest show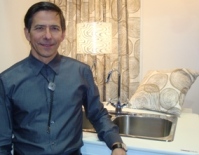 CALGARY — The latest RONA show was held here recently for the first time in the company's 71-year history. And while the show, which drew 850 dealers and managers from across the country, relies on the support of its vendors to realize the event, Normand Dumont was keen to talk about the company's growing house brands.

Walking the 145,000-sq.ft. show floor, housed within the Calgary Stampede, Dumont, executive vice-president, merchandising for RONA, explains that its 11 proprietary labels, which include Uberhaus PRO, Uberhaus Design, Haussmann, RONA, and Facto, currently account for 22% of the company's product mix. He expects that to grow to 30% by the end of 2011.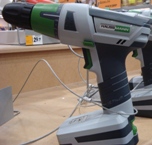 RONA now has 6,000 SKUs under its private and controlled lines, and 1,059 of them were added this year — 968 of them controlled brands and the rest of them RONA brand, mainly paint. The initiative is being driven from RONA's Asian sourcing office. Called simply "RONA Shanghai," the overseas office, headed up by Manon Bouchard, has a sourcing team of about 20.

More than 3,000 containers representing $175 million in turnover have been brought in since the office was established about 18 months ago.

That commitment even found vendors facing a team of Asian product people who walked the floor photographing vendors' products, much to the dismay of the vendors themselves.

RONA's controlled brands were developed as a way of offering more upscale products to consumers while carving out better margins for its stores. In the case of power and benchtop tools, RONA has partnered with Mecanair, which has 180 repair shops nationwide, to provide after-sale service. Mecanair will expand its available services this year to include air conditioners, faucets, showers and toilets. 

back to top

German fair will bring Far East to Europe
      COLOGNE, Germany — Buyers from Europe and North America will gather here next spring to meet face-to-face with sourcing partners from the Far East at Asia-Pacific Sourcing. The fourth edition of the event, which is held biannually, will run from March 9-11, 2011.

Already, more than 500 suppliers have confirmed their participation at the fair, reflecting optimism and a desire to do business despite the economic slowdown that is currently burdening so much of Western Europe. "The good registration level is also an indication of the Asian economy's recovery from the crisis, which was still seriously affecting the markets just two years ago," says Oliver P. Kuhrt, executive vice-president of Koelnmesse, the organization which owns and manages Asia-Pacific Sourcing.

Products featured will include tools, locks and fittings, building materials, hardware, fastenings, garden furniture, garden tools, barbecues, camping articles, sporting goods and toys.

Day two of the fair will feature a "Buying Day" matchmaking program, organized by the Presidents Council in collaboration with Koelnmesse. Buyers, mainly from North America, will have a chance to meet Asian suppliers. U.S. big-box retailer Menards is among the retailers that have confirmed their participation so far.

Register free online beginning Dec. 1 at www.asia-pacificsourcing.com.
back to top

Classifieds
Leading Toronto–based housewares manufacturer/distributor with multi brands is seeking a Director of Sales to lead, develop, and direct sales activities to achieve profitable revenue growth. Attractive compensation package including salary, performance bonus, and benefits. Reporting directly to President.
MAJOR RESPONSIBILITIES
Develop and maintain strong partner relationships at national account level with major retail accounts
Capitalize on these relationships to ensure retail execution of company strategies and category management processes
Provide leadership, training and guidance to the Sales and Customer Service teams
Identify market trend/commercial opportunities in collaboration with marketing to ensure successful new product launches and best-in-class retail execution of marketing promotions and programs.
KEY COMPETENCIES
Leadership skills - motivator
Team builder
Results orientation - instilling a sense of urgency in the team.
Strategic thinker
Proven negotiation skills
Relationship building - strong communication and listening skills
Organizational and planning ability
KEY QUALIFICATIONS
University business degree
8 - 10 years of both sales/marketing management experience in housewares or related industries and/or fast moving consumer goods (FMCG) industries.
Bilingual (French/English) a definite asset
Experienced in Category Management.
Proven track record with demonstrable accomplishments.
Excellent analytical abilities
Proficient in Microsoft Office Applications including: Excel, Word and Power Point program
Please submit résumé via email to:
Black Eagle Executive Search
c/o Richard Simms at rsimms@blackeagle.ca
Resumés
A conscientious, highly motivated manager with a results-oriented track record in developing new business.

view this

resumé

A goal oriented sales director that has superior management skills, customer oriented, with in depth knowledge of the industry and the ability to achieve results.

view this

resumé

National Field Sales Manager with twelve plus years in power tools and hardware sales/merchandising.

view this

resumé

Business Manager with U.S. & Canadian experience with retail & industrial customers seeks a new opportunity.

view this

resumé

An experienced merchandising executive possessing passion, vision, and a strategic approach to delivering bottom-line.

view this

resumé

Senior sales/marketing leader with experience in all classes of trade wishing new HARDLINES career. view this

resumé

Very Experienced Business Unit Manager, great passion for generating sales and building relastionships.view this

resumé

Worked through my career within the manfucaturer, wholesale and consumer goods industries. view this

resumé

Senior Sales Manager with vast experience in retail and wholesale sales growth in Canada. view this

resumé
Connect with us!