November 8, 2010, Volume xvi, #43
"When in charge, meditate. When in doubt, mumble.
When in difficulty, delegate." —Anonymous
RONA vp outlines ICI growth plans
TORONTO — RONA's commercial business is in full expansion mode and it's about to be ramped up even further. Delegates at the 15th annual HARDLINES Conference learned the details of that expansion first-hand last week from keynote speaker Michael Storfer, president of Noble and vice-president of RONA's company's commercial professional market.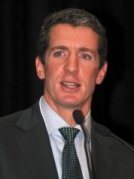 Just three weeks before the Conference, Storfer's fast-growing business unit snapped up Don Park Ltd., an Ontario HVAC distributor and manufacturer. RONA's commercial division will stay mainly in plumbing and HVAC, Storfer said, "because of the synergies" between the two categories. When asked by an audience member why RONA hadn't yet got seriously in the electrical side of the commercial business, Storfer said that he viewed the commercial electrical business as one with "higher technologies but lower margins."

"So [an electrical wholesaler] is part of our future, but not part of our near future," Storfer said. "Unless, that is, you have a really great one that you want to sell – cheap," he added, drawing laughter from the audience.

Following the Don Park acquisition and the purchase, On Nov. 1, of a distributor in British Columbia, Storfer's division now comprises a $650-million operation with 62 branches and stores, four distribution centres and three manufacturing plants in Quebec, Ontario and British Columbia. It will be further supported by the construction of two new distribution centres and 17 new outlets in Quebec, the news of which was announced at the conference.

Noble will also open high-end plumbing fixtures showroom aimed at the commercial market, in downtown Toronto, by early next year. (Photo: Tizzard Marketing)
 La Coop introduces new-look Unimat store
TROIS-RIVIÈRES, Que. — A strategy to convert its coop stores to the Unimat banner is taking on a new dimension for La Coop fédérée.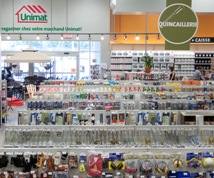 "When we took the decision to change all the Coop stores to Unimat, the vision was that agricultural customers were declining and needed hardware and building materials rather than simply a farm store," says René Labrecque, general manager, Harware and Agricultural Implements of La Coop fédérée. The strategy also positions La Coop for a more urban customer, which is becoming more important for the company.


"We're putting more emphasis on hardware and less on agriculture – even though it remains strong, especially categories like horses and pets."

As a result, La Coop has developed a new look for its stores, which is being rolled out even as the final conversions to Unimat are being completed. Labrecque says those conversions should be done by March 2011. He adds that 35 stores will remain La Coop outlets – at least for now.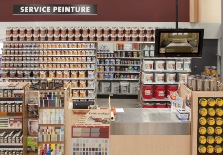 This strategic plan also places emphasis on décor and accessories, as well, and includes the company's private label Inov and Fédécor brand paints, which are supplied by Laurentide Paints.

The new-look Unimat program is being supported by extensive promotion, with TV and a new look for the sales flyers. "So far, the feedback has been great," Labrecque adds.
 RONA Closes acquisition of TruServ Canada
BOUCHERVILLE, Que. — On Nov. 3, RONA closed the deal to buy TruServ Canada Inc., the dealer-owned distributor headquartered in Winnipeg. TruServ Canada is a fully owned subsidiary of RONA effective Oct. 3, 2010.
TruServ Canada operates two distribution centres, a 400,000-sq.ft. DC in Winnipeg and a 250,000-sq.ft. facility in Kitchener, Ont. Together, they supply 40,000 SKUs and generate distribution sales of over $100 million.
TruServ serves more than 650 independent dealers across Canada, consisting of 250 stores under the True Value, V&S, Country Depot and other specialized banners, and 400 non-bannered stores.
What's unique about this RONA acquisition is that RONA intends to, at least for now, to maintain the True Value banner as alternative to independent dealers who don't want to become affiliated with RONA or in markets that already have RONA stores. TruServ Canada will also continue serving dealers without banners.

back to top

Independent dealers continue to weigh sourcing options
      SPECIAL REPORT — Two deals to consolidate the country's hardlines distribution have put Canada's Competition Bureau into overdrive. The first deal, RONA's bid to purchase TruServ Canada, received approval by the Bureau on Oct. 28 and closed last week..

The Competition Bureau is now turning its attention to the TIM-BR MART deal, which had to wait its turn.

Meanwhile, independents across the country are shopping around to weigh their options while TIM-BR MART awaits the Bureau's decision. For example, Castle members were sighted at the Federated Coop show last month, and Castle and Sexton dealers were walking the CanWel show, held in Montreal Oct. 23-24. In addition, groups like TORBSA and Castle are entertaining overtures by U.S. wholesaler Orgill.

The latest round of consolidation presents a definite opportunity for Orgill. "As a result of the growing encouragement and support of many independent hardware retailers, we are continuing to develop our product and retail services offering specifically for our Canadian customers," says Jerry Cardwell, vice-president corporate development for Orgill.

TruServ, under new ownership by RONA, hopes to continue to ship to Castle and Sexton dealers, even though they are competitors to RONA's stores. The wild card remains Quebec-based Groupe BMR, which continues to knock on doors in both Atlantic Canada and Ontario, with an LBM offering and the group's growing hardware assortments from a dedicated hardware distribution centre.
Lowe's supports Skills Canada with grant
OTTAWA– Skills Canada, a national not-for-profit organization that promotes careers in skilled trades, marked the launch of Skilled Trades and Technology Week last week with a major funding contribution from Lowe's Canada.

The contribution amounts to $1.25 million over five years to help Skills Canada promote skilled trades and technology professions to youth. It supports high school based projects currently in place in Alberta and Ontario, and will expand to other provinces as Lowe's establishes retail locations in those communities.

"Through our investment, we will work with Skills Canada to help prepare the next-generation work force with the world-class skills needed to become the contractors and industry leaders of tomorrow," says Alan Huggins, president of Lowe's Canada.

Huggins notes that his parent company already has a similar involvement south of the border. "We're doing this in the U.S., but up here it makes further sense because it ties in with looking forward to the shortage of workers in Canada in the future. This will help create a pipeline to ensure that there's a good supply of workers and trades who can build and renovate houses for people."

According to the Conference Board of Canada, a shortage of more than one million skilled workers is forecasted by 2020, with an estimated 40% of all new jobs in the skilled trades and technology industries.
Classifieds
National Accounts Manager
WD-40 Company (Canada) Ltd. is seeking a National Accounts Manager based in Toronto to service National Accounts. The successful candidate will possess 5-10 years experience in the Consumer Packaged Goods or Hard Goods industry. Must have experience calling on major retailers in mass and hardware. Automotive and industrial channel experience an asset. Strong organizational, communication and presentation skills . Strategic account planning, development and implementation. Ability to work both independently and as part of a team, be a self-starter . Highly proficient with Microsoft Office applications.
Candidate will be eligible for salary, bonus, company car, profit sharing and other company benefits.
Respond by fax or e-mail only by November 12, 2010.
WD-40 Company (Canada) Ltd.
Fax: 416 622-8096
Email: gencan@wd40.com

We thank all applicants, however, only those selected for an interview will be contacted.

Business Development Manager – Quebec

Stanley is looking to aggressively re-enter the door industry. To ensure this goal is achieved, Dusco, the licensee for Stanley Black & Decker Inc, is looking for a Business Development Manager for the Province of Quebec. The successful incumbent will possess:
At least 5 years sales experience in the window and door or related industry
A reputation and track record of success in selling quality products to window and door manufacturers and distribution clients in Quebec
An understanding of the significant potential of Stanley Doors and be attracted by the challenge of the sales potential
The ability to maintain a close connection to the sales opportunities and manage them from inception through completion
The ability to take personal responsibility and ownership over the sales process
If interested, please forward your resume to the attention of Eric Hubar Meunier at the following e-mail address: ehmeunier@stanleydoor.ca
Sales Administrator

This is a highly visible position providing administrative support to our sales operation. We are looking for a knowledgeable candidate who is able to manage and prioritize multiple tasks. Applicants require excellent communication skills, both written and verbal. Extraordinary organizational skills are mandatory. Applicants must be dependable, exhibit common sense, strong initiative and drive in order to coordinate office activities. The successful candidate will exhibit a "can do" attitude and follow through until tasks are completed. This position requires strong computer skills: Word, Excel, PowerPoint and Outlook.
Please forward resume with salary expectations to:
BLANCO Canada Inc.
Fax: 416-251-0217
E-Mail: HumanResources@BlancoCanada.com
www.BlancoCanada.com

Hitachi Power Tools is seeking a
National Accounts Coordinator based in Mississauga.

The successful candidate will possess:
Experience working directly with key customers in a dynamic and professional manner

a detail-oriented self-starter, able to manage own time effectively and meet deadlines

able to demonstrate effective planning and organizing skills and the ability to prioritize work and multiple projects

excellent communication (written & verbal), relationship building and presentation skills

extremely proficient in Microsoft Word, Excel and PowerPoint
Please visit our website at www.hitachipowertools.ca/en/CompProfile/Careers for more details. If interested please forward your resume and cover letter to melissaf@hitachi-powertools.com
We thank all applicants, however only those selected for an interview will be contacted.

Hitachi Power Tools is seeking an
Account Executive in British Columbia.

The successful candidate will possess:
at least 3 years experience in a territory sales role

strong organizational skills with ability to plan and manage a territory

strong communication and presentation skills

ability to work both independently and as part of a team, be a self-starter

knowledge of trades (ie. Construction, electrical, woodworking, etc.) an asset

ability to lift product weighing max 65lbs

a clean driving record and a valid driver's license
Please visit our website at www.hitachipowertools.ca/en/CompProfile/Careers for more details. If interested please forward your resume and cover letter to melissaf@hitachi-powertools.com
We thank all applicants, however only those selected for an interview will be contacted.
Resumés
A conscientious, highly motivated manager with a results-oriented track record in developing new business.

view this

resumé

A goal oriented sales director that has superior management skills, customer oriented, with in depth knowledge of the industry and the ability to achieve results.

view this

resumé

National Field Sales Manager with twelve plus years in power tools and hardware sales/merchandising.

view this

resumé

Business Manager with U.S. & Canadian experience with retail & industrial customers seeks a new opportunity.

view this

resumé

An experienced merchandising executive possessing passion, vision, and a strategic approach to delivering bottom-line.

view this

resumé

Senior sales/marketing leader with experience in all classes of trade wishing new HARDLINES career. view this

resumé

Very Experienced Business Unit Manager, great passion for generating sales and building relastionships.view this

resumé

Worked through my career within the manfucaturer, wholesale and consumer goods industries. view this

resumé

Senior Sales Manager with vast experience in retail and wholesale sales growth in Canada. view this

resumé
Connect with us!