October 10, 2011, Volume xvii, #38
"Under democracy one party always devotes its chief energies to trying to prove that the other party is unfit to rule – and both commonly succeed, and are right. —H.L. Mencken, (American journalist and satirist, 1880-1956)
______________________________________________________________________
"We'll compete, and we'll win" says TruServ president
WINNIPEG — Bill Morrison does not mince his words. In an exclusive interview with HARDLINES at the latest TruServ dealer market here, the president of TruServ Canada says his company will offer dealers the best fill rates and the lowest prices of any wholesaler supplying Canadian dealers.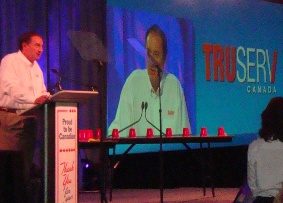 It's a kind of aggressive stance TruServ has not been known for in the past. In fact, until RONA acquired the hardware distributor and retail services company one year ago, TruServ was struggling to keep up with that very competition it now challenges so boldly.

Morrison says he recognizes that other supply opportunities exist, such as the one with Orgill for Castle dealers and TIM-BR MARTS' ownership of Chalifour (formerly CanWel Hardware), but he is undaunted. "We will compete fiercely – on fill rates and on pricing. We will offer better products at better service."

He can back up that promise, he says, thanks to an infusion of cash and resources from RONA. For dealers, it means a brand new banner, TRU, which will replace True Value and Country Depot. In the warehouse, facilities such as new racking have been upgraded, technologies improved, and even tractors on the road replaced. "We've even replaced all the propane lift trucks with electric," Morrison quips.

The company is also broadening assortments, introducing RONA house brands, and lowering prices – and increasing margins – on more than 1,000 items for dealers in attendance at the market. "We think the vendors need to offer 'new', so 25% of the products at this show are new." Morrison points to innovations in lawn and garden and other seasonal products, as well "twice as many green or eco-friendly products. We're asking the vendors to come to the table and come up with new items."

Later, in a conference room filled with 700 dealers and their families, Morrison lays out what's new at TruServ, culminating in its new retail brand. "Like the return of the Winnipeg Jets, TRU is a reality."
back to top

______________________________________________________________________
TruServ dealers upbeat at latest market
WINNIPEG — Dealers at last week's TruServ Dealer Market reflected a mood more positive than in recent years. A new banner, new programs, and an improved cash-flow position since being taken over one year ago by RONA have injected new life into TruServ.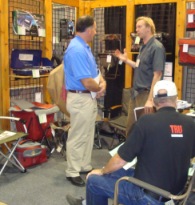 For vendors, that translated into some increased attendance, especially as independent RONA dealers were invited for the first time, even if the tentative economy did not translate into the volume of orders many had hoped for.

Backed by the deep pockets and marketing power of its parent, the Western wholesaler and retail organization continued to roll out its new TRU banner. TRU Hardware got introduced at the company's spring market; this time TRU Building Centre and TRU Country and Garden were featured. These banners will replace the True Value name (which had been licensed from the True Value Company in the U.S.) and its own Country Depot format.

TruServ dealers had new products to choose from, including RONA's proprietary brands, Hausmann, Uberhaus, and Facto, while independent RONA dealers said they were impressed by a wider range of items. One dealer, in from Saskatchewan, observed that the TruServ assortment of mops and brooms was many times bigger than RONA's, and would fit in her building centre.

Chris Rawluk, a third-generation dealer in Gypsumville, MB, about three hours north of Winnipeg, said his store sells everything from boots to bananas. He thinks RONA's takeover of TruServ makes sense. "It's good to have a big brother."
_______________________________________________________________________
Amazon launches Canadian home improvement site

SEATTLE — Amazon.ca has launched a "Tools & Building Supplies Store" that features more than 60,000 tools and home improvement products, including 500 power tools, plus power sprayers and paint tools, window insulation kits, and bath and cabinet hardware. And the site is offering free delivery across Canada on some orders over $25.

"With the launch of the Tools & Building Supplies Store, customers across Canada can find everything they need for any home improvement project," said John Nemeth, director of Amazon.ca. The site also features editorial reviews and customer reviews and ratings.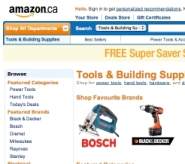 The online retailer has its own warehouse here, and according to a company spokesperson, "Amazon.ca currently offers over 60,000 tool and home-improvement related items. Many items ship directly from Amazon.ca's Canadian fulfilment centre to customers all across Canada."

He also confirms that Amazon.ca is working with a variety of third-party sellers that deliver products to customers. For example, an order for a Black & Decker tool takes the online shopper to a third party, which dictates shipping methods and costs.

"When customers choose products that are sold direct from Amazon.ca's fulfillment centre, the shipping is free when your order is $25 or more."
_______________________________________________________________________
Groups position for growth following flat period
NATIONAL REPORT — Even though market conditions have been improving since summer, retail groups say they must constantly be on the prowl for ways to increase their businesses.

For example, at Castle Building Centres Group, president and CEO Ken Jenkins says he is looking to bolster the group's Commercial Building Supply division. Yves Gagnon, president and CEO of the wholesaler and buying group, BMR (which opened its fourth distribution centre east of Quebec City in the spring), says his company is well-equipped to supply its dealer-members – whose stores are mostly contractor-oriented lumberyards and building centres – with their hardware supply needs.

TruServ's Bill Morrison sees TruServ's growth coming from the addition and expansion of product categories such as housewares, storage, and seasonal. (Full story in the latest edition of our new print magazine, HARDLINES Home Improvement Quarterly).
back to top

Classifieds

Hardlines Specialist Representative

BRITISH COLUMBIA
Castle Building Centres Group is an industry leader among Buying Groups in the Lumber and Building Materials segment in Canada. Due to the rapid growth of our hardlines solution, we are seeking a candidate in the B.C. region.

You are a highly motivated individual with strong relationship and communication skills that can manage and develop our future hardlines growth. This position requires an individual who is knowledgeable of standard concepts, practices and procedures within the hardlines industry, willing to travel extensively and accustomed to working remote from head office. Qualifications include a minimum two years experience in the wholesale or retail hardware / lumber and building materials industry.

Reporting to the Regional Business Development Manager, you welcome the opportunity to work with a dynamic group of independent LBM dealers while planning and executing our hardlines solution. Providing continual and proactive communication to our members while understanding their needs is fundamental to your success. Sound computer and presentation skills; combined with good administrative qualities are imperative.

Castle Building Centres Group offers a comprehensive compensation package including full benefits.

All submissions will be treated with complete confidentiality. Please forward your resume in confidence to:

Yvonne Patton
Castle Building Centres Group Ltd .
100 Milverton Drive, Suite 400
Mississauga, Ontario
L5R 4H1
E-mail: ypatton@castle.ca

General Manager
Master Halco, one of the nation's largest wholesale distributors of fencing products, seeks an experienced Distribution Center Manager in our Montreal, Quebec location to grow our business and ensure profitability.

We are seeking candidates with a proven track record of success in managing. You must be a self-starter with a 'hands-on' approach, results oriented, a problem solver who can handle multiple tasks under deadlines and motivate employees to perform at their peak. Your goal will be to implement a business strategy that ensures profitability through sales growth, effective cost control and operational excellence. You will have complete P&L responsibility and accountability in all areas of operation.

Successful candidates will have at least 5 years experience in management, excellent interpersonal skills and general computer use. Knowledge of the building materials industry is a major plus.

If your work history matches the above profile, and you wish to join an aggressive organization with excellent career opportunities, competitive salary and benefits, we want to meet you.

Please send resumes to CPomeroy@masterhalco.com
Resumés
A conscientious, highly motivated manager with a results-oriented track record in developing new business.

view this

resumé

A goal oriented sales director that has superior management skills, customer oriented, with in depth knowledge of the industry and the ability to achieve results.

view this

resumé

An experienced merchandising executive possessing passion, vision, and a strategic approach to delivering bottom-line.

view this

resumé

Senior sales/marketing leader with experience in all classes of trade wishing new HARDLINES career. view this

resumé

Very Experienced Business Unit Manager, great passion for generating sales and building relastionships.view this

resumé

Worked through my career within the manfucaturer, wholesale and consumer goods industries. view this

resumé

Senior Sales Manager with vast experience in retail and wholesale sales growth in Canada. view this

resumé
Connect with us!