October 3, 2011, Volume xvii, #37
"I hear and I forget. I see and I remember. I do and I understand."
—Confucius (Chinese teacher and philosopherAmn, 551-479)
______________________________________________________________________
Canadian Tire adds installation services
TORONTO — Canadian Tire has begun rolling out a range of installed services in its stores. Beginning Sept. 30, customers can use Canadian Tire Home Services for the installation of a select list of items, starting with garage door openers, and in some stores, hot water tank installation. By Oct. 15, the company expects to be able to offer installation of central vacuums, as well. Following a test launch in six cities, installation by Canadian Tire Home Services will be available across the country.

"Canadians already turn to Canadian Tire for the products and services they need for everyday life," says Duncan Reith, senior vice president, merchandising at Canadian Tire. "Customers want a one-stop shop where they can purchase the products they need and have the installation done with ease by a company they already know and trust."

Following an in-store purchase of a garage door opener, customers can call a toll-free number to arrange for installation. According to Canadian Tire, the work is done by authorized contractors.

Also starting Sept. 30, the installation of home heating and cooling systems will be available.
back to top

______________________________________________________________________
Home Hardware presents refinements to services at Fall Market
ST. JACOBS, ON — Home Hardware wasn't boasting about a lot of new products or initiatives at its latest market, held here recently. The focus instead, says Bill Ferguson, director of dealer support for the 1,084-member co-op, was on refining elements of the company's existing operations.

These included an aggressive roll-out of a new dealer intranet site, called "Connect," which replaces an existing portal called HomeXtra. Besides being a platform for education and training, one of the features of the new site is an enhanced social media component, which will enable dealers to talk with each other, sharing ideas, concerns, and best practices.

But, Ferguson notes, "aside from social media, we're not seeing a whole lot of new things here. We're not really trying to expand the breadth of services so much as make those services we already have better. We're regrouping and doing more things better."

Another example, he says, is the company's learning management system, which he calls "one of the best. But," he adds, "we have to go back and examine how we can make this more efficient for our dealers. Home is also improving its supply chain, "so we can get product to our dealers faster and cheaper."

And while dealers' priority at any market is new products, they appeared responsive to the enhancements Home Hardware had to offer. Attendance at the pre-market seminars and ongoing information sessions throughout the three-day event were well attended.
_______________________________________________________________________
RONA sponsors Vancouver Canucks

VANCOUVER — RONA inc. has forged a three-year partnership with Canucks Sports & Entertainment. The announcement was made last week at a special event held at the RONA store at 2727 East 12th Ave. in Vancouver.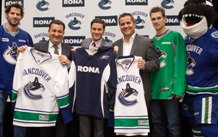 With this deal, the RONA brand will be a permanent fixture during Vancouver Canucks home games and will appear in locations visible to TV cameras, with one logo on the ice and a second on the boards near the home team's net. The RONA name will also be on the players' practice jerseys.

The announcement also marks the beginning of a major partnership between RONA and Canucks Sports & Entertainment. They are joining forces to renovate youth facilities in local communities on an annual basis. The RONA Fabrication Shop, in collaboration with CS&E, will volunteer funds, time, and labour for community initiatives.

"What we want above all is to encourage typically Canadian values such as teamwork, social responsibility, and perseverance in young people," said Karim Salabi, RONA's vice-president, marketing – image and sponsorships.
_______________________________________________________________________
HARDLINES' Beverly Allen conducts tour for German delegation
TORONTO — Canada's stable economy, and its world-class retailers, are drawing the attention of home improvement executives worldwide. Toronto was the first stop on a study tour of Canada by a group of German retailers. Michael Sylvester, vice president of hagebau/ZEUS, brought with him 11 shareholders.

His group represents small and medium-sized independents with more than 1,000 locations across Germany, trading in building materials, lumber and hardware. hagebau is also the largest member of the buying group A.R.E.N.A., of which RONA is the North American member.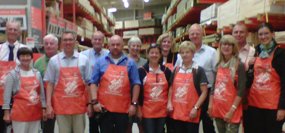 Led by HARDLINES' own publisher, Beverly Allen, the group visited Canadian Tire, Home Depot, and Lowe's stores in Toronto, before heading off to Ottawa and Montreal.

Sylvester says he picked up some interesting ideas for his own stores. Home Depot's customer care is commendable," he notes, "especially the practice of accompanying every customer to the product. This should be adopted by us."

Some things, he says, that are part of Canadian retail culture may not transfer to Europe so well, but he admires them nonetheless. "Thankfully, we could participate in the morning cheer at Home Depot together with the store manager. That was, for us as Germans, a quite emotional experience, even though a transfer of such a practice to Germany seems for me to be difficult, due to the fact of the different mentality." It is, he adds, an excellent employee motivation.

He also offers some tips for Canadians, especially when it comes to their garden centres. "Additional garden assortments can extend the garden season considerably. Stock-out in the plant section will be reduced by improved methods."
back to top

_______________________________________________________________________
Target confirms locations of former Zellers sites
STELLARTON, NS — Following the deal announced late last year that puts the majority of Zellers locations in the hands of Target, that company has confirmed another round of locations. Target will, in turn, lease another 39 sites to Wal-Mart Canada.

The Target locations include 1180 Prospect St. E. Fredericton, NB (Uptown Centre); and Prince St., Sydney, NS (Sydney Shopping Centre. The lease at 470 Topsail Road, St. John's, ( Zellers Plaza) is planned as a Walmart store and the lease for 142 South Albion St. Zellers leases, in New Glasgow and New Minas, NS and Summerside, PE, will continue to operate as Zellers stores.

Here's a list of the other Walmart Canada sites: Prince Rupert, BC; Northgate Centre, Westmount Shopping Centre, South Park Centre, Abbottsfield Shoppers Mall, and Meadowlark in Edmonton; Deer Valley in Calgary; Gerrard Square, Sheridan Mall, and Cedarbrae Mall in Toronto; Stanley Park in Kitchener, ON; Peterborough South in Peterborough, ON; Zellers Centre in Waterloo, ON; Hawkesbury Gateway in Hawkesbury, ON; County Fair in Thunder Bay, ON; Gloucester City Centre in Ottawa; County Fair Plaza in Hamilton, ON; Fairview Mall in St. Catharines, ON; Arthur Street Marketplace in Thunder Bay, ON; Northland Mall in London, ON; Georgetown Market Place in Georgetown, ON; Tillsonburg Town Centre in Tillsonburg, ON; Station Mall in Sault Ste. Marie, ON; Kingsway Village in Oshawa, ON; 404 Town Centre in Newmarket, ON; and Carriage Shopping Centre in Listowel, ON.

In Quebec, stores will be located in Centre Domaine, Carrefour de la Pointe, and Plaza Côte des Neiges in Montreal; Place Desormeaux in Longueuil; Les Promenades de Sorel in Sorel; Les Galeries de la Pocatière in Pocatière; Les Galeries Quatres Saisons in Sherbrooke; and Le Faubourg de L'Île in Pincourt.

Atlantic locations will be in Lancaster Mall in Saint John; Zellers Plaza in St. John's; Colby Village Plaza in Dartmouth, NS; North Sydney, NS; and Zellers Plaza in Greenwood, NS.
_______________________________________________________________________
Sico offers new colour palette
LONGUEUIL, QC — Sico's colour forecasters predict that a growing trend of self-expression will make its way into home decor as Canadians increasingly choose to surround themselves with colours that reflect their personal style.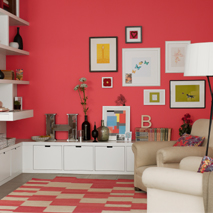 "The 2012-2013 paint colour palette is full of take-charge optimism," says Mylène Gévry, marketing communications manager for Sico. "From full-bodied hues with strong character to hushed pastels, the coming year's palette represents people's growing need for and interest in expressing concepts, viewpoints and approaches." (Whew – by far our best sound bite so far this year! —Editor)

Gévry says we just have too much information coming at us. As a result, people seek time out from their busy lives for quiet meditation. "When it comes to home décor, colour influences for 2012-2013 are all about making selections that remind us of our more intimate activities and interests, and the important role we play in the bigger picture." (Still lovin' it —Editor)

What does that mean if you're in the paint business? Watch for a paint palette dominated by reds, greens, and neutrals – from charming corals, garden greens, and dark soil browns to nude pinks, pastel blues, and subtle mauves, Gévry explains.
Classifieds

General Manager
Master Halco, one of the nation's largest wholesale distributors of fencing products, seeks an experienced Distribution Center Manager in our Montreal, Quebec location to grow our business and ensure profitability.

We are seeking candidates with a proven track record of success in managing. You must be a self-starter with a 'hands-on' approach, results oriented, a problem solver who can handle multiple tasks under deadlines and motivate employees to perform at their peak. Your goal will be to implement a business strategy that ensures profitability through sales growth, effective cost control and operational excellence. You will have complete P&L responsibility and accountability in all areas of operation.

Successful candidates will have at least 5 years experience in management, excellent interpersonal skills and general computer use. Knowledge of the building materials industry is a major plus.

If your work history matches the above profile, and you wish to join an aggressive organization with excellent career opportunities, competitive salary and benefits, we want to meet you.

Please send resumes to CPomeroy@masterhalco.com
Resumés
A conscientious, highly motivated manager with a results-oriented track record in developing new business.

view this

resumé

A goal oriented sales director that has superior management skills, customer oriented, with in depth knowledge of the industry and the ability to achieve results.

view this

resumé

An experienced merchandising executive possessing passion, vision, and a strategic approach to delivering bottom-line.

view this

resumé

Senior sales/marketing leader with experience in all classes of trade wishing new HARDLINES career. view this

resumé

Very Experienced Business Unit Manager, great passion for generating sales and building relastionships.view this

resumé

Worked through my career within the manfucaturer, wholesale and consumer goods industries. view this

resumé

Senior Sales Manager with vast experience in retail and wholesale sales growth in Canada. view this

resumé
Connect with us!