October 4 , 2010, Volume xvi, #38
"I believe in the discipline of silence and could talk for hours about it." —George Bernard Shaw (Irish playwright, (1856–1950)

RONA to Acquire TruServ Canada
  BOUCHERVILLE, Que. & WINNIPEG — RONA will buy  up TruServ Canada Inc., the Winnipeg-based dealer-owned distributor. Under the terms of the  deal, Canada's largest home improvement retailer will acquire TruServ share s,  adding two warehousing and distribution centres to RONA's supply chain.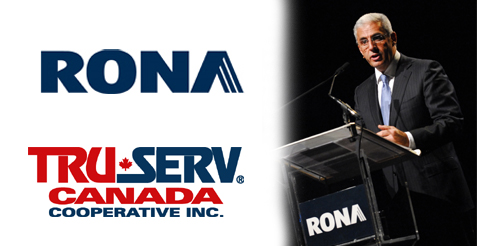 TruServ has 650 member dealers across Canada, though most of them are based in the West. They include 250 stores under the True Value, V&S, Country Depot and other specialized banners, plus 400 non-bannered stores.

With total retail sales of $600 million, TruServ generates distribution sales of more than $100 million. The company will continue to operate on its own, under the leadership of TruServ CEO Bill Morrison. And its home improvement members will continue as True Value dealers.

Some of those dealers will certainly have the option of joining RONA, says Robert Dutton, president and CEO of RONA inc. But this acquisition was less about getting more dealers, he says, than about strengthening RONA's distribution business. TruServ's distribution network consist of a 400,000-sq.ft. full-line DC in Winnipeg and a 250,000-sq.ft. facility in Kitchener, Ont., that supplies mainly Ontario dealers.

"I really saw during the recession how a lot of our business is cyclical, relying on housing starts. To be less cyclical, we have to strengthen two parts of our business — distribution and commercial."
Recruitment increases at Home Hardware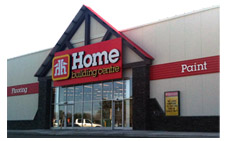 ST. JACOBS, Ont. — With nearly two dozen new dealers added to its ranks already this year, Home Hardware Stores Ltd. is having a banner year for, well, its banner.

Speaking at the recent Home Hardware dealer market here, Dunc Wilson, who heads up Home's dealer development team, says Home has signed 23 new members since the beginning of 2010, with another 11 currently in the works.

His team was busy at the market, as well. Wilson says 18 "prospects" were in attendance, and there are a number of prospects who didn't want to come for fear that the news of their presence would get back to their own group's head offices.

Wilson is confident that at least 11 prospects in attendance will turn into new members. Before the end of the year, he expects to sign up another six dealers, for a total of 38 this year – "at least as many as we signed in 2009."

With so much flux in the industry, especially in the aftermath of the downturn in 2008-2009, the buying groups and retail banners are all vying for new members. What's the appeal of the red jackets at Home Hardware? "It's easy to sell when you've got a good program," says Wilson.
Richelieu grows with latest acquisition
    MONTREAL — Richelieu Hardware Ltd. has closed yet another acquisition, this time to buy the assets of E. Kinast Distributors Inc., a Chicago-area distributor of hardware, laminates, finishing and related products.

This acquisition, Richelieu's fifth this year, establishes the cabinet and builders' hardware company's presence in the Greater Chicago Area, while adding 22 distribution centres to its U.S. network, as well as $10 million in annual sales. It follows the purchase in July of Gordon Industrial Materials, a Canadian distributor, and New Jersey-based New Century Distributors in August.

According to Richelieu's president and CEO, Richard Lord, the range of acquisitions – some seven companies over the past two years – all relate to the company's core strength in specialty hardware. Complementary products, such as are made by EKD, are still targeted to a customer base of kitchen cabinet makers and the residential and commercial woodworking industry. Fully 80% of Richelieu's sales are to this market, says Lord, with 75,000 SKUs available.

Richelieu is also growing its retail business in the U.S., with listings in Menards and, on a limited test basis, in some Lowe's stores. However, our priority is to sell to Canadian retailers," he notes, adding that the company has 5,600 retail customers in Canada alone, including smaller independents and large big boxes.

Richelieu's acquisitions tend to be smaller companies, but together they now comprise the largest company of its type in North America, claims Lord. He expects at least two more deals to close before year's end, as well – one in Canada and one in the U.S.
Marwood stays focused on timber products
FREDERICTON — Marwood continues its efforts to develop new products for the LBM market. That, plus a redesigned shed program that's been introduced in Lowe's stores in Ontario. Its latest is the recent launch of its BluWood products in Atlantic Canada.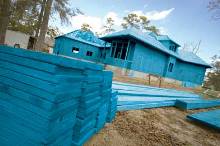 BluWood is a factory applied, two-part wood coating system designed to resist moisture absorption, mould fungus, rot fungi and wood ingesting insects such as termites.

According to Dave Harris, Vice-President of sales and marketing for Marwood, all these products reflect the company's focus on timber materials. "We have resisted the urge to branch off into plastics and composites," he says. "We've stayed true to our core business. Marwood's mandate is to find new ways to create more products from each tree that's harvested.
Big brands sign up for 2011 Totally Shows
BIRMINGHAM, U.K. — The Totally Shows trade show for tools and hardware will be held in Birmingham for the second year running, in conjunction with Spring Fair International, a move that is attracting a number of major vendors. Top brands such as Crown Paints, Henkel, Yale Security Products, Plasti-kote and Arrow Fastener have all taken space at the show to support its second year here.

According to Brintex, the show organizer, the relocation from London's Earls Court in 2010 managed to boost visitor attendance nearly fourfold. Some 9,372 visitors spent time in the 2010 Totally Shows, from just over 2,500 in 2009.

To date, exhibitor space for next year's show, which will be held Feb. 6-8, is 65% sold.  Companies returning this time include Bulk Hardware, Chain Products, Eurolink Hardware, General Paints, Gorilla Glue, Olympia Tools, Sealey Power Products and Wagner Spraytech. For more info, contact: James Murray Exhibition Director, 020 7973 4606 or click here.
Classifieds

Hitachi Power Tools is seeking a
National Accounts Coordinator based in Mississauga.

The successful candidate will possess:
Experience working directly with key customers in a dynamic and professional manner

a detail-oriented self-starter, able to manage own time effectively and meet deadlines

able to demonstrate effective planning and organizing skills and the ability to prioritize work and multiple projects

excellent communication (written & verbal), relationship building and presentation skills

extremely proficient in Microsoft Word, Excel and PowerPoint
Please visit our website at www.hitachipowertools.ca/en/CompProfile/Careers for more details. If interested please forward your resume and cover letter to melissaf@hitachi-powertools.com
We thank all applicants, however only those selected for an interview will be contacted.

Hitachi Power Tools is seeking an
Account Executive in British Columbia.

The successful candidate will possess:
at least 3 years experience in a territory sales role

strong organizational skills with ability to plan and manage a territory

strong communication and presentation skills

ability to work both independently and as part of a team, be a self-starter

knowledge of trades (ie. Construction, electrical, woodworking, etc.) an asset

ability to lift product weighing max 65lbs

a clean driving record and a valid driver's license
Please visit our website at www.hitachipowertools.ca/en/CompProfile/Careers for more details. If interested please forward your resume and cover letter to melissaf@hitachi-powertools.com
We thank all applicants, however only those selected for an interview will be contacted.
Agency/Broker
Sales Representation

A leading Paint Sundries company is looking for Agency/Broker – Sales representation in Ontario and Quebec at store level. Stores would include independents and national chains.

The successful incumbent will have:
Proven successful sales organization calling on building materials/hardware retailers

Established business relationships at ground level

A keen interest to analyze, develop, identify potential growth and strategies for both customer and vendor

If interested please forward your proposal to brady@hardlines.ca with p.o. box 72 in the subject line.
Resumés
A conscientious, highly motivated manager with a results-oriented track record in developing new business.

view this

resumé

A goal oriented sales director that has superior management skills, customer oriented, with in depth knowledge of the industry and the ability to achieve results.

view this

resumé

National Field Sales Manager with twelve plus years in power tools and hardware sales/merchandising.

view this

resumé

Business Manager with U.S. & Canadian experience with retail & industrial customers seeks a new opportunity.

view this

resumé

An experienced merchandising executive possessing passion, vision, and a strategic approach to delivering bottom-line.

view this

resumé

Senior sales/marketing leader with experience in all classes of trade wishing new HARDLINES career. view this

resumé

Very Experienced Business Unit Manager, great passion for generating sales and building relastionships.view this

resumé

Worked through my career within the manfucaturer, wholesale and consumer goods industries. view this

resumé

Senior Sales Manager with vast experience in retail and wholesale sales growth in Canada. view this

resumé
Only 24 more days until the Hardlines Conference!
Connect with us!