September 12, 2011, Volume xvii, #34
"When you boil it all down, what does a man really need? Just a smoke and a cup of coffee." —Sterling Hayden (American actor, 1916-1986, in the whacky 1954 noir-ish western by Nicholas Ray, "Johnny Guitar")
TIM-BR MARTS reprises minor league hockey video challenge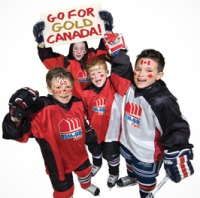 CALGARY — Minor league hockey teams in communities across Canada will have the chance demonstrate their love for the game as TIM-BR MARTS Ltd. repeats its "World Junior Hockey Video Challenge." Eligible teams can video their team spirit showing why they love hockey the most. The grand prize is a trip for the entire winning team to this December's World Junior tournament in Edmonton.

Videos can be uploaded to www.timbrtube.ca. Canadians will vote for their favourite team between Nov. 13 and Nov. 27. The winning team, including parents or guardians and coaches, will enjoy round-trip transportation to Edmonton, plus accommodations, meals, and tickets to World Juniors games over Dec. 27-30.

The prize, says TIM-BR MARTS, is worth up to $60,000, depending on where the team travels from. Other prizes are Source for Sports gift cards as second, third and wild-card prizes ($5,000, $2,500 and $2,500 respectively).

TIM-BR MART dealers across Canada will be supporting the contest with in-store signage, ongoing promotions in their flyers, and community outreach efforts to customers, hockey parents, coaches, and teams. A social media campaign will include a facebook fan page, a youtube page, and regular tweets from the Challenge's "Ref" on twitter (@timbrref).

The contest runs until November 27th, 2011.More information can be found at www.timbrtube.ca .
Dealers identify customer service challenges at NRHA forum

CHICAGO — A focus group of members of the North American Retail Hardware Association was held here recently, and it identified some serious concerns about customer service levels within the home improvement industry.

Recent surveys conducted by the NRHA indicate a growing acceptance by customers of service levels in big boxes. A generation of young home improvement customers has actually grown up with the big box, making it the first choice now for many consumers. This flies in the face of conventional wisdom, which would suggest that independents offer the best service.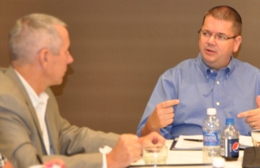 (l-r): Michael McLarney, managing director of NRHA Canada, discusses customer service with Adam Busscher of Picton Home Hardware.
As the demographics of customers change, so too does the expectation of good customer service. The NRHA focus group, which included members of the training teams of Home Hardware, Ace Hardware, and True Value Company, plus dealers from Ace and Home Hardware, talked about the so-called millennial generation aged 16-25. This tech-savvy group may prefer to look up product information and pricing on their hand-held devices over
actually speaking to a real store employee. They often appear, said Adam Busscher, owner of Picton Home Hardware, to prefer their iPhones over human contact.

"They sometimes feel like we're harassing them if we ask them too often whether we can help them."

On the other hand, pointed out Pete Walsh, an Ace dealer with four locations in Wisconsin, millennial customers typically don't know how to fix a faucet and calls them a do-it-for-me culture. "It's a McDonald's world – they say, 'we want it now'."

One solution Walsh offered was a simple one: "It helps if you have some millennials on your staff. They speak the language."
back to top

Sears extends Craftsman in U.S. Ace stores, adds Costco
OAK BROOK, IL — One year after making a deal with Sears to carry its Craftsman brand of power tools, Ace Hardware Corporation says it will continue to reinforce its commitment to that brand by almost doubling its range of Craftsman products in member-dealers' stores.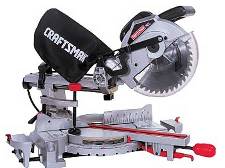 Over the coming months, 1,050 Craftsman products will become available in more than 1,200 Ace stores across the United States. The deal does not apply to Canadian dealers; Ace stores in Canada do not have access to the Craftstman brand at this time, says a spokesperson for Ace.

While Ace remains the exclusive retailer for Craftsman in the convenience hardware channel, Sears has just made a deal with Costco, the club store retailer, to carry Craftsman, as well. Costco will begin carrying the brand in all 430 of its stores in the U.S. this year.

Since May 2010, when an initial 10 stores began selling Craftsman tools and storage products, another 963 Ace stores have started selling the brand, with more to come. More than 1,200 of its stores will carry a full line assortment by year's end. Ace's stores participating in the program can currently carry more than 650 individual items, with an additional 400 products scheduled for in-store displays in the next 90 days.

Sears has reportedly made another deal, as well, for yet another outside retailer to carry Craftsman.
International hardware group plans worldwide events
INDIANAPOLIS — An international organization that unites hardware associations from 14 countries has a new head, and with him comes new initiatives.

The International Federation of Hardware & Housewares Associations is now being managed by Bill Lee, president and CEO of the North American Retail Hardware Association, as the newly appointed secretary-general. Under Lee, the IHA is launching expanded membership service programs such as newsletters and a series of regional IHA meetings. The first such meeting is scheduled for Sept. 21 in Shanghai, in conjunction with the China International Hardware Show there, Sept. 21-23.

Next March, another meeting will take place during the International Hardware Fair in Cologne, Germany. Already the world's largest international trade show, its attendance will be increased as independent retailers journey to Cologne for the IHA meeting in addition to the show.

For more information about the IHA, including associate memberships or association membership, contact Bill Lee at blee@nrha.org . 
Classifieds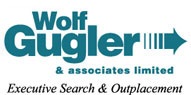 Regional Sales Manager
We're fortunate to be working with a well established, diversified Canadian products manufacturer sold through virtually all home improvement retailers across Canada and the U.S. New product development is a forte of the company and keeps them in leadership market positions in their various categories served. This is a great opportunity to demonstrate your skills with a company that typically builds their leadership team from within whenever possible while continuing their excellent reputation among their customer base. An accomplished manager is required to work closely with a sales team based from western Ontario to BC.

You're accustomed to taking charge of your sales team and maximizing results through managing by example as a road warrior. You can demonstrate superior sales leadership skills as a team "quarterback", working autonomously from the corporate office. Ability to speak both English and French is strongly desired.

A competitive compensation package including salary, bonus, car allowance and full benefits package is offered, in addition to further career growth.

To explore this opportunity in complete confidence, please call or email your resume in complete confidence to Wolf Gugler, quoting RSM or click here.
Wolf Gugler & Associates Limited, Executive Search & Recruitment for retailers and their suppliers. Email; wolf@wolfgugler.com. Web site: www.wolfgugler.com. Phone: (888) 848-3006.

Sales Prefessionals
PrimeSource Building Products Canada, a new national and growing wholesale distributor of building materials specializing in fasteners and tools, is seeking experienced sales professionals to service the Saskatchewan and Western Manitoba markets.

Responsibilities include territory management, canvassing new opportunities, customer service, and the ability to build relationships and develop new business through face-to-face interaction with both existing and new customers.

Qualified candidates must be self-motivated, quota driven, and results
oriented with a proven and documented history of success. We are looking for
candidates with experience in selling building materials, 2-5 years work
experience in this related field, valid driver's License, current insurance.

PrimeSource offers attractive base salaries, aggressive commission
incentives and competitive benefits package. If you are a proven industry seller, who welcomes the opportunity to work in a challenging and financially rewarding environment, we want to meet you. Please send resumes to dahmerp@primesourcebp.com
Distributor Wanted
Adopt a unique, Canadian-made product into your family of durable household goods. Established manufacturer has new, practical item for large market sector and seeks distribution. Act now. Together, our future is brilliant.
Account Manager
As an international manufacturer and distributor of bath/shower organizational products to retailers around the world, and pioneers of the original award-winning shower organizer The Dispenser, Better Living Products is looking for key people to join our exciting team.
We have an opportunity for an energetic and self motivated individual to join our sales team as an Account Manager. This position will be directly responsible for growing our business within our secondary channels and markets.
Candidates should have a minimum of 2 years account management experience and possess strong organizational, interpersonal and communication skills. Experience in consumer packaged goods for the retail industry is preferred, but not necessary for the right candidate. This is an intermediate position and the successful candidate will be working out of our world-wide headquarters in Woodbridge, Ontario.
Please submit a resume by email stating qualifications and income expectations to Dean Albonese, Director of Sales dean@dispenser.com
Resumés
A conscientious, highly motivated manager with a results-oriented track record in developing new business.

view this

resumé

A goal oriented sales director that has superior management skills, customer oriented, with in depth knowledge of the industry and the ability to achieve results.

view this

resumé

An experienced merchandising executive possessing passion, vision, and a strategic approach to delivering bottom-line.

view this

resumé

Senior sales/marketing leader with experience in all classes of trade wishing new HARDLINES career. view this

resumé

Very Experienced Business Unit Manager, great passion for generating sales and building relastionships.view this

resumé

Worked through my career within the manfucaturer, wholesale and consumer goods industries. view this

resumé

Senior Sales Manager with vast experience in retail and wholesale sales growth in Canada. view this

resumé
Connect with us!