September 20, 2010, Volume xvi, #36
"Anybody who goes to see a psychiatrist ought to have his head examined." —Samuel Goldwyn (American film producer, 1879-1974)


Industry forecast to rebound in 2010-11
SPECIAL REPORT — Following two successive years of overall sales declines, the retail home improvement industry is forecast to come out of its slump in 2010, a trend that will continue into 2011.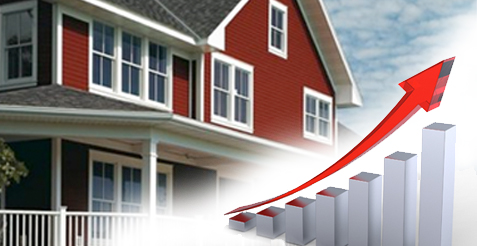 These forecasts are among the data presented in the latest HARDLINES Retail Home Improvement Report, which has just been released by the vast research team at the HARDLINES World Headquarters.

One of the most important findings in the study is the trend downward of the industry that actually began in 2007, when industry growth began to slow year-over-year. By 2008 it had actually shrunk – for the first time since HARDLINES began tracking this industry 15 years ago. Last year, that decline continued, as the retail home improvement market in Canada was valued at $39.12 billion, a 2.9% drop from the previous year.

"The retail home improvement industry shrank by almost 5.5% over the past two years," says Michael McLarney, Editor of HARDLINES, who also spearheaded the research.

Each retail sector fared differently, with traditional hardware stores being hardest hit, followed by building centres. The good news, according the latest Retail Home Improvement Report, is that 2010 will mark the beginning of a modest recovery for the industry, with independent dealers leading the way.

The annual Report has become an important resource for retailers and vendors in the industry as they prepare for the year ahead. "The home improvement industry has certainly experienced some ups and downs during the past two years," says Paul Straus, President and CEO of Home Hardware Stores Limited, which represents almost 1,100 independent retailers across Canada. "But the HARDLINES forecasts, based on the performance of our independent dealers across Canada, indicate that we are in for a solid but gradual recovery in 2010 and 2011."

(The Retail Home Improvement Report features detailed analysis of the growth of the industry, plus the market shares of each retail format and province – plus growth strategies of Home Depot, RONA, Home Hardware and Canadian Tire. In handy PowerPoint format, if features 150 PPT slides to help you do your planning for the coming year! Click here or call us for more info: 416-489-3396. —Michael)
TIM-BR MART and IRLY co-host import show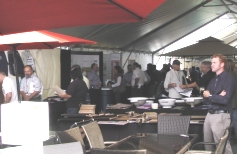 SURREY, B.C. — TIM-BR MART and IRLY dealers joined forces earlier this month to be part of the last of five TIM-BR MART import shows. That final show hosted nearly 100 representatives from these groups, who shopped under the 5,400-square-foot tent that was erected right in the parking lot of IRLY's head office and distribution centre here.

The shows featured samples from a container load of samples sourced by TIM-BR MART and IRLY buyers at the latest Canton Fair, China's giant buying show. The buying teams traveled to China together to source import product for their dealers to offer better pricing and selection for their customers. The container of their selections was shipped to Halifax, for the first of the five shows. The others were held in Barrie, Ont., Winnipeg and Edmonton before coming to Surrey.

The show enabled the IRLY and TIM-BR MART dealers to examine the products IRLY and TIM-BR MART will import for the upcoming season. Orders are still coming in; however Brad Olsen, IRLY's director of purchasing, says he's pleased with the results so far. "We continue to compile the results. The purchases are very promising."
Home Hardware Market features innovation and solidarity
ST. JACOBS, Ont. — The latest market for Home Hardware dealers was abuzz with new products, services and programs.

The focal point of the event was a rallying cry from Home's original brand leader Morris Saffer, President of Saffer Group Inc. and author of the slogan, "Home of the Handyman." Saffer spoke on day two of the market about "the power of the Home brand," stressing that all that the brand represents in ads and on flyers must be delivered further right in the store by the dealers themselves.

As independents, the entrepreneurial spirit of Home dealers is one of their great strengths. But, warned Saffer, "Your greatest strength is also your greatest weakness. As independents, you don't like to be told what to do," he pointed out, but added that consistency within each store is what delivers on the promise of the Home brand. "The brand doesn't exist unless it exists in your store."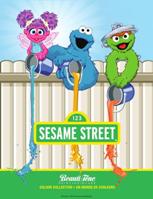 Home's Beauti-Tone paint division had two lines to promote at the show. The previously announced Simon Chang Designer Collection, featuring acolour card selected by the designer himself, got an official kick-off, complete with a fashion show. The second range, introduced at the market, was a kids-oriented selection of colours licensed by Sesame Street. "These are brilliant, bright colours designed specifically for children's rooms," says Doug Parsons, Sales and Marketing Manager for Beauti-Tone Paint and Home Products.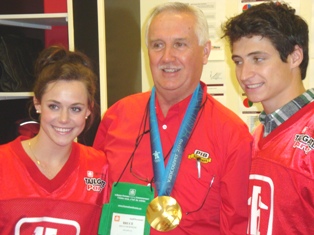 Celebrities were also on hand: four-time Olympic medalist Hayley Wickenheiser, of the Canadian women's hockey team, gave a presentation on the last day, and Olympic gold medal pairs skaters Tessa Virtue and Scott Moir (shown here with Bruce Burnham, President of Programmed Insurance Brokers) were on the show floor signing autographs.
Canadian Tire retools for growth
TORONTO — Canadian Tire Corp. has announced a major realignment of its senior team and operations. It's all part of Canadian Tire's growth strategy to focus on top-line growth, improve customer experience and reduce redundant costs between five inter-related businesses by making them operate as "one company, serving one customer."

And it follows the latest shake-up at the company, involving the imminent departure of Michael Medline, President of automotive. He's leaving at the end of October.

Mike Arnett has been promoted to Executive Vice President of Canadian Tire Corp. He remains President of Canadian Tire Retail. His expanded responsibilities include strategic marketing, including the roll-out of new loyalty programs, and brand stewardship. He will also oversee merchandise sourcing and procurement capabilities.

Glenn Butt has been promoted to Executive Vice President, Customer Experience and Automotive. He's now responsible for the in-store customer experience and store operations at Canadian Tire, leading the automotive business and overseeing the company's relationship with its 482 dealers across the country.

Pat Sinnott, Executive Vice President, Supply Chain and Technology, is responsible for Canadian Tire's technology and supply chain, which includes both Canadian Tire Retail and Mark's.

The latest changes include the departure of some senior managers from the company, including Huw Thomas, EVP Financial Strategy and Performance, and Stan Pasternak, SVP and Treasurer. Their duties will transition to Marco Marrone, EVP Finance and CFO. These departures will result in a one-time pre-tax charge of approximately $15 million in the third quarter.
back to top

Home Depot donates $1 million to environmental centre
TORONTO — The Home Depot Canada, through its Home Depot Foundation, has committed one million dollars over the next five years to Evergreen Brick Works. This includes the community centre's year-round environmentally-focused activities, workshops and programs. The commitment will include the volunteer services of Toronto-area Home Depot associates on behalf of the community environmental centre.

Evergreen is restoring Toronto's derelict Don Valley Brick Works, revitalizing and reusing historic buildings and offering programming focusing on education, heritage and ecological sustainability. It's a very cool space right in Toronto's ravine system.

In recognition of Home Depot's contribution, Evergreen has designated a 2,100-square-foot area as The Home Depot Outdoor Workshop, which will support children's and family programming. Home Depot will provide associate expertise in DIY workshops beginning next month.
15 Year Profile: Greg Dinsdale
Who we've met at the HARDLINES Conference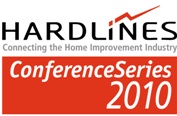 As we approach the 15th Annual HARDLINES Conference on Oct. 28 & 29, we will spotlight people who have been attending the Conference over many years. Our thanks go out to all of them – and all of you – for your unflagging support! —Michael

Greg Dinsdale President and CEO, LBMX Inc.

Where were you 15 years ago?   VP Sales and Marketing at Dimensions Retail Systems.

Where are you now? President and CEO of LBMX Inc.

How has HARDLINES been helpful to you and/or your business?

HARDLINES has been an integral part of keeping me – and LBMX – current with industry news and trends. This has been very important in helping position LBMX to anticipate and meet the needs of our hardware and building material customers.

Do you have any memories you want to share about 15 years with Hardlines?  The HARDLINES organization has been instrumental in bringing together the most important decision makers in the industry and using these forums to foster a meaningful exchange of ideas. My specific memory is in continually recognizing the respect Michael, Bev and the HARDLINES team have earned though 15 years of hard work and service to the industry.

I also remember a particularly good night in Chicago at a National Hardware Show some years ago – but that story should wait for a 30-year anniversary publication! ('Nuff said!—Editor }
Classifieds
National Account Manager

Ingersoll Rand Security Technologies is seeking an individual based in Mississauga who will be responsible for managing the sales growth for a major retailer across Canada, store resets, new store coordination, store walks, event implementation and special projects. Grow market penetration by developing strong relationships with a major Canadian retailer's store level associates, District Managers and Divisional Sales Managers.

Qualified candidates will possess a university or college degree in Sales and/or Marketing and have 3-5 years experience in a sales and marketing role. Experience with both electrical and mechanical door hardware is an asset.

Please visit our website for full details and to apply online: http://careers.ingersollrand.com/
Sales Representative (Eastern Ontario)

A building materials distributor has an immediate opening for an Outside Sales Representative for its Eastern Ontario territory. The successful incumbent will possess:
Proven successful sales call background in the building materials industry (min. 5 years of sales call experience);

Consultative, front-line experience working with customers in a sales capacity;

Established communication and business relationship skills;
A keen interest to analyze, develop and carry out sale's strategies so as to ensure sales growth for customers and suppliers;
The ability to work within a variety of disciplines and organizational functions, including call reporting, sales strategy execution, and identifying potential opportunities.
If interested please forward your resume to the attention of the Director Human Resources – Ontario Division, 9251 Yonge Street, Suite 884, Richmond Hill, Ontario, L4C 9T.
Resumés
A conscientious, highly motivated manager with a results-oriented track record in developing new business.

view this

resumé

A goal oriented sales director that has superior management skills, customer oriented, with in depth knowledge of the industry and the ability to achieve results.

view this

resumé

National Field Sales Manager with twelve plus years in power tools and hardware sales/merchandising.

view this

resumé

Business Manager with U.S. & Canadian experience with retail & industrial customers seeks a new opportunity.

view this

resumé

An experienced merchandising executive possessing passion, vision, and a strategic approach to delivering bottom-line.

view this

resumé

Senior sales/marketing leader with experience in all classes of trade wishing new HARDLINES career. view this

resumé

Very Experienced Business Unit Manager, great passion for generating sales and building relastionships.view this

resumé

Worked through my career within the manfucaturer, wholesale and consumer goods industries. view this

resumé

Senior Sales Manager with vast experience in retail and wholesale sales growth in Canada. view this

resumé
Connect with us!