September 6, 2010, Volume xvi, #34
"I drank summer like a sweet wine." — Louis Aragon (French poet, novelist and editor, 1897-1982)
HARDLINES is back to our regular weekly schedule of publication. But man, were we busy during the off weeks. We've just completed our Annual Retail Report on the industry – 150 PowerPoint slides with everything you need to plan for the coming year! I'm exhausted, but it's worth it! —Michael
Orgill Show hosts record number of Canadians
 CHICAGO — Thousands of retailers attended Orgill's Fall Dealer Market in Chicago last month, including a record number of Canadian dealers. And while many of the delegates were long-time customers of the giant independent hardware wholesaler, many of the Canucks were checking out Orgill for the first time, to see if its wide assortments – and especially its pricing – would suit independent dealers north of the border.

"I'm really happy," said Ron Beal, Orgill's president and CEO. "We have a really large contingent of Canadians. This is our biggest group ever." He noted that 95% of Orgill's Worldwide Sourcing lines – products sourced directly from key vendors – now have trilingual packaging. More than three dozen dealers came from Canada, representing buying groups such as TORBSA, PAL, TIM-BR MARTS and Castle. In fact, so many Castle members were on hand – 25 in total – that they even had their own information desk, manned here by James Jones, Castle's Vice-President National Marketing (left) and Bruce Holman, Business Development Manager for Canada's central region

.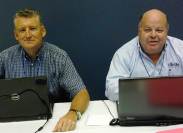 Jones said there were lots of good reasons for his members to be there. "Orgill provides a competitive edge to independents against Home Depot and Lowe's."

 

 

Those dealers came to see more than 1,000 vendors in 600,000 square feet at McCormick Place South Convention Center. Many of the products were represented in a new 28,000-square-foot farm and hardware model store. Named "Delta Farm & Hardware," it featured assortments, services and signage that showcased Orgill's commitment to serving the farm and hardware retail marketplace. Orgill also reprised its presentation for pro dealers with a store-set focused on products that will sell to contractors through lumberyards. "In almost every way, this show provided something new and inspiring to our customers," said Beal. "The positive feedback from our attendees provides the motivation for our entire team to continue to think of new and innovative solutions and assortments that will help make our customers success retailers in their marketplaces."  

back to top


Home Hardware beefs up its logistics system
ST. JACOBS, Ont. — As it approaches its latest Dealer Market next week, Home Hardware Stores Ltd. has already had what company President and CEO Paul Straus calls "a very productive year." Improvements and new developments company-wide include enhanced logistics systems. "We are pleased to report that we are moving forward with a Logistics Management System (LMS). The LMS will help ensure we are meeting the needs of dealers and customers, operating efficiently and maximizing our resources," he says. Straus adds that the new system will include a number of important features. "These features will maximize warehouse space, reduce the number of hands that need to touch a product, move the product efficiently through our distribution system, connect with carriers in a timely fashion through an internet based management system and provide advanced shipping notices to predict reliable arrival times for merchandise," he says. "The first half of 2010 has been busy at Home Hardware, and it shows no signs of slowing down as we approach our Fall Market."  

back to top

Former Weiser exec to steer Dusko's relaunch of Stanley Doors
MONTREAL — Bill Kushlick, a former GE, Stanley and Weiser executive, has joined forces with Dusco Doors Ltd. as President, Business Development for that company's new Stanley Doors initiative. Kushlick, most recently the President and COO of Taiga Building Products, will drive new business and develop programs to increase brand awareness of the new line of Stanley Doors products throughout North America. Stanley recently granted Dusco Doors the exclusive license to manufacture and market Stanley Doors in North America. The new product line will be sold under the Stanley Doors brand and include insulated entry door systems and patio doors. It is targeted to launch in the fall of 2010 through home improvement dealers, mass merchandisers, wholesale chains and industrial distributors in both Canada and the United States. .

back to top

RONA expands its affiliate dealer-owner network
BOUCHERVILLE, Que. — RONA has been actively growing its affiliate dealer-owner network since the beginning of the year. These new dealers generate more than $45 million in annual retail sales and have added 65,000 square feet of retail space to the RONA network. Furthermore, 45 development projects have been undertaken by the existing affiliates, for a total of $23 million invested in the network, including new stores and expansions representing close to 94,000 square feet of retail space. Besides the recruitment of Moffatt & Powell, a key independent in Southwestern Ontario, five other dealers have joined RONA this year. In Ontario, Boyer Fence & Deck (Kitchener), Colony Ratcliff (Gormley), Davies Hardware (Grand Bend) and Murdoch (Durham) are now flying the RONA banner. In British Columbia, former RONA employee Al Tsuchiya and his business partner Gary Kandborg are opening a store in Port Coquitlam. Besides recruiting dealers, RONA continues to build stores of its own. These include new proximity stores in Saskatoon and St. John's, and an expansion of a store in St-Luc, Que. that will become a big box. .

back to top

Ideal acquires SK Hand Tools
SYCAMORE, Ill. — Ideal Industries Inc. has acquired certain assets of SK Hand Tools Corporation, a U.S. manufacturers of tools for the professional mechanic. Although SK filed for bankruptcy protection on June 29, Ideal says it has assumed no liabilities with this transaction.

Founded in 1921, Chicago-based SK Hand Tools is popular among mechanics, especially in the automotive and industrial maintenance markets. Ideal intends to sell SK Hand Tools' portfolio of nearly 4,000 tools under the SK brand within the United States and internationally.

.

back to top

Classifieds
Sales Representative (Eastern Ontario)
A building materials distributor has an immediate opening for an Outside Sales Representative for its Eastern Ontario territory. The successful incumbent will possess:
Proven successful sales call background in the building materials industry (min. 5 years of sales call experience);

Consultative, front-line experience working with customers in a sales capacity;

Established communication and business relationship skills;
A keen interest to analyze, develop and carry out sale's strategies so as to ensure sales growth for customers and suppliers;
The ability to work within a variety of disciplines and organizational functions, including call reporting, sales strategy execution, and identifying potential opportunities.
If interested please forward your resume to the attention of the Director Human Resources – Ontario Division, 9251 Yonge Street, Suite 884, Richmond Hill, Ontario, L4C 9T.
Retail Marketing Manager
Ingersoll Rand Security Technologies is seeking a Retail Marketing Manager based in Mississauga.
You will be responsible for Retail Business Development including product line planning, strategic product programs & distribution planning necessary to meet the business' growth & profit objectives. This includes ensuring the adequate performance of existing products in terms of market share, growth & margin; also developing new product & distribution opportunities. Qualified candidates will be a University or College graduate with 7-10 years experience in marketing together with proven product/category management/consumer packaging experience. Experience with architectural hardware is desirable. Please visit our website for full details and to apply online:
http://careers.ingersollrand.com
/
.
Ontario Sales Manager
Well known national supplier in the electrical, industrial and hardware markets looking for a special person for Ontario sales manager. Interesting product mix, excellent customer base. Flexibility, team approach important. Salary plus incentive program and a good benefit package available. Room to grow for the right person. Send resume and income expectations to aftica2004@yahoo.com.
National Accounts Coordinator
Hitachi Power Tools is seeking a National Accounts Coordinator based in Mississauga.
The successful candidate will possess:
Experience working directly with key customers in a dynamic and professional manner

a detail-oriented self-starter, able to manage own time effectively and meet deadlines

able to demonstrate effective planning and organizing skills and the ability to prioritize work and multiple projects

excellent communication (written & verbal), relationship building and presentation skills

extremely proficient in Microsoft Word, Excel and PowerPoint
Please visit our website at www.hitachipowertools.ca/en/CompProfile/Careers for more details. If interested please forward your resume and cover letter to melissaf@hitachi-powertools.com
We thank all applicants, however only those selected for an interview will be contacted.
MANAGEMENT OPPORTUNITY in Cottage Country 
GENERAL MANAGER required for a thriving hardware store operating under a major national banner in "The Land of 1000 Lakes" (Hwy.#41 north of Hwy.#7)
Come and live in Cottage Country and enjoy the great outdoors; fishing, boating, hiking, biking, snowmobiling, hunting, golf all available in this beautiful part of Ontario, when you are not managing our growing retail and cottage maintenance business with excellent potential for expansion into building materials. The successful candidate will have a minimum of 5 years retail management and strong people skills with customers and staff alike.  Knowledge of construction, building materials and/or other trades is an asset.  Competitive salary based on experience. Forward resume to:
networkinfo.ca@gmail.com

NATIONAL SALES MANAGER, CONAIR CONSUMER PRODUCTS INC., PERSONAL CARE APPLIANCE DIVISION, WOODBRIDGE, ONTARIO
CONAIR , a global leader in personal care and small kitchen appliance products, located in Woodbridge, Ontario, is seeking a NATIONAL SALES MANAGER to oversee the sales department of the Canadian Personal Care Appliance Division.
Attractive compensation package – salary, performance bonus, car allowance, benefits.
KEY COMPETENCIES
Overall management of the company's major retail customer relationships.
Sales focused, entrepreneurial
Excellent negotiation skills
Customer service oriented
Able to seek out new opportunities and new channels of distribution.
Manage all sales employees as well as sales agents.
Team Builder - must be a good motivator
Ability to provide mentorship and leadership and make key decisions
Meeting growth objectives and managing a budget
Effective communicator both internally and externally.
Very detail oriented, organized and disciplined, attention to accuracy
Excellent analytical ability
Able to work to deadlines and schedules
Self starter – able to work with little supervision
KEY QUALIFICATIONS
Minimum 10-15 years experience including 5 years in a senior sales management capacity
Knowledge and experience in the consumer goods industry
Extensive sales experience with National Retailers
Post secondary undergraduate diploma/degree in business or equivalent
Proficient in MS Office including Excel, Word & PowerPoint
Please submit résumé via email to: Black Eagle Executive Search c/o Richard Simms at rsimms@blackeagle.ca
Resumés
A conscientious, highly motivated manager with a results-oriented track record in developing new business.

view this

resumé

A goal oriented sales director that has superior management skills, customer oriented, with in depth knowledge of the industry and the ability to achieve results.

view this

resumé

National Field Sales Manager with twelve plus years in power tools and hardware sales/merchandising.

view this

resumé

Business Manager with U.S. & Canadian experience with retail & industrial customers seeks a new opportunity.

view this

resumé

An experienced merchandising executive possessing passion, vision, and a strategic approach to delivering bottom-line.

view this

resumé

Senior sales/marketing leader with experience in all classes of trade wishing new HARDLINES career. view this

resumé

Very Experienced Business Unit Manager, great passion for generating sales and building relastionships.view this

resumé

Worked through my career within the manfucaturer, wholesale and consumer goods industries. view this

resumé

Senior Sales Manager with vast experience in retail and wholesale sales growth in Canada. view this

resumé
Connect with us!