February 12, 2018 Volume xxiv, #6
"Tomorrow is always fresh, with no mistakes in it."
—Lucy Maud Montgomery, Canadian author, 1874-1942)

IN THIS ISSUE:
Closing in on 100 stores, Ace Canada's Bill Morrison talks about growth

Orgill settles into new Memphis-area headquarters

A look at the year ahead: economic growth is shared across the provinces

Canadian Tire VP: vendors can work more closely on e-commerce integration

PLUS: Lowe's Canada updates its big boxes, Home Hardware CEO speaks, Lowe's Canada recruits, Home Depot to sell Tesla solar panels, building permits way up, Weyerhaeuser reports earnings, Brian Mahoney joins Taymor, Hudson's Bay gets new CEO, and more!


Closing in on 100 stores, Ace Canada's Bill Morrison talks about growth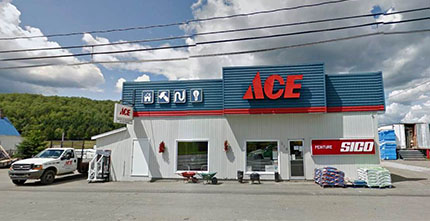 MISSISSAUGA, Ont. — Bill Morrison is one busy guy. As head of the Ace Canada program for Lowe's Canada, he's constantly travelling back and forth between the Mississauga, Ont., customer support centre that is the head office both for Lowe's big box business and for Ace Canada, and Lowe's head office and distribution centre in Boucherville, Que.
Morrison, formerly president of TruServ Canada in Winnipeg, joined RONA after it acquired TruServ in 2010. In 2014, RONA signed a license agreement with Ace Hardware International to own the Ace name in Canada. With Lowe's acquisition of RONA two years later, Ace became part of the Lowe's family.
Morrison has remained in place through all these changes, to keep the banner on track—a testament to his ability to understand and drive growth among independents. In those early days, he claimed that Ace could have 500 dealers here in five years. While that was an ambitious target, expansion is indeed going apace. "In just three years, things are pretty darned good, says Morrison. "We've gone from just about nothing to close in on 100 stores within the next few weeks."
Ace provides an important alternative for new or smaller dealers, and Morrison notes that a lot of the additions to the banner are either conversions from buying groups looking for more support, or new investors who turn to the credibility of the Ace banner to invest in.
Of the stores now flying the distinctive red and white Ace colours, 40% are conversions from the former TRU banner (and True Value before that). Most of the balance represents new dealers brought over from other banners. The latest additions are both from the Gaspé Peninsula in Quebec—Quincaillerie B.L. in Mont-Louis and Centre de Rénovation de la Baie in Port-Daniel. Today, Ace is strongest in Ontario, followed by Quebec and British Columbia.
The banner is also attracting startups. Those could be individuals already working in the hardware and home improvement arena who are looking for their own gig. But new investors are being drawn to open Ace stores in markets in which they already live or wish to relocate to.
"We're expecting net new growth to happen in a positive way," Morrison says. But new dealers have to adopt more than just a name and a source of supply. Ace represents an entire package of a customer-focused way of doing business—and that, he says, "needs new dealers to understand and embrace the culture."
And this is where Ace today differs from the banner's previously attempted forays into Canada, a legacy that dates back to the mid-1980s.
"Part of the success of Ace is having dealers embrace the training programs and customer service approach of Ace," he says.
"Ace's customer service training is the best I've ever seen," he says emphatically. And to reinforce the point, he points out that JD Power in the U.S. cited Ace as number one in that country for customer service for the 11th year in a row.
The aim of the Ace program is simple, Morrison says. "It's about making independents great retailers."

Orgill settles into new Memphis-area headquarters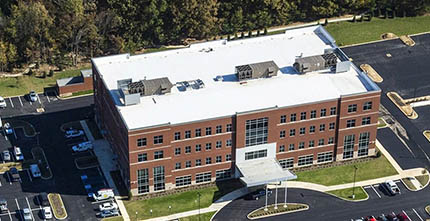 COLLIERVILLE, Tenn. — Orgill home office employees are now settled into their new offices and distribution centre, after the giant hardware wholesaler outgrew its former facility. The new office building offers several upgrades in technology and efficiency. It also puts everyone under one roof, as employees had previously been spread out through one main building and two rented neighbouring buildings.
Employees moved into their new office in mid-December, located just outside of Memphis in Collierville, Tenn., Facilities Manager James Parker says. The building and grounds are located less than two kilometres from Orgill's old premises.
The new facility provides 120,000 square feet of office space, with 30,000 of that reserved for future growth. "It's a wonderful problem, how fast we're growing, but we had to take that into consideration with the new building, since a big reason we need this facility was that we ran out of space," Parker says. "It was a good time to make this move, and everything fell into place."
Parker says there was little to no disruption in service for customers, vendors, or partners when employees moved to the new facility in December. "We had a really great team working on the data and telecommunications side to have phones and internet all ready for the move, so it was seamless for our customers and our employees," says Parker. "Everyone left the old offices on a Friday and came into the new building the following Monday, with no interruptions to the transition."
Orgill has been steadily expanding its distribution network across North America and currently sells to hardware and building supply dealers within most of the major buying groups, including Sexton, Castle, ILDC, and TIMBER MART. Under the helm of president and CEO Ron Beal, the company has treated Canada and the U.S. as a combined north-south marketplace, rather than an east-west one, as Canada's geography typically dictates. The company exceeded $2 billion in sales last year.
A look at the year ahead: economic growth is shared across the provinces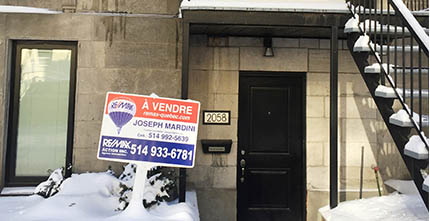 NATIONAL REPORT — Markets such as Calgary, Saskatoon, and Winnipeg are enjoying "gentle momentum" and stability as Canada's housing market continues to run hot in primary markets like Toronto and Vancouver.
According to Peter Norman, VP and chief economist at Altus Group, a Toronto-based real estate consultancy, markets closest to Toronto are strong, "due to shortage of supply," he notes. The Greater Toronto Area (GTA) is pressured by rising prices and increased demand, not only for houses, but for condos, as well.
One of the things driving the market now, he adds, "is that 2017 was the strongest year for economic growth in almost a generation." That growth was helped by a low jobless rate and a 3% rise in GDP—double the rise in 2016. "New jobs create more housing demand. It's certainly where we're going with housing growth over the next few years."
More importantly, that growth is being shared across the country. "Every region saw positive GDP growth last year and the rates of growth are converging. It's not just B.C. and Ontario carrying the load anymore."
Canadian Tire VP: vendors can work more closely on e-commerce integration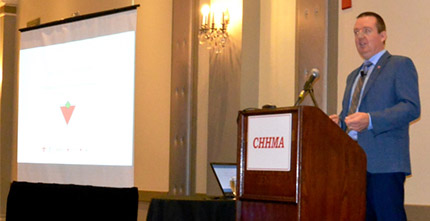 MISSISSAUGA, Ont. — Canadian Tire has reduced its vendor base by 7%, even as total purchases from its remaining vendors have increased. The giant retailer has also added 400 new vendors, says Mike Magennis, vice president, business development and operations. He spoke recently at a breakfast seminar hosted by the Canadian Hardware and Housewares Manufacturers Association (CHHMA).
Despite the changes in vendors, Magennis stressed the importance of existing relationships with longstanding suppliers, saying "more than half of all vendors have been dealing with Canadian Tire for 20 years or more."
Speaking to the room full of manufacturers and reps, Magennis shared some insights into what his company expects from its vendor base going forward. He said his buyers are looking for quality and looking for innovation. He invited the vendors to be proactive in detailing the value of their offerings, noting that they know best how to articulate the features and benefits of their lines. "What details of your products attract customers? We need each of you to think about your products and what the value proposition is that attracts customers."
He added that 900 Canadian Tire suppliers are on the retailer's Vendor Info Share platform, which lets the retailer share sales data on a weekly basis with those vendors. "It's a great way for vendors to stay connected to their business, understand their performance, and create insights on what is driving the results. It allows vendors to be proactive in communicating with the merchandising team, so they can help drive their business forward."
Magennis also stressed the importance of bringing innovation to market quickly. "We need to think about faster execution and faster replenishment." And as the company sells more online, vendors will be challenged to ship directly to customers. "Do you have distribution? Do you have EDI?" he asked.
DID YOU KNOW…?
... that our Publisher Beverly Allen and Editor Sigrid Forberg are headed to Cologne, Germany, for the International Hardware Fair from March 4 to 7? They'll be there to host our Canada Night reception on day one of the show, March 4, from 6 to 9 p.m. If you're headed to the show, join them at the Kölschbar, located between Halls 10 and 11. For more information on Canada Night or to register, click here. Then, on the following evening, March 5, join them at the USA Pavilion Happy Hour. Sponsored by the North American Retail Hardware Association, it will be held from 5:30 to 7 p.m. at the USA Pavilion in Hall 4.2, booth C06a. You can RSVP for this online here. We hope to see you there!
RETAILER NEWS
BOUCHERVILLE, Que. — Lowe's Canada continues to update its big box footprint across the country. The 63rd store under its namesake Lowe's banner was opened recently in St. Albert, Alta. The sixth Lowe's location in the Greater Edmonton Area, the 107,000-square-foot location represents a local investment of $18 million. The store is staffed by 137 permanent positions and an additional 30 to 50 seasonal roles. And just last week, Lowe's announced it will convert its RONA L'Entrepôt store in Charlemagne, Que., to the Reno-Depot banner, making it Reno-Depot's 23rd location.
OTTAWA — Home Hardware CEO Terry Davis was the keynote speaker at the 27th annual Toast to Success dinner, held by the Entrepreneurs' Club of the University of Ottawa's Telfer School of Management. Speaking to a crowd of more than 200 at the Fairmont Château Laurier, Davis told the story of how he rose to the company's top position from his first job making $2 an hour (about $13 today) in 1970. According to the Ottawa Business Journal, Davis wore a suit rather than the company's trademark red blazer to give the talk, which covered topics from brand recognition to the benefits of vertical integration.
BOUCHERVILLE, Que. — Lowe's Canada is recruiting more than 7,000 full-time, part-time, and seasonal employees ahead of the busy spring season, adding to its current workforce of 25,000 employees nationwide. To kick off its hiring campaign, the company will host its first-ever National Hiring Day on Saturday, February 24. On that day, candidates are invited to walk into any Lowe's, RONA, or Reno-Depot corporate store across the country between 9 a.m. and 4 p.m. to learn more about available employment opportunities.
ATLANTA — The Home Depot will begin selling Tesla solar panels and batteries in 800 retail locations in the U.S. by mid-year. The displays will be 12 feet tall and seven feet wide. They will be staffed by Tesla employees who will demonstrate the company's solar panels and batteries, called Powerwalls. Home Depot previously sold products by SolarCity Corp., which Tesla acquired in 2016.
MOORESVILLE, N.C. — Lowe's Cos. is responding to changes in U.S. tax regulations with bonuses of up to $1,000 for veteran employees, along with expansions of benefits. Following on tax reforms signed into law by U.S. President Donald Trump before the new year, Lowe's will offer bonuses beginning at $75 to junior part-time workers. More than 260,000 wage-earning workers across the U.S. will receive some form of bonus. At the same time, the company announced it is beefing up its parental leave, introducing a $5,000 adoption benefit, and reducing wait times for health insurance eligibility.
SUPPLIER NEWS
MISSISSAUGA, Ont. — Spectrum Brands has appointed G.S. Equipco Ltd. as its new manufacturers' agency in Ontario for its plumbing division. Beginning March 1, Equipco will assume sales responsibility in the wholesale plumbing channel for Spectrum's Pfister and Fortis brand accounts. Equipco's territory within Ontario will be all of Ontario east of Highway 6. Great Lakes Marketing will continue to represent Spectrum Brands in the Southwest Ontario region. Spectrum Brands has worked alongside Equipco in Western Canada since 2016. The Coquitlam, B.C.-based agency currently represents 35 manufacturers across Canada, with branch offices in each province except Quebec.
FEDERAL WAY, Wash. — Weyerhaeuser reported earnings of $234 million, or $0.31 per share, up from $106 million ($0.14 per share) a year ago. Revenue for the quarter rose 13.8% to $1.82 billion, compared to $1.6 billion last year.
EDMONTON — Levven Electronics has announced that its GoConex wire-free switches will be carried by Groupe BMR and be available at its stores in Quebec, Ontario, and Atlantic Canada. This retail partnership gives Levven a presence in French-speaking Canada. GoConex switching eliminates the wire that physically connects the switch to the light or motor.
PEOPLE ON THE MOVE
Brian Mahoney has joined Taymor as national sales manager − retail. He brings with him many years of experience in DIY home improvement and related industries. He has served in senior positions at Beaver Lumber, RONA, Home Outfitters, TJX Canada (Winners and HomeSense), and Ceratec. In this new role, Taymor's retail sales team will report to Mahoney, who will in turn report to Peter Thomson, VP − retail. (bmahoney@taymor.com)
CVS Pharmacy President Helena Foulkes has been appointed as the new CEO of Hudson's Bay Co., the parent of The Bay, Saks Fifth Avenue, and Lord & Taylor. Foulkes, who will start her new job on February 19, succeeds Jerry Storch, who stepped down in October.
ECONOMIC INDICATORS
Canadian municipalities issued $8.1 billion in building permits in December, up 4.8% from November, which had suffered a 7.3% decline. The December increase stemmed from higher construction intentions in the residential sector. For all of 2017, the value of building permits was up 10.4% from the previous year, with increases coming from both single- and multi-unit intentions.
NOTED
According to the RBC 2018 Holiday Spending & Saving Insights Poll, four in 10 Canadians admit they overspent on their budgets—spending on average $530 beyond what they intended. Shoppers aged 18 to 34 made up the largest group that overspent.
OVERHEARD…
"Given the presence of RONA stores in the Mascouche, Terrebonne, and Repentigny markets, and the absence of a Reno-Depot store in the region, we concluded that it was desirable to convert the Charlemagne store to the Reno-Depot banner and thereby diversify the home improvement offering in the region."
—Guy Beaumier, EVP for big box at Lowe's Canada, on the announced conversion of a RONA big box in the region to the Reno-Depot banner.
OUT AND ABOUT
Our very own David Chestnut and Geoffrey McLarney will be in Montreal on February 16 for the TIMBER MART National Buying Show. Got a tip? A hot new product? Want to buy some ad space in Canada's leading home improvement publication? Let them know!