June 8, 2015 Volume xxi, #23
"If knowledge hangs around your neck like pearls instead of chains, you are a lucky man." —Alan Price (British musician and keyboardist for the rock group The Animals, 1942- )
______________________________________________________________________
Lowe's Canada makes changes to its buying team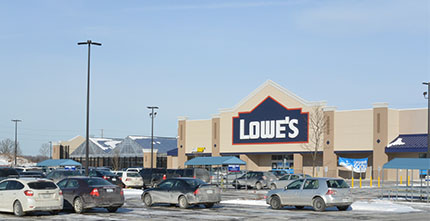 TORONTO — Lowe's Canada has initiated changes in its buying ranks, the first major changes since the company first arrived in Canada seven years ago. Peter Hronis is now merchandising manager, hardware, replacing Gonzalo Rengifo. Hronis was most recently merchandise manager for Lowe's Canada's holiday business.

Mark DiGioacchino is now merchandising manager, rough plumbing, taking over from Carlo Rossi. Carol Crystal is now merchandising manager, appliances, replacing Mario Policicchio. Rachel Lawless has moved into the role of merchandising manager, seasonal living.

In addition, the company has made some new hires: Elsa Da Conceicao is now merchandising manager, lighting and Ryan Mulholland joins as merchandiser for tools.

______________________________________________________________________

______________________________________________________________________

Spanish trade show sees strong growth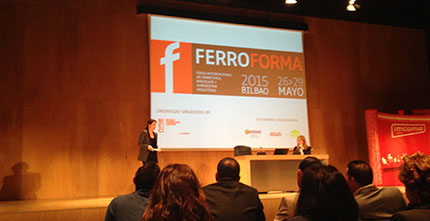 BILBAO, Spain — Bringing new life and an increased optimism to the event, Ferroforma brought five shows together at the Bilbao Exhibition Centre May 26 to 29 for its 21st biannual fair, with an expanded focus on both industrial and home products.

Trade specialists from 65 countries that descended on the city in the Basque region of Spain were greeted by more than 1,200 exhibitors. The majority of the 18,500 attendees reportedly came from Morocco, Algeria, Colombia, Mexico, Peru, India, Turkey, and various countries in Western Europe.

Two of the halls were reserved for Ferroforma, while the new industrial maintenance, and pumps and valves opened the second day in another hall. Unlike most North American fairs, this show saw increased attendance on the second day, with even more expected to attend by the third day.

Following up on requests from exhibitors, there was a B2B meeting area set aside in Hall One. Over three days, 1,200 meetings between manufacturers, retailers, and distributors took place. However, the approach received some mixed reviews. Some exhibitors were less than keen to leave their exhibits and missed their meetings. But several exhibitors HARDLINES spoke with were quite happy with the process and the leads they gathered. In addition, they were pleased to see the growth in Ferroforma has undergone since 2013.

The next show will be in 2017 in Bilbao from May 23 to 26.

___________________________________________________________________

_________________________________________________________________

Under new president, Fraser Valley moves to RONA

MISSION, B.C. — Fraser Valley Building Supplies in Mission, one of the largest dealers in British Columbia, is leaving TIM-BR MART Group for RONA. Ray Cyr, who was formerly the director of network development for RONA corporate in Western Canada, has stepped in as president of Fraser Valley.

Cyr takes over from Dave Nick, who founded the company in 1992 along with his brother Brad and their father, Ernie. "Going forward, we have a strong growth mandate for the company, strengthened by our alliance with RONA," Cyr told HARDLINES.

The store is just a block away from a corporate RONA store on Lougheed Highway, which Fraser Valley has purchased and will close down at the end of June. In addition to the 25,000-square-foot store on Wren Street, Fraser Valley has another store in Cloverdale.  

Both stores' retail operations will be re-branded as RONA affiliate stores, while the company's contractor and builder business will continue to bear the Fraser Valley Building Supplies name.

"We are happy to welcome Fraser Valley as a RONA dealer, offering them a business model that truly fits their expanding operations," says Luc Rodier, EVP retail for RONA inc. "The lease for our corporate store on Lougheed Highway was soon ending and the site required major renovations, so the timing is perfect."

______________________________________________________________________

____________________________________________________________________

Canadian Tire "Showcase" aims to combine clicks with bricks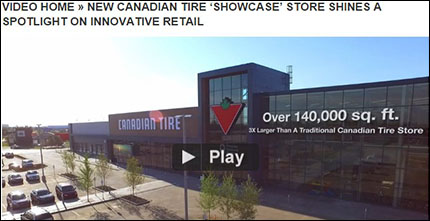 EDMONTON — Canadian Tire has opened the doors of its newest retail concept, a "Showcase" store in Edmonton that is also the retailer's biggest store to date.

The store, details of which were first revealed at the 2014 Hardlines Conference by Vice President of Merchandising Greg Hicks, features 140,000 square feet of retail space spread over two storeys and 73,000 SKUs. In addition to its size, the store is unique in its aim to merge bricks and mortar more comprehensively than ever before with a shopper's digital and online needs.

To support purchases made online, the store has 50,000 square feet of warehouse space to house inventory for online orders. Customers can pick up their online orders at a dedicated drive-through along the side of the building. The area will also be used for loading large items and bulk purchases.

The store's 240 employees have access to more than 100 digital screens, a large exterior high resolution LED screen, digital flyer access, and product selectors throughout the store. The automotive department also features a car simulator that lets customers "test-drive" tires in different weather conditions before buying.  

In the seasonal department, customers can create a 3D image of their backyard using the "Canada's Dream Backyard and Patio Builder." It was built internally at Canadian Tire's "NEWcleus" digital lab in Winnipeg and utilizes virtual reality technology from Oculus.

Products throughout the store have been tailored to the Edmonton market, with key assortment extensions in truck and trailer, tools and outdoor living departments as well as an extensive Hunting and Fishing Pro Shop. The store's Playing department features its own Hockey Canada Museum that includes jerseys, trophies, and other memorabilia from the Hockey Hall of Fame. The store also has a rapid shot simulator, which lets customers test their new hockey stick—and their slap shot—right in the store.

(To take a video tour of the store, click here.)

____________________________________________________________________

RONA to introduce dealer conference before show

BOUCHERVILLE, Que. — RONA has revealed to HARDLINES that its upcoming trade show for its affiliate dealers and store managers will feature a conference the day before the show opens. The show will be held at the Palais de Congrès in Montreal September 10 and 11.

The pre-show sessions will include a corporate conference with presentations by RONA's executive vice presidents. The afternoon will feature presentations on industry trends and best practices by leading industry experts. The presentations will be made in both English and French, or with simultaneous translation, to accommodate the attendees from across Canada.

The show is now in its third year in a traditional format that features individual vendors exhibiting their products. It replaces a format that previously presented vendors' products in a merchandised setting as they would be found in a RONA store.

___________________________________________________________________

CLASSIFIED ADS
Castle Building Centres Group Limited
Business Development Manager – Western Canada
Castle Building Centres Group is an industry leader among Buying Groups in the Lumber and Building Materials segment in Canada.
You are a highly motivated individual with strong relationship and communication skills that can manage and develop our future growth in Western Canada. This position requires an individual who is familiar with the Western Lumber and Building Supply industry, willing to travel extensively and accustomed to working remote from head office.
Reporting to the President, you welcome the opportunity to work with a dynamic group of independent LBM dealers while planning and executing our future growth initiatives. Providing continual communication to our Western Members while understanding their needs is fundamental to your success. Sound computer and presentation skills combined with good administrative qualities are imperative.
Castle Building Centres Group offers a comprehensive compensation package including full benefits.
All submissions will be treated with complete confidentiality. Please forward your resume in confidence to:
Loreen Mitchell
Castle Building Centres Group Ltd.
100 Milverton Drive, Suite 400
Mississauga, Ontario
L5R 4H1
E-mail: lmitchell@castle.ca

______________________________________________________________