In-Depth Data on the Retail Home Improvement Industry in Canada
Your only source available for a full analysis of the size and growth of the industry!
The Annual Retail Report includes everything we know about the industry, newly expanded with more analysis and data than ever before! Featuring industry sales data as of year-end 2020 and up-to-date analysis of marketplace trends.
This is without a doubt our most popular "must-have" Report. This report contains proprietary information about the industry that's not available anywhere else. We make it easy for you to plan – and to present your plans – for the year ahead. No Sales Director or Marketing Manager should be without this indispensable industry intelligence tool.
The 2021 Retail Report is now available! Save 20% by using coupon code 2021Report

Are you trying to figure out how big the market is? Who the top players are? Or how other retail groups measure up?
Our Annual Retail Report has EVERYTHING you need to know about the retail home improvement industry in Canada:
The size of the industry year-over-year
In-depth analysis of the top players, Home Depot Canada, Lowe's Canada, Home Hardware & Canadian Tire Retail
The winning formats–how the independents are faring against the big boxes
The hot provinces and how market shares have changed by region year over year
The newest trends and challenges facing retailers today
Forecasts for the industry in 2022
Find out: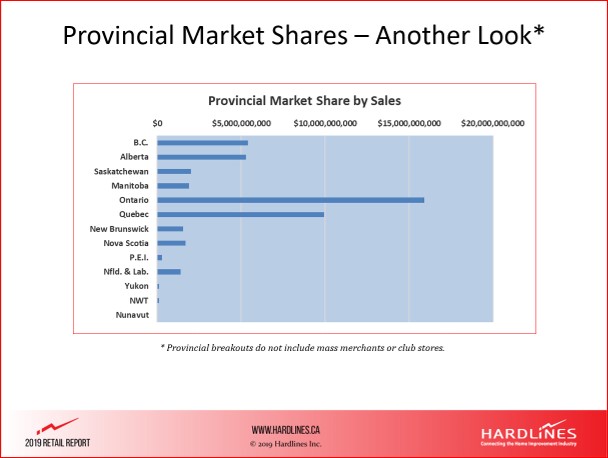 The size of the Home Improvement Industry
Market share by store formats and province
The sales of Top 20 home improvement retailers
The Top Four: A closer look at the metrics and strategies of the industry's biggest retailers — Home Depot, Lowe's, Home Hardware and Canadian Tire Retail
Big Boxes: ranking of players, market share, annualized growth
Buying groups: ranking, sales and market shares, strategies for dealer growth
Recap of conditions affecting the industry
Analysis of trends and business conditions in this industry
Forecasts for the industry and the top players in 2022 and beyond
We've done the work for you:
In handy PowerPoint format, the Retail Report is now larger and more comprehensive than ever. With almost 200 PPT slides — including almost 40 charts and graphs, plus dozens of  photographs — it lets you build your own presentation! Here are just some of the sections in this Report:
The industry as we see it
Growth outlook for dealers
Market share by store format
Market share by province
Top 20 retailers ranked by sales
RONA's expansion strategy
Home Hardware's initiatives for growth
Market shares of the Top Four retailers
Who are the big boxes
Expansion plans for the big boxes
Buying group affiliations
Forecasts for industry growth
Forecasts of industry trends
An addendum with industry definitions
An addendum with important facts about Canada
Act now to get your copy of the Retail Home Improvement Report! It will save you hundreds of hours of research time.

Order Information
The 2022 Retail Report with data from 2021 will be available July 2022.
Save 20% on the 2021 Retail Report by using coupon code 2021Report
2021 Edition (data to year-end 2020): $1,699 (+HST)
Hardlines weekly Newsletter Subscribers pay only: $1,310  (+HST)
Not sure which Hardlines Report you are looking for? Click here to view a handy comparison chart!