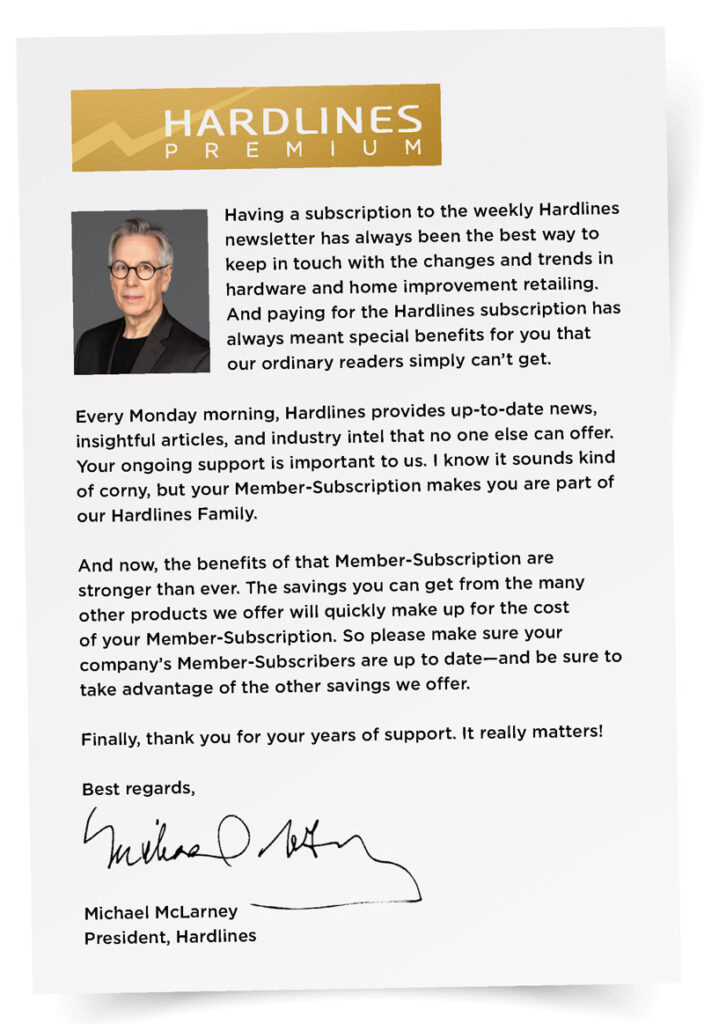 What it includes:
Hardlines Weekly Report

 

Breaking News

 

HHIQ: 1 issue per office quarterly. Additional issues available for discounted price.

 

Hardlines Classifieds: One 250-word 2-week classified ad, logo included, per year for FREE. Additional classifieds receive 15% discount.

 

20% discount on Annual Reports

 

20% discount on Hardlines Conference and ORA Gala tickets

 
Membership Prices
Hardlines Premium Membership prices start at $545 plus tax and have packages that range from 1-3 people up to 100 people. Prices will be increasing in 2023 so sign up now to get your package at a discounted price.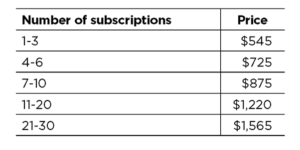 Hardlines Premium Membership Total Base Savings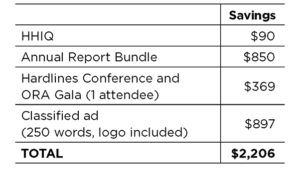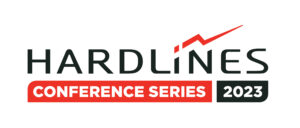 As the only national event for the home improvement industry that is open to all banners and suppliers, we take great pride in being able to host top retailers and buying group executives from across the country, as well as leading wholesalers and manufacturers.
At the next Hardlines Conference, you will join your colleagues and customers for two incredible days of information and trends, as well as a fantastic networking experience. This year's speaker line-up includes execs from RONA, Federated Co-operatives Ltd, North American Hardware & Paint Association, Altus Group and many more.
The 2023 Hardlines Conference Series is taking place at Fairmont Chateau Whistler, Whistler, B.C. on October 17th and 18th, 2023.

Previously Hardlines Weekly Newsletter. This newsletter arrives in your inbox first thing every Monday morning. Packed with the latest news, trends analysis, interviews with industry leaders, and statistics on housing and retail, we ensure our subscribers start the week fully informed.

Breaking News, an exclusive for Hardlines Premium Members. If something big breaks in the industry, you'll be the first to know!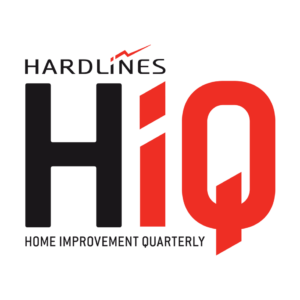 Hardlines Home Improvement Quarterly is an industry trade publication carefully designed to meet the needs of the modern home improvement decision maker. Each issue is filled with the latest trends shaping home improvement retailing. It provides the latest strategic intelligence on the industry's top retailers and suppliers—what they are doing to gain market share, strengthen their operations and improve their position in the marketplace. And it tells stories about the independent dealers who are winning in their local markets.


Reach a targeted audience of home improvement managers and executives with Hardlines Classified Ads. Our Classifieds appear each week in our Subscriber-Member publication, Hardlines Weekly Report, which goes out to managers, executives, and leading retailers every Monday morning. Your ad will also reside on our Classifieds page. 
Hardlines Classifieds are immediate, affordable, and most of all highly targeted to the top talent within this industry. 

The Annual Retail Report includes everything we know about the industry, newly expanded with more analysis and data than ever before! Featuring industry sales data as of year-end 2022 and up-to-date analysis of marketplace trends.
This is without a doubt our most popular "must-have" Report. This report contains proprietary information about the industry that's not available anywhere else. We make it easy for you to plan—and to present your plans—for the year ahead. No Sales Director or Marketing Manager should be without this indispensable industry intelligence tool.

The Annual Market Share Report includes information on the market share in every store format, region and province. This report features sales by province and region of every hardware and home improvement retailer in the country, market share broken down by store format, charts, and graphs to visually represent all data, and more!