Tips and information for home improvement dealers to your inbox every month!
An exciting publication for dealers and managers from Hardlines! (You can sign up for free at the bottom of this page)
Targeted squarely at store owners and managers, Hardlines Dealer News is a monthly email newsletter with content designed especially for dealers and owners who want to run their businesses at maximum efficiency.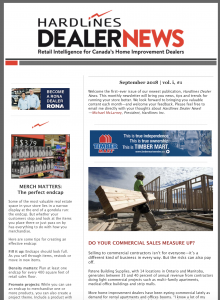 Each issue of Hardlines Dealer News features:
News to help store owners and managers stay current on the latest trends in their market;
Tips for smart retailers who want to identify ways to manage their operations more successfully;
Insights to help dealers hire smarter, merchandise better and manage more effectively;
Concrete ideas for managing budgets, merchandising products and identifying best practices.
Hardlines Dealer News is produced monthly by the editors of Hardlines for retailers and store owners across the country. Want your own subscription? Sign up below!
Did you sign up but you don't see Dealer News in your inbox? Make sure to check your junkmail for an email from "Hardlines Dealer News"!

Sign up here for a free subscription!