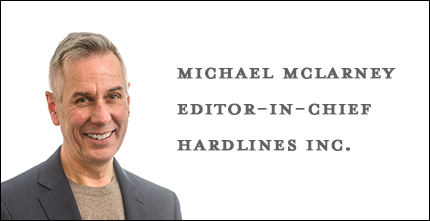 Michael McLarney is the Founder and Editor of the HARDLINES newsletter, the premier source for information on hardware and home improvement retailing in Canada. He is also Managing Director, Canada for the North American Retail Hardware Association.
With 30 years of experience analyzing and reporting on the retail home improvement industry, Michael is considered the leading retail analyst for Canada's home improvement sector. He oversees the Hardlines Information Group, which includes the weekly HARDLINES newsletter for retail executives, Hardlines Home Improvement Quarterly magazine for dealers, and a range of reports that analyze the trends and growth within the industry. His background also includes founding the industry's "Outstanding Retailer Awards," the "Who's Who Directory" of top retailers and buying groups and the annual Hardlines Executive Conference.
As Managing Director of NRHA Canada, Michael is in charge of providing member services, including NRHA's online product knowledge education, to more than 1,500 independent dealer-members in Canada.
A dynamic and thought-provoking speaker who has spoken at business conferences in the U.S., Canada and Europe, Michael has been quoted in many of North America's leading business publications. He is a frequent guest on radio and television programs across the country.
In 2011, he received the Industry Achievement Award from the Lumber and Building Materials Dealers Association of Ontario.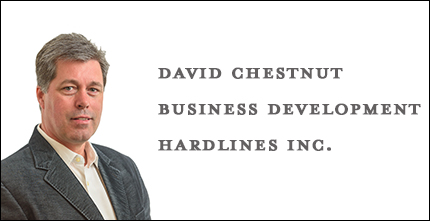 David Chestnut has been an advertising/media leader and an innovator for 20 years in the Canadian home improvement industry. A native of Sussex, N.B., he moved to Toronto in 1996 and joined the staff of the now-defunct Rogers trade publication Hardware Merchandising. He was promoted to associate publisher in 1999. A year later, he helped launch Canadian Contractor magazine. In 2007, he was promoted to publisher of Rogers' home improvement trade publications division, directing the sales, editorial, production, and distribution of Professional Painter and Builders Choice magazines, in addition to his continuing work with Hardware Merchandising and Canadian Contractor.
He launched Renovation Contractor magazine in 2010. Under his direction, the publication achieved numerous awards. Most recently, he worked on the digital properties of Student Life and Parent Life Networks, gaining invaluable experience in digital and video marketing.
A consistent winner of Rogers' "Overachiever" sales awards for exceeding annual targets, David has also served on the advisory board for the Canadian Home Improvement Show and was a consultant on the successful launch of the industry's number-one trade magazine for retailers, Hardlines Home Improvement Quarterly.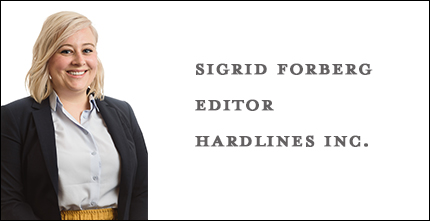 Sigrid Forberg is the Editor at Hardlines Inc. Her lead role is responsibility for all aspects of the editorial content of our print magazine, Hardlines Home Improvement Quarterly, including creative, scheduling, story ideas and selection of new product submissions. In addition, Sigrid oversees production of our weekly HARDLINES e-newsletter. She also supports a wide range of research and event-planning functions.
Sigrid is a graduate of the Carleton University School of Journalism. Before joining Hardlines, she wrote and edited for the Royal Canadian Mounted Police (RCMP)'s internal magazines. She brings with her a wealth of experience in writing, an innate curiosity, a sharp eye for typos, a keen interest in storytelling and strong research skills.
In her spare time, Sigrid likes baking, drinking coffee, travelling and watching movies.

At HARDLINES, we also rely on a team of freelance writers, graphic designers and print specialists to help us produce our family of reports and newsletters.