Hardlines provides news and intelligence on the retail home improvement industry to help that industry, and players in it, be more successful. And we've been doing it for over a quarter of a century.
As a specialized information company, we are dedicated to helping retailers and managers at hardware stores, building centres, and home improvement big box stores, plus their executive head offices and the vendors who supply them. We provide news, research, conferences and connections. We deliver market intelligence, defining trends and generating analysis for home improvement executives, retail owners and managers, and their suppliers. Our annual Conference and ongoing events provide important forums for vendors and buyers to network.
We Bring You Industry News & Intel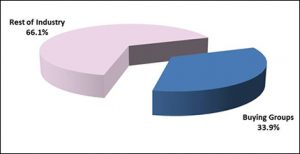 News Aggregator: By subscribing to our weekly e-newsletter and free Daily News updates, you will stay on top of the latest news and trends in hardware and home improvement retailing, as well as the larger retail market worldwide.
The Hardlines Conference: As the only truly national event for the industry, the annual Hardlines Conference is simply the best way to network face-to-face with the leading retailers and suppliers in North America. Speakers from around the world present the latest in trends and intelligence about retail, the economy, and current issues such as omni-media and industry consolidation.
Expert Insight: Need a speaker for your sales team? Want to educate your managers or dealers on the latest competitive issues in the home improvement marketplace in Canada and globally? Hardlines' team of experts is available to help your team be more successful!
Our Reports & Publications
HARDLINES publications combine our knowledge of the hardware and home improvement industry with comprehensive research and the latest news updates.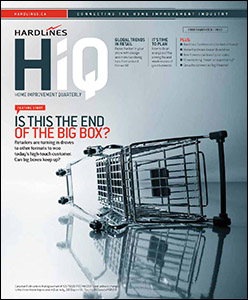 Hardlines connects you to the news and trends with weekly HARDLINES Weekly Report. This subscriber-only publication gives you the full story on what goes on behind the scenes of this industry.
Hardlines Home Improvement Quarterly magazine is a print publication that is mailed to 11,000 hardware and home improvement dealers and managers across Canada.
To round out our roster of publications, we have a number of free information products, as well: Daily News Updates; our monthly Hardlines Dealer News e-Newsletter; and a publication for the people side of your business, Hardlines HR Advisor.
In addition, we provide research on the industry: the Annual Retail Report and the Market Share Report. Both are must-have reports with information only available from Hardlines.
The HARDLINES family of publications provides the tools to help retailers and vendors alike develop their sales and marketing plans to succeed in the Canadian hardware and home improvement industry.
Conference and Networking Events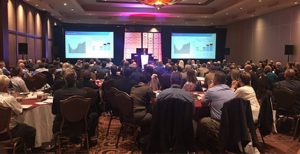 The 27th Annual Hardlines Conference will feature an incredibly rich and informative two days of seminars and presentations by top retail executives, economic experts and thought leaders. The key to the event is ideas—ideas that will challenge you and inspire you to take your business to the next level. Learn about the latest competitive strategies and trends among the top retailers in this industry and beyond. And gain insights into the economic conditions that affect your business and your customers.
The Hardlines Conference is also an important way to affirm your professional connections. With annual attendance by the likes of Home Depot, Lowe'sCanada, Home Hardware Stores, Castle Building Supplies, BMR Group, Canadian Tire and TIMBER MART, the Conference is an incredible opportunity for you to network and connect with colleagues, customers and competitors alike.