Advertise with us
Hardlines Inc. was founded in 1995 in a basement with a fax machine and a desire to keep the home improvement industry informed. Almost 30 years later, Hardlines has established itself as the leading source of information on home improvement in Canada. We offer a number of ways to help connect you with your target audience.
In print
Hardlines Home Improvement Quarterly (HHIQ) is the go-to print publication for Canada's home improvement buying groups, retail chains, co-ops and mass merchant head offices. Reaching 11,000 dealers across Canada, HHIQ zeroes in on the information that matters most to its readers, offering them fresh news, insights and understanding in each quarterly issue. Don't miss out on the opportunity to be part of this important publication for home improvement dealers.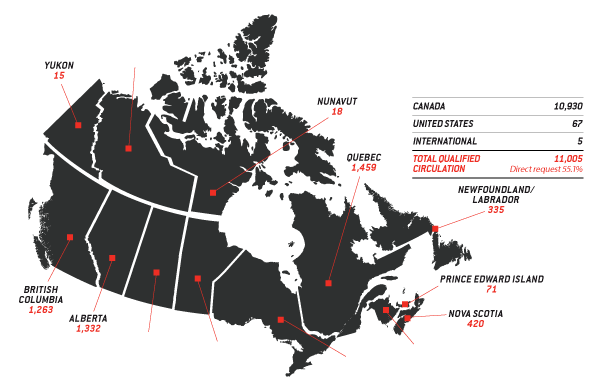 Online
Hardlines offers many opportunities to advertise online. With the best web stats in the industry—our website has 25,000+ pageviews/month and an average session of 1:30—hardlines.ca is the best place to put your ad for maximum exposure. We also have regular email sends ranging from Daily News Updates, Breaking News, the weekly Hardlines News and monthly Hardlines Dealer News, and with a reach of 7,000+ subscribers, there's sure to be a digital send that suits your needs.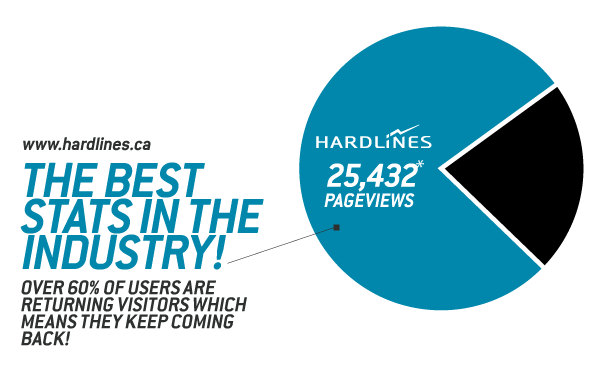 Events
Our events are the best place to network with the who's who of the industry.
Our annual Hardlines Conference is the only national-level conference program in this industry. With two-action packed days in a relaxed networking environment, you'll have the opportunity to interact with and learn from the industry's top leaders.
Sponsorship of the Outstanding Retailer Awards (ORAs) program also offers the chance to be a key sponsor at the Conference and Awards Gala and access to exclusive perks and publicity.
For vendors looking to get more face-time with dealers, our Canada Night at Orgill's biannual markets offers an exclusive opportunity to have a beer and a casual conversation off the show floor with retailer attendees.
Our Meet the Buyers events offer a rare chance to get face-to-face with buyers from Canada's top retailer organizations and hear about how you can optimize your relationships with them.
Media Kit
Contact
For more information on what advertising avenue would suit your needs best, or to get a quote, contact David Chestnut, VP & Publisher.